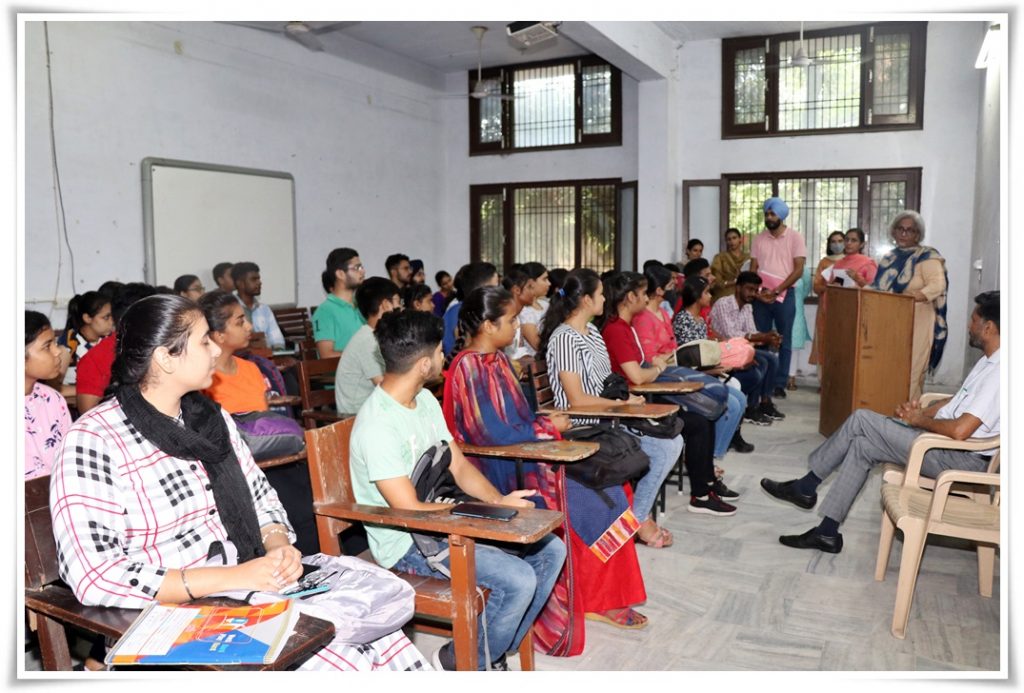 Seven Days Workshop on English Language and Pronunciation concluded at Multani Mal Modi College, Patiala
A seven day workshop on English Language and Pronunciation was organized by the Department of English at Multani Mal Modi College, Patiala from 24-30 September, 2021. This workshop intended to equip the students with practical and theoretical skills in English language. The workshop was conducted by Prof. Vaneet Kaur, Prof. Harpreet Singh and Prof. Tanveer Kaur from the Department.
Prof. (Mrs.) Shailandra Sidhu, Department of English welcomed Principal Dr. Khushvinder Kumar and all the participants. She told that the basic objective of this workshop was to sharpen the language skills of the students.
Principal Dr. Khushvinder Kumar presided over the valedictory ceremony of the workshop. He congratulated the department for organizing the workshop and said that language skills should not be confined to their functionality rather should extend to the philosophical and aesthetic levels. He told that the collage has updated language software and language labs.
Sharing their feedback about the workshop, one of the students Priyanshu said that this was quite engaging and enriching experience. Another student Amarjot Singh told that the workshop sswas successful in exploring new concepts about learning English. Certificates of participation were also distributed to the students.
Prof. Vaneet Kaur presented the vote of thanks.
ਮੋਦੀ ਕਾਲਜ ਵਿਖੇ ਅੰਗਰੇਜ਼ੀ ਭਾਸ਼ਾ ਅਤੇ ਉਚਾਰਣ ਸਬੰਧੀ ਸੱਤ- ਰੋਜ਼ਾ ਵਰਕਸ਼ਾਪ ਦਾ ਸਮਾਪਨ
ਸਥਾਨਕ ਮੁਲਤਾਨੀ ਮੱਲ ਮੋਦੀ ਕਾਲਜ, ਪਟਿਆਲਾ ਦੇ ਅੰਗਰੇਜ਼ੀ ਵਿਭਾਗ ਵੱਲੋਂ 24 ਤੋਂ 30 ਸਿਤੰਬਰ 2021 ਤੱਕ ਅੰਗਰੇਜ਼ੀ ਭਾਸ਼ਾ ਅਤੇ ਉਚਾਰਣ ਸਬੰਧੀ ਸੱਤ- ਰੋਜ਼ਾ ਵਰਕਸ਼ਾਪ ਦਾ ਆਯੋਜਨ ਕੀਤਾ ਗਿਆ। ਇਸ ਵਰਕਸ਼ਾਪ ਦਾ ਉਦੇਸ਼ ਵਿਦਿਆਰਥੀਆਂ ਨੂੰ ਅੰਗਰੇਜ਼ੀ ਭਾਸ਼ਾ ਦੇ ਤਕਨੀਕੀ ਹੁਨਰ ਅਤੇ ਸ਼ੁੱਧ ਉਚਾਰਣ ਵਿੱਚ ਪ੍ਰਪੱਕ ਬਣਾਉਣਾ ਸੀ। ਇਸ ਵਰਕਸ਼ਾਪ ਨੂੰ ਅੰਗਰੇਜ਼ੀ ਵਿਭਾਗ ਦੇ ਪ੍ਰੋ. ਵਨੀਤ ਕੌਰ, ਪ੍ਰੋ. ਹਰਪ੍ਰੀਤ ਸਿੰਘ ਅਤੇ ਪ੍ਰੋ. ਤਨਵੀਰ ਕੌਰ ਨੇ ਆਯੋਜਿਤ ਕੀਤਾ।
ਇਸ ਮੌਕੇ ਅੰਗਰੇਜ਼ੀ ਵਿਭਾਗ ਦੇ ਮੁਖੀ ਪ੍ਰੋ (ਮਿਸ਼ਿਜ਼) ਸ਼ੈਲੇਦਰ ਸਿੰਧੂ ਨੇ ਕਾਲਜ ਪ੍ਰਿੰਸੀਪਲ ਅਤੇ ਵਰਕਸ਼ਾਪ ਵਿੱਚ ਭਾਗ ਲੈਣ ਵਾਲੇ ਵਿਦਿਆਰਥੀਆਂ ਦਾ ਸਵਾਗਤ ਕਰਦਿਆਾ ਕਿਹਾ ਕਿ ਇਸ ਵਰਕਸ਼ਾਪ ਨੂੰ ਆਯੋਜਿਤ ਕਰਨ ਦਾ ਮੁੱਖ ਉਦੇਸ਼ ਵਿਦਿਆਰਥੀਆਂ ਨੂੰ ਅੰਗਰੇਜ਼ੀ ਭਾਸ਼ਾ ਵਿੱਚ ਨਿਪੁੰਨ ਬਣਾਉਣਾ ਹੈ।
ਕਾਲਜ ਦੇ ਪ੍ਰਿੰਸੀਪਲ ਡਾ. ਖੁਸ਼ਵਿੰਦਰ ਕੁਮਾਰ ਨੇ ਇਸ ਵਰਕਸ਼ਾਪ ਦੇ ਸਮਾਪਤੀ ਸਮਾਰੋਹ ਦੀ ਪ੍ਰਧਾਨਗੀ ਕੀਤੀ। ਉਹਨਾਂ ਨੇ ਇਸ ਮੌਕੇ ਤੇ ਵਿਭਾਗ ਨੂੰ ਇਸ ਵਰਕਸ਼ਾਪ ਦੇ ਆਯੋਜਨ ਲਈ ਵਧਾਈ ਦਿੱਤੀ।ਉਹਨਾਂ ਨੇ ਇਸ ਮੌਕੇ ਤੇ ਬੋਲਦਿਆ ਕਿਹਾ ਕਿ ਕਿਸੇ ਵੀ ਭਾਸ਼ਾ ਦੀ ਤਕਨੀਕੀ ਜਾਣਕਾਰੀ ਨੂੰ ਸਿਰਫ ਉਸਦੀ ਕੰਮਕਾਜੀ ਵਰਤੋੋਂ ਤੱਕ ਮਹਿਦੂਦ ਕਰਨ ਦੀ ਬਿਜਾਏ ਉਸਦੇ ਫਲਸਫੇ ਅਤੇ ਸੁਹਜ ਨੂੰ ਸਿੱਖਣ ਦੀ ਕੋਸ਼ਿਸ਼ ਕਰਨੀ ਚਾਹੀਦੀ ਹੈ।ਉਹਨਾਂ ਨੇ ਦੱਸਿਆ ਕਿ ਕਾਲਜ ਕੋਲ ਹੁਣ ਭਾਸ਼ਾ ਸਬੰਧੀ ਨਵੇਂ ਤੇ ਆਧੁਨਿਕ ਸਾਫਟਵੇਅਰ ਅਤੇ ਮਿਆਰੀ ਪ੍ਰਯੋਗਸ਼ਲਾਵਾਂ ਉਪਲਬਧ ਹਨ।
ਇਸ ਵਰਕਸ਼ਾਪ ਬਾਰੇ ਆਪਣੇ ਤਜਰਬੇ ਸਾਂਝੇ ਕਰਦਿਆ ਇੱਕ ਵਿਦਿਆਰਥੀ ਪ੍ਰਿਅੰਸ਼ੂ ਨੇ ਕਿਹਾ ਕਿ ਇਸ ਨਾਲ ਮੇਰੀ ਅੰਗਰੇਜ਼ੀ ਭਾਸ਼ਾ ਉੱਤੇ ਪਕੜ ਹੋਰ ਪੀਡੀ ਹੋਈ ਹੈ। ਵਿਦਿਆਰਥੀ ਅਮਰਜੀਤ ਸਿੰਘ ਦਾ ਕਹਿਣਾ ਸੀ ਕਿ ਇਸ ਵਰਕਸ਼ਾਪ ਵਿੱਚ ਹਿੱਸਾ ਲੈਣ ਨਾਲ ਸਾਡੀਆਂ ਭਾਸ਼ਾ ਸਬੰਧੀ ਕਈ ਗੁੰਝਲਾਂ ਹੱਲ ਹੋਈਆ ਹਨ।
ਇਸ ਮੌਕੇ ਤੇ ਵਰਕਸ਼ਾਪ ਵਿੱਚ ਹਿੱਸਾ ਲੈਣ ਵਾਲੇ ਸਾਰੇ ਵਿਦਿਆਰਥੀਆਂ ਨੂੰ ਸਰਟੀਫਿਕੇਟ ਵੀ ਪ੍ਰਦਾਨ ਕੀਤੇ ਗਏ। ਅੰਤ ਵਿੱਚ ਪ੍ਰੋ.ਵਨੀਤ ਕੌਰ ਨੇ ਇਸ ਵਰਕਸ਼ਾਪ ਦੀ ਸਫਲਤਾ ਲਈ ਸਾਰਿਆਂ ਦਾ ਧੰਨਵਾਦ ਕੀਤਾ। ਇਸ ਮੌਕੇ ਤੇ ਵਿਭਾਗ ਦੇ ਸਮੂਹ ਮੈਂਬਰ ਹਾਜ਼ਿਰ ਸਨ।