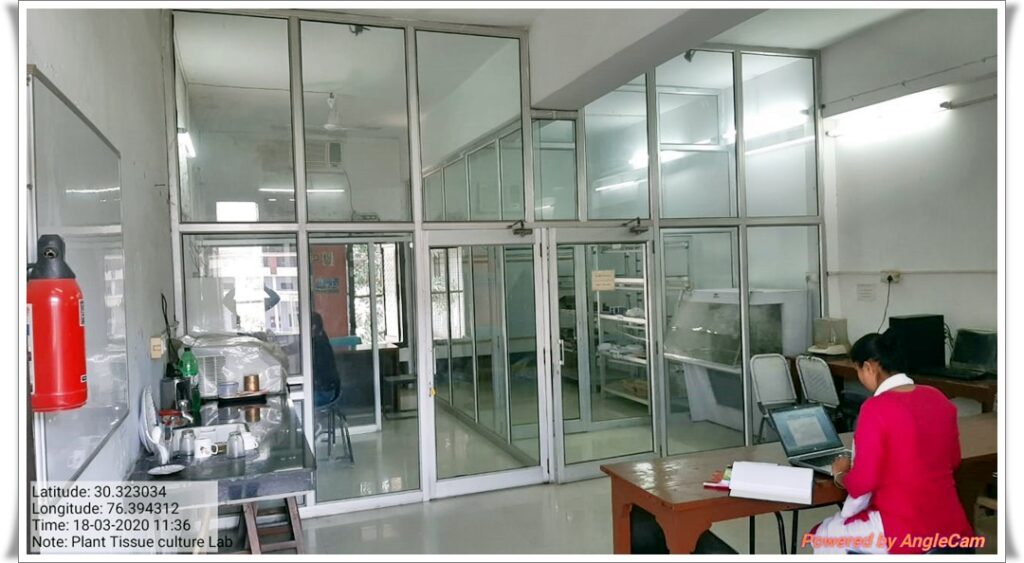 | | | |
| --- | --- | --- |
| Course | Duration | Eligibility |
| BSc (Honours) – Bio Technology | 3 Years | 10+2 with Science |
| MSc – Bio Technology | 2 Years | Graduation in Science with at least 50% marks |
Faculty – Dept of Biotechnology
The Department of Biotechnology was founded in 2006 with a vision to be recognized as an academic department of national reputation and to offer cutting edge, interdisciplinary and most-sought after courses in Biotechnology. Besides UG and PG courses students are also pursuing their Ph.D with faculty members as their supervisors. The department constantly provides the latest developments in different fields of science along with the core subjects. The faculty from different disciplines of biotechnology is the strength of the department. In the year 2015, department has also started M.Sc. in Food and Nutrition. The department actively engages in community based programs for imparting nutrition & health related knowledge to all the sections of society. The Department of Biotechnology organizes national and international conferences annually.
The department is highly equipped with instrumentation worth more than 1 crore. All the science departments were further strengthened by attachment with a central instrumentation lab established with funding from UGC, New Delhi. The lab is equipped with major state of art instruments like Atomic Absorption Spectrophotometer (AAS), HPLC, GC, Thermal Cycler, Ultra Sonicator, Refrigerated Centrifuge, Fluorescence Spectrophotometer, Infra-Red Spectrophotometer, Electrochemical Work Station, Transilluminator, Millipore Water Purification System etc. All Classrooms are Equipped with LCD Projectors for Teaching and Seminars. The students of the department are placed in various industries, academic and research organizations.
Thrust Area:
Major thrust areas of the department are Medical Biotechnology, Environmental Biotechnology, Nanotechnology and Plant Tissue Culture.
Key Feature:
Dedicated and professionally experience faculty
The Department is equipped with dedicated laboratories for students
Separately Plant Tissue Culture Lab and hardening centre established
Social relevance projects for students
Department organizes national and international conferences annually.
Expert lecture by eminent scientist from different fields
Scientific theories related to various scientific phenomena and their relevancies in the day-to-day life
Scholarship for meritorious and needy students
Virtual conference
Sports and cultural activities
Effective Training and placement cell
Career Opportunities:
Gene Coder
Medical technologist
Microbiologist
Pharmaceutical
Biochemist
Genetic data analyzer
Environmental biotechnologist
Food & Dairy Microbiolologist
Quality Controller
Patent officer
Nanotechnologist
Facilities:
Labs:
02 for B.Sc. (Biotechnology)
02 for M.Sc. (Biotechnology)
Two dedicated Classrooms, one with projector facility
Supported by Central Instrumental Lab with high end Instruments
Department of Biotechnology [Top]
| | | |
| --- | --- | --- |
| Name of equipment/accessories | Make | Funding Agency |
| HPLC | Agilent | UGC |
| Florescence Spectrophotometer | Agilent | UGC |
| Electrochemical Work Station | Gambery | UGC |
| PCR machine | Eppendorf | Departmental |
| UV-VIS spectrophotometer | Thermo Fisher | UGC |
| Potentiometer | Systronics | Departmental |
| BOD Incubator Shaker | Remi | UGC |
| Refrigerated Centrifuge | Sigma | Departmental |
| Laminar Air Flow | Yorko | UGC |
| Weighing Balance | Sartorius | UGC |
| pH Meter | Systronics | Departmental |
| Plant Tissue Culture Lab | Established | Departmental |
| Atomic absorption Spectrophotometer | Agilent | UGC |
| Water Purificaton System | Milipore | UGC |
Biotechnology Lab. Equipment