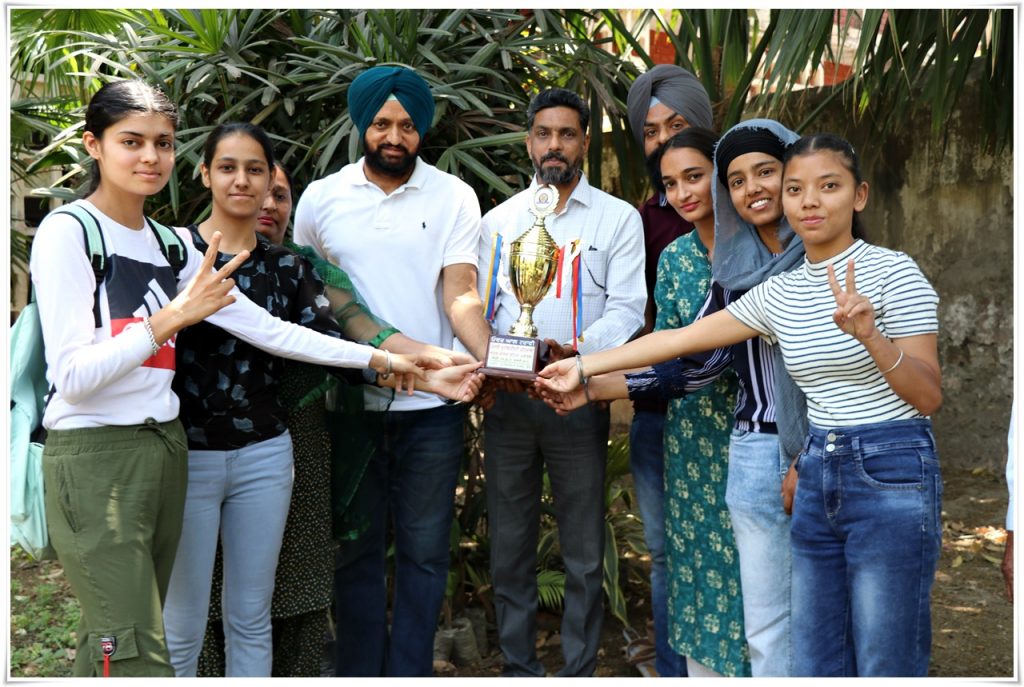 PATIALA: 27 April 2022
Multani Mal Modi College Won Overall Inter-College Gatka Championship
Multani Mal Modi College, Patiala has Won the overall Gatka Championship in Punjabi University Inter- College Competition. A Team of Girls Players Harmeet Kaur, Isha, Satinder Kaur and Rajveer Kaur bagged first Position in inter–college Gatka Championship held at Akal College of Physical Education Mastuana from 26-27 April 2022. The team secured first position with 22 points. Team from Mata Sahib Kaur Girls College Talwandi Sabho stood second with 19 points.
In Boys Category a Team Members of Davinder Singh, Gurwinder Singh, Deepak Singh and Dilpreet Singh bagged in First Runners-Up. In Boys Championship Modi College, Patiala secured 14 points and Won the 2nd Position. Gurwinder Singh Won Gold Medal in Individual Single Stick an Davinder Singh Won Gold Medal in Individual Fari Soti.
Principal Dr. Khushvinder Kumar congratulated the Winning teams on reaching the college campus. He said that this spirit of sportsmanship should be sustained for creating a healthy Society. He ensured that college will provide all possible facilities and support to these students. Dean Sports Dr. Nishan Singh said that Modi College got Highest score by getting 36 Points and won the championship with flying colors.
Dr. Khushvinder Kumar also congratulated the sports department. He praised head of department Dr. Nishan Singh, Dr. Harneet Singh and Prof Mandeep Kaur for putting special efforts in this event.
ਪਟਿਆਲਾ : 27 ਅਪ੍ਰੈਲ 2022
ਮੁਲਤਾਨੀ ਮੱਲ ਮੋਦੀ ਕਾਲਜ ਨੇ ਗਤਕਾ ਓਵਰਆਲ ਚੈਂਪੀਅਨਸ਼ਿਪ ਜਿੱਤੀ
ਪੰਜਾਬੀ ਯੂਨੀਵਰਸਿਟੀ ਦੇ ਅੰਤਰ-ਕਾਲਜ ਗਤਕਾ ਲੜਕੇ ਅਤੇ ਲੜਕੀਆਂ ਦੇ ਮੁਕਾਬਲੇ ਜੋ ਕੇ  ਅਕਾਲ ਕਾਲਜ ਆਫ਼ ਫਿਜ਼ੀਕਲ ਐਜੂਕੇਸ਼ਨ ਮਸਤੂਆਣਾ ਸਾਹਿਬ ਵਿਖੇ 26 ਤੋਂ 27 ਅਪ੍ਰੈਲ 2022 ਤੱਕ ਸੰਪੰਨ ਹੋਏ। ਵਿਚ ਮੁਲਤਾਨੀ ਮੱਲ ਮੋਦੀ ਕਾਲਜ ਪਟਿਆਲਾ ਦੀਆਂ ਲੜਕੀਆਂ ਨੇ 22 ਅੰਕ ਪ੍ਰਾਪਤ ਕਰਕੇ ਪਹਿਲਾ ਸਥਾਨ ਹਾਸਲ  ਕੀਤਾ ਤੇ ਮਾਤਾ ਸਾਹਿਬ ਕੌਰ ਗਰਲਜ਼ ਕਾਲਜ , ਤਲਵੰਡੀ ਸਾਬੋ ਦੀ ਟੀਮ 19 ਅੰਕ ਪ੍ਰਾਪਤ ਕਰਕੇ ਦੂਸਰਾ ਸਥਾਨ ਹਾਸਲ  ਕੀਤਾ ਮੋਦੀ ਕਾਲਜ ਪਟਿਆਲਾ ਦੀ ਟੀਮ ਵਿਚ ਹਰਮੀਤ ਕੌਰ, ਸਤਿੰਦਰ ਕੌਰ , ਈਸ਼ਾ ਸਹਿਜਪ੍ਰੀਤ ਕੌਰ ਅਤੇ ਰਾਜਬੀਰ ਕੌਰ ਖਿਡਾਰਨਾਂ ਨੇ ਬਿਹਤਰੀਨ ਖੇਡ ਦਾ ਪ੍ਰਦਰਸ਼ਨ ਕੀਤਾ।
               ਇਸ ਤਰ੍ਹਾਂ ਲੜਕਿਆਂ ਦੇ ਮੁਕਾਬਲੇ ਵਿਚ ਮੋਦੀ ਕਾਲਜ ਪਟਿਆਲਾ ਦੀ ਟੀਮ ਨੇ ਦੂਸਰਾ ਸਥਾਨ ਹਾਸਲ  ਕੀਤਾ। ਇਸ ਟੀਮ ਵਿਚ ਦਵਿੰਦਰ ਸਿੰਘ , ਗੁਰਵਿੰਦਰ ਸਿੰਘ , ਦੀਪਕ ਸਿੰਘ ਅਤੇ ਦਿਲਪ੍ਰੀਤ ਸਿੰਘ ਨੇ ਵਧੀਆ ਖੇਡ ਦਾ ਪ੍ਰਦਰਸ਼ਨ ਕੀਤਾ। ਮੋਦੀ ਕਾਲਜ ਦੇ ਖਿਡਾਰੀ ਦਵਿੰਦਰ ਸਿੰਘ ਨੇ ਵਿਆਕਤੀਗਤ ਮੁਕਾਬਲੇ ਈਵੈਂਟ ਫ਼ਰੀ ਸੋਟੀ ਵਿਚ ਸੋਨ ਤਗਮਾ ਅਤੇ ਗੁਰਵਿੰਦਰ ਸਿੰਘ ਨੇ ਵਿਆਕਤੀਗਤ ਮੁਕਾਬਲੇ ਈਵੈਂਟ ਸਿੰਗਲ ਸਟਿੱਕ ਵਿਚ ਸੋਨ ਤਗਮਾ ਹਾਸਲ ਕੀਤਾ।
            ਜੇਤੂ ਖਿਡਾਰੀਆਂ ਦਾ ਕਾਲਜ ਪਹੁੰਚਣ ਤੇ ਸ਼ਾਨਦਾਰ ਸਵਾਗਤ ਕੀਤਾ ਗਿਆ। ਇਸ ਅਵਸਰ ਤੇ ਕਾਲਜ ਦੇ ਪ੍ਰਿੰਸੀਪਲ ਡਾ. ਖੁਸ਼ਵਿੰਦਰ ਕੁਮਾਰ ਜੀ ਨੇ ਖਿਡਾਰੀਆਂ ਨੂੰ ਮੁਬਾਰਕਬਾਦ ਦਿੰਦਿਆਂ ਇਸ ਖੇਡ-ਭਾਵਨਾ ਨੂੰ ਆਪਣੇ ਆਲ਼ੇ -ਦੁਆਲੇ  ਬਿਹਤਰ ਸਮਾਜ ਸਿਰਜਣ ਲਈ ਕਾਇਮ ਰੱਖਣ ਦੀ ਪ੍ਰੇਰਨਾ ਵੀ ਦਿੱਤੀ , ਉਹਨਾਂ ਨੇ ਅਜਿਹੇ ਹੋਣਹਾਰ  ਖਿਡਾਰੀਆਂ  ਲਈ ਕਾਲਜ ਵਲ਼ੋਂ ਹਰ ਸੰਭਵ ਮਦਦ ਅਤੇ ਯੋਗ ਅਗਵਾਈ ਕਰਨ ਦਾ ਭਰੋਸਾ ਦੁਹਰਾਏਆ। ਕਾਲਜ ਦੇ ਡੀਨ , ਸਪੋਰਟਸ ਡਾ.ਨਿਸ਼ਾਨ ਸਿੰਘ ਨੇ ਦੱਸਿਆ ਕੇ ਇਸ ਟੂਰਨਾਮੈਂਟ ਵਿਚ ਮੋਦੀ ਕਾਲਜ ਦੀਆਂ ਟੀਮਾਂ ਨੇ ਸਭ ਤੋਂ ਵੱਧ 36 ਅੰਕ ਹਾਸਲ ਕਰਕੇ ਓਵਰਆਲ ਚੈਂਪੀਅਨਸ਼ਿਪ ਜਿੱਤੀ। ਇਸ ਅਵਸਰ ਤੇ ਕਾਲਜ ਪ੍ਰਿੰਸੀਪਲ ਡਾ. ਖੁਸ਼ਵਿੰਦਰ ਕੁਮਾਰ ਜੀ ਨੇ ਖੇਡ ਵਿਭਾਗ ਨੂੰ ਵਧਾਈ ਦਿੱਤੀ ਅਤੇ ਵਿਭਾਗ ਦੇ ਮੁਖੀ ਡਾ. ਨਿਸ਼ਾਨ ਸਿੰਘ, ਡਾ. ਹਰਨੀਤ ਸਿੰਘ ਅਤੇ ਪ੍ਰੋ . ਮਨਦੀਪ ਕੌਰ ਦੀ ਸਖ਼ਤ ਮਿਹਨਤ ਦੀ ਪ੍ਰਸੰਸ਼ਾ ਵੀ ਕੀਤੀ।