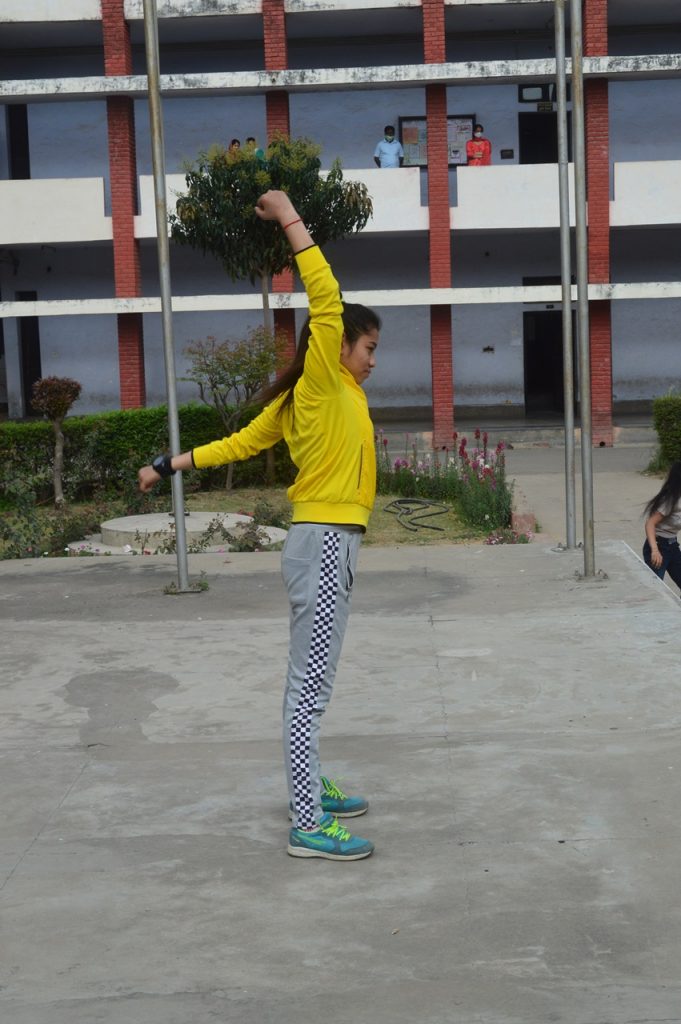 Patiala: 10 March, 2021
Modi College organized Fitness and self defence programmes to mark International Women Day
Multani Mal Modi College, Patiala organized different activities and programmes to celebrate the International Women Day and to appreciate the contribution of the women in social, economical, political and cultural development of our country. These activities and programmes were designed in accordance with the guidelines and framework issued by the Department of Social Security and Women and Child Development, Punjab and were planned according to the theme for this year 'Choose to Challenge' focusing on the issues of women security, health and empowerment leading to strengthening their capacity to take decisions and to make life-choices.
College principle Dr. Khushvinder Kumar while addressing the participating women said that International Women day is the day to remember and celebrate the contributions and sacrifices of our women folk and to provide them a safe, secure and healthy space which should free from every political, economical and cultural discriminations and gender biases.
On this occasion the Physical Education department of the college organized various fitness activities and Health Awareness programmes. The Department of Physical education organized Aerobic exercises session, and also self-defense class. N.S.S programme officer Prof. Jagdeep Kaur discussed the women security measures and methods for providing a safe and secure campus for the girls and women. She told that it is responsibility of each and everyone not to use abusive or derogatory language against women.
All staff members and departmental heads participated in these programmes.
ਪਟਿਆਲਾ: 10 ਮਾਰਚ, 2021
ਮੋਦੀ ਕਾਲਜ ਵਿੱਚ ਅੰਤਰ–ਰਾਸ਼ਟਰੀ ਮਹਿਲਾ ਦਿਹਾੜੇ ਨੂੰ ਸਮਰਪਿਤ ਫਿਟਨੈਸ ਅਤੇ ਸਵੈ–ਸੁਰੱਖਿਆ ਪ੍ਰੋਗਰਾਮਾਂ ਦਾ ਆਯੋਜਨ
ਸਥਾਨਕ ਮੁਲਤਾਨੀ ਮੱਲ ਮੋਦੀ ਕਾਲਜ ਵੱਲੌਂ ਅੰਤਰ-ਰਾਸ਼ਟਰੀ ਮਹਿਲਾ ਦਿਹਾੜੇ ਦੇ ਸੰਦਰਭ ਵਿੱਚ ਅਤੇ ਮੌਜੂਦਾ ਸਮਾਜਿਕ,ਆਰਥਿਕ, ਸਿਆਸੀ ਤੇ ਸੱਭਿਆਚਾਰਕ ਖੇਤਰਾਂ ਵਿੱਚ ਔਰਤਾਂ ਦੇ ਵਡਮੁੱਲੇ ਯੋਗਦਾਨ ਨੂੰ ਸਮਰਪਿਤ ਤੇ ਸਮਾਜਿਕ ਸੁਰੱਖਿਆ ਤੇ ਔਰਤਾਂ ਅਤੇ ਬਾਲ ਵਿਕਾਸ ਵਿਭਾਗ, ਪੰਜਾਬ ਦੇ ਸਹਿਯੋਗ ਨਾਲ ਔਰਤ ਸਟਾਫ ਲਈ ਵੱਖ-ਵੱਖ ਗਤੀਵਧੀਆਂ ਤੇ ਜਾਗਰੂਕਤਾ ਪ੍ਰੋਗਰਾਮਾਂ ਦਾ ਆਯੋਜਨ ਕੀਤਾ।ਇਹਨਾਂ ਪ੍ਰੋਗਰਾਮਾਂ ਦਾ ਮੁੱਖ ਉਦੇਸ਼ ਅੰਤਰ-ਰਾਸ਼ਟਰੀ ਮਹਿਲਾ ਦਿਹਾੜੇ ਦੇ ਇਸ ਸਾਲ ਦੇ ਥੀਮ ' ਚੂਜ਼ ਟੂੰ ਚੈਂਲਜ' ਦੇ ਮੱਦੇਨਜ਼ਰ ਔਰਤਾਂ ਦੀ ਸੁਰੱਖਿਆ,ਭਲਾਈ ਅਤੇ ਸਿਹਤ ਵਰਗੇ ਮੁੱਦਿਆਂ ਤੇ ਧਿਆਨ ਕੇਂਦਰਿਤ ਕਰਨਾ ਸੀ ਤੇ ਉਹਨਾਂ ਦੀ ਫੈਸਲੇ ਲੈਣ ਦੀ ਸਮਰੱਥਾ ਨੂੰ ਮਜ਼ਬੂਤ ਕਰਨਾ ਸੀ।
ਕਾਲਜ ਪ੍ਰਿੰਸੀਪਲ ਡਾ. ਖੁਸ਼ਵਿੰਦਰ ਕੁਮਾਰ ਜੀ ਨੇ ਇਸ ਮੌਕੇ ਤੇ ਦੁਨੀਆ ਦੀ ਅੱਧੀ ਆਬਾਦੀ ਦੇ ਅਧਿਕਾਰਾਂ ਤੇ ਔਰਤਾਂ ਨੂੰ ਦਰਪੇਸ਼ ਮਸਲਿਆਂ ਬਾਰੇ ਬੋਲਦਿਆ ਕਿਹਾ ਕਿ ਇਸ ਦਿਨ ਨੂੰ ਮਨਾਉਣ ਦਾ ਮੁੱਖ ਮੰਤਵ ਔਰਤਾਂ ਦੁਆਰਾ ਵੱਖ-ਵੱਖ ਖੇਤਰਾਂ ਦੇ ਵਿਕਾਸ ਵਿੱਚ ਪਾਏ ਯੋਗਦਾਨ ਨੂੰ ਬਣਦਾ ਆਦਰ ਦੇਣਾ ਅਤੇ ਉਹਨਾਂ ਦੇ ਸਰਵ-ਪੱਖੀ ਵਿਕਾਸ ਲਈ ਹਰ ਤਰਾਂ ਦੇ ਸਿਆਸੀ, ਆਰਥਿਕ, ਸੱਭਿਆਚਾਰਕ ਵਿਤਕਰਿਆਂ ਤੇ ਭੇਦ-ਭਾਵਾਂ ਤੋਂ ਉੱਪਰ ਉੱਠਕੇ ਇੱਕ ਸੁਰੱਖਿਅਤ ਤੇ ਤੰਦਰੁਸਤ ਸਮਾਜ ਦੀ ਸਿਰਜਣਾ ਕਰਨਾ ਹੈ।
ਇਸ ਮੌਕੇ ਤੇ ਮੋਦੀ ਕਾਲਜ ਦੇ ਵੱਖ-ਵੱਖ ਵਿਭਾਗਾਂ ਵੱਲੋਂ ਔਰਤਾਂ ਦੀ ਸਿਹਤ ਤੇ ਸੁਰੱਖਿਆ ਲਈ ਪ੍ਰੋਗਰਾਮਾਂ ਦਾ ਆਯੋਜਨ ਕੀਤਾ ਗਿਆ। ਕਾਲਜ ਦੇ ਫਿਜ਼ੀਕਲ ਐਜੂਕੇਸ਼ਨ ਡਿਪਾਰਟਮੈਂਟ ਵੱਲੋਂ ਜਿੱਥੇ ਆਰੋਬਿਕ ਸ਼ੈਸ਼ਨ ਤੇ ਸਵੈ-ਸੁਰੱਖਿਆ ਸਬੰਧੀ ਪ੍ਰੋਗਰਾਮ ਆਯੌਜਿਤ ਕੀਤੇ ਗਏ ਉੱਥੇ ਕਾਲਜ ਦੇ ਐਨ.ਅੇੱਸ.ਐੱਸ ਵਿਭਾਗ ਦੇ ਪ੍ਰੋਗਰਾਮ ਅਫਸਰ ਪ੍ਰੋ. ਡਾ. ਜਗਦੀਪ ਕੌਰ ਨੇ ਔਰਤਾਂ ਦੀ ਸੁਰੱਖਿਆਂ ਸਬੰਧੀ ਚੁੱਕੇ ਗਏ ਕਦਮਾਂ ਬਾਰੇ ਵਿਸਥਾਰ ਸਹਿਤ ਜਾਣਕਾਰੀ ਦਿੱਤੀ।ਉਹਨਾਂ ਨੇ ਦੱਸਿਆ ਕਿ ਕਾਲਜ ਵਿਦਿਆਰਥੀਆਂ ਤੇ ਸਟਾਫ ਵੱਲੌਂ ਇਹ ਕੋਸ਼ਿਸ ਕੀਤੀ ਜਾਵੇ ਕਿ ਕਿਸੇ ਵੀ ਪੱਧਰ ਤੇ ਔਰਤਾਂ ਖਿਲਾਫ ਕਿਸੇ ਤਰਾਂ ਦੀ ਮੰਦੀ ਸ਼ਬਦਾਵਲੀ ਦੀ ਵਰਤੋਂ ਨਾ ਕੀਤੀ ਜਾਵੇ।
ਇਸ ਮੌਕੇ ਤੇ ਕਾਲਜ ਦੇ ਸਾਰੇ ਵਿਭਾਗਾਂ ਦੇ ਮੁਖੀਆਂ ਅਤੇ ਸਟਾਫ ਮੈਂਬਰਾਂ ਨੇ ਉਤਸ਼ਾਹ ਨਾਲ ਹਿੱਸਾ ਲਿਆ।
 List of participants