Modi College bags best NSS unit award third year in a Row
Multani Mal Modi College, Patiala recently bagged best NSS unit award from Punjabi University, Patiala, for third year and Dr. Rajeev Sharma, HOD, Chemistry Department of Modi College declared best NSS officer for last seven years consecutively. The award was given in Seventh Youth Congress organized by National Social Service Department, Punjabi University, Patiala which was presided over by Magsaysay award winner Rajinder Singh, known as 'waterman of India'. The chief guest was Dr. Arvind, Vice Chancellor, Punjabi University, Patiala and it was held under guidance of Ms. Mamta Sharma, NSS coordinator, Punjabi University, Patiala.
College Principal Dr. Khushvinder Kumar congratulated the NSS wing of the college for their hard work and sincere efforts for bringing awareness about environment, social problems and helping needy people of Patiala and said that it is a matter of pride for our college.
Dr. Rajeev Sharma, Programme Officer, NSS wing of the college said that this is our collective achievement and our NSS wing is committed for social welfare and for bringing awareness about burning social and economic issues.
The NSS officers of the wing Prof. Jagdeep Kaur and Dr. Harmohan Sharma also congratulated the volunteers and motivated them for putting more energy and time for social welfare.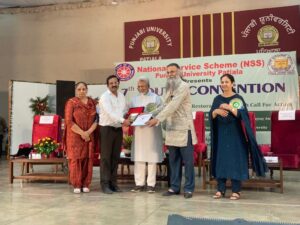 ਮੋਦੀ ਕਾਲਜ ਦਾ ਐਨ.ਐੱਸ.ਐੱਸ ਵਿਭਾਗ ਤੀਜੀ ਵਾਰ ਬੈੱਸਟ ਵਿਭਾਗ ਘੋਸ਼ਿਤ
ਸਥਾਨਿਕ ਮੁਲਤਾਨੀ ਮੱਲ ਮੋਦੀ ਕਾਲਜ, ਪਟਿਆਲਾ ਦੇ ਐਨ.ਐੱਸ.ਐੱਸ ਵਿਭਾਗ ਨੂੰ ਲਗਾਤਾਰ ਤੀਜੀ ਵਾਰ ਪੰਜਾਬੀ ਯੂਨੀਵਰਸਿਟੀ, ਪਟਿਆਲਾ ਵੱਲੋਂ ਸਭ ਤੋਂ ਵਧੀਆ ਵਿੰਗ ਐਲਾਨਿਆ ਗਿਆ ਹੈ।ਇਸ ਵਿੰਗ ਦੇ ਇੰਚਾਰਜ ਡਾ.ਰਾਜੀਵ ਸ਼ਰਮਾ, ਮੁਖੀ, ਕੈਮਿਸਟਰੀ ਵਿਭਾਗ ਨੂੰ ਉਹਨਾਂ ਦੀਆਂ ਬਿਹਤਰੀਨ ਸੇਵਾਵਾਂ ਲਈ ਲਗਾਤਾਰ ਸੱਤਵੀਂ ਵਾਰ ਸਭ ਤੋਂ ਵਧੀਆ ਐਨ.ਐੱਸ.ਐੱਸ ਅਫ਼ਸਰ ਦੇ ਇਨਾਮ ਨਾਲ ਵੀ ਸਨਮਾਨਿਤ ਕੀਤਾ ਗਿਆ।ਇਹ ਇਨਾਮ ਯੂਨੀਵਰਸਿਟੀ ਵੱਲੋਂ ਆਯੋਜਿਤ ਸੱਤਵੀਂ ਯੂਥ ਕਾਂਗਰਸ ਵਿੱਚ ਪ੍ਰਦਾਨ ਕੀਤੇ ਗਏ ਜਿਸ ਦੀ ਪ੍ਰਧਾਨਗੀ ਮੈਗਾਸਾਸੇ ਐਵਾਰਡ ਨਾਲ ਸਨਮਾਨਿਤ ਭਾਰਤ ਦੇ ਵਾਟਰਮੈਨ ਸ਼੍ਰੀ ਰਾਜਿੰਦਰ ਸਿੰਘ ਨੇ ਕੀਤੀ। ਇਸ ਵਿੱਚ ਮੁੱਖ ਮਹਿਮਾਨ ਵਜੋਂ ਯੂਨੀਵਰਸਿਟੀ ਦੇ ਵਾਈਸ ਚਾਂਸਲਰ ਡਾ.ਅਰਵਿੰਦ ਸ਼ਾਮਲ ਹੋਏ ਤੇ ਇਹ ਪ੍ਰੋਗਰਾਮ ਯੂਨੀਵਰਸਿਟੀ ਦੇ ਐਨ.ਐਨ.ਐੱਸ ਕੋਆਰਡੀਨੇਟਰ ਸ਼੍ਰੀਮਤੀ ਮਮਤਾ ਸ਼ਰਮਾ ਦੀ ਅਗਵਾਈ ਹੇਠ ਕਰਵਾਇਆ ਗਿਆ।
ਕਾਲਜ ਪ੍ਰਿੰਸੀਪਲ ਡਾ.ਖੁਸ਼ਵਿੰਦਰ ਕੁਮਾਰ ਜੀ ਨੇ ਇਸ ਮੌਕੇ ਤੇ ਕਾਲਜ ਦੇ ਐਨ.ਐੱਸ.ਐੱਸ ਵਿਭਾਗ ਨੂੰ ਵਧਾਈ ਦਿੰਦਿਆਂ ਕਿਹਾ ਕਿ ਇਹ ਵਿੰਗ ਦੀ ਸਖ਼ਤ ਮਿਹਨਤ ਅਤੇ ਸਮਾਜ ਭਲਾਈ ਲਈ ਕੀਤੇ ਜਾ ਰਹੇ ਨਿਰੰਤਰ ਕਾਰਜਾਂ ਦਾ ਸਿੱਟਾ ਹੈ।ਉਹਨਾਂ ਨੇ ਕਿਹਾ ਕਿ ਇਸ ਵਿੰਗ ਦੀਆਂ ਉਪਲਬਧੀਆਂ ਤੇ ਕਾਲਜ ਨੂੰ ਮਾਣ ਹੈ।
ਇਸ ਮੌਕੇ ਤੇ ਡਾ.ਰਾਜੀਵ ਸ਼ਰਮਾ ਨੇ ਵਿੰਗ ਦੇ ਵਲੰਟੀਅਰਾਂ ਦਾ ਸਹਿਯੋਗ ਲਈ ਧੰਨਵਾਦ ਕਰਦਿਆਂ ਕਿਹਾ ਕਿ ਇਸ ਸਭ ਦੇ ਸਾਂਝੇ ਯਤਨਾਂ ਦਾ ਫਲ਼ ਹੈ।ਉਹਨਾਂ ਨੇ ਕਿਹਾ ਕਿ ਸਾਡਾ ਵਿੰਗ ਸਮਾਜ ਭਲਾਈ, ਵਾਤਾਵਰਣ ਅਤੇ ਹੋਰ ਅਹਿਮ ਸਮਾਜਿਕ-ਆਰਥਿਕ ਮੁੱਦਿਆਂ ਬਾਰੇ ਲਗਾਤਾਰ ਤਤਪਰ ਹੈ।
ਇਸ ਮੌਕੇ ਤੇ ਐਨ.ਐੱਸ.ਐੱਸ ਵਿਭਾਗ ਦੇ ਬਾਕੀ ਪ੍ਰੋਗਰਾਮ ਅਫ਼ਸਰਾਂ ਪ੍ਰੋ.ਜਗਦੀਪ ਕੌਰ ਤੇ ਡਾ.ਹਰਮੋਹਨ ਸ਼ਰਮਾ ਨੇ ਵੀ ਵਲੰਟੀਅਰਾਂ ਨੂੰ ਇਸ ਇਨਾਮ ਲਈ ਵਧਾਈ ਦਿੱਤੀ ਤੇ ਉਹਨਾਂ ਨੂੰ ਹੋਰ ਵੱਧ ਤਨਦੇਹੀ ਨਾਲ ਸਮਾਜਿਕ ਭਲਾਈ ਲਈ ਜੁਟਣ ਦਾ ਸੱਦਾ ਦਿੱਤਾ।