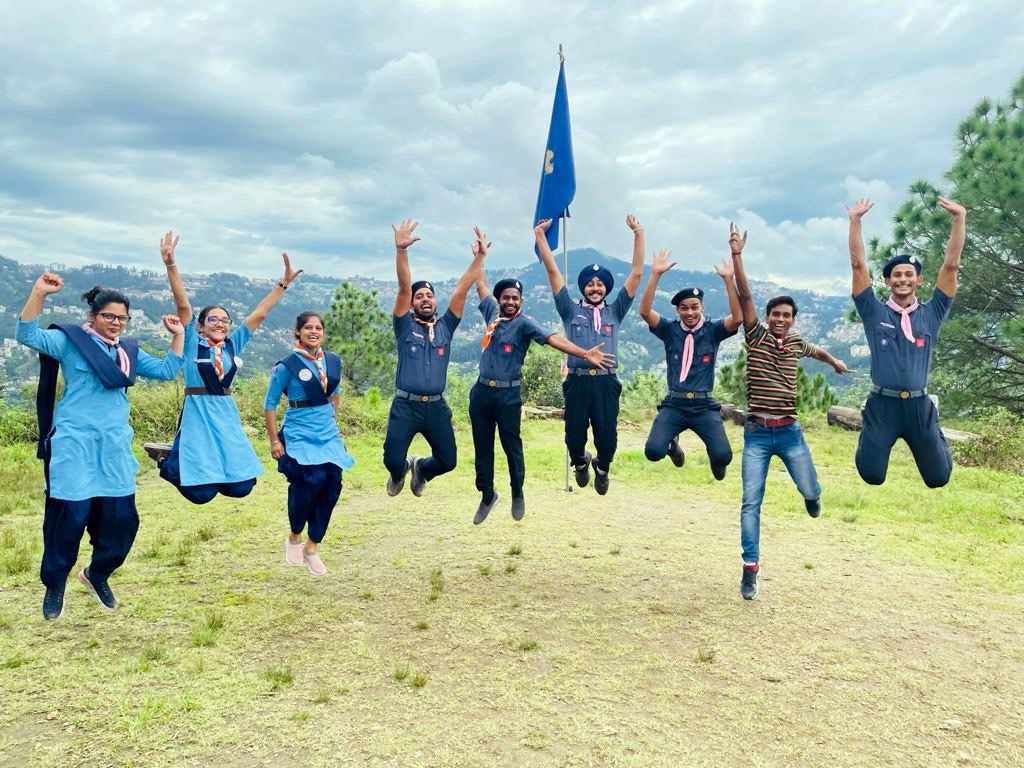 Patiala: Sept. 18, 2021
Modi College students attended Bharat Scouts and Guides 'Proficiency Batch Testing Camp'
The Bharat Scouts and Guides wing of Multani Mal Modi College, Patiala attended five days training under Proficiency Batch Testing Camp and Rajya Puruskar training Camp from 10th September to 14th September, 2021 at Punjab State Scouts and Guides Training Center, Taradevi, Shimla. As many as 22 scouts (13 Rovers and 9 Rangers) attended Proficiency batch testing camp whereas 8 scouts (5 Rovers and 3 Rangers) received training for Rajya Puruskar under the mentorship of Dr. Rupinder Singh (Scout Rover Leader) and Dr. Veenu Jain (Ranger Leader).
College Principal Dr. Khushvinder Kumar wished the scouts for camp and emphasized that in prevailing pandemic situations their training will enable them to fulfill their social responsibilities more cogently and they will be able to implement their skills learnt at the camp into real life situations.
During the training Punjab State Organizing Commissioner Sdr. Onkar Singh and State Training Commissioner Sh. Hemant Kumar discussed the history of scout movement, international activities, and the opportunities. The students were imparted knowledge and training with regard to different badges, the flag hoisting and flag song, prayer, clapping with rhythm, technical whistles and code, hiking and tracking, life protection skills social service, first aid and various aspects of disciplined life.
College unit leaders Dr. Veenu jain and Dr. Rupinder Singh told that in this camp 18 rovers and 12 rangers along with technical and practical knowledge to face the challenges of life also undertook scenic but adventurous hard treks to MahuNag Temple and Tara Devi temple to give boost to their moral, and will-power which goes a long way in helping them face hard times of their life with patience and perseverance. During camp fire students daily exhibited their artistic skills through folk art activities and took the oath to fulfill their duties towards society and environment. They were also awarded with Certificates for their training. Scouts also visited Shimla which is most popular tourist spot in Himachal Pradesh.
After coming back from the camp, college Principal Dr. Khushvinder Kumar congratulated Camp In charges, rangers and rovers and shared their experiences. He furthermore advised the scouts to be ready and play a significant role in social service.
ਪਟਿਆਲਾ: 18 ਸਤੰਬਰ, 2021
ਮੋਦੀ ਕਾਲਜ ਦੇ ਸਕਾਊਟਸ ਨੇ 'ਪ੍ਰੋਫੀਸ਼ੈਂਸੀ ਬੈਜ ਟੈਸਟਿੰਗ ਕੈਂਪ' ਲਾਇਆ
ਬੀਤੇ ਦਿਨੀਂ ਮੁਲਤਾਨੀ ਮੱਲ ਮੋਦੀ ਕਾਲਜ, ਪਟਿਆਲਾ ਦੀ 'ਭਾਰਤ ਸਕਾਊਟਸ ਐਂਡ ਗਾਈਡਜ਼' ਯੂਨਿਟ ਦੇ 30 ਸਕਾਊਟਸ ਨੇ ਸਕਾਊਟਸ ਟ੍ਰੇਨਿੰਗ ਸੈਂਟਰ, ਤਾਰਾਦੇਵੀ (ਸ਼ਿਮਲਾ) ਵਿਖੇ 10 ਤੋਂ 14 ਸਤੰਬਰ, 2021 ਤੱਕ ਪੰਜ ਰੋਜ਼ਾ 'ਪ੍ਰੋਫੀਸ਼ੈਂਸੀ ਬੈਜ ਟੈਸਟਿੰਗ ਕੈਂਪ' ਵਿੱਚ ਹਿੱਸਾ ਲਿਆ। ਇਸ ਕੈਂਪ ਤਹਿਤ 8 ਸਕਾਊਟਸ (5 ਰੋਵਰਜ਼ ਤੇ 3 ਰੇਂਜਰਜ਼) ਨੇ 'ਰਾਜਯ ਪੁਰਸਕਾਰ' ਅਤੇ 22 ਸਕਾਊਟਸ (13 ਰੋਵਰਜ਼ ਤੇ 9 ਰੇਂਜਰਜ਼) ਨੇ 'ਨਿਪੁੰਨ' ਪੱਧਰ ਦੀ ਮੁਹਾਰਤ ਹਾਸਿਲ ਕੀਤੀ।
ਕਾਲਜ ਪ੍ਰਿੰਸੀਪਲ ਡਾ. ਖੁਸ਼ਵਿੰਦਰ ਕੁਮਾਰ ਜੀ ਨੇ ਸਕਾਊਟਸ ਨੂੰ ਰਵਾਨਾ ਕਰਦਿਆਂ ਇਹ ਆਸ ਜਤਾਈ ਕਿ ਮਹਾਂਮਾਰੀ ਉਪਰੰਤ ਪੈਦਾ ਸਥਿਤੀਆਂ ਵਿੱਚ ਸਕਾਊਟਸ ਹੋਰ ਵੀ ਵੱਧ ਜ਼ਿੰਮੇਵਾਰੀ ਨਾਲ ਆਪਣੀ ਸਮਾਜਿਕ ਭੂਮਿਕਾ ਨੂੰ ਸਮਝਣਗੇ ਅਤੇ ਕੈਂਪ ਦੀ ਸਿਖਲਾਈ ਨੂੰ ਆਪਣੇ ਵਿਹਾਰਕ ਜੀਵਨ ਵਿੱਚ ਲਾਗੂ ਕਰਨਗੇ।
ਸਟੇਟ ਆਰਗੇਨਾਈਜ਼ਿੰਗ ਕਮਿਸ਼ਨਰ ਸ੍ਰ. ਉਂਕਾਰ ਸਿੰਘ ਦੀ ਅਗਵਾਈ ਅਧੀਨ ਆਯੋਜਿਤ ਇਸ ਕੈਂਪ ਵਿੱਚ ਸਟੇਟ ਟ਼ੇਨਿੰਗ ਕਮਿਸ਼ਨਰ (ਸ) ਸ਼੍ਰੀ ਹੇਮੰਤ ਕੁਮਾਰ ਦੁਆਰਾ ਕੈਂਪ ਦੌਰਾਨ ਸੰਸਥਾ ਦੇ ਇਤਿਹਾਸਕ ਪਿਛੋਕੜ, ਵਿਸ਼ਵ ਪੱਧਰੀ ਗਤੀਵਿਧੀਆਂ, ਉਦੇਸ਼, ਬੈਜ, ਝੰਡਾ ਰਸਮ, ਝੰਗਾ ਗੀਤ, ਪ੍ਰਾਥਨਾ, ਸੂਚਨਾਮਈ ਤਾੜੀਆਂ, ਜੈੱਲ, ਤਕਨੀਕੀ ਸੀਟੀਆਂ ਤੇ ਕੋਡ, ਟ੍ਰੈਕਿੰਗ, ਜੀਵਨ ਸੁਰੱਖਿਆ, ਸਮਾਜਿਕ ਸੇਵਾ, ਖ਼ਤਰਿਆਂ ਸੰਗ ਜੂਝਣ, ਮੁੱਢਲੀ ਸਹਾਇਤਾ ਅਤੇ ਨਿਯਮਬੱਧ ਜੀਵਨ-ਜਾਂਚ ਜਿਹੇ ਪੱਖਾਂ ਦੀ ਜਾਣਕਾਰੀ ਤੇ ਵਿਹਾਰਕ ਸਿਖਲਾਈ ਦਿੱਤੀ ਗਈ।
ਕਾਲਜ ਯੂਨਿਟ ਦੇ ਡਾ. ਰੁਪਿੰਦਰ ਸਿੰਘ (ਰੋਵਰਜ ਇੰਚਾਰਜ) ਅਤੇ ਡਾ. ਵੀਨੂੰ ਜੈਨ (ਰੇਂਜਰ ਇੰਚਾਰਜ) ਨੇ ਦੱਸਿਆ ਕਿ ਇਸ ਕੈਂਪ ਵਿੱਚ 18 ਰੋਵਰਜ਼ ਤੇ 12 ਰੇਂਜਰਜ਼ ਨੂੰ ਤਕਨੀਕੀ ਸਿੱਖਿਆ ਤੇ ਵਿਵਹਾਰਕ ਸਿਖਲਾਈ ਦੇ ਨਾਲ ਹੀ ਐਡਵੈਂਚਰ ਗਤੀਵਿਧੀਆਂ ਤਹਿਤ ਮਾਹੂਨਾਥ ਮੰਦਿਰ ਅਤੇ ਤਾਰਾਦੇਵੀ ਮੰਦਿਰ ਦੇ ਔਖੇ ਪਰ ਮਨਮੋਹਕ ਪਹਾੜੀ ਰਸਤਿਆਂ ਦੀ ਟ੍ਰੈਕਿੰਗ ਵੀ ਕਰਵਾਈ ਗਈ। ਸਕਾਊਟਸ ਨੂੰ ਸੈਲਾਨੀਆਂ ਦੀ ਖਿੱਚ ਦਾ ਕੇਂਦਰ ਸ਼ਿਮਲਾ ਘੁਮਾਇਆ ਗਿਆ ਅਤੇ ਕੈਂਪ ਮੁਹਾਰਤ ਦੇ ਪ੍ਰਮਾਣ-ਪੱਤਰ ਵੀ ਪ੍ਰਦਾਨ ਕੀਤੇ ਗਏ। ਕੈਂਪ ਫਾਇਰ ਈਵੈਂਟ ਤਹਿਤ ਸਕਾਊਟਸ ਵੱਲੋਂ ਰੋਜ਼ਾਨਾ ਵੱਖ-ਵੱਖ ਸਭਿਆਚਾਰਕ ਪੇਸ਼ਕਾਰੀਆਂ ਰਾਹੀਂ ਆਪਣੀ ਕਲਾ ਦਾ ਪ੍ਰਦਰਸ਼ਨ ਕੀਤਾ ਗਿਆ ਅਤੇ ਵਾਤਾਵਰਨ ਤੇ ਸਮਾਜ ਪ੍ਰਤੀ ਆਪਣੀ ਜ਼ਿੰਮੇਵਾਰੀ ਨਿਭਾਉਣ ਦੀ ਪ੍ਰਤਿਗਿਆ ਵੀ ਲਈ ਗਈ। ਕਾਲਜ ਪਹੁੰਚਣ 'ਤੇ ਪ੍ਰਿੰਸੀਪਲ ਡਾ. ਖੁਸ਼ਵਿੰਦਰ ਕੁਮਾਰ ਨੇ ਸਕਾਊਟਸ ਯੂਨਿਟ ਦੇ ਇੰਚਾਰਜਾਂ, ਰੇਂਜਰ ਤੇ ਰੋਵਰਜ਼ ਨੂੰ ਉਨ੍ਹਾਂ ਦੀਆਂ ਸ਼ਾਨਦਾਰ ਨਿਰੰਤਰ ਗਤੀਵਿਧੀਆਂ ਤੇ ਪ੍ਰਾਪਤੀਆਂ ਦੀ ਵਧਾਈ ਦਿੱਤੀ ਅਤੇ ਉਹਨਾਂ ਦੇ ਕੈਂਪ ਤਜਰਬਿਆਂ ਦੀ ਜਾਣਕਾਰੀ ਹਾਸਿਲ ਕੀਤੀ। ਭਵਿੱਖ 'ਚ ਸਮਾਜਿਕ ਸੇਵਾ ਲਈ ਸਕਾਊਟਸ ਨੂੰ ਤਿਆਰ-ਬਰ-ਤਿਆਰ ਰਹਿਣ ਅਤੇ ਮੋਹਰੀ ਭੂਮਿਕਾ ਅਦਾ ਕਰਨ ਦਾ ਸੰਦੇਸ਼ ਦਿੱਤਾ।