Training Program on First Aid Organized for Students, Teaching and Non-Teaching Staff at Modi College Patiala
Patiala: 08.10.2022
Internal Quality Assurance Cell (IQAC) of Multani Mal Modi College Patiala in collaboration with Bharat and Scouts Guides wing organized training program on First Aid for teaching, non-teaching staff and students. The session was taken by Sh. Kaka Ram Verma, Traffic Marshall and District Training Supervisor (Retired), Red Cross Society, Patiala. The interactive training was focused on fundamentals of first aid, managing minor accidents, treatment of road causalities, how to perform Cardio Pulmonary Resuscitation (CPR) especially for heart patients. The participants learned the potentially life saving techniques that can be performed with minimal equipment.
Principal Dr. Khushvinder Kumar said that first aid plays a foremost role in saving lives as it renders timely treatment. He further added that effective first aid can reduce the consequences of many injuries and thus such programs are beneficial in saving lives.
Dr. Rajeev Sharma, Programme Officer (NSS) introduced the guest speaker to the audience and briefed about role of First Aid in saving precious lives. NCC officers Dr. Rohit Sachdeva and Dr. Sumeet Kumar, BSG incharges Dr. Rupinder Singh Dhillon, Rover Scout Leader and Dr. Veenu Jain, Ranger Scout Leader made special efforts to make this programme a success.
Dr. Rupinder Singh Dhillon, Rover Scout Leader, BSG proposed the vote of thanks. Total 162 members of teaching, non-teaching staff and students attended and benefited from this training.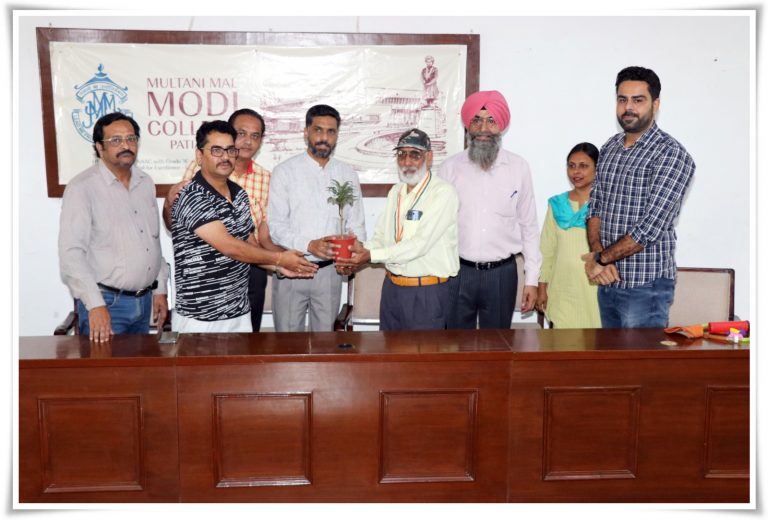 ਮੋਦੀ ਕਾਲਜ ਵੱਲੋਂ ਟੀਚਿੰਗ, ਨਾਨ-ਟੀਚਿੰਗ ਸਟਾਫ ਤੇ ਵਿਦਿਆਰਥੀਆਂ ਲਈ ਫਸਟ-ਏਡ ਦੀ ਟਰੇਨਿੰਗ ਆਯੋਜਿਤ
ਪਟਿਆਲਾ: 08.10.2022
ਸਥਾਨਕ ਮੁਲਤਾਨੀ ਮੱਲ ਮੋਦੀ ਕਾਲਜ ਪਟਿਆਲਾ ਦੇ ਇੰਟਰਨਲ ਕੁਆਲਿਟੀ ਇਨਸ਼ੋਰਸ ਸੈੱਲ, ਐੱਨ.ਐੱਸ.ਐੱਸ ਯੂਨਿਟ ਅਤੇ ਕਾਲਜ ਦੇ ਭਾਰਤ ਐਂਡ ਸਕਾਊਟਜ਼ ਵਿੰਗ ਵੱਲੋਂ ਅੱਜ ਕਾਲਜ ਦੇ ਟੀਚਿੰਗ ਨਾਨ-ਟੀਚਿੰਗ ਸਟਾਫ ਅਤੇ ਵਿਦਿਆਰਥੀਆਂ ਲਈ ਫਸਟ-ਏਡ ਟਰੇਨਿੰਗ ਦਾ ਆਯੋਜਨ ਕੀਤਾ ਗਿਆ।ਇਸ ਵਿੱਚ ਸ੍ਰੀ ਕਾਕਾ ਰਾਮ ਵਰਮਾ, ਸਾਬਕਾ ਜ਼ਿਲ਼੍ਹਾ ਟਰੇਨਿੰਗ ਸੁਪਰਵਾਈਜ਼ਰ, ਰੈੱਡ ਕਰਾਸ, ਪਟਿਆਲਾ ਤੇ ਟਰੈਫਿਕ ਮਾਰਸ਼ਲ ਨੇ ਸਟਾਫ ਤੇ ਵਿਦਿਆਰਥੀਆਂ ਨਾਲ ਫਸਟ-ਏਡ ਦੇਣ ਦੀਆਂ ਤਕਨੀਕਾਂ ਅਤੇ ਵਿਧੀਆਂ ਤੇ ਚਰਚਾ ਕੀਤੀ। ਇਸ ਟਰੇਨਿੰਗ ਦਾ ਮੁੱਖ ਉਦੇਸ਼ ਐਕਸੀਡੈਟਾਂ ਦੀ ਹਾਲਤ ਵਿੱਚ ਮੁੱਢਲੀ ਸਹਾਇਤਾ ਕਿਵੇਂ ਦਿੱਤੀ ਜਾਵੇ, ਸੜਕ ਹਾਦਸਿਆਂ ਵਿੱਚ ਜਾਨੀ ਨੁਕਸਾਨ ਨੂੰ ਕਿਵੇਂ ਰੋਕਿਆ ਜਾ ਸਕਦਾ ਹੈ, ਸੀ.ਪੀ.ਆਰ ਦੇਣ ਦਾ ਸਹੀ ਢੰਗ ਅਤੇ ਹਾਦਸਾ ਹੋਣ ਦੀ ਸੂਰਤ ਵਿੱਚ ਘੱਟ ਤੋਂ ਘੱਟ ਸਾਧਨਾਂ ਦੀ ਵਰਤੋਂ ਨਾਲ ਮੁੱਢਲੀ ਸਹਾਇਤਾ ਕਿਵੇਂ ਦਿੱਤੀ ਜਾ ਸਕਦੀ ਹੈ, ਇਹਨਾਂ ਨੁਕਤਿਆਂ ਬਾਰੇ ਵਿਸਥਾਰ ਵਿੱਚ ਜਾਗਰੂਕ ਕੀਤਾ ਗਿਆ।
ਕਾਲਜ ਪ੍ਰਿੰਸੀਪਲ ਡਾ.ਖੁਸ਼ਵਿੰਦਰ ਕੁਮਾਰ ਜੀ ਨੇ ਇਸ ਟਰੇਨਿੰਗ ਦਾ ਆਗਾਜ਼ ਕਰਦਿਆਂ ਕਿਹਾ ਕਿ ਹਾਦਸਿਆਂ ਦੀ ਹਾਲਤ ਵਿੱਚ ਸਹੀ ਤਰੀਕੇ ਨਾਲ ਦਿੱਤੀ ਗਈ ਮੁੱਢਲੀ ਸਹਾਇਤਾ ਨਾ ਸਿਰਫ ਕੀਮਤੀ ਜਾਨਾਂ ਬਚਾ ਸਕਦੀ ਹੈ ਸਗੋਂ ਇਸ ਨਾਲ ਸਰੀਰਕ ਤੇ ਮਾਨਸਿਕ ਤਕਲੀਫ ਤੋਂ ਵੀ ਜਲਦੀ ਰਾਹਤ ਪਾਈ ਜਾ ਸਕਦੀ ਹੈ।ਉਹਨਾਂ ਦੱਸਿਆ ਕਿ ਇਸ ਉਦੇਸ਼ ਲਈ ਅਜਿਹੇ ਪ੍ਰੋਗਰਾਮਾਂ ਦੀ ਬਹੁਤ ਮਹਤੱਤਾ ਹੈ।
ਇਸ ਮੌਕੇ ਤੇ ਕਾਲਜ ਐੱਨ.ਐੱਸ.ਐੱਸ ਵਿਭਾਗ ਦੇ ਪ੍ਰੋਗਰਾਮ ਅਫਸਰ ਡਾ.ਰਾਜੀਵ ਸ਼ਰਮਾ ਨੇ ਦੱਸਿਆ ਕਿ ਇਸ ਟਰੇਨਿੰਗ ਦਾ ਮੁੱਖ ਮੰਤਵ ਕਾਲਜ ਸਟਾਫ, ਨਾਨ-ਟੀਚਿੰਗ ਸਟਾਫ ਅਤੇ ਵਿਦਿਆਰਥੀਆਂ ਨੂੰ ਮੁੱਢਲੀ ਸਹਾਇਤਾ ਵਿੱਚ ਪ੍ਰਪੱਕ ਬਣਾਉਣਾ ਸੀ। ਇਸ ਟਰੇਨਿੰਗ ਨੂੰ ਸਫਲਤਾ-ਪੂਰਵਕ ਨੇਪਰੇ ਚਾੜਣ ਵਿੱਚ ਐੱਨ.ਸੀ.ਸੀ ਅਫਸਰਾਂ ਡਾ.ਰੋਹਿਤ ਸਚਦੇਵਾ ਅਤੇ ਡਾ. ਸੁਮੀਤ ਕੁਮਾਰ, ਬੀ.ਐੱਸ.ਜੀ ਇੰਚਾਰਜਾਂ ਡਾ.ਰੁਪਿੰਦਰ ਸਿੰਘ ਢਿੱਲੋਂ, ਰੋਵਰ ਸਕਾਉਟ ਇੰਚਾਰਜ ਅਤੇ ਡਾ.ਵੀਨੂ ਜੈਨ, ਰੇਂਜਰ ਸਕਾਉਟ ਇੰਚਾਰਜ ਦਾ ਯੋਗਦਾਨ ਰਿਹਾ।
ਇਸ ਮੌਕੇ ਤੇ ਧੰਨਵਾਦ ਦਾ ਮਤਾ ਡਾ.ਰੁਪਿੰਦਰ ਸਿੰਘ ਢਿੱਲੋਂ, ਰੋਵਰ ਸਕਾਉਟ ਇੰਚਾਰਜ ਨੇ ਪੇਸ਼ ਕੀਤਾ। ਇਸ ਟਰੇਨਿੰਗ ਵਿੱਚ 162 ਟੀਚਿੰਗ, ਨਾਨ-ਟੀਚਿੰਗ ਸਟਾਫ ਅਤੇ ਵਿਦਿਆਰਥੀਆਂ ਨੇ ਸ਼ਿਰਕਤ ਕੀਤੀ।