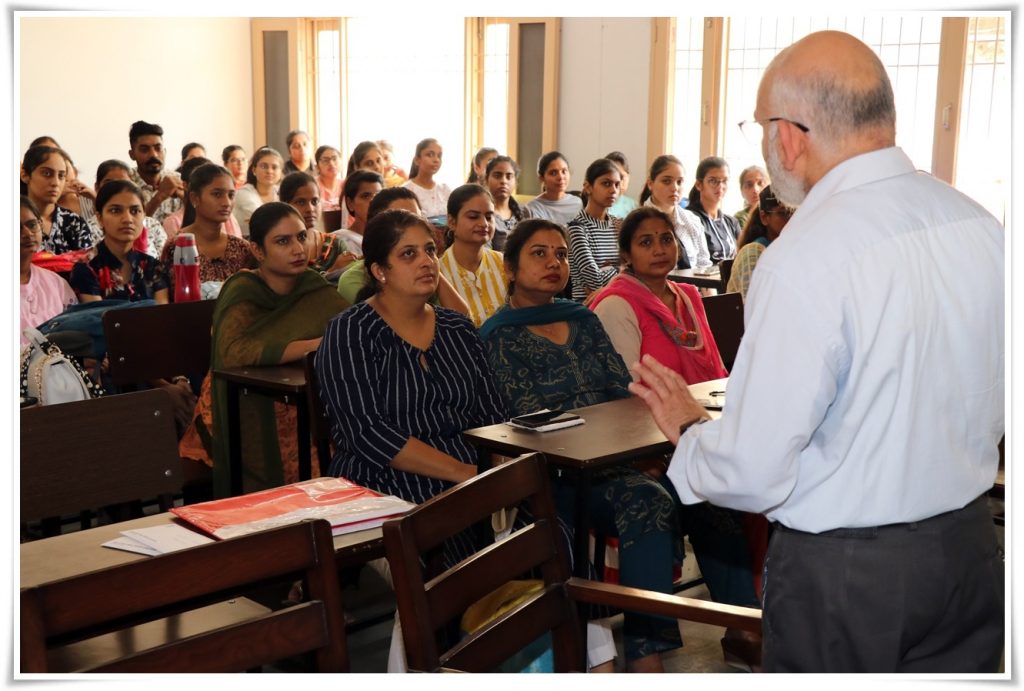 Patiala: 09-10-2021
Expert lecture on Existence theory held at Modi College
Post-graduate Department of Mathematics, Multani Mal Modi College, Patiala today organized an expert lecture on "Existence theory of solutions of ordinary differential equations' to understand its utility and usages in everyday life. This expert lecture was organized by Ramanujan Society of the college and was delivered by Dr.( Prof) Anil Kumar Vashisth, Chairman, Department of Mathematics, KUK, Haryana. Prof. Rajvinder Kaur, Assistant Professor in Maths welcomed the speaker. He was formally introduced by Dr. Varun Jain, Head (Mathematics), Modi College.
College Principal Dr. Khushvinder Kumar welcomed the expert speaker and emphasized upon understanding mathematics not only as a form of scientific inquiry but also as a creative and imaginative activity which has shaped our human civilization since ancient times.
Dr. Anil Kumar in his lecture elaborated how existence theory of solutions of ordinary differential equations explains that ordinary differential equations have important applications and are a powerful tool in the study of many problems in the natural sciences and in technology; they are extensively employed in Mechanics, Astronomy, Physics, and in many problems of Chemistry and Biology. The reason for this is the fact that objective laws governing certain phenomena (processes) can be written as ordinary differential equations, so that the equations themselves are a quantitative expression of these laws.
A live discussion session between the speaker and the students was held. Vote of thanks was presented by Prof. Chetna Rani Gupta. A large number of students and staff members were present on the occasion. A momento was also presented to the speaker.
ਪਟਿਆਲਾ: 09-10-2021
ਮੋਦੀ ਕਾਲਜ ਵਿਖੇ ਮੈਥਮੈਟਿਕਸ ਥਿਊਰੀ ਉੱਪਰ ਵਿਸ਼ੇਸ਼ ਭਾਸ਼ਣ ਦਾ ਆਯੋਜਨ
ਮੁਲਤਾਨੀ ਮੱਲ ਮੋਦੀ ਕਾਲਜ ਪਟਿਆਲਾ ਦੇ ਪੋਸਟ- ਗਰੈਜਏਟ ਵਿਭਾਗ ਵੱਲੋਂ ਅੱਜ, 'ਐਗਜਿਸਟੈਂਟ ਥਿਊਰੀ ਆਫ ਸੌਲੀਊਸ਼ਨਜ਼ ਆਫ ਆਰਡਨੇਰੀ ਡਿਫਰੈਨਸ਼ੀਅਲ ਇੱਕਏਸ਼ਨਜ਼' ਵਿਸ਼ੇ ਤੇ ਇੱਕ ਵਿਸ਼ੇਸ ਭਾਸ਼ਣ ਦਾ ਆਯੋਜਨ ਕੀਤਾ ਗਿਆ ਜਿਸ ਦਾ ਮੁੱਖ ਉਦੇਸ਼ ਮੈਥਮੈਟਿਕਸ ਦੀ ਇਸ ਅਤਿ- ਮਹਤੱਵਪੂਰਣ ਥਿਊਰੀ ਦੀ ਆਮ ਜੀਵਣ ਵਿੱਚ ਵਰਤੋਂ ਤੇ ਸਾਰਥਿਕਤਾ ਨੂੰ ਸਮਝਣਾ ਸੀ।ਇਸ ਭਾਸ਼ਣ ਦਾ ਆਯੋਜਨ ਕਾਲਜ ਦੀ ਰਾਮਾਨੁੰਜਨ ਸੁਸਾਇਟੀ ਵੱਲੋਂ ਕੀਤਾ ਗਿਆ ਤੇ ਇਸ ਵਿੱਚ ਮੁੱਖ ਵਕਤਾ ਵੱਜੋਂ ਡਾ (ਪ੍ਰੋ) ਅਨਿਲ ਕੁਮਾਰ ਵਸ਼ਿਸ਼ਟ, ਚੇਅਰਮੈਨ, ਕੁਰਕਛੇਤਰ ਯੂਨੀਵਰਸਿਟੀ, ਹਰਿਆਣਾ ਨੇ ਸ਼ਿਰਕਤ ਕੀਤੀ।ਮੈਥਮੈਟਿਕਸ ਵਿਭਾਗ ਦੇ ਐਸਿਸਟੈਂਟ ਪ੍ਰੋਫੈਸਰ ਡਾ. ਰਾਜਵਿੰਦਰ ਕੌਰ ਨੇ ਇਸ ਮੌਕੇ ਤੇ ਵਿਸ਼ੇ ਨਾਲ ਜਾਣ-ਪਛਾਣ ਕਰਵਾਈ।ਕਾਲਜ ਦੇ ਮੈਥਮੈਟਿਕਸ ਵਿਭਾਗ ਦੇ ਮੁਖੀ ਡਾ.ਵਰੁਣ ਜੈਨ ਨੇ ਇਸ ਮੌਕੇ ਤੇ ਵਕਤਾ ਨਾਲ ਰਸਮੀ ਜਾਣ-ਪਛਾਣ ਕਰਵਾਈ।
ਕਾਲਜ ਪ੍ਰਿੰਸੀਪਲ ਡਾ.ਖੁਸ਼ਵਿੰਦਰ ਕੁਮਾਰ ਜੀ ਨੇ ਇਸ ਮੌਕੇ ਤੇ ਮੁੱਖ ਵਕਤਾ ਦਾ ਸਵਾਗਤ ਕਰਦਿਆ ਕਿਹਾ ਕਿ ਮੈਥਮੈਟਿਕਸ ਨੂੰ ਇੱਕ ਵਿਸ਼ੇ ਦੇ ਤੌਰ ਤੇ ਸਮਝਣ ਦੇ ਨਾਲ -ਨਾਲ ਇਸ ਨੂੰ ਵਿਗਿਆਨਕ ਪੜਤਾਲ ਦੇ ਤੌਰ ਤੇ ਇੱਕ ਜੀਵੰਤ ਤੇ ਕਲਪਨਾ ਭਰਪੂਰ ਕਾਰਜ ਵੱਜੋਂ ਵੀ ਸਿੱਖਿਆ ਜਾਣਾ ਚਾਹੀਦਾ ਹੈ।ਉਹਨਾਂ ਨੇ ਕਿਹਾ ਕਿ ਵਿਗਿਆਨ ਦੇ ਬਾਕੀ ਵਿਸ਼ਿਆਂ ਵਾਂਗ ਮੈਥਮੈਟਿਕਸ ਨੇ ਮਨੁੱਖੀ ਸੱਭਿਅਤਾ ਦੇ ਵਿਕਾਸ ਵਿੱਚ ਬੇਸ਼ਕੀਮਤੀ ਯੋਗਦਾਨ ਦਿੱਤਾ ਹੈ।
ਆਪਣੇ ਭਾਸ਼ਣ ਵਿੱਚ ਬੋਲਦਿਆਂ ਡਾ. ਅਨਿਲ ਕੁਮਾਰ ਨੇ ਕਿਹਾ ਕਿ " ਐਗਜਿਸਟੈਂਟ ਥਿਊਰੀ ਆਫ ਸੌਲੀਊਸ਼ਨਜ਼ ਆਫ ਆਰਡਨੇਰੀ ਡਿਫਰੈਨਸ਼ੀਅਲ ਇੱਕਏਸ਼ਨਜ਼' ਦੇ ਅੰਤਰ-ਗਤ ਵਿਚਾਰ ਅਧੀਨ ਆਰਡਨੇਰੀ ਡਿਫਰੈਨਸ਼ੀਅਲ ਇੱਕਏਸ਼ਨਜ਼ ਨੈਚਰਲ ਸਾਇੰਸਿਜ਼ ਤੇ ਤਕਨਾਲੌਜੀ ਦੇ ਖੇਤਰ ਵਿੱਚ ਬਹੁਤ ਸਾਰੀਆਂ ਸਮੱਸਿਆਵਾਂ ਦੇ ਢੁੱਕਵੇ ਹੱਲ ਤਲਾਸ਼ਣ ਵਿੱਚ ਮਦੱਦ ਕਰ ਸਕਦੀਆ ਹਨ।ੳਹਨਾਂ ਨੇ ਇਹਨਾਂ ਦੀ ਮੌਜੂਦਾ ਸਮੇਂ ਵਿੱਚ ਉਪਯੋਗਤਾ ਬਾਰੇ ਬੋਲਦਿਆ ਕਿਹਾ ਕਿ ਅੱਜਕੱਲ ਮਕੈਨਿਕਸ, ਐਸਟ੍ਰੋਨੌਮੀ, ਫਿਜ਼ਿਕਸ ਤੋਂ ਬਿਨਾਂ ਕੈਮਿਸਟਰੀ ਤੇ ਬਾਇਉਲੌਜੀ ਵਿੱਚ ਇਹਨਾਂ ਦੀ ਕਾਫੀ ਵਰਤੋਂ ਕੀਤੀ ਜਾ ਰਹੀ ਹੈ।ਇਸ ਦਾ ਕਾਰਣ ਇਹ ਹੈ ਕਿ ਇਹਨਾਂ ਵਿੱਚ ਉਪਯੋਗ ਕੀਤੇ ਜਾਂਦੇ ਨਿਯਮਾਂ ਦੁਆਰਾ ਬਹੁਤ ਸਾਰੇ ਜੀਵਣ-ਵਰਤਾਰਿਆਂ ਦੀ ਵਿਆਖਿਆ ਕਰਨੀ ਸੰਭਵ ਹੈ।
ਇਸ ਭਾਸ਼ਣ ਤੋਂ ਬਾਅਦ ਸਵਾਲਾਂ-ਜਵਾਬਾਂ ਤੇ ਆਧਾਰਿਤ ਇੱਕ ਸ਼ੈਸ਼ਨ ਵੀ ਕਰਵਾਇਆ ਗਿਆ ਜਿਸ ਵਿੱਚ ਵੱਡੀ ਗਿਣਤੀ ਵਿੱਚ ਵਿਦਿਆਰਥੀਆਂ ਨੇ ਭਾਗ ਲਿਆ। ਇਸ ਪ੍ਰੋਗਰਾਮ ਵਿੱਚ ਧੰਨਵਾਦ ਦਾ ਮਤਾ ਪ੍ਰੋ.ਚੇਤਨਾ ਰਾਨੀ ਗੁਪਤਾ ਨੇ ਪੇਸ਼ ਕੀਤਾ।ਵਿਭਾਗ ਵੱਲੋਂ ਵਕਤਾ ਨੂੰ ਇੱਕ ਯਾਦਗਾਰੀ ਚ੍ਹਿੰਨ ਵੀ ਪ੍ਰਦਾਨ ਕੀਤਾ ਗਿਆ।