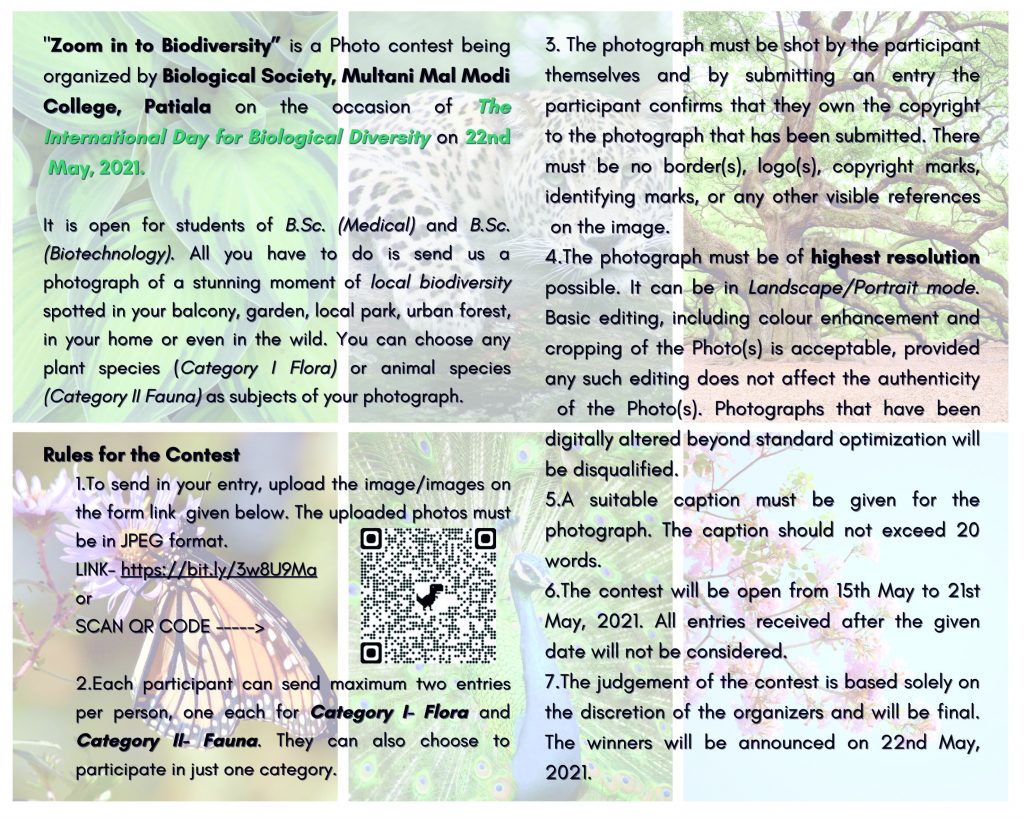 Patiala: May 22, 2021
Biological Society of M.M. Modi College organized Online Photo Contest "Zoom in to Biodiversity" on the occasion of International Day for Biological Biodiversity
Biological Society of M.M. Modi College organized Online Photo Contest "Zoom in to Biodiversity" on the occasion of International Day for Biological Biodiversity based on the theme of 'We are the solution'. The objective of celebrating this day was to create awareness among students about protection and preservation of our local biodiversity.
College Principal, Dr. Khushvinder Kumar encouraged the students to focus on being mindful of all the species of living organisms around them and work towards understanding their role in the ecosystem. He reiterated that conservat
ion of biodiversity is pivotal for the restoration of our environment and sustained existence of our human species.
Dr. Ashwani Kumar, Dean, Life Sciences informed that the Photography contest was organized for the students of B.Sc. Medical and B.Sc.(Hons.) Biotechnology under two categories Flora (plants) and Fauna (animals). A total of 31 entries were received from the students.
In Flora category Jasneet Kaur and Simranjeet Kaur of B.Sc.II (Med) bagged joint 1st position for their photographs of  Tecoma flowers and Pinus tree oozing resin. Deepak of  B.Sc. I (Hons.) Biotech. shared 2nd  position with Tanisha of B.Sc. III (Med) for their pictures of a miniature home garden and Rosa indica flower. Dilpreet Kaur of B.Sc. II (Med) and Sonia of B.Sc. III (Med.) bagged joint 3rd position for their captures of Papaver rhoeas (Common poppy) and Crinum lilies respectively.
In Fauna category Sukhmanpreet Singh of B.Sc.II (Med) bagged 1st position for his photograph of  Argiope garden spider. Jasleen Kaur and Jasneet Kaur of  B.Sc. II (Med.) shared 2nd  position for their pictures of Eysarcoris shield bug and Chrysocoris jewel bug on Jatropha flowers. Nitasha of B.Sc. II (Med) and Sonia of B.Sc. III (Med.) bagged joint 3rd position for their pictures of Syrphid fly on flower and Talicada (Red pierrot) butterfly.
The event was co-ordinated by Dr. Bhanvi Wadhawan and Dr. Santosh Bala. The faculty members of Departments of Botany and Zoology adjudged the photographs submitted by the participating students.
#mmmcpta #mmmcpta2021 #lifesciences #punjabiuniversity #ugc #mhrd #biodiversity #flora #fauna #zoomtobiodiversity #photocontest #internationalday #biologicalbiodiversity