Psychofest Dysphoria Organized at Multani Mal Modi College
Patiala: 18 April, 2023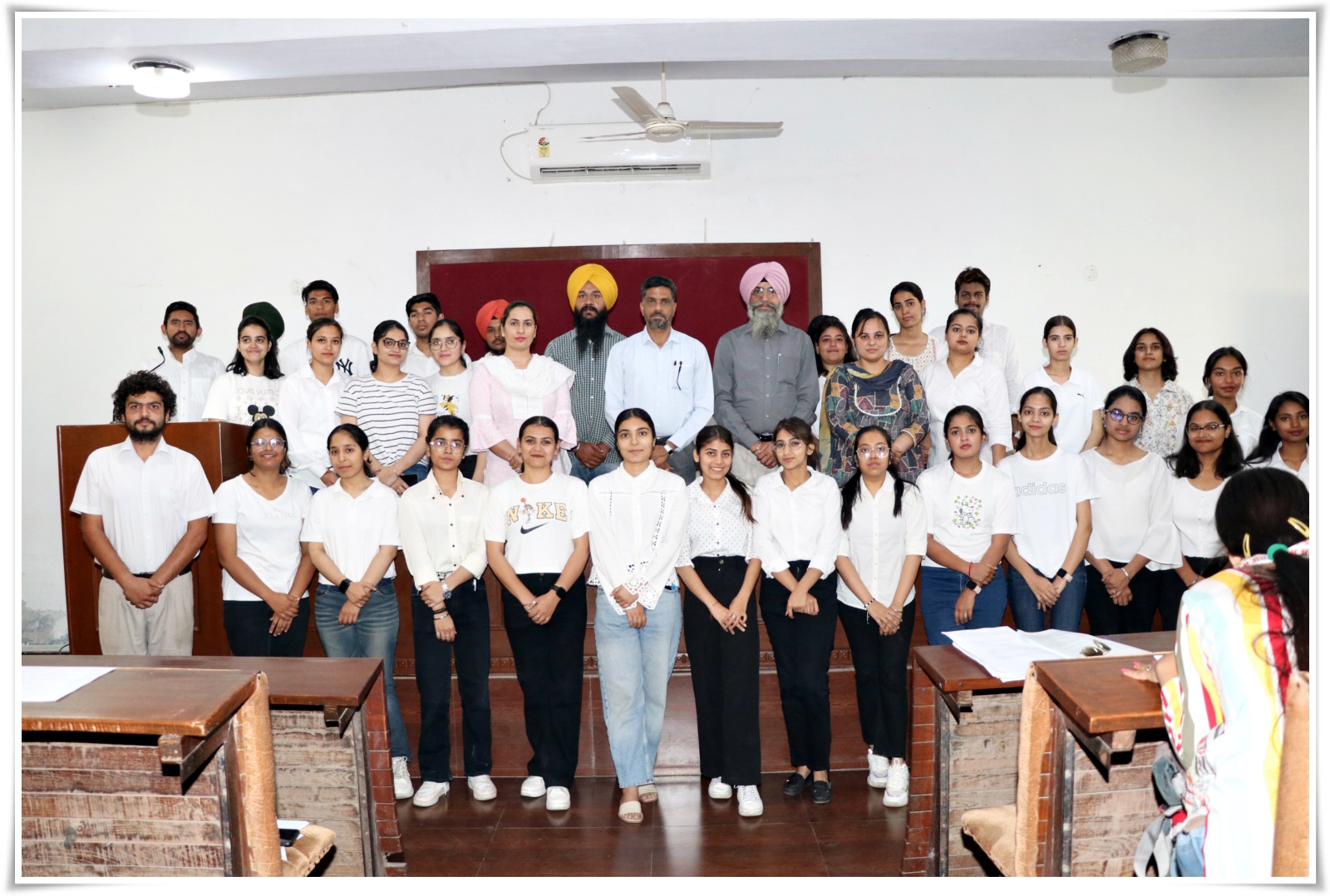 The Department of Psychology, Multani Mal Modi College, Patiala today organized Psychofest dysphoria. The Eysenck Personality Questionnaires and Standard Progressive Matrices were used for assessment and profiling of the personality traits of faculty members and students. The main objective of this test was analyze and to collation the various dimensions of human personalities and to assess the different personality traits among students.
College Principal Dr. Khushvinder Kumar addressed the participating students and said that in the field of Psychology the study of behavior and personality is an important assessment tool which may help in finding out the problematic areas and improvement in these areas by alterations in specific life patterns.
Vice-principal of the college Prof. Jasvir Kaur and Dean, Social Sciences Department Prof. Jagdeep Kaur also addressed the students and motivated them to develop a positive attitude towards life and career.
Prof. Gurpreet Kaur, Assistant professor, Department of Psychology said that we are providing practical training to the students for conducting such psychometric testing and to study the human behaviors with scientific tools and research methodology which will help in their professional growth and learning in the long run.
In this event 132 students and teachers were tested and their results were prepared by the students of the Psychology Department. The counseling based on the results was also provided according to requirements.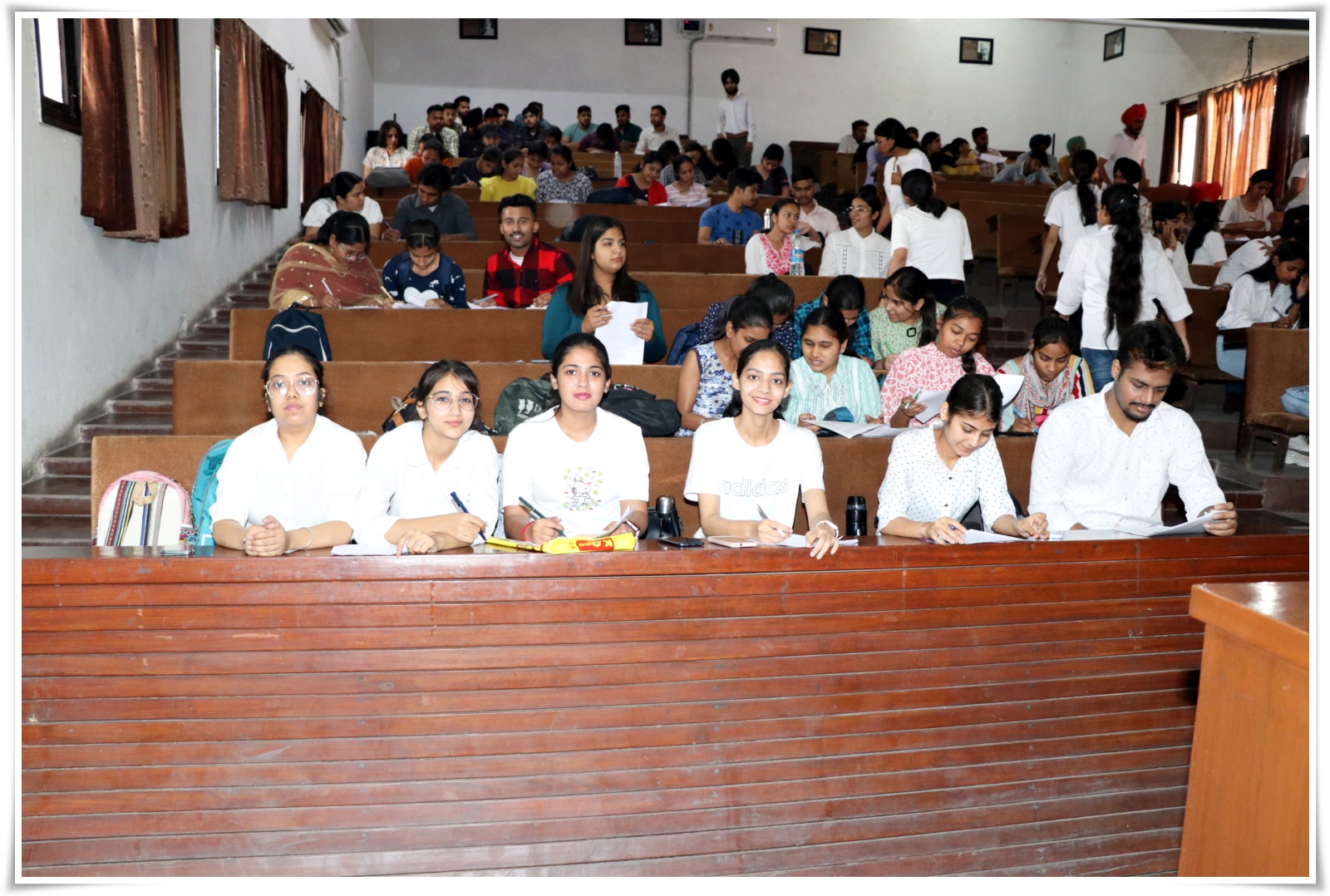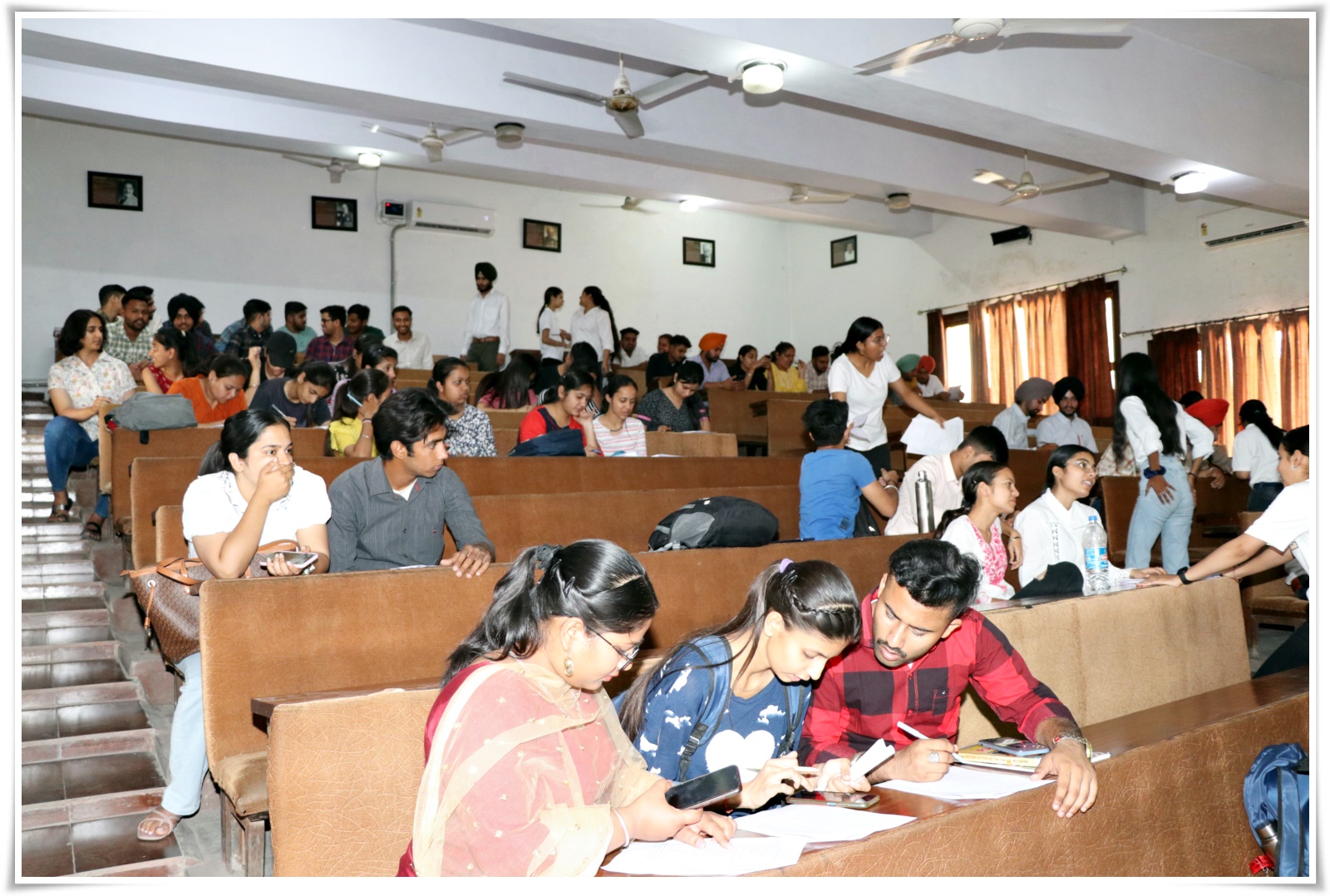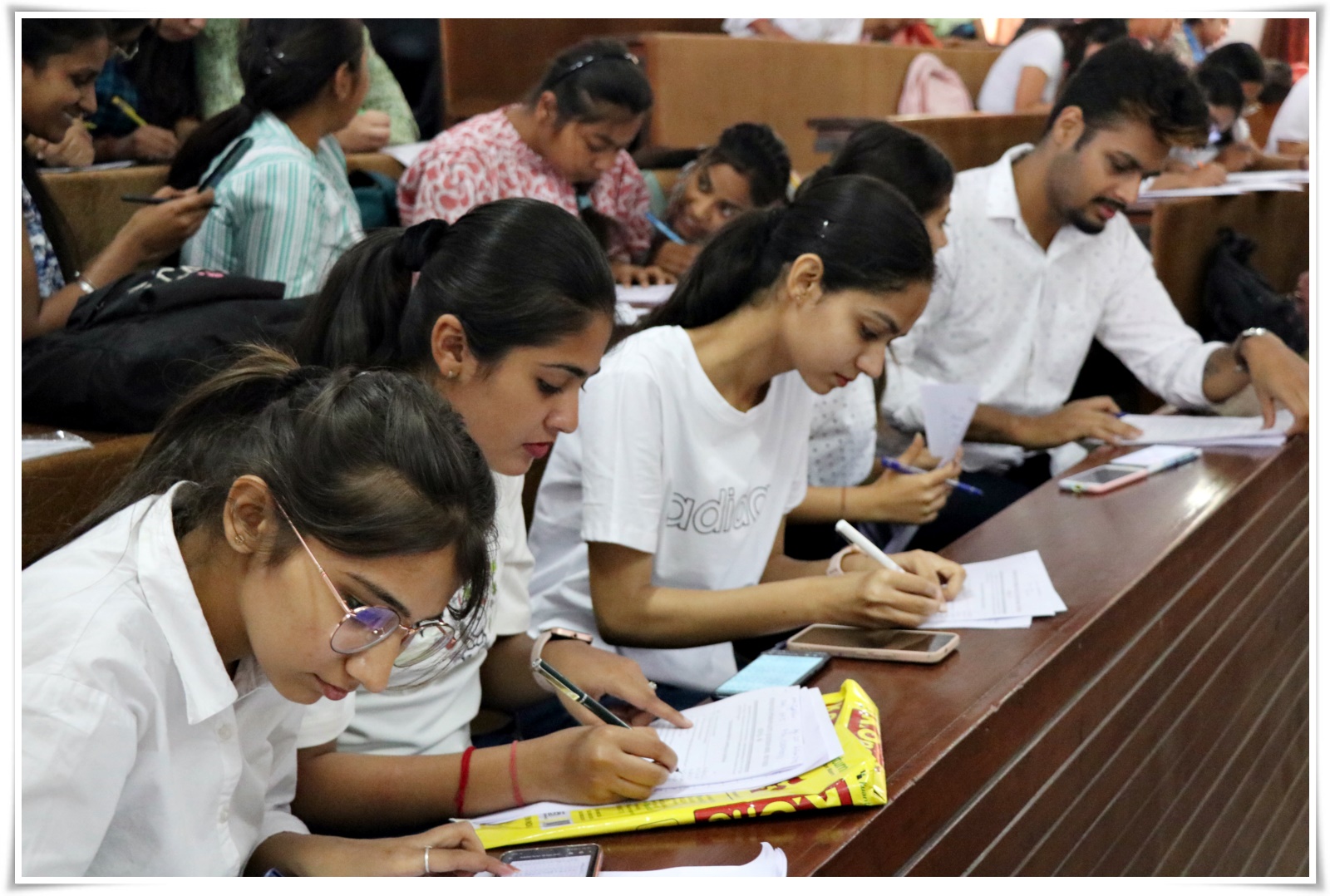 ਮੋਦੀ ਕਾਲਜ ਵਿੱਖੇ ਮਨੋਵਿਗਿਆਨ ਵਿਭਾਗ ਵੱਲੋਂ ਪਰਸਨੈਲਿਟੀ ਟੈਸਟਾਂ ਦਾ ਆਯੋਜਨ
ਪਟਿਆਲਾ: 18 ਅਪਰੈਲ, 2023
ਮੁਲਤਾਨੀ ਮੱਲ ਮੋਦੀ ਕਾਲਜ, ਪਟਿਆਲਾ ਦੇ ਮਨੋਵਿਗਿਆਨ ਵਿਭਾਗ ਵੱਲੋਂ ਅੱਜ ਆਈਸਿਨਕ ਪਰਸਨੈਲਿਟੀ ਪ੍ਰਸ਼ਨਾਵਲੀ ਅਤੇ ਸਟੈਂਡਰਡ ਪ੍ਰੋਗਰੈਸਿਵ ਮੈਟਰਿਸਜ਼ ਟੈਸਟਾਂ ਤੇ ਆਧਾਰਿਤ ਪ੍ਰੋਗਰਾਮ 'ਸਾਈਕੋਫੈਸਟ ਡਿਸਫੌਰੀਆ' ਆਯੋਜਿਤ ਕੀਤਾ ਗਿਆ ਜਿਸ ਵਿੱਚ ਅਧਿਆਪਕਾਂ ਤੇ ਵਿਦਿਆਰਥੀਆਂ ਦੀਆਂ ਸਖਸ਼ੀਅਤਾਂ ਦੀਆਂ ਵੱਖ-ਵੱਖ ਪਰਤਾਂ ਨਾਲ ਸਬੰਧਿਤ ਜੀਵਣ-ਪੱਧਤੀ ਤੇ ਆਦਤਾਂ ਦਾ ਵਿਗਿਆਨਕ ਵਿਧੀਆਂ ਨਾਲ ਅਧਿਐਨ ਕੀਤਾ ਗਿਆ।ਇਸ ਅਧਿਐਨ ਦਾ ਮੁੱਖ ਉਦੇਸ਼ ਮਨੁੱਖੀ ਵਿਵਹਾਰ ਅਤੇ ਸ਼ਖਸ਼ੀਅਤਾਂ ਦੇ ਵੱਖ-ਵੱਖ ਪੱਖਾਂ ਦੀ ਜਾਂਚ ਕਰਨਾ ਤੇ ਉਹਨਾਂ ਵਿੱਚੋਂ ਨਾ-ਪੱਖੀ ਰੁਝਾਣਾਂ ਨੂੰ ਮਨਫੀ ਕਰਨ ਲਈ ਲੋੜੀਂਦੀ ਕਾਊਂਸਲਿੰਗ ਪ੍ਰਦਾਨ ਕਰਨਾ ਸੀ।
ਕਾਲਜ ਪ੍ਰਿੰਸੀਪਲ ਡਾ.ਖੁਸ਼ਵਿੰਦਰ ਕੁਮਾਰ ਜੀ ਨੇ ਇਸ ਮੌਕੇ ਤੇ ਇਸ ਟੈਸਟ ਵਿੱਚ ਭਾਗ ਲੈਣ ਵਾਲਿਆਂ ਦਾ ਸਵਾਗਤ ਕਰਦਿਆ ਕਿਹਾ ਕਿ ਮਨੋਵਿਗਿਆਨ ਦੇ ਖੇਤਰ ਵਿੱਚ ਮਨੁੱਖੀ ਕਿਰਦਾਰ ਤੇ ਸ਼ਖਸ਼ੀਅਤ ਦੀ ਖੋਜ-ਬੀਣ ਇੱਕ ਅਜਿਹਾ ਮਹੱਤਵਪੂਰਣ ਵਿਗਿਆਨਕ ਪੱਧਤੀ ਹੈ ਜਿਸ ਨਾਲ ਨਾ ਸਿਰਫ ਇਹਨਾਂ ਦੋਵਾਂ ਖੇਤਰਾਂ ਬਾਰੇ ਜ਼ਰੂਰੀ ਸਮਝ ਵਿਕਿਸਤ ਕੀਤੀ ਜਾ ਸਕਦੀ ਹੈ ਬਲਕਿ ਇਹਨਾਂ ਵਿੱਚ ਲੋਂੜੀਦੇ ਸੁਧਾਰ ਵੀ ਕੀਤੇ ਜਾ ਸਕਦੇ ਹਨ।
ਇਸ ਮੌਕੇ ਤੇ ਕਾਲਜ ਦੇ ਵਾਈਸ-ਪ੍ਰਿੰਸੀਪਲ ਪ੍ਰੋ. ਜਸਵੀਰ ਕੌਰ ਤੇ ਸੋਸ਼ਲ-ਸ਼ਾਇੰਸਿਜ਼ ਡਿਪਾਰਟਮੈਂਟ ਦੇ ਮੁਖੀ ਪ੍ਰੋ. ਜਗਦੀਪ ਕੌਰ ਨੇ ਵੀ ਵਿਦਿਆਰਥੀਆਂ ਨੂੰ ਸੰਬੋਧਿਤ ਕੀਤਾ ਤੇ ਹਾਂ-ਪੱਖੀ ਸ਼ਖਸ਼ੀਅਤ-ਉਸਾਰੀ ਤੇ ਜ਼ੋਰ ਦਿੱਤਾ।
ਇਸ ਪ੍ਰੋਗਰਾਮ ਦੇ ਸੰਚਾਲਕ ਪ੍ਰੋ. ਗੁਰਪ੍ਰੀਤ ਕੌਰ, ਐਸਿਸਟੈਂਟ ਪ੍ਰੋਫੈਸਰ, ਮਨੋਵਿਗਿਆਨ ਵਿਭਾਗ ਨੇ ਇਸ ਪ੍ਰੋਗਰਾਮ ਬਾਰੇ ਦੱਸਦਿਆ ਕਿਹਾ ਕਿ ਵਿਭਾਗ ਸਮੇਂ-ਸਮੇਂ ਤੇ ਵਿਗਿਆਨਕ ਢੰਗਾਂ ਤੇ ਖੋਜ-ਵਿਧੀਆਂ ਤੇ ਆਧਾਰਿਤ ਅਜਿਹੇ ਮਨੋਵਿਗਿਆਨਕ ਟੈਸਟ ਕਰਨ ਲਈ ਵਿਦਿਆਰਥੀਆਂ ਦੀ ਢੁੱਕਵੀਂ ਟਰੇਨਿੰਗ ਕਰਵਾਉਂਦਾ ਹੈ ਜੋ ਕਿ ਅੰਤ ਉਹਨਾਂ ਦੇ ਕਿੱਤਾ-ਮੁਖੀ ਵਿਕਾਸ ਤੇ ਸਿਖਲਾਈ ਵਿੱਚ ਮਦਦ ਕਰਦੀ ਹੈ।
ਇਸ ਪ੍ਰੋਗਰਾਮ ਵਿੱਚ ਅਧਿਆਪਕਾਂ ਤੇ ਵਿਦਿਆਰਥੀਆਂ ਦਾ ਮਨੋਵਿਗਿਆਨ ਵਿਭਾਗ ਦੇ ਵਿਦਿਆਰਥੀਆਂ ਦੁਆਰਾ ਟੈਸਟ ਕੀਤਾ ਗਿਆ ਤੇ ਉਸਦੇ ਨਤੀਜੇ ਤਿਆਰ ਕੀਤੇ ਗਏ।ਇਸ ਤੋਂ ਬਿਨਾਂ ਜ਼ਰੂਰਤ ਆਧਰਿਤ ਕੌਸਲਿੰਗ ਵੀ ਪ੍ਰਦਾਨ ਕਰਵਾਈ ਗਈ।
#mmmcpta #modicollegepatiala #multanimalmodicollege #psychofest #dysphoria