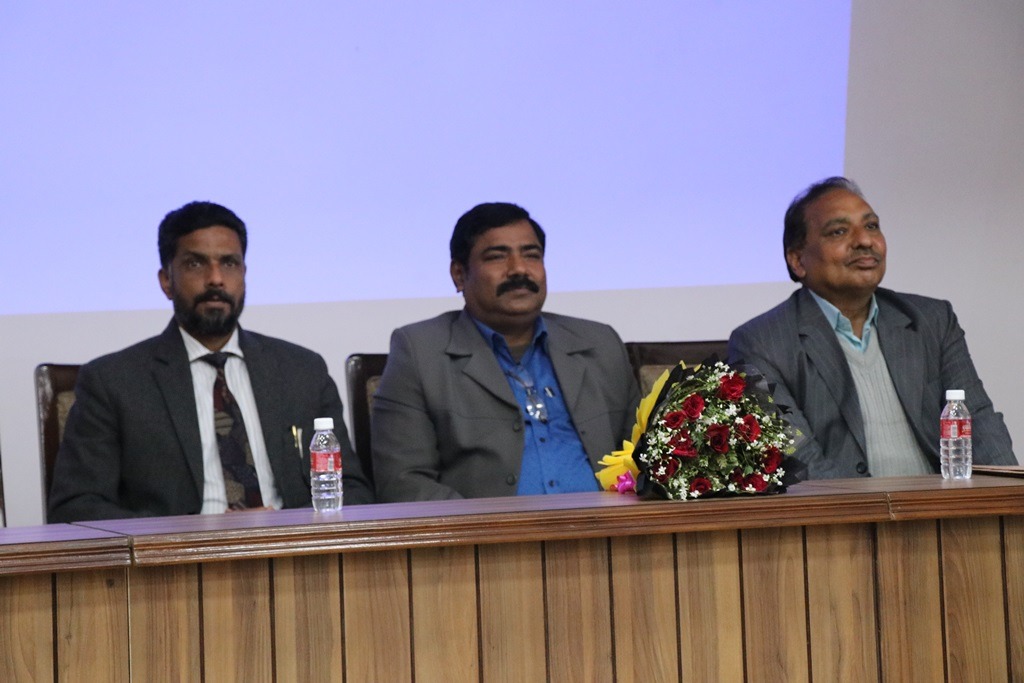 Patiala: February 11, 2021
Extension Lecture on 'Migration and Changes' organised
A lecture on 'Migration and Changes: A Case Study of Tripura' was delivered at Multani Mal Modi College, Patiala by Dr. Nirmal Bhadra, Principal, Swami Vivekanand Mahavidhalaya, Mohanpura, Tripura. The lecture was focused on understanding the socio-political and economic history of migration in Tripura.
The college Principal Dr. Khushvinder Kumar while welcoming the distinguished guest highlighted the various immigration and emigration issues related to North India. He also highlighted various socio-political conditions giving rise to these trends by touching upon various contemporary concerns.
Dr. Maninder Deep Cheema, Assistant Professor, Department of Economics introduced the topic of the discourse and said that migration is one of the most important global issues in contemporary times. Migration, on one hand poses challenges for the nations, and on other hand provide opportunities of growth.
Prof. Virpal Kaur, Assistant Professor, Department of History formally introduced the guest speaker and told that Dr. Bhadra has always remained active in promoting the cause of marginalized classes. Dr. Bhadra has also earned credentials as a leading academician and received the 'Dalit Sahitya Sanskriti Smarak Sanman' in 2017 from the Government of Tripura.
Dr. Bhadra in his lecture discussed the migration and social, economic, demographic and political changes owing to Migration over time. He highlighted that migration is a continuous process and the migration initially started with the settlement of Mongolese people in Tripura in search of greener pastures. The government tried to encourage the tribal people to follow a sedentary lifestyle and leave shifting agriculture practices. He also discussed the non-tribe migration in the region.
The vote of thanks was presented by Prof Ved Prakash Sharma, Head, Department of Social Sciences of the college. A large number of students and faculty members participated in the discussion.
ਪਟਿਆਲਾ: 11 ਫਰਵਰੀ, 2021
'ਪ੍ਰਵਾਸ ਅਤੇ ਤਬਦੀਲੀਆਂ' ਵਿਸ਼ੇ ਤੇ ਲੈਕਚਰ ਦਾ ਆਯੋਜਨ
'ਮਾਈਗ੍ਰੇਸ਼ਨ ਅਤੇ ਬਦਲਾਅ: ਤ੍ਰਿਪੁਰਾ ਦਾ ਇੱਕ ਕੇਸ ਅਧਿਐਨ' ਵਿਸ਼ੇ ਤੇ ਮੋਦੀ ਕਾਲਜ ਵਿਖੇ ਭਾਸ਼ਣ, ਤ੍ਰਿਪੁਰਾ ਦੇ ਸਵਾਮੀ ਵਿਵੇਕਾਨੰਦ ਮਹਾਵਿਦਿਆਲਿਆ ਦੇ ਪ੍ਰਿੰਸੀਪਲ ਡਾ. ਨਿਰਮਲ ਭਦਰਾ ਨੇ ਦਿੱਤਾ। ਭਾਸ਼ਣ ਦਾ ਤ੍ਰਿਪੁਰਾ ਵਿੱਚ ਪਰਵਾਸ ਦੇ ਸਮਾਜਿਕ-ਰਾਜਨੀਤਿਕ ਅਤੇ ਆਰਥਿਕ ਇਤਿਹਾਸ ਨੂੰ ਸਮਝਣ 'ਤੇ ਕੇਂਦ੍ਰਤ ਕੀਤਾ ਗਿਆ ਸੀ।
ਕਾਲਜ ਪ੍ਰਿੰਸੀਪਲ ਡਾ ਖੁਸ਼ਵਿੰਦਰ ਕੁਮਾਰ ਨੇ ਆਏ ਮਹਿਮਾਨ ਦਾ ਸਵਾਗਤ ਕਰਦਿਆਂ ਉੱਤਰੀ ਭਾਰਤ ਨਾਲ ਸਬੰਧਤ ਵੱਖ-ਵੱਖ ਇਮੀਗ੍ਰੇਸ਼ਨ ਅਤੇ ਪਰਵਾਸ ਦੇ ਮੁੱਦਿਆਂ ਬਾਰੇ ਚਾਨਣਾ ਪਾਇਆ। ਉਨ੍ਹਾਂ ਨੇ ਵੱਖ ਵੱਖ ਸਮਕਾਲੀ ਦ੍ਰਿਸ਼ਾਂ ਨੂੰ ਛੂਹ ਕੇ ਇਨ੍ਹਾਂ ਰੁਝਾਨਾਂ ਨੂੰ ਜਨਮ ਦੇਣ ਵਾਲੀਆਂ ਵੱਖ-ਵੱਖ ਸਮਾਜਿਕ-ਰਾਜਨੀਤਿਕ ਸਥਿਤੀਆਂ ਉੱਤੇ ਵੀ ਚਾਨਣਾ ਪਾਇਆ।
ਡਾ. ਮਨਿੰਦਰ ਦੀਪ ਚੀਮਾ, ਸਹਾਇਕ ਪ੍ਰੋਫੈਸਰ, ਅਰਥ ਸ਼ਾਸਤਰ ਵਿਭਾਗ ਨੇ ਭਾਸ਼ਣ ਦਾ ਵਿਸ਼ਾ ਪੇਸ਼ ਕਰਦਿਆਂ ਕਿਹਾ ਕਿ ਪਰਵਾਸ ਅੱਜ ਦੇ ਸਮੇਂ ਦਾ ਸਭ ਤੋਂ ਮਹੱਤਵਪੂਰਨ ਵਿਸ਼ਵਵਿਆਪੀ ਮੁੱਦਾ ਹੈ। ਪਰਵਾਸ, ਇਕ ਪਾਸੇ ਕੌਮਾਂ ਲਈ ਚੁਣੌਤੀਆਂ ਖੜ੍ਹੀਆਂ ਕਰਦਾ ਹੈ, ਅਤੇ ਦੂਜੇ ਪਾਸੇ ਵਿਕਾਸ ਦੇ ਮੌਕੇ ਪ੍ਰਦਾਨ ਕਰਦਾ ਹੈ।
ਪ੍ਰੋ: ਵੀਰਪਾਲ ਕੌਰ, ਸਹਾਇਕ ਪ੍ਰੋਫੈਸਰ, ਇਤਿਹਾਸ ਵਿਭਾਗ ਨੇ ਮੁੱਖ ਵਕਤਾ ਨਾਲ ਰਸਮੀ ਤੌਰ 'ਤੇ ਜਾਣ ਪਛਾਣ ਕੀਤੀ ਅਤੇ ਦੱਸਿਆ ਕਿ ਡਾ: ਭਦਰਾ ਹਮੇਸ਼ਾਂ ਹਾਸ਼ੀਏ' ਤੇ ਚੱਲਣ ਵਾਲੀਆਂ ਜਮਾਤਾਂ ਦੇ ਕਾਰਨਾਂ ਨੂੰ ਉਤਸ਼ਾਹਤ ਕਰਨ ਲਈ ਸਰਗਰਮ ਰਿਹਾ ਹੈ। ਡਾ. ਭੱਦਰ ਨੇ ਪ੍ਰਮੁੱਖ ਵਿਦਵਾਨ ਵਜੋਂ ਪ੍ਰਮਾਣ ਪੱਤਰ ਵੀ ਹਾਸਲ ਕੀਤਾ ਹੈ ਅਤੇ ਤ੍ਰਿਪੁਰਾ ਸਰਕਾਰ ਤੋਂ 2017 ਵਿੱਚ 'ਦਲਿਤ ਸਾਹਿਤ ਸੰਸਕ੍ਰਿਤੀ ਸਮਾਰਕ ਸਨਮਾਨ' ਪ੍ਰਾਪਤ ਕੀਤਾ ਸੀ।
ਡਾ. ਭੱਦਰ ਨੇ ਆਪਣੇ ਭਾਸ਼ਣ ਵਿੱਚ ਪਰਵਾਸ ਦੇ ਨਾਲ ਨਾਲ ਪਰਵਾਸ ਅਤੇ ਸਮਾਜਿਕ, ਆਰਥਿਕ, ਜਨਸੰਖਿਆ ਅਤੇ ਰਾਜਨੀਤਿਕ ਤਬਦੀਲੀਆਂ ਬਾਰੇ ਵਿਚਾਰ ਵਟਾਂਦਰੇ ਕੀਤੇ। ਉਸਨੇ ਹਾਈਲਾਈਟ ਕੀਤਾ ਕਿ ਪਰਵਾਸ ਇੱਕ ਨਿਰੰਤਰ ਪ੍ਰਕਿਰਿਆ ਹੈ ਅਤੇ ਪ੍ਰਵਾਸ ਦੀ ਸ਼ੁਰੂਆਤ ਹਰੀਆਂ ਭਰੀਆਂ ਚਰਾਂਦਾਂ ਦੀ ਭਾਲ ਵਿੱਚ ਤ੍ਰਿਪੁਰਾ ਵਿੱਚ ਮੰਗੋਲੀ ਲੋਕਾਂ ਦੀ ਸੈਟਲਮੈਂਟ ਨਾਲ ਹੋਈ। ਸਰਕਾਰ ਨੇ ਕਬਾਇਲੀ ਲੋਕਾਂ ਨੂੰ ਗੰਦੀ ਜੀਵਨ-ਸ਼ੈਲੀ ਅਪਣਾਉਣ ਅਤੇ ਚਲੰਤ ਖੇਤੀਬਾੜੀ ਦੇ ਰੁਝਾਨ ਨੂੰ ਛੱਡਣ ਲਈ ਉਤਸ਼ਾਹਤ ਕਰਨ ਦੀ ਕੋਸ਼ਿਸ਼ ਕੀਤੀ। ਉਸਨੇ ਇਸ ਖੇਤਰ ਵਿੱਚ ਗੈਰ-ਕਬਾਇਲੀਆਂ ਦੇ ਪਰਵਾਸ ਬਾਰੇ ਵੀ ਵਿਚਾਰ ਵਟਾਂਦਰੇ ਕੀਤੇ।
ਧੰਨਵਾਦ ਦਾ ਮਤਾ ਕਾਲਜ ਦੇ ਸਮਾਜਿਕ ਵਿਗਿਆਨ ਵਿਭਾਗ ਦੇ ਮੁਖੀ ਪ੍ਰੋ ਵੇਦ ਪ੍ਰਕਾਸ਼ ਸ਼ਰਮਾ ਨੇ ਪੇਸ਼ ਕੀਤਾ। ਵੱਡੀ ਗਿਣਤੀ ਵਿਚ ਵਿਦਿਆਰਥੀਆਂ ਅਤੇ ਫੈਕਲਟੀ ਮੈਂਬਰਾਂ ਨੇ ਵਿਚਾਰ ਵਟਾਂਦਰੇ ਵਿਚ ਹਿੱਸਾ ਲਿਆ.
 
 List of Participants