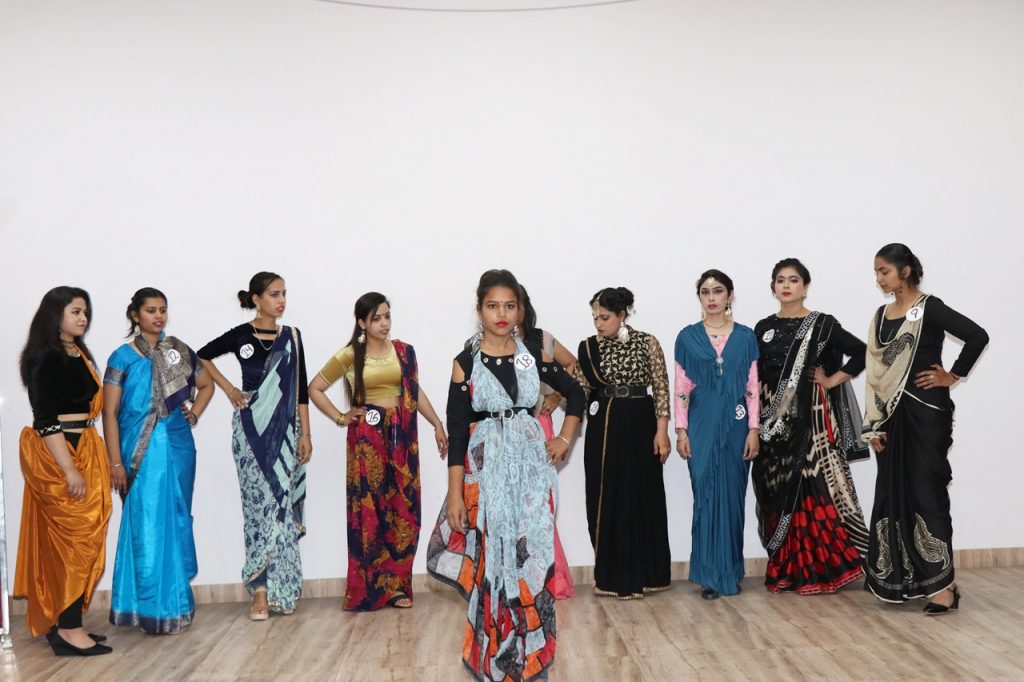 Patiala: 8 March, 2021
'Saree Draping' Competition organised on International Women Day
To commemorate the International Women Day, the Post–graduate Department of Fashion Technology, Multani Mal Modi College, Patiala organized a Competition 'Saree draping in Contemporary style'. The main objective of the competition was to provide opportunities for the students to apply their creative thinking and innovation skills in developing and showcasing saree draping styles and techniques. The participants were required to make their own arrangements for models, saree, accessories, etc. They were given 45 minutes to drape saree. There were a number of participants who brought in other students as their models .There were in all 31 contestants.
The contest was judged by a panel of three judges. Prof. Neena Sareen, Head, Dept. Of Commerce, Prof. Jagdeep from Dept, of Geography and Dr. Deepika Singla from Dept. of Commerce acted as judge for the event. Assessment was made on the basis of creativity and innovation in the saree draping style and techniques together with the neatness of presentation and overall aesthetic appeal.
The judges declared the following as the winners of contest
First Prize- Mehekdeep M.Sc.-II

Second Prize- Aastha M.Sc.-II
                    Hanisha – B.A.-II
Third Prize – Aastha Dheer- B.Sc.-I
                    Jasneet kaur M.Sc.-I
Principal Dr. Khushvinder Kumar appreciated and congratulated the staff and students. Apart from Principal Dr. Khushvinder Kumar, former Vice-Principal Dr. Baljinder Kaur attended specially.
The contest was organized by Prof. Amanjot Kaur, Prof. Arshdeep Kaur, Prof. Gurpreet Kaur, Prof. Anwesha with guidance and supervision by Dr. Veenu Jain, Head Dept. of Fashion Technology.
List of participants