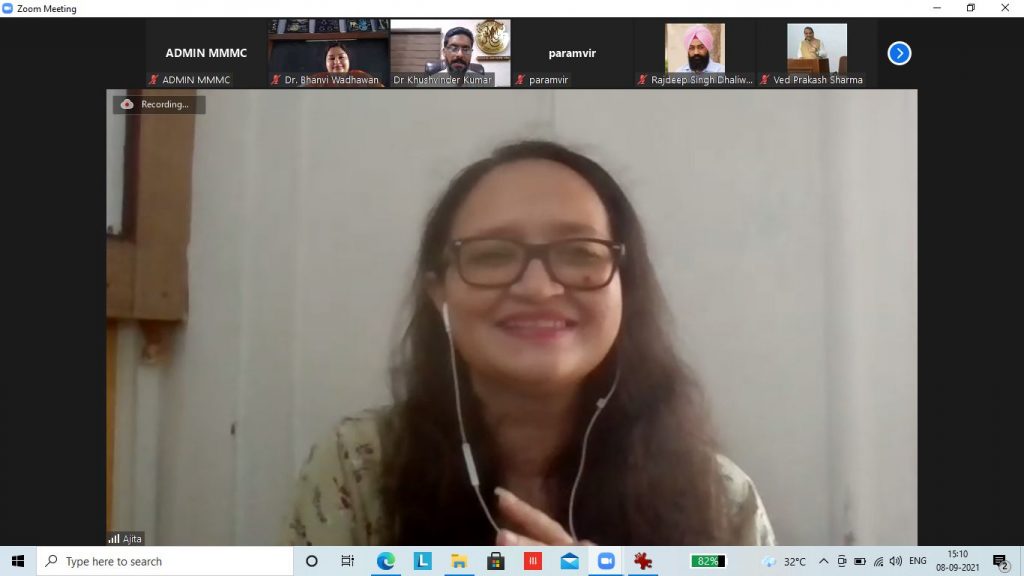 Patiala: 10 September, 2021
Virtual labs and Open Source Software have transformed the Teaching Methodologies of Science: Dr. Ajita Deshmukh
Multani Mal Modi College, Patiala in collaboration with the Indian Science Congress Association College organized an expert lecture titled, 'Teaching of Science in a Virtual World' which was delivered by Dr. Ajita Deshmukh, School of Education and Research MIT-ADT University, Pune. This lecture focused at understanding the impact of digital technologies on the methodologies and techniques of teaching science stream. The lecture was also joined by Dr. Paramvir Singh, Convener, ISCA, Patiala Chapter.
College Principal Dr. Khushvinder Kumar welcomed the expert speaker and said that the era of Pandemic has dramatically changed the pedagogy and fundamental teaching methods of various disciplines including science. He said that with digitalization of content and virtual mode of learning ir is easier to expound the theoretical /semantics of science but it is difficult to make students grasp their pragmatic/practical aspects.
In his lecture Dr. Ajita Deshmukh elaborated on the use of virtual labs and Open source software for enhancing student engagement in virtual classrooms of science. She also talked about the importance of educational games for making experimental learning relevant for the students.
Dr. Paramvir Singh, Convener, ISCA. Patiala Chapter talked about the importance of technology integrative pedagogy in the post Covid-19.
Vote of thanks was delivered by Dr. Ashwani Kumar, Dean, Life Sciences. The session was
co-ordinated by Dr. Bhanvi Wadhawan. It was technically managed by Dr. Kuldeep Kumar, HOD, Biotechnology.
ਪਟਿਆਲਾ: 10  ਸਤੰਬਰ, 2021
ਵਿਰਚੂਅਲ ਲੈਬਾਂ ਅਤੇ ਉਪਨ ਸੌਰਸ ਸਾਫਟਵੇਅਰ ਬਦਲ ਰਹੇ ਹਨ ਵਿਗਿਆਨ ਦੀ ਸਿਖਲਾਈ ਦੀਆਂ ਤਕਨੀਕਾਂ: ਡਾ. ਅਜੀਤਾ ਦੇਸ਼ਮੁਖ
ਮੁਲਤਾਨੀ ਮੱਲ ਮੋਦੀ ਕਾਲਜ, ਪਟਿਆਲਾ ਵੱਲੋਂ ਇੰਡੀਅਨ ਸਾਇੰਸ ਕਾਂਗਰਸ ਐਂਸੋਸੀਏਸ਼ਨ, ਪਟਿਆਲਾ ਚੈਪਟਰ ਦੇ ਸਹਿਯੌਗ ਨਾਲ 'ਟੀਚਿੰਗ ਆਫ ਸਾਇੰਸ ਇੰਨ ਏ ਵਿਰਚੂਅਲ ਵਰਲਡ' ਵਿਸ਼ੇ ਤੇ ਇੱਕ ਵਿਸ਼ੇਸ਼ ਭਾਸ਼ਣ ਦਾ ਆਯੋਜਨ ਕੀਤਾ ਗਿਆ ਜਿਸ ਵਿੱਚ ਮੁੱਖ ਵਕਤਾ ਵੱਜੋਂ ਡਾ. ਅਜੀਤਾ ਦੇਸ਼ਮੁੱਖ, ਸਕੂਲ ਆਫ ਐਂਜੂਕੇਸ਼ਨ ਐਂਡ ਰਿਸਰਚ, ਐੱਮ.ਆਈ.ਟੀ- ਏ.ਡੀ.ਟੀ ਯੂਨੀਵਰਸਿਟੀ, ਪੂਨੇ ਨੇ ਸ਼ਿਰਕਤ ਕੀਤੀ।ਇਸ ਭਾਸ਼ਣ ਵਿੱਚ ਡਾ.ਪਰਮਵੀਰ ਸਿੰਘ, ਕਨਵੀਅਰ, ਇੰਡੀਅਨ ਸਾਇੰਸ ਕਾਂਗਰਸ ਐਂਸੋਸੀਏਸ਼ਨ, ਪਟਿਆਲਾ ਚੈਪਟਰ ਨੇ ਵੀ ਭਾਗ ਲਿਆ।
ਕਾਲਜ ਪ੍ਰਿੰਸੀਪਲ ਡਾ.ਖੁਸ਼ਵਿੰਦਰ ਕੁਮਾਰ ਜੀ ਨੇ ਮੁੱਖ ਵਕਤਾ ਦਾ ਸਵਾਗਤ ਕਰਦਿਆ ਕਿਹਾ ਕਿ ਕਰੋਨਾ ਮਹਾਂਮਾਰੀ ਦੇ ਦੌਰ ਨੇ ਵਿਗਿਆਨ ਸਮੇਤ ਸਾਰੇ ਵਿਸ਼ਿਆਂ ਦੀ ਪੜ੍ਹਾਈ ਅਤੇ ਸਿਖਲਾਈ ਦੀਆਂ ਵਿਧੀਆਂ ਨੂੰ ਬਦਲ ਦਿੱਤਾ ਹੈ।ਉਹਨਾਂ ਨੇ ਦੱਸਿਆ ਕਿ ਵਿਗਿਆਨ ਦੇ ਮਾਮਲੇ ਵਿੱਚ ਜਿੱਥੇ ਸਿਧਾਂਤਕ ਪੜ੍ਹਾਈ ਲਈ ਆਨਲਾਈਨ ਸਪੇਸ ਪ੍ਰਭਾਵੀ ਹੋ ਸਕਦੀ ਹੈ ਉੱਥੇ ਵਿਦਿਆਰਥੀਆਂ ਨੂੰ ਇਸਦੀ ਅਮਲੀ ਪੜ੍ਹਾਈ ਸਿੱਖਣ ਵਿੱਚ ਕਠਿਨਾਈਆਂ ਆ ਸਕਦੀਆਂ ਹਨ।
ਆਪਣੇ ਭਾਸ਼ਣ ਵਿੱਚ ਡਾ. ਅਜੀਤਾ ਦੇਸ਼ਮੁਖ ਨੇ ਵਿਰਚੂਅਲ ਲੈਬਾਂ ਅਤੇ ਉਪਨ ਸੌਰਸ ਸਾਫਟਵੇਅਰਾਂ ਦੀ ਆਨਲਾਈਨ ਸਿਖਲਾਈ ਵਿੱਚ ਮਹਤੱਤਾ ਤੇ ਕੇਂਦਰਿਤ ਕਰਦਿਆਂ ਕਿਹਾ ਕਿ ਵਿਦਿਆਰਥੀਆਂ ਦੀ ਦਿਲਚਸਪੀ ਬਚਾਈ ਰੱਖਣ ਅਤੇ ਉਹਨਾਂ ਨੂੰ ਵਿਸ਼ੇ ਦੀ ਗੰਭੀਰ ਜਾਣਕਾਰੀ ਦੇਣ ਵਿੱਚ ਇਹ ਸਾਧਨ ਬਹੁਤ ਮਦੱਦਗਾਰ ਸਾਬਿਤ ਹੋ ਰਹੇ ਹਨ।ਉਹਨਾਂ ਨੇ ਕੁਝ ਖਾਸ ਆਨਲਾਈਨ ਖੇਡਾਂ ਵਿਕਸਿਤ ਕਰਨ ਅਤੇ ਉਹਨਾਂ ਦੀ ਵਿਰਚੂਅਲ ਕਲਾਸਾਂ ਵਿੱਚ ਢੁਕਵੀਂ ਵਰਤੋਂ ਬਾਰੇ ਵੀ ਕਾਫੀ ਨੁਕਤੇ ਸਾਂਝੇ ਕੀਤੇ।
ਇਸ ਮੌਕੇ ਤੇ ਬੋਲਦਿਆ ਡਾ.ਪਰਮਵੀਰ ਸਿੰਘ ਨੇ ਕਿਹਾ ਕਿ  ਕੋਵਿਡ-19 ਤੋਂ ਬਾਅਦ ਸਿਖਲਾਈ ਲਈ ਨਵੀਆਂ ਡਿਜ਼ੀਟਲ ਤਕਨੀਕਾਂ ਬਹੁਤ ਕਾਰਗਰ ਸਾਬਿਤ ਹੋ ਰਹੀਆਂ ਹਨ ਬਸ਼ਰਤੇ ਇਸ ਸਾਰਿਆਂ ਤੱਕ ਆਸਾਨੀ ਨਾਲ ਪੁਹੰਚ ਸਕਣ।
ਪ੍ਰੋਗਰਾਮ ਦੀ ਸਮਾਪਤੀ ਤੇ ਧੰਨਵਾਦ ਦਾ ਮਤਾ ਡਾ.ਅਸ਼ਵਨੀ ਸ਼ਰਮਾ, ਡੀਨ, ਸ਼ੋਸ਼ਲ ਸਾਇੰਸ਼ਿਜ਼ ਨੇ ਪੇਸ਼ ਕੀਤਾ।ਇਸ ਪ੍ਰੋਗਰਾਮ ਦਾ ਸੰਚਾਲਨ ਡਾ. ਭਾਨਵੀ ਵਧਾਵਨ ਨੇ ਕੀਤਾ ਤੇ ਤਕਨੀਕੀ ਪ੍ਰਬੰਧਨ ਦੀ ਜ਼ਿੰਮੇਵਾਰੀ ਡਾ.ਕੁਲਦੀਪ ਕੁਮਾਰ, ਮੁੱਖੀ ਬਾਇਉਟੈਕਨੌਲੌਜੀ ਨੇ ਨਿਭਾਈ।