First Lecture on Publication of Research Paper Under D.R Vij Memorial Lecture Series at Modi College
Patiala: 20 March 2023
The Internal Quality Assurance Cell, Multani Mal Modi College in collaboration with Council for Teacher Education Foundation (CTEF – Punjab and Chandigarh chapter) organised a lecture on "Writing to Publication: choosing Right Venue for Your Articles" under D.R Vij Memorial Lecture Series. The speaker in this event was Mr. Chetan Sharma, Program Manager, upGrad Campus, upGrad Education Private Limited, Mumbai, India.
College Principal Dr. Khushvinder Kumar welcomed the expert speaker and said that publication of research paper is a rigorous process, and one must be equipped with research skills, organizational skills and academic caliber for writing a great research paper.
In this expert lecture Mr. Chetan Sharma elaborated upon the roadmap to publish the research papers starting with how to find a good publication journal for publication. He explained the importance of various factors for recognition as a good researcher. He said that in this era of dominance of social media technologies plagiarism, referencing, the importance of working with different media technologies and publication process has become tedious. He also demonstrated the techniques for finding resources and websites for authentic publication.
During the lecture College Registrar Dr. Ashwani Sharma proposed the vote of thanks. On this occasion Dr. Ajit Kumar, Controller of Examination, Dr. Ganesh Sethi and all teachers were present.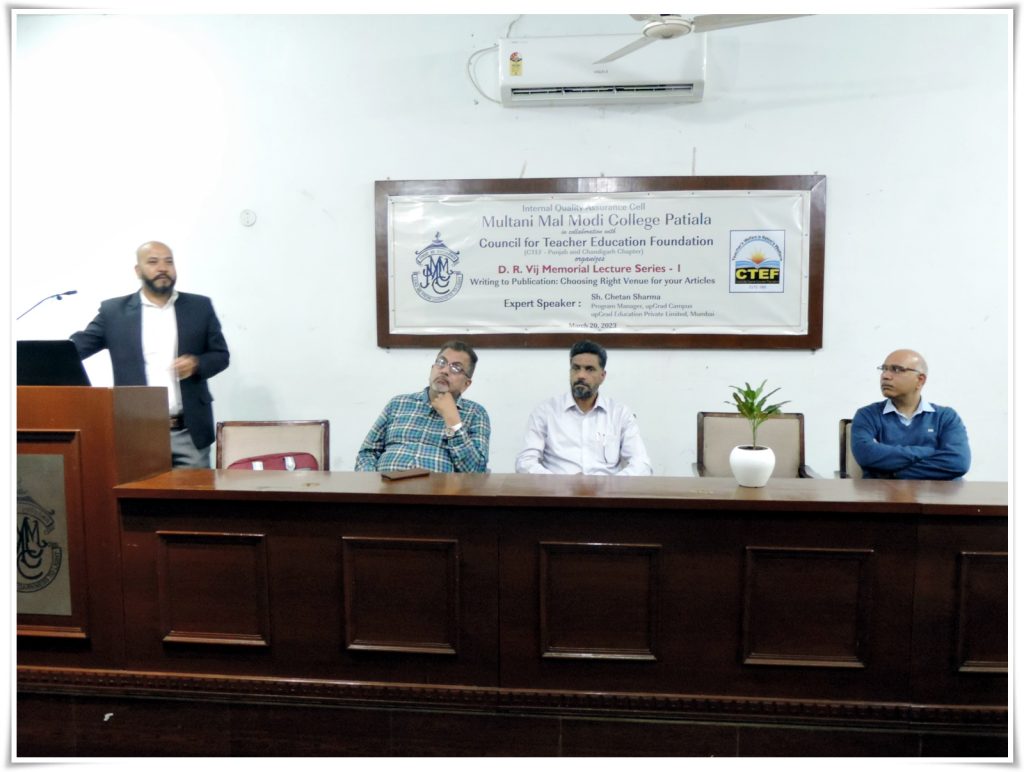 ਮੋਦੀ ਕਾਲਜ ਵਿੱਖੇ ਖੋਜ-ਪੱਤਰਾਂ ਦੀ ਪਬਲੀਕੇਸ਼ਨ ਸਬੰਧੀ ਪਹਿਲਾ ਡਾ. ਆਰ. ਵਿੱਜ ਮੈਮੋਰੀਅਲ ਭਾਸ਼ਣ ਆਯੋਜਿਤ
ਪਟਿਆਲਾ: 20.03.2023
ਸਥਾਨਕ ਮੁਲਤਾਨੀ ਮੱਲ ਮੋਦੀ ਕਾਲਜ, ਪਟਿਆਲਾ ਦੇ ਇੰਟਰਨਲ ਕੁਆਲਿਟੀ ਇੰਨਸ਼ੋਅਰਸ ਸੈੱਲ ਵੱਲੋਂ ਕੌਂਸਲ ਫਾਰ ਟੀਚਰ ਐਜੂਕੇਸ਼ਨ ਫਾਊਂਡੇਸ਼ਨ (ਸੀਟੀਈਐੱਫ -ਪੰਜਾਬ ਐਂਡ ਚੰਡੀਗੜ੍ਹ ਚੈਪਟਰ) ਦੇ ਸਹਿਯੋਗ ਨਾਲ ਅਧਿਆਪਕਾਂ ਲਈ 'ਰਾਈਟਿੰਗ ਟੂ ਪਬਲੀਕੇਸ਼ਨ: ਚੂਜ਼ਿੰਗ ਰਾਈਟ ਵੈਲਿਊ ਫਾਰ ਯੂਅਰ ਆਰਟੀਕਲਜ਼' ਵਿਸ਼ੇ ਤੇ ਡਾ. ਆਰ.ਵਿੱਜ ਮੈਮੋਰੀਅਲ ਲੈਕਚਰ ਸੀਰੀਜ਼ ਤਹਿਤ ਇੱਕ ਪਹਿਲਾ ਭਾਸ਼ਣ ਆਯੋਜਿਤ ਕੀਤਾ ਗਿਆ ਜਿਸ ਵਿੱਚ ਮੁੱਖ ਵਕਤਾ ਵੱਜੋਂ ਸ਼੍ਰੀ. ਚੇਤਨ ਸ਼ਰਮਾ, ਪ੍ਰੋਗਰਾਮ ਮੈਨੇਜਰ, ਅੱਪ ਗਰੇਡ ਕੈਂਪਸ, ਅੱਪ ਗਰੇਡ ਐਜੂਕੇਸ਼ਨ ਪ੍ਰਾਈਵੇਟ ਲਿਮਟਿਡ ਬੰਬਈ, ਇੰਡੀਆ ਨੇ ਸ਼ਿਰਕਤ ਕੀਤੀ।
ਕਾਲਜ ਪ੍ਰਿੰਸੀਪਲ ਡਾ.ਖੁਸ਼ਵਿੰਦਰ ਕੁਮਾਰ ਜੀ ਨੇ ਇਸ ਮੌਕੇ ਤੇ ਮੁੱਖ ਵਕਤਾ ਦਾ ਸਵਾਗਤ ਕਰਦਿਆ ਕਿਹਾ ਕਿ ਰਿਸਰਚ ਪੇਪਰ ਦੀ ਪਬਲੀਕੇਸ਼ਨ ਪ੍ਰੀਕ੍ਰਿਆ ਲੰਬੀ ਤੇ ਗੁੰਝਲਦਾਰ ਹੁੰਦੀ ਹੈ ਜਿਸ ਲਈ ਖੋਜ-ਵਿਧੀਆਂ ਵਿੱਚ ਪ੍ਰਪੱਕ ਹੋਣਾ, ਅਨੁਸ਼ਾਸ਼ਿਤ ਰਵੱਈਆ ਅਤੇ ਅਕਾਦਮਿਕ ਸਮਰੱਥਾ ਹੋਣੀ ਜ਼ਰੂਰੀ ਹੈ।ਉਹਨਾਂ ਨੇ ਕਿਹਾ ਕਿ ਉੱਚ-ਸਿੱਖਿਆ ਅਧਿਆਪਕਾਂ ਲਈ ਖੋਜ-ਪੱਤਰਾਂ ਦੀ ਪਬਲੀਕੇਸ਼ਨ ਬੇਹੱਦ ਅਹਿਮ ਹੈ ਅਤੇ ਉਹਨਾਂ ਨੂੰ ਇਸ ਤੇ ਵਿਸ਼ੇਸ਼ ਧਿਆਨ ਦੇਣ ਦੀ ਜ਼ਰੂਰਤ ਹੈ।
ਆਪਣੇ ਵਿਸ਼ੇਸ਼ ਭਾਸ਼ਣ ਵਿੱਚ ਬੋਲਦਿਆ ਸ਼੍ਰੀ. ਚੇਤਨ ਸ਼ਰਮਾ ਨੇ ਕਿਹਾ ਕਿ ਇੱਕ ਵਧੀਆ ਖੋਜ-ਪੱਤਰ ਨੂੰ ਛਪਵਾਉਣ ਲਈ ਸਭ ਤੋਂ ਪਹਿਲਾ ਇੱਕ ਵਧੀਆ ਖੋਜ-ਜਨਰਲ ਦੀ ਤਲਾਸ਼ ਕਰਨੀ ਜ਼ਰੂਰੀ ਹੈ।ਉਹਨਾਂ ਨੇ ਕਿਹਾ ਕਿ ਇੱਕ ਚੰਗਾ ਖੋਜ-ਕਰਤਾ ਬਣਨ ਲਈ ਕੁਝ ਮਹੱਤਵਪੂਰਣ ਤੱਥਾਂ ਦਾ ਧਿਆਨ ਰੱਖਣਾ ਚਾਹੀਦਾ ਹੈ।ਉਹਨਾਂ ਨੇ ਵੱਖ-ਵੱਖ ਉਦਾਹਰਨਾਂ ਤੇ ਢੰਗਾਂ ਦੀ ਵਰਤੋਂ ਨਾਲ ਖੋਜ ਦੀ ਚੋਰੀ ਰੋਕਣ, ਸਹੀ ਸੰਦਰਭ ਦਾ ਵਰਨਣ ਕਰਨ, ਖੋਜ-ਜਨਰਲ ਦੀ ਪਾਤਰਤਾ ਚੈੱਕ ਕਰਨ, ਅਤੇ ਇਹਨਾਂ ਨਾਲ ਸਬੰਧਿਤ ਵੈਬਸਾਈਟਾਂ ਤੇ ਖੋਜ-ਸੰਸਾਧਨਾਂ ਬਾਰੇ ਚਰਚਾ ਕੀਤੀ।
ਪ੍ਰੋਗਰਾਮ ਦੇ ਅੰਤ ਵਿੱਚ ਕਾਲਜ ਰਜਿਸਟਰਾਰ ਡਾ. ਅਸ਼ਵਨੀ ਸ਼ਰਮਾ ਨੇ ਧੰਨਵਾਦ ਦੇ ਸ਼ਬਦ ਕਹੇ। ਇਸ ਮੌਕੇ ਕੰਟਰੋਲਰ ਆਫ ਇੰਗਜ਼ਾਮੀਨੇਸ਼ਨ ਡਾ. ਅਜੀਤ ਕੁਮਾਰ, ਡਾ. ਗਣੇਸ਼ ਸੇਠੀ ਅਤੇ ਸਮੂਹ ਅਧਿਆਪਕ ਹਾਜ਼ਿਰ ਸਨ।