Date: October 6, 2022
 Computer Science Department organized Seminar on Cyber Security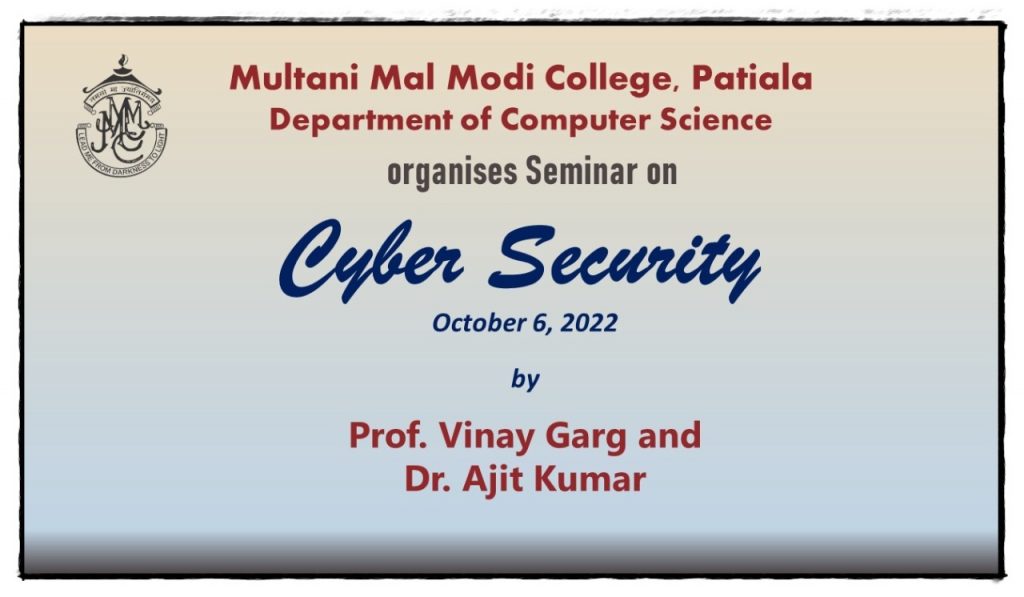 Department of Computer Science Organized Cyber Awareness Day On 6th October 2022. The programme was focused on creating awareness among students, teachers and parents about how they can protect themselves from cyber frauds.
Dr. Khushvinder Kumar Principal of the college, told students about the various aspects of Cyber frauds and how the global cyber threat continues to evolve at a rapid pace, with a rising number of data breaches each year.
During this session the stage was conducted by Mr Vinay Garg Head Department of Computer Science. Dr Ajit Kumar Associate Professor in Department of Computer Science discussed in detail different types of methods to prevent cyber-attacks, and how to protect one's identity and personal information from hackers and malicious software.
Mr Jaspreet Singh student of MSc IT II introduced the subject of cyber security to the students and discussed the importance of cyber security in present context.
Mr. Dhairya student of BCA II discussed different types of security attacks used by fraudsters to steal user information. More than 350 students were present in this programme. At the event common guidelines were shared with 3500 students and staff members to protect themselves from cyber attacks.
In this programme Dr. Ganesh Kumar, Dr Harmohan Sharma, Dr Sukhdev Singh, Dr. Sumeet Kumar,  Ms. Honey , Ms. Komal , Mr Sukh Sehaj Singh, Ms Sunita Gupta, Ms Priyanka Singla  were present.
COMMON GUIDELINES
Common guidelines shared with 3500 students and staff members of the college to protect themselves from cyber attacks.
All the users of smart phone are required to follow these guidelines to protect themselves from cyber attacks.
Update your Operating system regularly
Update web browser regularly
Change your passwords at regular intervals
Use Strong passwords
Use different passwords for your Online accounts
Use Screen Passwords on your mobile
Do not share OTPs with anyone
Use Antivirus Program on your digital devices
Keep personal information secrete.
To avoid Phishing scams Don't open unknown emails and attachments.
Don't send money to anyone unknown person (lottery, loan etc.)