Biological Society of M M Modi College celebrated National Science Day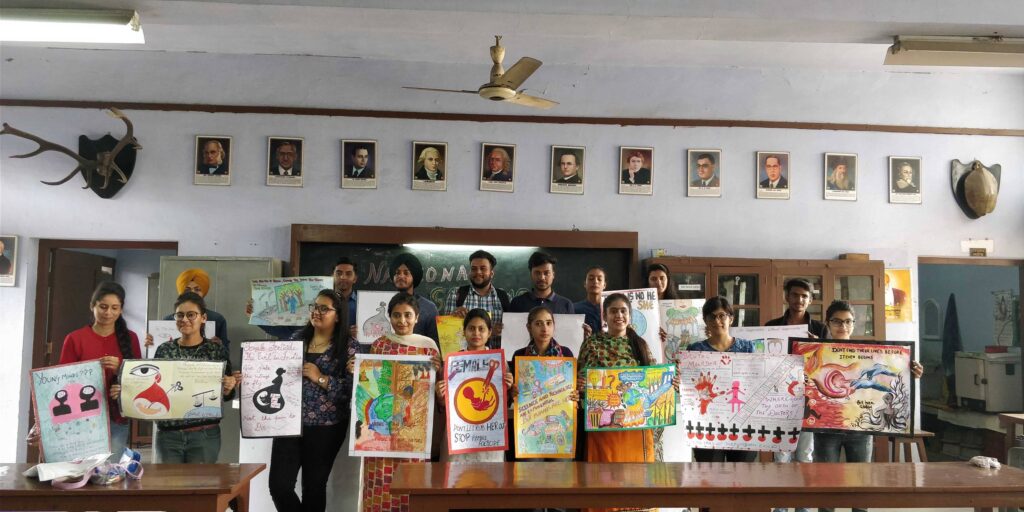 Biological Society of M M Modi College celebrated National Science Day
Biological Society of Multani Mal Modi College, Patiala celebrated National Science Day, 2018 by organizing an On the Spot Poster Making Competition on the themes of Female Feticide, Conservation of Natural Resources, Solid Waste Management and Science and Technology for Humanity. An intra-college Science Quiz was also held and in total 35 students from the undergraduate and postgraduate classes took part in both the competitions. Principal Dr. Khushvinder Kumar in his address spoke about the valuable contributions of eminent Indian scientists and elaborated on 'Science and Technology for a sustainable future', the theme of Science Day this year. He applauded the efforts of the students and staff in organizing this event and congratulated the winners.
In, On the Spot Poster Making Competition Rajdeep Kaur of BSc-III (Medical) won the first prize, Harshdeep Singh, BSc-II (Biotechnology) and Pawanpreet Kaur, BSc-II (Medical) won the Second Prize and Disha Jindal, BSc-I (Medical) and Pahul P. K. Sandhu, BSc-III (Medical) won consolation prizes in the same category. In the quiz competition, the team of Deepanshu [BSc-III (Medical)], Pyusha [BSc-II (Medical)], Amandeep Singh and Aniket Sehgal [BSc-II (Biotechnology)] stood first and 2nd prize was bagged by Jasdeep Kaur [BSc-III (Biotechnology)], Dinkar Sharma [BSc-II (Medical)], Parth Thapa and Paramnoor Kaur [BSc-I (Medical)].
During his address Dr. Ashwani Sharma, Dean, Life Sciences highlighted the activities of Biological Society. Prof. Amit Sareen, Dr. Teena Pathak and Prof. Ashish Singh judged the students in Poster Making. Dr. Bhanvi, Dr. Manish Sharma and Dr. Heena Sachdeva were the Quiz Masters. All the students and staff members of Botany, Zoology, Biotechnology and Food and Nutrition Departments were present on this occasion.
ਮੁਲਤਾਨੀ ਮੱਲ ਮੋਦੀ ਕਾਲਜ, ਪਟਿਆਲਾ ਬਾਇਓਲੋਜੀਕਲ ਸੋਸਾਇਟੀ ਵੱਲੋਂ ਰਾਸ਼ਟਰੀ ਵਿਗਿਆਨ ਦਿਵਸ ਮਨਾਇਆ ਗਿਆ
ਅੱਜ ਮੁਲਤਾਨੀ ਮੱਲ ਮੋਦੀ ਕਾਲਜ, ਪਟਿਆਲਾ ਦੀ ਬਾਇਓਲੋਜੀਕਲ ਸੋਸਾਇਟੀ ਵੱਲੋਂ ਵਿਗਿਆਨ ਦਿਵਸ ਮਨਾਇਆ ਗਿਆ। ਇਸ ਮੌਕੇ ਤੇ ਭਰੂਣ ਹਤਿਆ, ਕੁਦਰਤੀ ਸੋਮਿਆਂ ਦੀ ਸਾਂਭ-ਸੰਭਾਲ, ਠੋਸ-ਕਚਰੇ ਦਾ ਪ੍ਰਬੰਧਨ, ਮਨੁੱਖਤਾ ਲਈ ਵਿਗਿਆਨ ਅਤੇ ਤਕਨਾਲੋਜੀ ਵਿਸ਼ਿਆਂ ਉੱਪਰ ਪੋਸਟਰ ਮੇਕਿੰਗ ਅਤੇ ਭਾਸ਼ਣ ਪ੍ਰਤਿਯੋਗਿਤਾ ਕਰਵਾਈ ਗਈ। ਇਸ ਵਿਚ ਬੀ.ਐਸ.ਸੀ. ਅਤੇ ਐਮ. ਐਸ. ਸੀ. ਦੇ 35 ਵਿਦਿਆਰਥੀਆਂ ਵੱਲੋਂ ਭਾਗ ਲਿਆ ਗਿਆ। ਇਸ ਮੌਕੇ ਕਾਲਜ ਪ੍ਰਿੰਸੀਪਲ ਡਾ. ਖੁਸ਼ਵਿੰਦਰ ਕੁਮਾਰ ਨੇ ਵਿਦਿਆਰਥੀਆਂ ਤੇ ਬਾਇਓਲੋਜੀ ਵਿਭਾਗ ਦੇ ਇਸ ਉੱਦਮ ਦੀ ਸ਼ਲਾਘਾ ਕੀਤੀ ਅਤੇ ਜੇਤੂ ਵਿਦਿਆਰਥੀਆਂ ਨੂੰ ਵਧਾਈ ਦਿੱਤੀ। ਉਨ੍ਹਾਂ ਨੇ ਪ੍ਰਸਿੱਧ ਭਾਰਤੀ ਵਿਗਿਆਨੀਆਂ ਦੇ ਯੋਗਦਾਨ ਬਾਰੇ ਦੱਸਿਆ ਅਤੇ ਵਿਗਿਆਨ ਦਿਵਸ-2018 ਦੇ ਵਿਸ਼ੇ 'ਟਿਕਾਊ ਭਵਿੱਖ ਲਈ ਵਿਗਿਆਨ ਅਤੇ ਤਕਨਾਲੋਜੀ' ਬਾਰੇ ਵਿਸਤਾਰ ਨਾਲ ਚਰਚਾ ਕੀਤੀ।
ਪੋਸਟਰ ਮੇਕਿੰਗ ਮੁਕਾਬਲੇ ਵਿੱਚ ਰਾਜਦੀਪ ਕੌਰ (ਬੀ.ਐਸ.ਸੀ.-।।। ਮੈਡੀਕਲ) ਨੇ ਪਹਿਲਾ, ਹਰਸ਼ਦੀਪ ਸਿੰਘ (ਬੀ.ਐਸ.ਸੀ.-।। ਬਾਇਓਟੈਕਨਾਲੋਜੀ) ਅਤੇ ਪਵਨਪ੍ਰੀਤ ਕੌਰ (ਬੀ.ਐਸ.ਸੀ.-।। ਮੈਡੀਕਲ) ਨੇ ਦੂਜਾ ਅਤੇ ਦਿਸ਼ਾ ਜਿੰਦਲ (ਬੀ.ਐਸ.ਸੀ.-। ਮੈਡੀਕਲ) ਅਤੇ ਪਾਹੁਲ ਪੀ.ਕੇ. ਸੰਧੂ (ਬੀ.ਐਸ.ਸੀ.-।।। ਮੈਡੀਕਲ) ਨੇ ਕੌਂਲਸੋਲੇਸ਼ਨ ਪੁਰਸਕਾਰ ਪ੍ਰਾਪਤ ਕੀਤੇ। ਸਾਇੰਸ ਕਵਿੱਜ ਪ੍ਰਤਿਯੋਗਤਾ ਵਿੱਚ ਦਿਪਾਂਸ਼ੁ (ਬੀ.ਐਸ.ਸੀ.-।।। ਮੈਡੀਕਲ), ਪੀਯੂਸ਼ਾ (ਬੀ.ਐਸ.ਸੀ.-।। ਮੈਡੀਕਲ) ਅਮਨਦੀਪ ਸਿੰਘ ਅਤੇ ਅਨੀਕੇਤ ਸਹਿਗਲ (ਬੀ.ਐਸ.ਸੀ.-।। ਬਾਇਓਟੈਕਨਾਲੋਜੀ) ਨੇ ਪਹਿਲਾ, ਅਤੇ ਜਸਦੀਪ ਕੌਰ (ਬੀ.ਐਸ.ਸੀ.-।।। ਬਾਇਓਟੈਕਨਾਲੋਜੀ), ਦਿਨਕਰ ਸ਼ਰਮਾ (ਬੀ.ਐਸ.ਸੀ.-।। ਮੈਡੀਕਲ), ਪਾਰਥ ਥਾਪਾ ਅਤੇ ਪਰਮਨੂਰ ਕੌਰ (ਬੀ.ਐਸ.ਸੀ.-। ਮੈਡੀਕਲ) ਨੇ ਦੂਜਾ ਸਥਾਨ ਪ੍ਰਾਪਤ ਕੀਤਾ।
ਇਸ ਮੌਕੇ ਤੇ ਡਾ. ਅਸ਼ਵਨੀ ਸ਼ਰਮਾ, ਡੀਨ, ਲਾਈਫ਼ ਸਾਇੰਸੀਜ਼ ਨੇ ਬਾਇਓਲੋਜੀਕਲ ਸੋਸਾਇਟੀ ਵੱਲੋਂ ਕੀਤੇ ਕਾਰਜਾਂ ਉਪਰ ਚਾਨਣਾ ਪਾਇਆ। ਪ੍ਰੋ. ਅਮਿਤ ਸਰੀਨ, ਪ੍ਰੋ. ਟੀਨਾ ਪਾਠਕ ਅਤੇ ਪ੍ਰੋ. ਆਸ਼ੀਸ਼ ਸਿੰਘ ਨੇ ਪੋਸਟਰ ਮੇਕਿੰਗ ਮੁਕਾਬਲੇ ਵਿੱਚ ਜੱਜਾਂ ਦੀ ਭੂਮਿਕਾ ਨਿਭਾਈ। ਡਾ. ਭਾਨਵੀ, ਡਾ. ਮਨੀਸ਼ ਸ਼ਰਮਾ ਅਤੇ ਡਾ. ਹੀਨਾ ਸਚਦੇਵਾ ਨੇ ਕਵਿਜ਼ ਮਾਸਟਰ ਵਜੋਂ ਫਰਜ਼ ਨਿਭਾਏ। ਇਸ ਮੌਕੇ ਤੇ ਸਮੂਹ ਬਾਟਨੀ, ਜ਼ੂਲੌਜੀ, ਬਾਇਉਟੈਕਨਾਲੋਜੀ ਅਤੇ ਫੂਡ ਐਂਡ ਨਿਊਟਰਿਸ਼ਨ ਵਿਭਾਗਾਂ ਦੇ ਸਟਾਫ਼ ਮੈਂਬਰ ਅਤੇ ਵਿਦਿਆਰਥੀ ਹਾਜ਼ਿਰ ਸਨ।