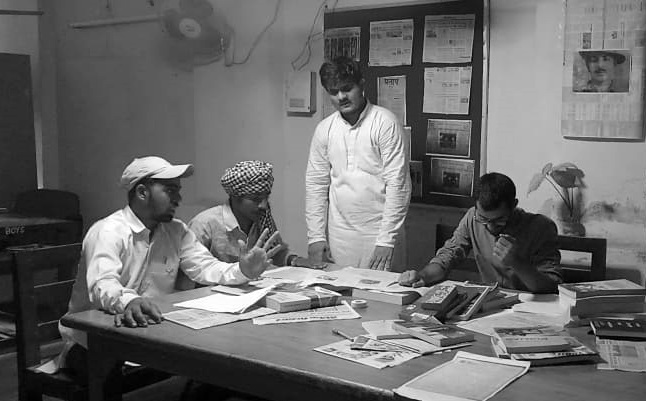 Patiala: 15 July, 2021
Short film 'Kalam Ke Siphai' Stood Second in University Inter-College Online Film Competition
            A short film 'Kalam ke Siphai' Produced and directed by students of Multani Mal Modi College won second position in University Inter-college online film competition organized and conducted by Youth Welfare Department. This film competition was dedicated to 78th anniversary celebrations of Indian Freedom struggle and was organized in remembrance of brave freedom fighters and martyrs of India.
            College Principal Dr. Khushwinder Kumar congratulated the film team and said that the role of press in Indian Freedom struggle is important to understand around which the script of this film revolves. This film is based on the events and incidents happened at the office of Kanpur based  Newspaper 'Pratap' two days after the martyrdom of Bhagat Singh and his friends. The editor of this newspaper Sh Ganesh Shakar Vidarthy was killed while preventing the riots between hindu and muslims to maintain communal harmony after these hangings.
            In this film Harpinder Singh, Adhiraj, kamal Singh and Pratham Bhanot played the role of freedom fighters. The film was directed and edited by Gurnoor Singh and based on the script written by Dr. Kuldeep Kaur, Department of Journalism and Mass Communication.
ਪਟਿਆਲਾ: ਜੁਲਾਈ 15, 2021
ਮੋਦੀ ਕਾਲਜ ਦੀ ਲਘੂ ਫਿਲਮ 'ਕਲਮ ਕੇ ਸਿਪਾਹੀ' ਨੇ ਜਿੱਤਿਆ ਯੁਨੀਵਰਸਿਟੀ ਅੰਤਰ-ਕਾਲਜ ਫਿਲਮ ਮੁਕਾਬਲੇ ਵਿੱਚ ਦੂਜਾ ਸਥਾਨ
ਸਥਾਨਕ ਮੁਲਤਾਨੀ ਮੱਲ ਮੋਦੀ ਕਾਲਜ ਪਟਿਆਲਾ ਦੇ ਵਿਦਿਆਰਥੀਆਂ ਵੱਲੋਂ ਬਣਾਈ ਤੇ ਨਿਰਦੇਸ਼ਤ ਕੀਤੀ ਫਿਲਮ ' ਕਲਮ ਕੇ ਸਿਪਾਹੀ' ਨੇ ਪੰਜਾਬੀ ਯੂਨੀਵਰਸਿਟੀ ਦੇ ਯੁਵਕ ਭਲਾਈ ਵਿਭਾਗ ਵੱਲੋਂ ਕਰਵਾਏ ਗਏ ਅੰਤਰ-ਖੇਤਰੀ ਆਨਲਾਈਨ ਲਘੂ ਫਿਲਮ ਮੁਕਾਬਲਿਆਂ ਵਿੱਚ ਦੂਜਾ ਸਥਾਨ ਹਾਸਿਲ ਕੀਤਾ ਹੈ।ਇਹ ਫਿਲਮ ਮੁਕਾਬਲਾ ਭਾਰਤੀ ਸੁਤੰਤਰਤਾ ਸੰਗਰਾਮ ਦੇ 78ਵੇਂ ਵਰ੍ਹੇ ਨੂੰ ਸਮਰਪਿਤ ਸੀ ਅਤੇ ਸੁਤੰਤਰਤਾ ਸੰਗਰਾਮ ਵਿੱਚ ਕੁਰਬਾਨੀਆਂ ਦੇਣ ਵਾਲੇ ਬਹਾਦਰ ਯੋਧਿਆਂ ਦੀ ਯਾਦ ਵਿੱਚ ਆਯੋਜਿਤ ਕੀਤਾ ਗਿਆ ਸੀ।
ਕਾਲਜ ਪ੍ਰਿੰਸੀਪਲ ਡਾ. ਖੁਸ਼ਵਿੰਦਰ ਕੁਮਾਰ ਜੀ ਨੇ ਇਸ ਮੌਕੇ ਤੇ ਇਸ ਫਿਲਮ ਦੀ ਟੀਮ ਨੂੰ ਵਧਾਈ ਦਿੰਦਿਆਂ ਕਿਹਾ ਕਿ ਸੁਤੰਤਰਤਾ ਸੰਗਰਾਮ ਵਿੱਚ ਭਾਰਤੀ ਪ੍ਰੈਸ ਦਾ ਯੋਗਦਾਨ ਬਹੁਤ ਅਹਿਮ ਸੀ ਜਿਸ ਦੇ ਇਰਦ-ਗਿਰਦ ਇਸ ਫਿਲਮ ਦਾ ਕਥਾਨਿਕ ਘੁੰਮਦਾ ਹੈ।ਇਹ ਫਿਲਮ ਭਗਤ ਸਿੰਘ ਤੇ ੳਸਦੇ ਸਾਥੀਆਂ ਦੀ ਸ਼ਹੀਦੀ ਤੋਂ ਦੋ ਦਿਨ ਬਾਅਦ ਕਾਨਪੁਰ ਤੋਂ ਪ੍ਰਕਾਸ਼ਿਤ ਹੁੰਦੇ ਅਖਬਾਰ 'ਪ੍ਰਤਾਪ' ਵਿੱਚ ਵਾਪਰੀਆਂ ਘਟਨਾਵਾਂ ਤੇ ਆਧਾਰਿਤ ਹੈ।ਇਸ ਅਖਬਾਰ ਦੇ ਸੰਪਾਦਕ ਸ਼੍ਰੀ ਗਣੇਸ਼ ਸ਼ੰਕਰ ਵਿਦਿਆਰਥੀ ਸਨ ਜਿਹੜੇ ਕਾਨਪੁਰ ਸ਼ਹਿਰ ਵਿੱਚ ਭਗਤ ਸਿੰਘ ਤੇ ਉਹਨਾਂ ਦੇ ਸਾਥੀਆਂ ਨੂੰ ਫਾਂਸੀ ਦੇਣ ਕਾਰਣ ਭੜਕੇ ਹਿੰਦੂ-ਮੁਸਲਿਮ ਦੰਗਿਆਂ ਨੂੰ ਰੋਕਣ ਦੀ ਕੋਸ਼ਿਸ ਵਿੱਚ ਸ਼ਹੀਦ ਹੋ ਗਏ ਸਨ।
ਇਸ ਫਿਲਮ ਵਿੱਚ ਵੱਖ-ਵੱਖ ਕ੍ਰਾਂਤੀਕਾਰੀਆਂ ਦੀ ਭੂਮਿਕਾ ਹਰਪਿੰਦਰ, ਅਧਿਰਾਜ, ਕਮਲ, ਪ੍ਰਥਮ ਭਨੋਟ ਨੇ ਨਿਭਾਈ।ਇਸ ਦਾ ਸੰਪਾਦਨ ਤੇ ਨਿਰਦੇਸ਼ਨ ਗੁਰੂਨੂਰ ਸਿੰਘ ਨੇ ਕੀਤਾ ਤੇ ਇਹ ਫਿਲਮ ਜਨ-ਸੰਚਾਰ ਤੇ ਪੱਤਰਕਾਰੀ ਵਿਭਾਗ ਦੇ ਡਾ.ਕੁਲਦੀਪ ਕੌਰ ਦੁਆਰਾ ਲਿਖੀ ਪਟਕਥਾ ਤੇ ਆਧਾਰਿਤ ਸੀ।