Modi College Patiala Certificated by Swachh Bharat Abhiyan for Ban of Single Use Plastics
Patiala: 02 November 2023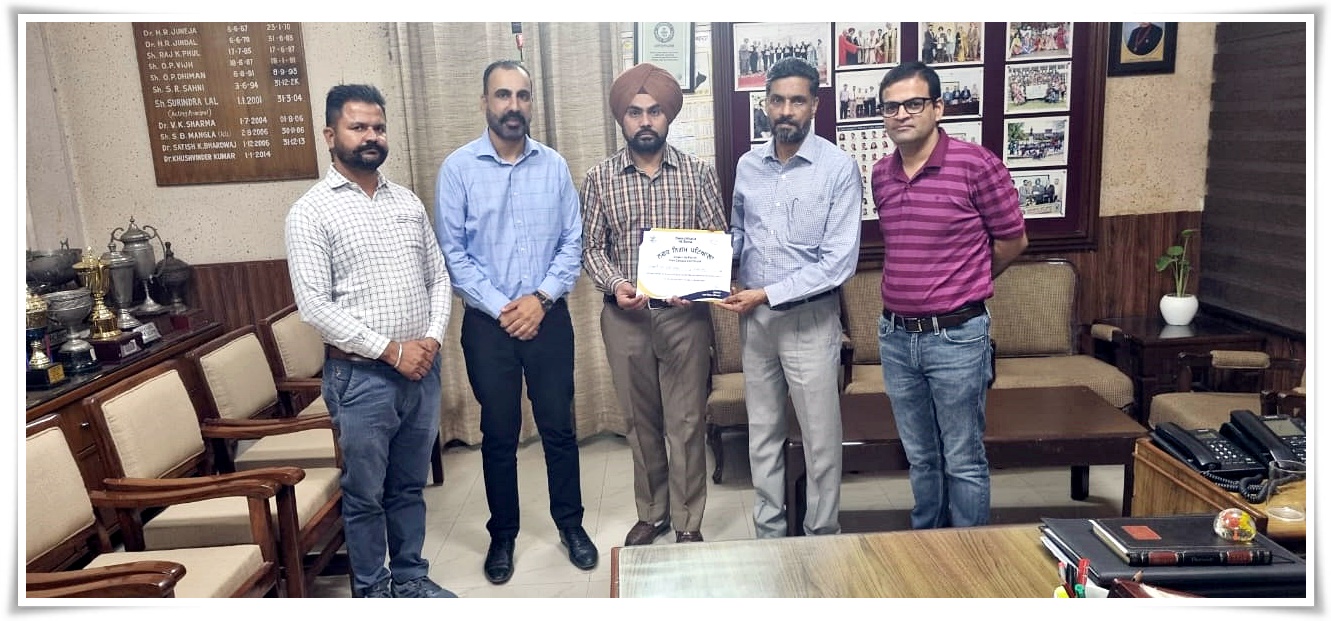 Multani Mal Modi College Patiala has got recognition and certificated for complete ban of single use plastics under the guidelines of Swachh Bharat Abhiyan of Government of India. The college has received a certificate from the officials of Municipal Corporation Patiala for designing, planning and implementation of eco-friendly and green and clean campus initiatives.
Principal Dr. Khushvinder Kumar while receiving the certificate said that college is committed to the objectives and guidelines of Swachh Bharat Abhiyan of Govt. of India. He said that the local administration has started many initiatives like Rainwater Harvesting System, Recycling of Solid Waste and Ban of single use Plastics for sustainable environment within campus and adjoining areas.
Sh. Amandeep Sekhon, IEC & CB Expert form Municipal Corporation Patiala appreciated the efforts of the college for providing clean and green environment for the students and staff.
Swachhta Nodal Officer Dr. Manish Sharma said that college promotes and nurtures the social awareness about the harmful effect of single use and other plastics through various activities and community program.
ਸਿੰਗਲ ਯੂਜ਼ ਪਲਾਸਟਿਕ 'ਤੇ ਪਾਬੰਦੀ ਲਈ ਸਵੱਛ ਭਾਰਤ ਅਭਿਆਨ ਦੁਆਰਾ ਮੋਦੀ ਕਾਲਜ ਪਟਿਆਲਾ ਦਾ ਸਨਮਾਨ
ਪਟਿਆਲਾ: 02 ਨਵੰਬਰ, 2023
ਸਥਾਨਕ ਮੁਲਤਾਨੀ ਮੱਲ ਮੋਦੀ ਕਾਲਜ ਪਟਿਆਲਾ ਨੂੰ ਭਾਰਤ ਸਰਕਾਰ ਦੇ ਸਵੱਛ ਭਾਰਤ ਅਭਿਆਨ ਦੇ ਦਿਸ਼ਾ-ਨਿਰਦੇਸ਼ਾਂ ਤਹਿਤ ਸਿੰਗਲ ਯੂਜ਼ ਪਲਾਸਟਿਕ 'ਤੇ ਮੁਕੰਮਲ ਪਾਬੰਦੀ ਲਗਾਉਣ ਲਈ ਮਾਨਤਾ ਸਰਟੀਫਿਕੇਟ ਦੇ ਕੇ ਸਨਮਾਨਿਤ ਕੀਤਾ ਗਿਆ।ਇਹ ਸਰਟੀਫਿਕੇਟ ਕਾਲਜ ਨੂੰ ਵਾਤਾਵਰਣ ਪੱਖੋਂ ਸਾਫ-ਸੁਥਰਾ ਅਤੇ ਹਰਿਆ ਭਰਿਆ ਬਣਾਉਣ ਲਈ ਵੱਖ-ਵੱਖ ਪਹਿਲਕਦਮੀਆਂ ਦੀ ਡਿਜ਼ਾਈਨਿੰਗ, ਯੋਜਨਾਬੰਦੀ ਅਤੇ ਲਾਗੂ ਕਰਨ ਲਈ ਨਗਰ ਨਿਗਮ ਪਟਿਆਲਾ ਦੇ ਅਧਿਕਾਰੀਆਂ ਤੋਂ ਸਰਟੀਫਿਕੇਟ ਪ੍ਰਾਪਤ ਹੋਇਆ ਹੈ।
ਪ੍ਰਿੰਸੀਪਲ ਡਾ. ਖੁਸ਼ਵਿੰਦਰ ਕੁਮਾਰ ਜੀ ਨੇ ਸਰਟੀਫਿਕੇਟ ਪ੍ਰਾਪਤ ਕਰਦੇ ਹੋਏ ਕਿਹਾ ਕਿ ਮੋਦੀ ਕਾਲਜ ਸਰਕਾਰ ਦੇ ਸਵੱਛ ਭਾਰਤ ਅਭਿਆਨ ਦੇ ਉਦੇਸ਼ਾਂ ਅਤੇ ਦਿਸ਼ਾ ਨਿਰਦੇਸ਼ਾਂ ਪ੍ਰਤੀ ਵਚਨਬੱਧ ਹੈ।ਉਨ੍ਹਾਂ ਦੱਸਿਆ ਕਿ ਸਥਾਨਕ ਪ੍ਰਸ਼ਾਸਨ ਨੇ ਕੈਂਪਸ ਅਤੇ ਆਸ-ਪਾਸ ਦੇ ਖੇਤਰਾਂ ਵਿੱਚ ਤੰਦਰੁਸਤ ਵਾਤਾਵਰਣ ਬਣਾਈ ਰੱਖਣ ਲਈ ਰੇਨ ਵਾਟਰ ਹਾਰਵੈਸਟਿੰਗ ਸਿਸਟਮ ਬਣਾਉਣ , ਰਹਿੰਦ-ਖੂੰਹਦ ਦੀ ਰੀਸਾਈਕਲਿੰਗ ਕਰਨ ਅਤੇ ਸਿੰਗਲ ਯੂਜ਼ ਪਲਾਸਟਿਕ 'ਤੇ ਪਾਬੰਦੀ ਵਰਗੀਆਂ ਕਈ ਪਹਿਲਕਦਮੀਆਂ ਸ਼ੁਰੂ ਕੀਤੀਆਂ ਹਨ।
ਇਸ ਮੌਕੇ ਤੇ ਸ੍ਰੀ. ਅਮਨਦੀਪ ਸੇਖੋਂ, ਆਈ.ਈ.ਸੀ ਅਤੇ ਸੀਬੀ ਮਾਹਿਰ, ਨਗਰ ਨਿਗਮ ਪਟਿਆਲਾ ਨੇ ਵਿਦਿਆਰਥੀਆਂ ਅਤੇ ਸਟਾਫ਼ ਨੂੰ ਸਾਫ਼ ਸੁਥਰਾ ਵਾਤਾਵਰਨ ਮੁਹੱਈਆ ਕਰਵਾਉਣ ਲਈ ਕਾਲਜ ਦੁਆਰਾ ਕੀਤੇ ਯਤਨਾਂ ਦੀ ਸ਼ਲਾਘਾ ਕੀਤੀ।
ਇਸ ਸਬੰਧੀ ਸਵੱਛਤਾ ਨੋਡਲ ਅਫ਼ਸਰ ਡਾ: ਮਨੀਸ਼ ਸ਼ਰਮਾ ਨੇ ਕਿਹਾ ਕਿ ਕਾਲਜ ਵੱਖ-ਵੱਖ ਗਤੀਵਿਧੀਆਂ ਅਤੇ ਕਮਿਊਨਿਟੀ ਪ੍ਰੋਗਰਾਮਾਂ ਰਾਹੀਂ ਸਿੰਗਲ ਯੂਜ਼ ਅਤੇ ਪਲਾਸਟਿਕ ਦੇ ਹੋਰ ਨੁਕਸਾਨਦੇਹ ਪ੍ਰਭਾਵਾਂ ਬਾਰੇ ਸਮਾਜਿਕ ਜਾਗਰੂਕਤਾ ਫੈਲਾ ਰਿਹਾ ਹੈ।