A Five-Day workshop on 'English Language and Pronunciation' at M.M.Modi College
Patiala: 18 October, 2022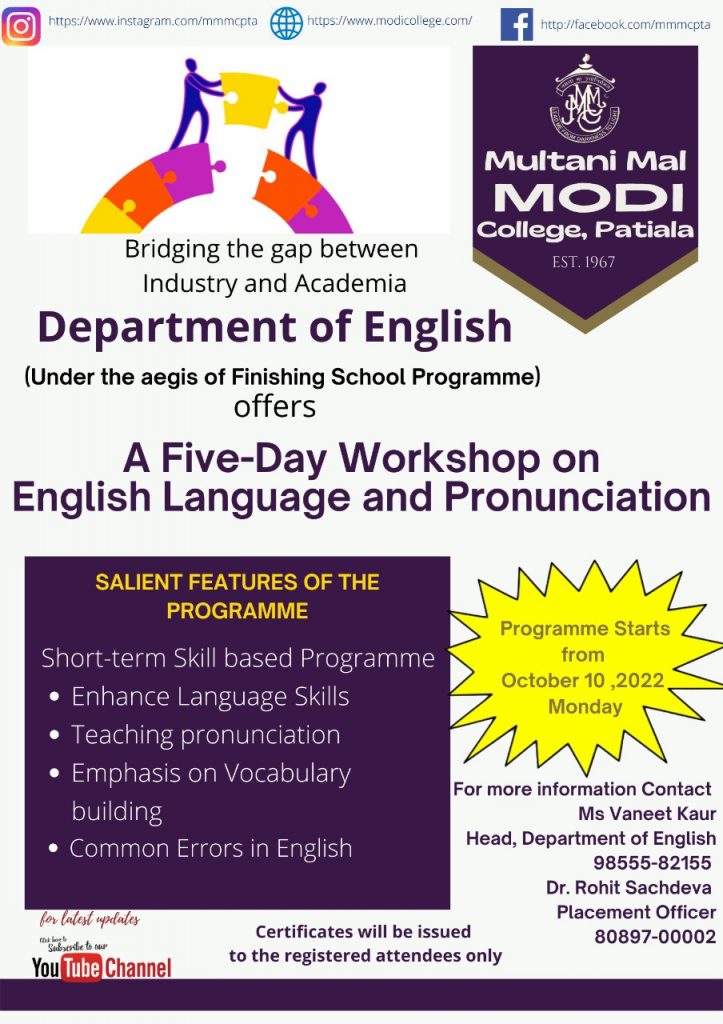 A five day workshop was organized from 10th October to 14th October, 2022 by the Department of English under the aegis of finishing school programme at M M Modi College, Patiala. The topic of the workshop was 'English Language and Pronunciation'. The main objective of this workshop was to sharpen the communicative and writing skills of the students. The workshop was coordinated by Dr. Neeraj Goyal, Co-ordinator, Placement Cell and conducted by Prof. Vaneet Kaur, Prof. Harpreet Singh and Prof. Tanvir Kaur.
Principal Dr. Khushvinder Kumar congratulated the Department and participants of the workshop and said that it is important to learn philosophical underpinnings and aesthetics values of any language for in depth knowledge for better understanding of any language.
The vice-principal of the college Prof.Ved Prakash Sharma said that English is a link language globally and it is important to be proficient in it for a successful career.
Prof. Vaneet Kaur, Head of English Department presented a brief report of the workshop and said that now our labs are equipped with latest language software and technology.
A participant of this workshop Mukul said that this workshop has helped in making me more comfortable in speaking and writing English. A student Janavi also appreciated the workshop and said that this workshop was helpful in learning many complex concepts of English.
After the workshop certificates were also provided to the students. The stage was conducted by Prof. Tanveer Kaur and vote of thanks was presented by Prof. Harpreet Singh.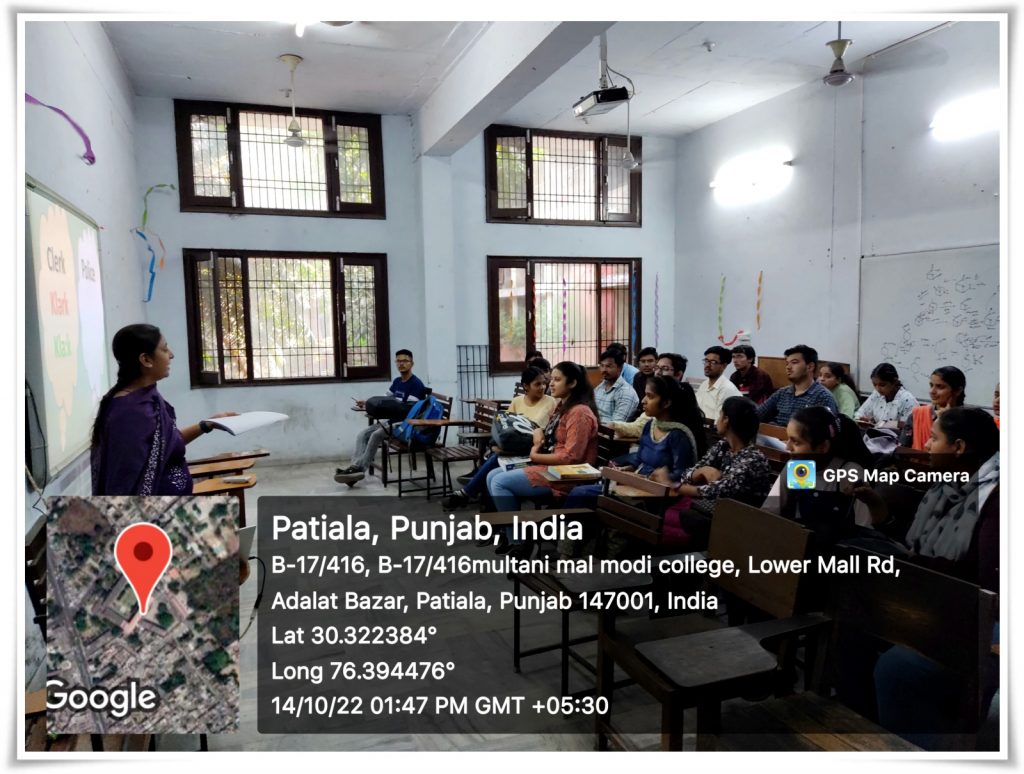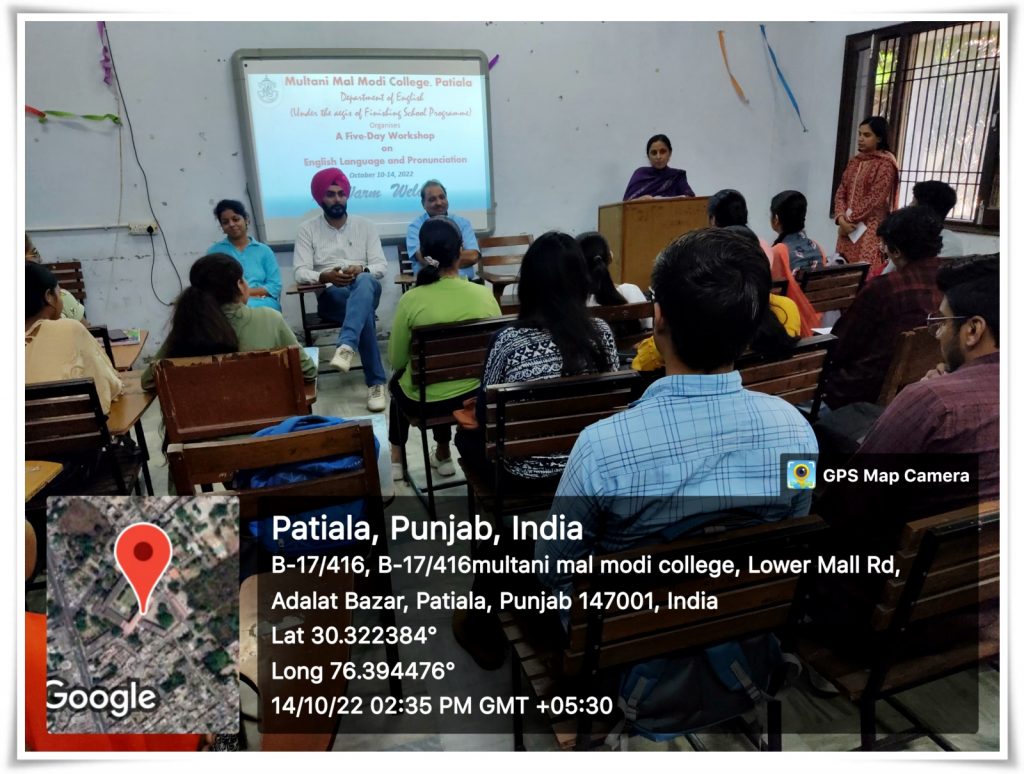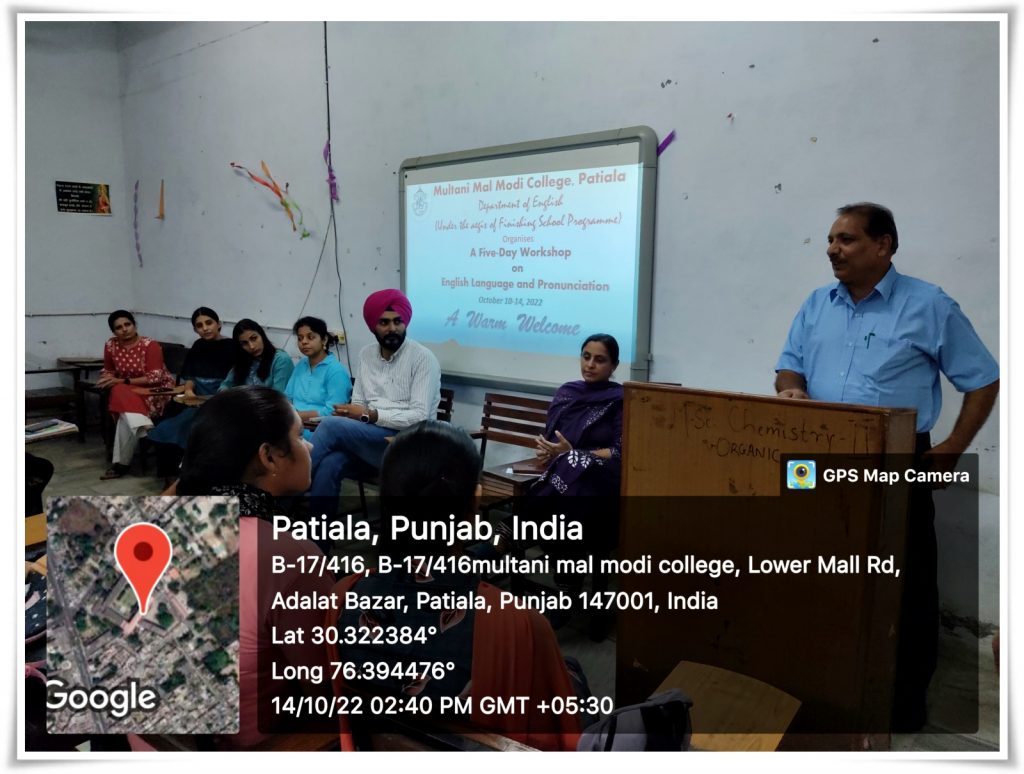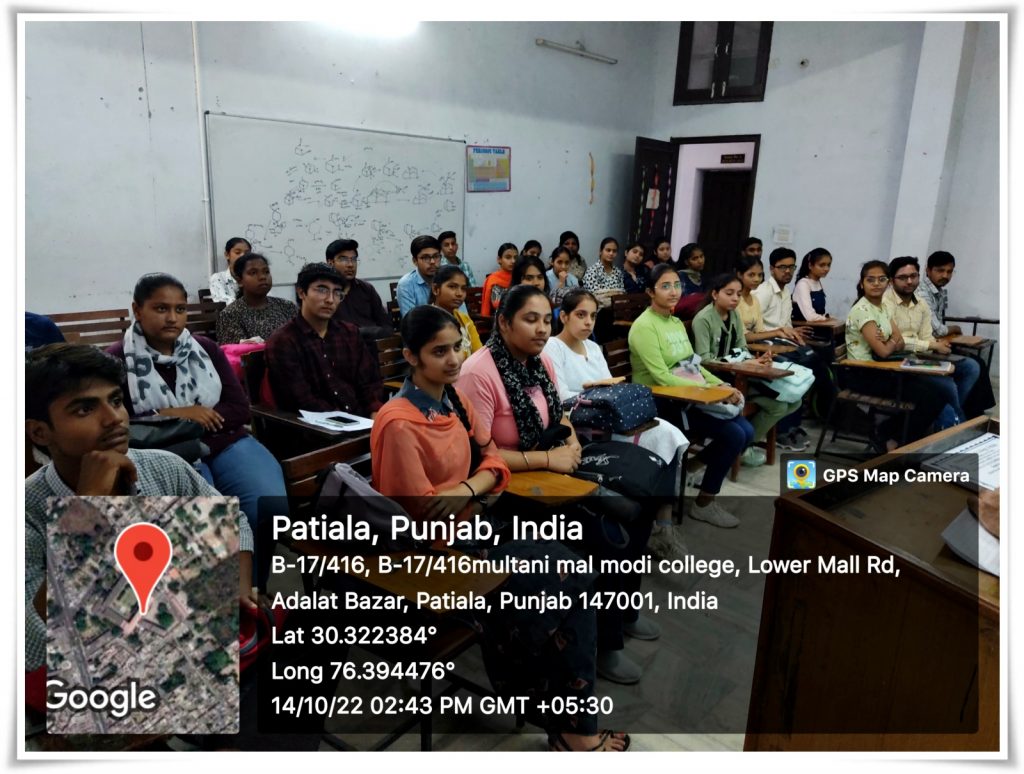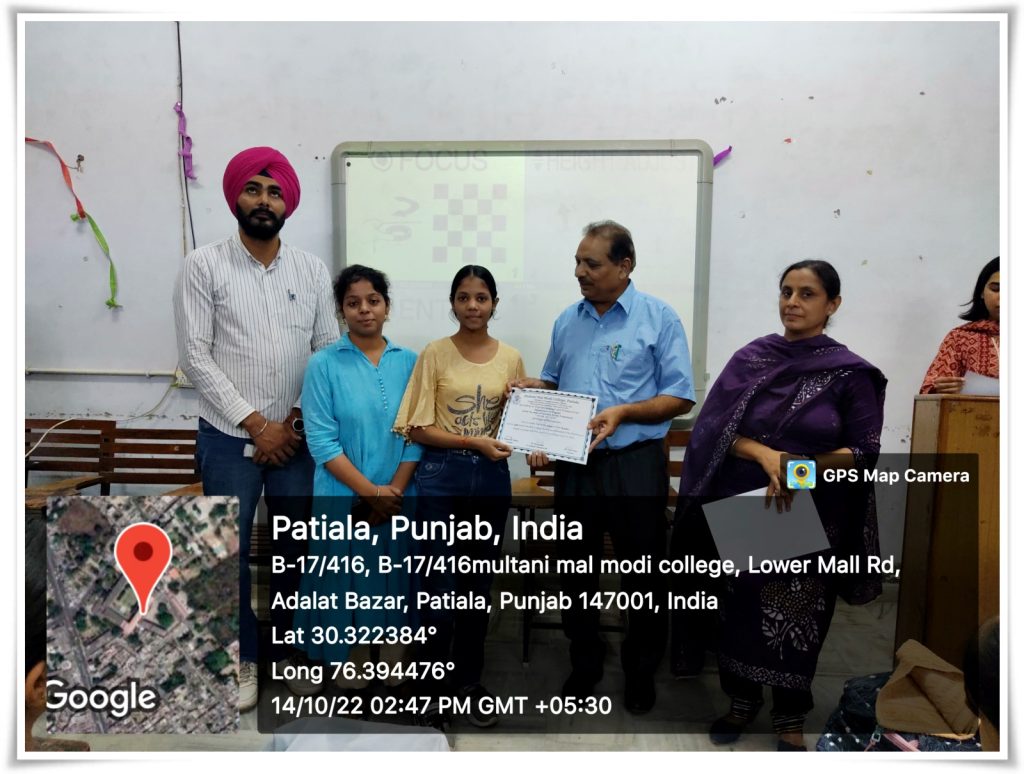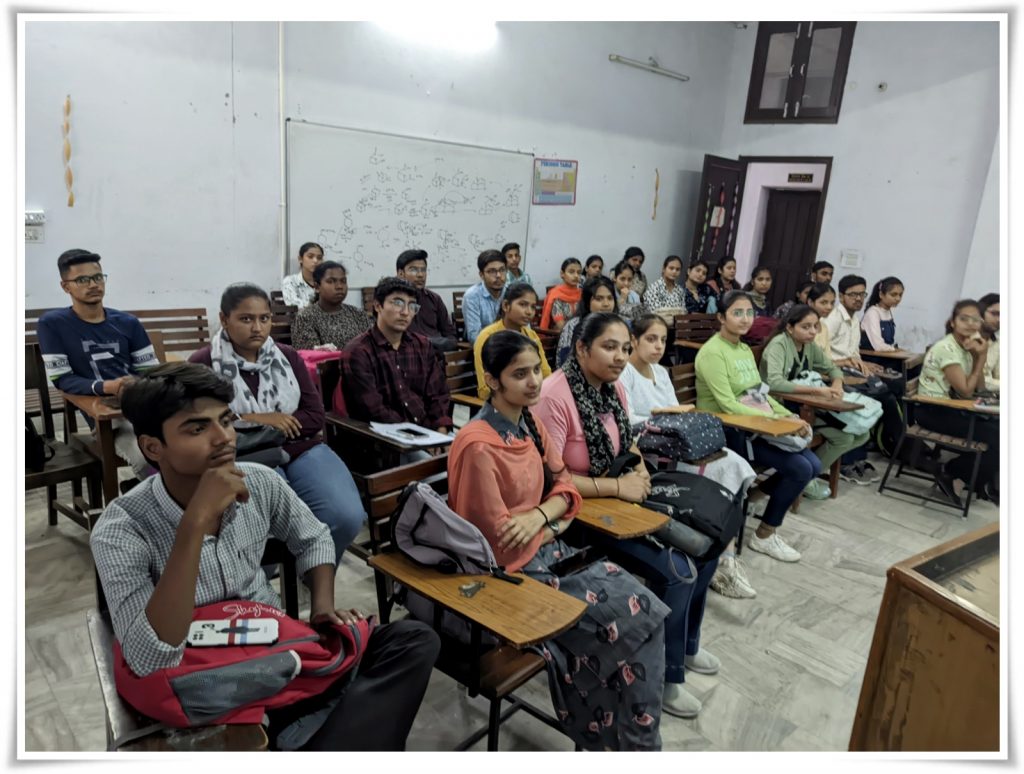 ਮੋਦੀ ਕਾਲਜ ਵਿਖੇ ਅੰਗਰੇਜ਼ੀ ਭਾਸ਼ਾ ਅਤੇ ਉਚਾਰਣ ਸਬੰਧੀ ਪੰਜ- ਰੋਜ਼ਾ ਵਰਕਸ਼ਾਪ ਦਾ ਸਮਾਪਨ
ਪਟਿਆਲਾ: 18 ਅਕਤੂਬਰ, 2022
ਸਥਾਨਕ ਮੁਲਤਾਨੀ ਮੱਲ ਮੋਦੀ ਕਾਲਜ, ਪਟਿਆਲਾ ਦੇ ਅੰਗਰੇਜ਼ੀ ਵਿਭਾਗ ਵੱਲੋਂ 10 ਤੋਂ 14 ਅਕਤੂਬਰ 2022 ਤੱਕ ਅੰਗਰੇਜ਼ੀ ਭਾਸ਼ਾ ਅਤੇ ਉਚਾਰਣ ਸਬੰਧੀ ਪੰਜ – ਰੋਜ਼ਾ ਵਰਕਸ਼ਾਪ ਦਾ ਆਯੋਜਨ ਕੀਤਾ ਗਿਆ। ਇਸ ਵਰਕਸ਼ਾਪ ਦਾ ਉਦੇਸ਼ ਵਿਦਿਆਰਥੀਆਂ ਨੂੰ ਅੰਗਰੇਜ਼ੀ ਭਾਸ਼ਾ ਦੇ ਤਕਨੀਕੀ ਹੁਨਰ ਅਤੇ ਸ਼ੁੱਧ ਉਚਾਰਣ ਵਿੱਚ ਪ੍ਰਪੱਕ ਬਣਾਉਣਾ ਸੀ। ਇਸ ਵਰਕਸ਼ਾਪ ਨੂੰ ਅੰਗਰੇਜ਼ੀ ਵਿਭਾਗ ਦੇ ਪ੍ਰੋ. ਵਨੀਤ ਕੌਰ, ਪ੍ਰੋ. ਹਰਪ੍ਰੀਤ ਸਿੰਘ ਅਤੇ ਪ੍ਰੋ. ਤਨਵੀਰ ਕੌਰ ਨੇ ਆਯੋਜਿਤ ਕੀਤਾ।
ਕਾਲਜ ਦੇ ਪ੍ਰਿੰਸੀਪਲ ਡਾ. ਖੁਸ਼ਵਿੰਦਰ ਕੁਮਾਰ ਜੀ ਨੇ ਇਸ ਵਰਕਸ਼ਾਪ ਦੇ ਸਮਾਪਤੀ ਸਮਾਰੋਹ ਦੀ ਪ੍ਰਧਾਨਗੀ ਕੀਤੀ। ਉਹਨਾਂ ਨੇ ਇਸ ਮੌਕੇ ਤੇ ਵਿਭਾਗ ਨੂੰ ਇਸ ਵਰਕਸ਼ਾਪ ਦੇ ਆਯੋਜਨ ਲਈ ਵਧਾਈ ਦਿੱਤੀ।ਉਹਨਾਂ ਨੇ ਇਸ ਮੌਕੇ ਤੇ ਬੋਲਦਿਆ ਕਿਹਾ ਕਿ ਕਿਸੇ ਵੀ ਭਾਸ਼ਾ ਦੀ ਤਕਨੀਕੀ ਜਾਣਕਾਰੀ ਨੂੰ ਸਿਰਫ ਉਸਦੀ ਕੰਮਕਾਜੀ ਵਰਤੋਂ ਤੱਕ ਮਹਿਦੂਦ ਕਰਨ ਦੀ ਬਿਜਾਏ ਉਸਦੇ ਫਲਸਫੇ ਅਤੇ ਸੁਹਜ ਨੂੰ ਸਿੱਖਣ ਦੀ ਕੋਸ਼ਿਸ਼ ਕਰਨੀ ਚਾਹੀਦੀ ਹੈ।
ਕਾਲਜ ਦੇ ਵਾਇਸ-ਪ੍ਰਿੰਸੀਪਲ ਪ੍ਰੋ.ਵੇਦ ਪ੍ਰਕਾਸ਼ ਸ਼ਰਮਾ ਨੇ ਵਰਕਸ਼ਾਪ ਵਿੱਚ ਭਾਗ ਲੈਣ ਵਾਲੇ ਵਿਦਿਆਰਥੀਆਂ ਦਾ ਸਵਾਗਤ ਕਰਦਿਆ ਕਿਹਾ ਕਿ ਇਸ ਵਰਕਸ਼ਾਪ ਨੂੰ ਆਯੋਜਿਤ ਕਰਨ ਦਾ ਮੁੱਖ ਉਦੇਸ਼ ਵਿਦਿਆਰਥੀਆਂ ਨੂੰ ਅੰਗਰੇਜ਼ੀ ਭਾਸ਼ਾ ਵਿੱਚ ਨਿਪੁੰਨ ਬਣਾਉਣਾ ਹੈ।
ਇਸ ਮੌਕੇ ਤੇ ਅੰਗਰੇਜ਼ੀ ਵਿਭਾਗ ਦੇ ਮੁਖੀ ਪ੍ਰੋ.ਵਨੀਤ ਕੌਰ ਨੇ ਵਰਕਸ਼ਾਪ ਬਾਰੇ ਇੱਕ ਸੰਖੇਪ ਰਿਪੋਰਟ ਪੇਸ਼ ਕੀਤੀ ਅਤੇ ਦੱਸਿਆ ਕਿ ਕਾਲਜ ਕੋਲ ਹੁਣ ਅੰਗਰੇਜ਼ੀ ਭਾਸ਼ਾ ਸਿੱਖਣ ਲਈ ਨਵੇਂ ਤੇ ਆਧੁਨਿਕ ਸਾਫਟਵੇਅਰ ਅਤੇ ਮਿਆਰੀ ਪ੍ਰਯੋਗਸ਼ਲਾਵਾਂ ਉਪਲਬਧ ਹਨ।
ਇਸ ਵਰਕਸ਼ਾਪ ਬਾਰੇ ਆਪਣੇ ਤਜਰਬੇ ਸਾਂਝੇ ਕਰਦਿਆ ਇੱਕ ਵਿਦਿਆਰਥੀ ਮੁਕਲ ਨੇ ਕਿਹਾ ਕਿ ਇਸ ਨਾਲ ਮੇਰੀ ਅੰਗਰੇਜ਼ੀ ਭਾਸ਼ਾ ਉੱਤੇ ਪਕੜ ਹੋਰ ਪੀਡੀ ਹੋਈ ਹੈ। ਵਿਦਿਆਰਥੀ ਜਾਹਨਵੀ ਦਾ ਕਹਿਣਾ ਸੀ ਕਿ ਇਸ ਵਰਕਸ਼ਾਪ ਵਿੱਚ ਹਿੱਸਾ ਲੈਣ ਨਾਲ ਸਾਡੀਆਂ ਭਾਸ਼ਾ ਸਬੰਧੀ ਕਈ ਗੁੰਝਲਾਂ ਹੱਲ ਹੋਈਆ ਹਨ।
ਇਸ ਮੌਕੇ ਤੇ ਵਰਕਸ਼ਾਪ ਵਿੱਚ ਹਿੱਸਾ ਲੈਣ ਵਾਲੇ ਸਾਰੇ ਵਿਦਿਆਰਥੀਆਂ ਨੂੰ ਸਰਟੀਫਿਕੇਟ ਵੀ ਪ੍ਰਦਾਨ ਕੀਤੇ ਗਏ।ਵਰਕਸ਼ਾਪ ਦੇ ਸਮਾਪਨ ਸਮਾਰੋਹ ਵਿੱਚ ਸਟੇਜ ਸਕਤੱਰ ਦੀ ਭੁਮਿਕਾ ਪ੍ਰੋ.ਤਨਵੀਰ ਕੌਰ ਨੇ ਨਿਭਾਈ। ਅੰਤ ਵਿੱਚ ਪ੍ਰੋ. ਹਰਪ੍ਰੀਤ ਸਿੰਘ ਨੇ ਇਸ ਵਰਕਸ਼ਾਪ ਦੀ ਸਫਲਤਾ ਲਈ ਸਾਰਿਆਂ ਦਾ ਧੰਨਵਾਦ ਕੀਤਾ। ਇਸ ਮੌਕੇ ਤੇ ਵਿਭਾਗ ਦੇ ਸਮੂਹ ਮੈਂਬਰ ਹਾਜ਼ਿਰ ਸਨ।