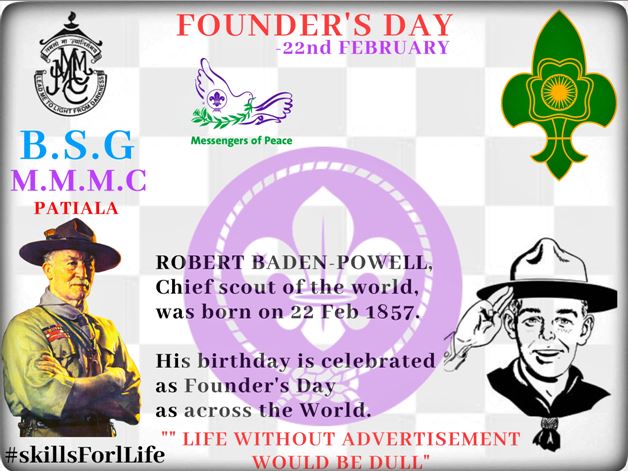 Modi College Celebrates World Thinking Day Dedicated To Lord Biden Powell
On 22nd February, The Bharat Scouts and Guides Unit of Multani Mal Modi College, Patiala organized an online talk to mark BSG World Thinking Day/Founders'day under the guidance of the principal Dr. Khushvinder Kumar. The lecture was delivered by Sdr. Onkar Singh, State Organizing Commissioner, Bharat Scouts and guides, Punjab.
College Principal Dr. Khushvinder Kumar congratulated scouts for the occasion and appreciated the world class activities of the BSG organization in times of crisis of human society.  He urged the scouts to always remember their involvement and sense of social duty in such opportunities for all round growth and to develop their fullest potential as responsible citizens of the world.
After the Scouting Prayer, the guest speaker Mr. Onkar Singh introduced the historical context of World Thinking day and the life journey of the BSG founder 'Robert Biden Powell'. He shed light on the current role of the Scouting and Guiding as an organization and its fundamentals, working, achievements, goals, principles and vision. In an interactive session with Rangers and Rovers, he appealed to the scouts to set their own goals and work hard to achieve those goals, help build a better world where people are self-fulfilled as individuals and play a constructive role in society."  Ranger in- charge, Dr. Veenu Jain shared information with regard to the activities of the college unit to motivate the aspiring scouts. The online talk was moderated by Rover in charge. Dr. Rupinder Singh Dhillon. Besides Assistant Ranger in-charge Prof. Gurpreet Kaur, the highly trained scouts of the college unit and the scouts who have represented Punjab in the National integration Camp were also present. The programme was technically managed by Dr. Rohit Sachdeva, Department of Computer Science.
 
ਮੋਦੀ ਕਾਲਜ ਵੱਲੋਂ ਲਾਰਡ ਬੇਡਿਨ ਪਾਵੇਲ ਨੂੰ ਸਮਰਪਿਤ ਸੋਚ ਦਿਵਸ ਮਨਾਇਆ
22 ਫਰਵਰੀ ਨੂੰ ਸੋਚ ਦਿਵਸ ਵਜੋਂ ਮਨਾਉਂਦੇ ਹੋਏ ਮੁਲਤਾਨੀ ਮੱਲ ਮੋਦੀ ਕਾਲਜ ਪਟਿਆਲਾ ਦੇ ਭਾਰਤ ਸਕਾਊਟਸ ਐਂਡ ਗਾਈਡਜ਼ ਵਿਭਾਗ ਵੱਲੋਂ ਇਕ ਆਨਲਾਈਨ ਭਾਸ਼ਣ ਕਰਵਾਇਆ ਗਿਆ। ਇਸ ਸਮੇਂ ਮੁੱਖ ਵਕਤਾ ਵੱਲੋਂ ਭਾਰਤ ਸਕਾਊਟਜ਼ ਐਂਡ ਗਾਈਡਜ਼ ਸੰਸਥਾ ਦੇ ਸਟੇਟ ਆਰਗੇਨਾਈਜਿੰਗ ਕਮਿਸ਼ਨਰ ਸ੍ਰ ਓਂਕਾਰ ਸਿੰਘ ਨੇ ਸ਼ਿਰਕਤ ਕੀਤੀ।
ਕਾਲਜ ਪ੍ਰਿੰਸੀਪਲ ਡਾ. ਖੁਸ਼ਵਿੰਦਰ ਕੁਮਾਰ ਜੀ ਨੇ ਪ੍ਰਸੰਨਤਾ ਭਰੇ ਲਹਿਜ਼ੇ ਚ ਸਕਾਊਟਸ ਲਈ ਸੋਚ ਦਿਵਸ ਦੀਆਂ ਮੁਬਾਰਕਾਂ ਸਾਂਝੀਆਂ ਕੀਤੀਆਂ ਅਤੇ ਮਨੁੱਖੀ ਸਮਾਜ ਦੇ ਸੰਕਟ ਸਮੇਂ ਚ ਇਸ ਸੰਸਥਾ ਦੀਆਂ ਵਿਸ਼ਵ ਪੱਧਰ ਦੀਆਂ ਗਤੀਵਿਧੀਆਂ ਦੀ ਸਰਾਹਨਾ ਕੀਤੀ। ਉਹਨਾਂ ਸਕਾਊਟਸ ਨੂੰ ਆਪਣੇ ਸਰਵਪੱਖੀ ਵਿਕਾਸ ਦੇ ਅਜਿਹੇ ਮੌਕਿਆਂ ਚ ਸ਼ਮੂਲੀਅਤ ਅਤੇ ਸਮਾਜਿਕ ਫਰਜ਼ ਦੇ ਅਹਿਸਾਸ ਨੂੰ ਹਮੇਸ਼ਾ ਯਾਦ ਰੱਖਣ ਲਈ ਪ੍ਰੇਰਿਆ।
ਸੈਸ਼ਨ ਦਾ ਆਗ਼ਾਜ਼ ਸਕਾਊਟਿੰਗ ਪ੍ਰਾਰਥਨਾ ਤੋਂ ਉਪਰੰਤ ਮੁੱਖ ਬੁਲਾਰੇ ਸ੍ਰ ਓਂਕਾਰ ਸਿੰਘ ਨੇ ਸੋਚ ਦਿਵਸ ਦੇ ਇਤਹਾਸਕ ਪ੍ਰਸੰਗ ਅਤੇ ਬਾਨੀ ਰਾਬਰਟ ਬੇਡਿਨ ਪਾਵੇਲ ਦੇ ਜੀਵਨ ਸਫ਼ਰ ਤੋਂ ਜਾਣੂ ਕਰਵਾਇਆ। ਉਹਨਾਂ ਵਰਤਮਾਨ ਦੌਰ ਚ ਸਕਾਊਟ ਸੰਸਥਾ ਦੇ ਸੰਗਠਨ, ਕਾਰਜ, ਪ੍ਰਾਪਤੀਆਂ, ਟੀਚੇ, ਸਿਧਾਂਤ ਅਤੇ ਜ਼ਿੰਦਗੀ ਦੀ ਵਿਹਾਰਕਤਾ ਚ ਨਿਭਾਈ ਜਾਣ ਵਾਲੀ ਭੂਮਿਕਾ ਤੇ ਰੌਸ਼ਨੀ ਪਾਈ। ਰੇਂਜਰਜ਼ ਅਤੇ ਰੋਵਰਜ਼  ਦੁਆਰਾ ਪੁੱਛੇ ਗਏ ਸੁਆਲਾਂ ਦੇ ਭਰਵੇਂ ਸੈਸ਼ਨ ਵਿਚ ਉਹਨਾਂ ਸਕਾਊਟਸ ਨੂੰ ਆਪਣਾ ਟੀਚਾ ਨਿਸ਼ਚਿਤ ਕਰਨ ਅਤੇ ਟੀਚਾ ਪ੍ਰਾਪਤੀ ਲਈ ਸਿਰਤੋੜ ਯਤਨ ਕਰਨ ਦੀ ਅਪੀਲ ਕਰਦਿਆਂ ਕਿਹਾ ਕਿ ਸਕਾਊਟਸ ਦੀ ਮੈਂਬਰਸ਼ਿਪ ਤੇ ਵਰਦੀ ਜਿਥੇ ਸਕਾਊਟਸ ਨੂੰ ਜ਼ਿੰਮੇਵਾਰੀ ਦਾ ਅਹਿਸਾਸ ਕਰਾਉਂਦੀ ਹੈ, ਓਥੇ ਭੀੜ ਤੋਂ ਵੱਖਰੀ ਸ਼ਖ਼ਸੀਅਤ ਦੀ ਉਸਾਰੀ ਚ ਵੀ ਭੂਮਿਕਾ ਅਦਾ ਕਰਦੀ ਹੈ। ਰੇਂਜਰ ਇੰਚਾਰਜ ਡਾ. ਵੀਨੂੰ ਜੈਨ ਨੇ ਕਾਲਜ ਯੂਨਿਟ ਦੀਆਂ ਗਤੀਵਿਧੀਆਂ ਆਧਾਰਿਤ ਜਾਣਕਾਰੀ ਸਾਂਝੀ ਕਰਦਿਆਂ ਨਵੀਂ ਭਰਤੀ ਦੇ ਚਾਹਵਾਨ ਵਿਦਿਆਰਥੀਆਂ ਨੂੰ ਪ੍ਰੇਰਿਆ। ਆਨਲਾਈਨ ਭਾਸ਼ਣ ਦਾ ਮੰਚ ਸੰਚਾਲਨ ਰੋਵਰ ਇੰਚਾਰਜ ਡਾ. ਰੁਪਿੰਦਰ ਸਿੰਘ ਢਿਲੋਂ ਨੇ ਕੀਤਾ। ਰੇਂਜਰ ਸਹਾਇਕ ਪ੍ਰੋ ਗੁਰਪ੍ਰੀਤ ਕੌਰ ਤੋਂ ਇਲਾਵਾ ਕਾਲਜ ਦੀ ਯੂਨਿਟ ਦੇ ਨਿਪੁੰਨ ਸਿਖਲਾਈ ਪ੍ਰਾਪਤ ਸਕਾਊਟਸ ਅਤੇ ਰਾਸ਼ਟਰੀ ਕੈਂਪ ਚ ਪੰਜਾਬ ਦੀ ਪ੍ਰਤੀਨਿਧਤਾ ਕਰ ਚੁੱਕੇ ਸਕਾਊਟਸ ਵੀ ਸ਼ਾਮਿਲ ਹੋਏ। ਤਕਨੀਕੀ ਪੱਖ ਤੋਂ ਸਹਾਇਤਾ ਡਾ. ਰੋਹਿਤ ਸਚਦੇਵਾ ਨੇ ਕੀਤੀ।
 
List of Participants