Multani Mal Modi College Wins Punjabi University Taekwondo Pommsae Overall Inter College Championship
Date: 19 Nov., 2022
 Multani Mal Modi College has won the Punjabi University Inter-College TAEKWONDO POMMSAE overall Championship. In this championship Colonel College of Physical Education, Chaural Kalan bagged the second position.
In Modi College Boys team Aman (63kg weight category), Puneetpal (68kg weight category), and Ritik (80kg weight category) won Gold Medals. Likewise, Saksham (58kg weight category) won Silver Medal and Dilip Saini (80+kg weight category) won Bronze Medal.
In Taekwondo (Girls) competition, college team also bagged first runner-up position. Team players Riya (67kg weight category) and Manpreet Kaur (67+kg weight category) won silver medals, whereas Vishakha (49kg weight category), Poonam (53kg weight category) and Himanshi (57kg weight category) won bronze medals.
College Principal Dr. Khushvinder Kumar congratulated the team members and assured that college will keep on providing the best facilities to the college sports persons.
Dr. Nishan Singh, Dean, Sports and Head, Sports Dept. of the College appreciated the winning team. The Principal applauded the sincere efforts of Dr. Nishan Singh, Dr. Harneet Singh, and Prof. (Ms.) Mandeep Kaur.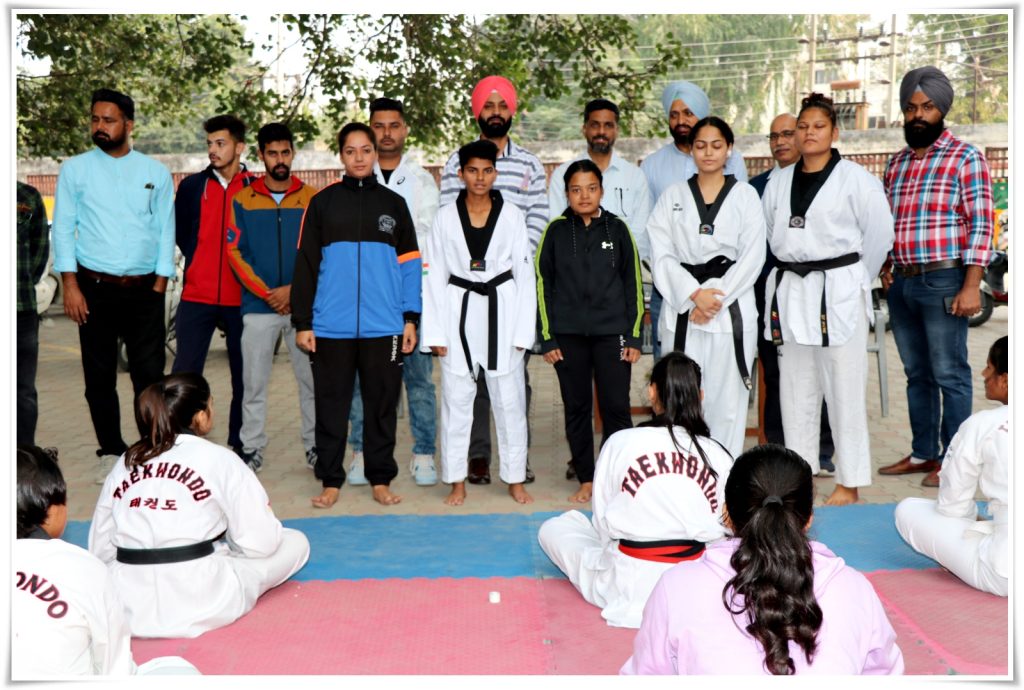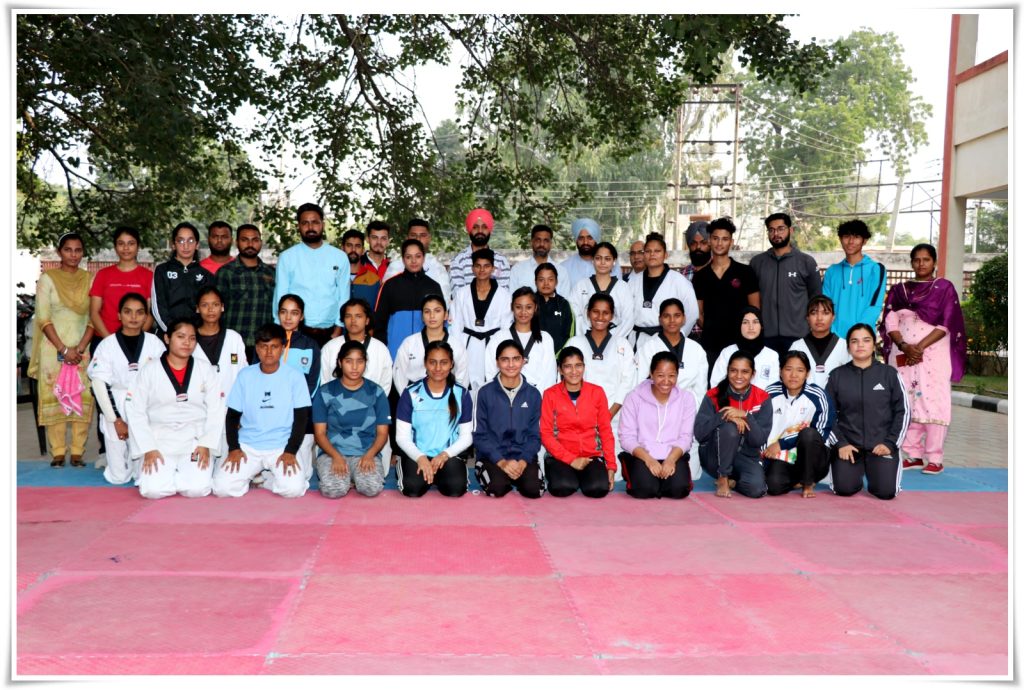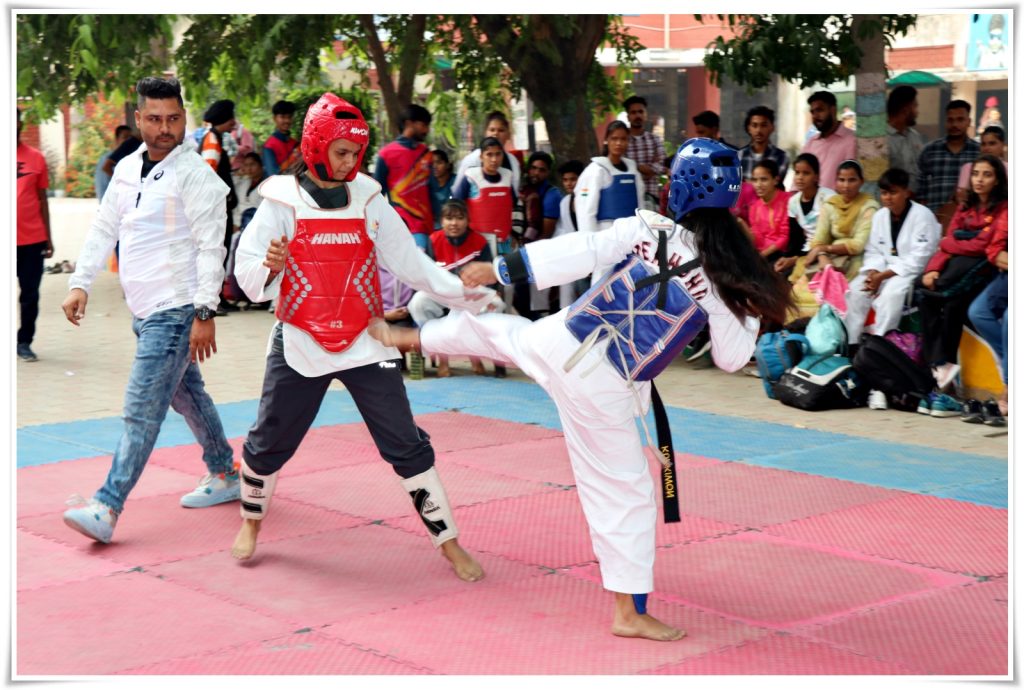 ਮੁਲਤਾਨੀ ਮੱਲ ਮੋਦੀ ਕਾਲਜ ਪਟਿਆਲਾ ਨੇ ਪੰਜਾਬੀ ਯੂਨੀਵਰਸਿਟੀ ਅੰਤਰ–ਕਾਲਜ ਤਾਈਕਵਾਂਡੋ ਪੋਮਸੇ ਓਵਰਆਲ ਚੈਂਪੀਅਨਸ਼ਿਪ ਜਿੱਤੀ
ਪਟਿਆਲਾ: 19 ਨਵੰਬਰ, 2022
ਮੁਲਤਾਨੀ ਮੱਲ ਮੋਦੀ ਕਾਲਜ, ਪਟਿਆਲਾ ਦੇ ਖਿਡਾਰੀਆਂ ਨੇ ਪੰਜਾਬੀ ਯੂਨੀਵਰਸਿਟੀ ਅੰਤਰ-ਕਾਲਜ ਤਾਈਕਵਾਂਡੋ ਪੋਮਸੇ ਓਵਰਆਲ ਚੈਂਪੀਅਨਸ਼ਿਪ ਜਿੱਤ ਲਈ ਹੈ। ਇਸ ਚੈਂਪੀਅਨਸ਼ਿਪ ਵਿੱਚ ਸ਼ਾਨਦਾਰ ਪ੍ਰਦਰਸ਼ਨ ਕਰਦੇ ਹੋਏ ਮੋਦੀ ਕਾਲਜ ਨੇ ਪਹਿਲਾ ਸਥਾਨ ਅਤੇ ਕਰਨਲ ਕਾਲਜ ਆਫ਼ ਫ਼ਿਜ਼ੀਕਲ ਐਜੂਕੇਸ਼ਨ, ਚੁਰਲ ਕਲਾਂ ਦੀ ਟੀਮ ਨੇ ਦੂਜਾ ਸਥਾਨ ਹਾਸਿਲ ਕੀਤਾ।
ਇਸ ਚੈਂਪੀਅਨਸ਼ਿਪ ਵਿੱਚ ਮੋਦੀ ਕਾਲਜ ਦੇ ਖਿਡਾਰੀਆਂ ਅਮਨ (63 ਕਿਲੋਗ੍ਰਾਮ ਭਾਰ ਵਰਗ), ਪੁਨੀਤਪਾਲ (68 ਕਿਲੋਗ੍ਰਾਮ ਭਾਰ ਵਰਗ) ਅਤੇ ਰਿਤਿਕ (80 ਕਿਲੋਗ੍ਰਾਮ ਭਾਰ ਵਰਗ) ਨੇ ਸ਼ਾਨਦਾਰ ਖੇਡ ਦਾ ਪ੍ਰਦਰਸ਼ਨ ਕਰਦਿਆਂ ਸੋਨੇ ਦੇ ਤਗਮੇਂ ਜਿੱਤੇ। ਇਨ੍ਹਾਂ ਮੁਕਾਬਲਿਆਂ ਵਿੱਚ ਸਕਸ਼ਮ ਸਿੰਘ (58 ਕਿਲੋਗ੍ਰਾਮ ਭਾਰ ਵਰਗ) ਨੇ ਚਾਂਦੀ ਦਾ ਤਗਮਾ ਜਿੱਤਿਆ ਅਤੇ ਦਿਲੀਪ ਸੈਨੀ (80+ ਕਿਲੋਗ੍ਰਾਮ ਭਾਰ ਵਰਗ) ਨੇ ਕਾਂਸੀ ਦੀ ਤਗਮਾ ਜਿੱਤਿਆ।
ਤਾਇਕਵਾਂਡੋ (ਲੜਕੀਆਂ) ਪ੍ਰਤਿਯੋਗਤਾ ਵਿੱਚ ਕਾਲਜ ਖਿਡਾਰਣਾ ਨੇ ਦੂਜਾ ਸਥਾਨ ਹਾਸਲ ਕੀਤਾ।
ਇਨ੍ਹਾਂ ਮੁਕਾਬਲਿਆਂ ਵਿੱਚ ਕਾਲਜ ਟੀਮ ਦੀਆਂ ਖਿਡਾਰਣਾ ਰਿਆ (67 ਕਿਲੋਗ੍ਰਾਮ ਭਾਰ ਵਰਗ) ਅਤੇ ਮਨਪ੍ਰੀਤ ਕੌਰ (67+ ਕਿਲੋਗ੍ਰਾਮ ਭਾਰ ਵਰਗ) ਨੇ ਚਾਂਦੀ ਦੇ ਤਗਮੇਂ ਜਿੱਤ, ਇਸ ਤੋਂ ਇਲਾਵਾ ਖਿਡਾਰਣਾ ਵਿਸ਼ਾਖਾ (49 ਕਿਲੋਗ੍ਰਾਮ ਭਾਰ ਵਰਗ), ਪੂਨਮ (53 ਕਿਲੋਗ੍ਰਾਮ ਭਾਰ ਵਰਗ) ਅਤੇ ਹਿਮਾਂਸ਼ੀ (57 ਕਿਲੋਗ੍ਰਾਮ ਭਾਰ ਵਰਗ) ਨੇ ਕਾਂਸੀ ਦੇ ਤਗਮੇਂ ਹਾਸਿਲ ਕੀਤੇ।
ਕਾਲਜ ਪ੍ਰਿੰਸੀਪਲ ਡਾ. ਖੁਸ਼ਵਿੰਦਰ ਕੁਮਾਰ ਜੀ ਨੇ ਜੇਤੂ ਟੀਮਾਂ ਨੂੰ ਵਧਾਈ ਦਿੰਦਿਆਂ ਕਿਹਾ ਕਿ ਕਾਲਜ ਨੂੰ ਆਪਣੇ ਇਨ੍ਹਾਂ ਖਿਡਾਰੀਆਂ ਤੇ ਬੇਹੱਦ ਮਾਣ ਹੈ ਅਤੇ ਭਵਿੱਖ ਵਿੱਚ ਵੀ ਕਾਲਜ ਇਨ੍ਹਾਂ ਨੂੰ ਹਰ ਤਰ੍ਹਾਂ ਦੀ ਲੋੜੀਂਦੀ ਸਹੂਲਤ ਉਪਲਬਧ ਕਰਵਾਉਂਦਾ ਰਹੇਗਾ। ਉਨ੍ਹਾਂ ਨੇ ਪੰਜਾਬੀ ਯੂਨੀਵਰਸਿਟੀ ਦੇ ਅਵਜ਼ਰਵਰ ਸ. ਸਤਵਿੰਦਰ ਸਿੰਘ ਦਾ ਵਿਸ਼ੇਸ਼ ਧੰਨਵਾਦ ਕੀਤਾ।
ਕਾਲਜ ਦੇ ਡੀਨ, ਖੇਡ ਵਿਭਾਗ ਅਤੇ ਮੁਖੀ ਖੇਡ ਵਿਭਾਗ ਡਾ. ਨਿਸ਼ਾਨ ਸਿੰਘ ਨੇ ਜੇਤੂ ਟੀਮਾਂ ਨੂੰ ਮੁਬਾਰਕਬਾਦ ਦਿੱਤੀ ਅਤੇ ਆਸ ਕੀਤੀ ਕਿ ਭਵਿੱਖ ਵਿੱਚ ਵੀ ਕਾਲਜ ਦੇ ਖਿਡਾਰੀਆਂ ਦਾ ਪ੍ਰਦਰਸ਼ਨ ਸ਼ਾਨਦਾਰ ਰਹੇਗਾ। ਕਾਲਜ ਪ੍ਰਿੰਸੀਪਲ ਨੇ ਖੇਡ ਵਿਭਾਗ ਦੇ ਮੁਖੀ ਡਾ. ਨਿਸ਼ਾਨ ਸਿੰਘ, ਡਾ. ਹਰਨੀਤ ਸਿੰਘ ਅਤੇ ਪ੍ਰੋ. ਮਨਦੀਪ ਕੌਰ ਦੇ ਯਤਨਾਂ ਦੀ ਵੀ ਭਰਪੂਰ ਸ਼ਲਾਘਾ ਕੀਤੀ।