Patiala: 25th September, 2019
Modi College wins Punjabi University Wushu (Boys And Girls) Inter-College Championships
      Multani Mal Modi College has won the Punjabi University Wushu Inter-College Championship (Boys and Girls) held at Punjabi University Campus, Patiala. In Sanshou event of Boys group, our players Prateek (56 kg category), Rohit (60 kg category), Abhishek (65 kg weight category) won gold medals. Harish Kumar won Bronze medal in 70 kg weight category. Likewise, in Taolu event of boys group, Roshan Kakri, Sunny, Ranjeet Kumar, Vijay Verma, Abhishek won Gold Medals, and Kuldeep and Naveen won Silver Medals in Taolu event of this championship.
      In Sanshou event Girls competition, Priyanka (52 kg category) and Jasmeet (60 kg category) won Silver Medals. In Taolu event, Prachi, Muskan Ratan, Vishnu Thakar and Komal performed well to win this championship.
            The college Principal, Dr. Khushvinder Kumar and Dr. Gurdeep Singh, Dean, Sports of the College congratulated the winning teams. The principal assured the sports persons that college will keep on providing them all the facilities to perform well in the sports. Principal also applauded the sincere efforts of the teachers-in-charge of sports activities of Dr. Nishan Singh, Head, Sports Dept., Prof. Harneet Singh and Prof. (Ms.) Mandeep Kaur.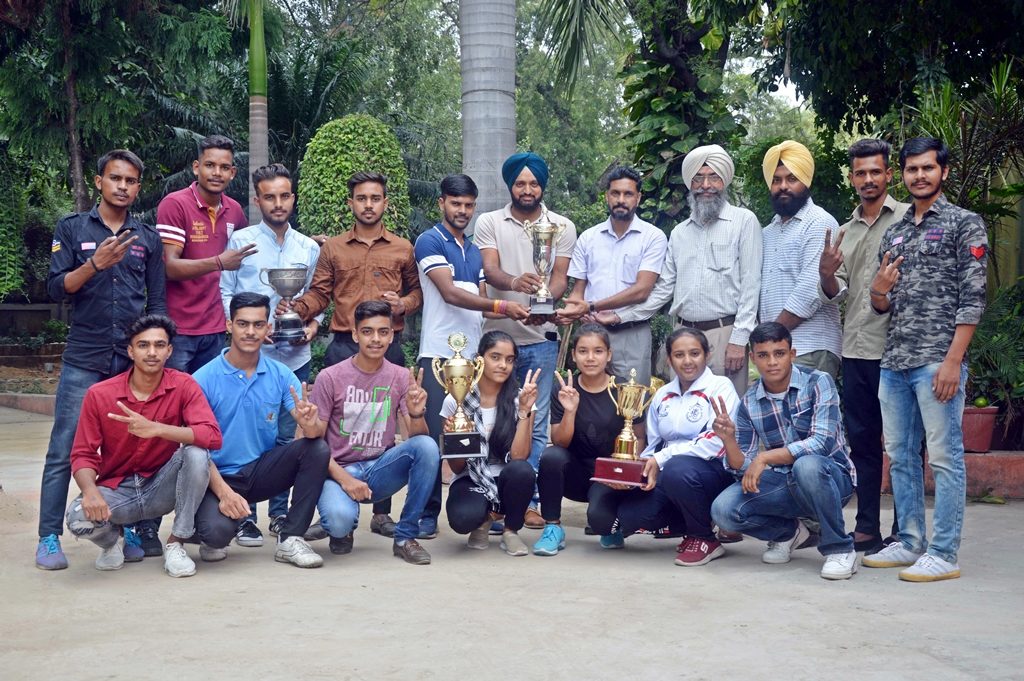 Winner teams with Trophies
ਪਟਿਆਲਾ: 25 ਸਤੰਬਰ, 2019
ਪੰਜਾਬੀ ਯੂਨੀਵਰਸਿਟੀ ਅੰਤਰ-ਕਾਲਜ ਵੁਸ਼ੂ ਚੈਂਪੀਅਨਸ਼ਿਪ (ਲੜਕੇ ਅਤੇ ਲੜਕੀਆਂ) ਮੋਦੀ ਕਾਲਜ ਪਟਿਆਲਾ ਨੇ ਜਿੱਤੀ
ਮੁਲਤਾਨੀ ਮੱਲ ਮੋਦੀ ਕਾਲਜ, ਪਟਿਆਲਾ ਨੇ ਪੰਜਾਬੀ ਯੂਨੀਵਰਸਿਟੀ ਕੈਂਪਸ ਵਿਖੇ ਆਯੋਜਿਤ ਹੋਈ ਅੰਤਰ-ਕਾਲਜ ਵੁਸ਼ੂ (ਲੜਕੇ ਅਤੇ ਲੜਕੀਆਂ) ਚੈਂਪੀਅਨਸ਼ਿਪ ਜਿੱਤ ਲਈ ਹੈ। ਲੜਕਿਆਂ ਦੇ ਸਾਂਸ਼ੂ ਟੀਮ ਈਵੇਂਟ ਵਿਚ ਮੋਦੀ ਕਾਲਜ ਦੇ ਖਿਡਾਰੀ ਪ੍ਰਤੀਕ ਨੇ 56 ਕਿਲੋ ਗ੍ਰਾਮ ਵਰਗ, ਰੋਹਿਤ ਨੇ 60 ਕਿਲੋ ਗ੍ਰਾਮ ਵਰਗ, ਅਭਿਸ਼ੇਕ ਨੇ 65 ਕਿਲੋ ਗ੍ਰਾਮ ਵਰਗ ਵਿਚ ਸੋਨੇ ਦੇ ਤਗਮੇ ਜਿੱਤੇ। ਹਰੀਸ਼ ਕੁਮਾਰ ਨੇ 70 ਕਿਲੋ ਗ੍ਰਾਮ ਵਰਗ ਵਿਚ ਕਾਂਸੀ ਦਾ ਤਗਮਾ ਜਿੱਤਿਆ। ਇਸੇ ਤਰ੍ਹਾਂ ਲੜਕਿਆਂ ਦੇ ਤਾਲੂ ਈਵੇਂਟ ਵਿੱਚ ਰੋਸ਼ਨ ਕਾਕਰੀ, ਸਨੀ, ਰਣਜੀਤ ਕੁਮਾਰ, ਵਿਜੇ ਵਰਮਾ, ਅਭਿਸ਼ੇਕ ਖਿਡਾਰੀਆਂ ਨੇ ਸੋਨੇ ਦੇ ਤਗਮੇ ਪ੍ਰਾਪਤ ਕੀਤੇ। ਇਸੇ ਤਰ੍ਹਾਂ ਕੁਲਦੀਪ ਅਤੇ ਨਵੀਨ ਨੇ ਵਧੀਆ ਖੇਡ ਦਾ ਪ੍ਰਦਰਸ਼ਨ ਕਰਦਿਆਂ ਚਾਂਦੀ ਦੇ ਤਗਮੇ ਹਾਸਲ ਕਰਨੇ ਤਾਲੂ ਦੀ ਚੈਂਪੀਅਨਸ਼ਿਪ ਵਿਚ ਜਿੱਤ ਪ੍ਰਾਪਤ ਕੀਤੀ। ਇਨ੍ਹਾਂ ਮੁਕਾਬਲਿਆਂ ਦੌਰਾਨ ਲੜਕੀਆਂ ਨੇ ਸਾਂਸ਼ੂ ਈਵੇਂਟ ਵਿੱਚ 52 ਕਿਲੋ ਗ੍ਰਾਮ ਵਰਗ ਵਿਚ ਪ੍ਰਿਯੰਕਾ ਅਤੇ 60 ਕਿਲੋ ਗ੍ਰਾਮ ਵਰਗ ਵਿਚ ਜਸਮੀਤ ਨੇ ਸਿਲਵਰ ਮੈਡਲ ਪ੍ਰਾਪਤ ਕਰਕੇ ਇਸ ਚੈਂਪੀਅਨਸ਼ਿਪ ਜਿੱਤੀ। ਲੜਕੀਆਂ ਦੇ ਤਾਲੂ ਈਵੇਂਟ ਵਿੱਚ ਪ੍ਰਾਚੀ, ਮੁਸਕਾਨ ਰਤਨ, ਵਿਸ਼ਨੂੰ ਠਾਕਰ ਅਤੇ ਕੋਮਲ ਨੇ ਸ਼ਾਨਦਾਰ ਖੇਡ ਦਾ ਪ੍ਰਦਰਸ਼ਨ ਕਰਦਿਆਂ ਹੋਇਆ ਇਹ ਚੈਂਪੀਅਨਸ਼ਿਪ ਆਪਣੀ ਟੀਮ ਦੇ ਨਾਮ ਕਰਵਾਈ।
ਜੇਤੂ ਟੀਮਾਂ ਦੇ ਕਾਲਜ ਪਹੁੰਚਣ ਤੇ ਪ੍ਰਿੰਸੀਪਲ ਡਾ. ਖੁਸ਼ਵਿੰਦਰ ਕੁਮਾਰ ਅਤੇ ਡੀਨ ਸਪੋਰਟਸ ਡਾ. ਗੁਰਦੀਪ ਸਿੰਘ ਸੰਧੂ ਨੇ ਖਿਡਾਰੀਆਂ ਨੂੰ ਮੁਬਾਰਕਬਾਦ ਦਿੱਤੀ। ਇਸ ਸਮੇਂ ਪ੍ਰਿੰਸੀਪਲ ਡਾ. ਖੁਸ਼ਵਿੰਦਰ ਕੁਮਾਰ ਜੀ ਨੇ ਕਿਹਾ ਕਿ ਕਾਲਜ ਵੱਲੋਂ ਆਪਣੇ ਖਿਡਾਰੀਆਂ ਨੂੰ ਹਰ ਪ੍ਰਕਾਰ ਦੀਆਂ ਸਹੂਲਤਾਂ ਮੁਹੱਈਆ ਕਰਵਾਈਆਂ ਜਾ ਰਹੀਆਂ ਹਨ ਅਤੇ ਭਵਿੱਖ ਵਿੱਚ ਵੀ ਇਨ੍ਹਾਂ ਨੂੰ ਜਾਰੀ ਰੱਖਿਆ ਜਾਵੇਗਾ। ਪ੍ਰਿੰਸੀਪਲ ਡਾ. ਖੁਸ਼ਵਿੰਦਰ ਕੁਮਾਰ ਨੇ ਕਾਲਜ ਦੇ ਖੇਡ ਵਿਭਾਗ ਦੇ ਮੁਖੀ ਡਾ. ਨਿਸ਼ਾਨ ਸਿੰਘ, ਪ੍ਰੋ. ਹਰਨੀਤ ਸਿੰਘ ਅਤੇ ਮੈਡਮ ਮਨਦੀਪ ਦੀ ਸਖਤ ਮਿਹਨਤ ਦੀ ਭਰਪੂਰ ਪ੍ਰਸ਼ੰਸਾ ਕੀਤੀ।
#mhrd #mmmcpta #WUSHU #intercollege #punjabiuniversitypatiala #pup #multanimalmodicollegepatiala #modicollegepatiala #modicollege #sanshou #Taolu