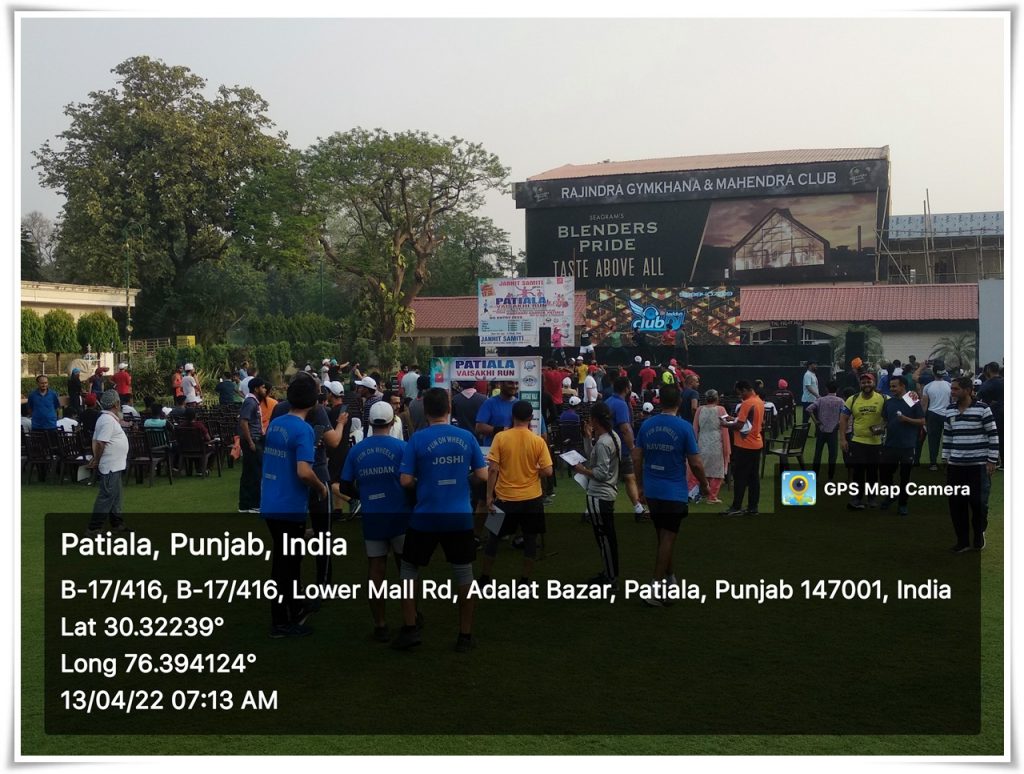 Modi College Scouts Participated in 'Patiala Baisakhi Run'
15 Scouts (10 Rovers and 5 Rangers) of Bharat Scouts and Guides Unit of Multani Mal Modi College, Patiala took part and volunteered in various fields in 'Patiala Baisakhi Run' under the theme 'Run for health and happiness' organized by Janhit Samiti (Regd.) Patiala on the special occasion of Baisakhi Day. College Principal Dr. Khushvinder Kumar expressed satisfaction over the continuous activities carried out by the scouts of the college unit under the leadership of Rover Scouts Leader Dr. Rupinder Singh Dhillon and Ranger Leader Dr. Veenu Jain, and encouraged the scouts to contribute more in social work.
As volunteers, these scouts competed in various distance races in the event as well as performed duties in certificate registration first aid ambulance assistants, discipline, Refreshment distribution, guiding people and keeping venue plastic free. Organizers of the event felicitated Scouts and unit in-charges by giving them T-shirts and Certificates of Appreciation.
ਮੋਦੀ ਕਾਲਜ ਦੇ ਸਕਾਊਟਸ ਨੇ 'ਪਟਿਆਲਾ ਵਿਸਾਖੀ ਰਨ' 'ਚ ਹਿੱਸਾ ਲਿਆ
ਮੁਲਤਾਨੀ ਮੱਲ ਮੋਦੀ ਕਾਲਜ ਪਟਿਆਲਾ ਦੀ ਭਾਰਤ ਸਕਾਊਟਸ ਐਂਡ ਗਾਈਡਜ਼ ਯੂਨਿਟ ਦੇ 15 ਸਕਾਊਟਸ (10 ਰੋਵਰਜ਼ ਤੇ 5 ਰੇਂਜਰਜ਼) ਨੇ ਜਨਹਿਤ ਸਮਿਤੀ (ਰਜਿ.) ਪਟਿਆਲਾ ਵਲ਼ੋਂ ਵਿਸਾਖੀ ਦਿਹਾੜੇ ਦੇ ਵਿਸ਼ੇਸ਼ ਮੌਕੇ ਉੱਤੇ ਤੰਦਰੁਸਤ ਪੰਜਾਬ ਦੇ ਮੰਤਵ ਤਹਿਤ ਆਯੋਜਿਤ ' ਪਟਿਆਲਾ ਵਿਸਾਖੀ ਰਨ' ਵਿਚ ਹਿੱਸਾ ਲਿਆ ਅਤੇ ਵੱਖ- ਵੱਖ ਖੇਤਰਾਂ ਚ ਜ਼ਿੰਮੇਵਾਰ ਵਲੰਟੀਅਰ ਵਜੋਂ ਡਿਊਟੀ ਨਿਭਾਈ।
ਕਾਲਜ ਪ੍ਰਿੰਸੀਪਲ ਡਾ. ਖੁਸ਼ਵਿੰਦਰ ਕੁਮਾਰ ਜੀ ਨੇ ਰੋਵਰ ਸਕਾਊਟਸ ਲੀਡਰ ਡਾ. ਰੁਪਿੰਦਰ ਸਿੰਘ ਢਿੱਲੋਂ ਅਤੇ ਰੇਂਜਰ ਲੀਡਰ ਡਾ. ਵੀਨੂੰ ਜੈਨ ਦੀ ਅਗਵਾਈ ਅਧੀਨ ਕਾਲਜ ਯੂਨਿਟ ਦੇ ਸਕਾਊਟਸ ਦੁਆਰਾ ਕੀਤੀਆਂ ਜਾਂਦੀਆਂ ਨਿਰੰਤਰ ਗਤੀਵਿਧੀਆਂ ਉੱਤੇ ਪ੍ਰਸੰਨਤਾ ਜ਼ਾਹਿਰ ਕੀਤੀ ਅਤੇ ਸਕਾਊਟਸ ਨੂੰ ਸਮਾਜਿਕ ਕਾਰਜਾਂ ਚ ਵੱਧ – ਚੜ ਕੇ ਯੋਗਦਾਨ ਦੇਣ ਲਈ ਪ੍ਰੇਰਿਆ। ਵਲੰਟੀਅਰ ਵਜੋਂ ਇਹਨਾਂ ਸਕਾਊਟਸ ਨੇ ਇਸ ਈਵੈਂਟ ਵਿਚ ਵੱਖ ਵੱਖ ਦੂਰੀ ਦੀਆਂ ਦੌੜਾਂ ਚ ਅਥਲੀਟ, ਸਰਟੀਫਿਕੇਟ ਰਜਿਸਟਰੇਸ਼ਨ, ਮੁਢਲੀ ਸਹਾਇਤਾ ਐਂਬੂਲੈਂਸ ਚ ਸਹਾਇਕ, ਡਸਿਪਲਿਨ, ਰਿਫਰੈਸ਼ਮੈਂਟ ਵੰਡ, ਪੱਥ ਪ੍ਰਦਰਸ਼ਕ ਅਤੇ ਪਲਾਸਟਿਕ ਮੁਕਤ ਕਰਨ ਲਈ ਸਫ਼ਾਈ ਕਰਤਾ ਵਜੋਂ ਜ਼ਿੰਮੇਵਾਰੀ ਨਾਲ ਡਿਊਟੀ ਨਿਭਾਈ। ਸਕਾਊਟਸ ਅਤੇ ਯੂਨਿਟ ਇੰਚਾਰਜਾਂ ਨੂੰ ਪ੍ਰਬੰਧਕਾਂ ਦੁਆਰਾ ਪ੍ਰੋਤਸਾਹਨ ਪ੍ਰਮਾਣ – ਪੱਤਰ ਅਤੇ ਟੀ –ਸ਼ਰਟ ਦੇ ਕੇ ਸਨਮਾਨਿਤ ਕੀਤਾ ਗਿਆ।