Patiala: June 7, 2023
M. M. Modi College student won Gold Medal in ISSF Junior World Cup Shooting Championship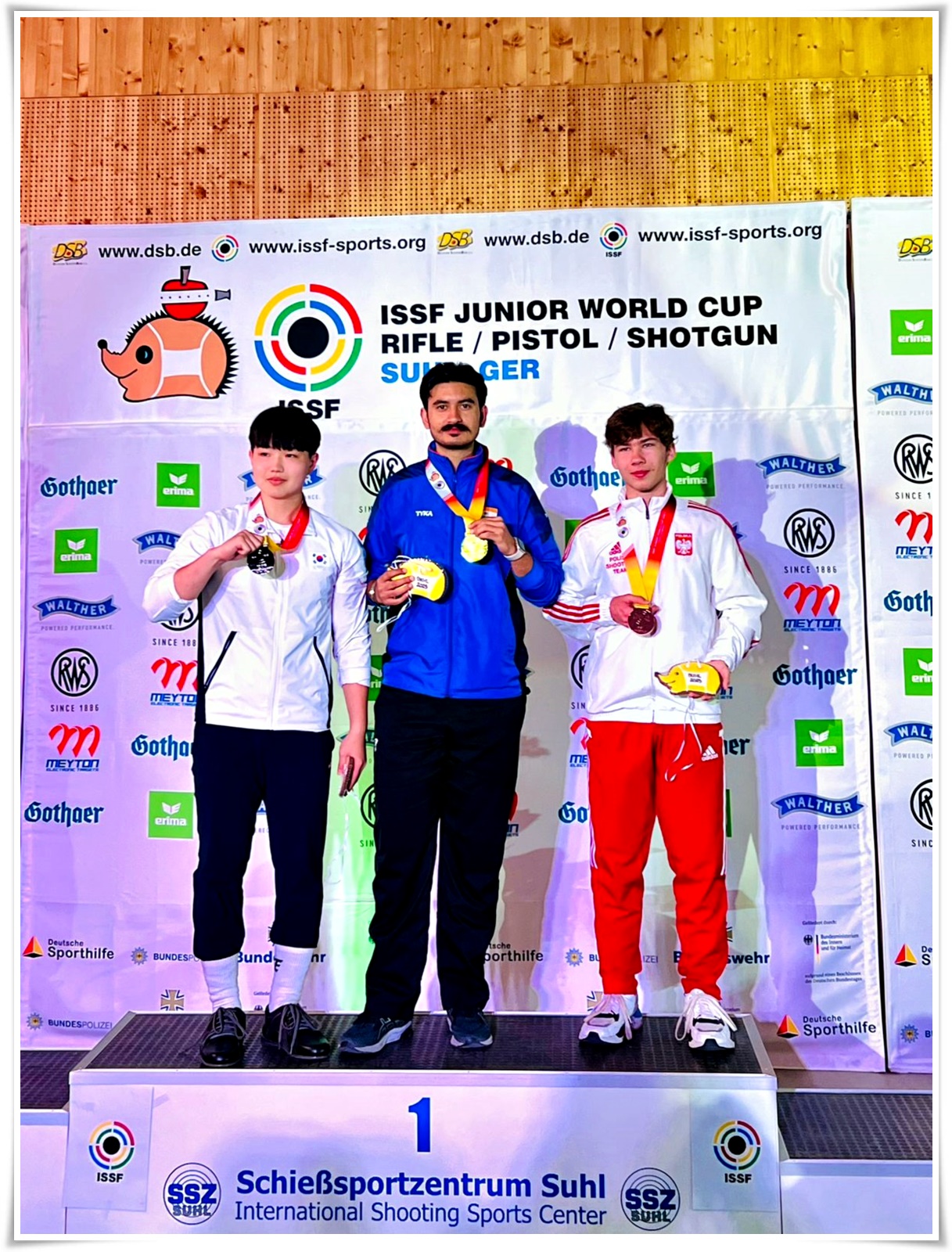 Amanpreet Singh, a student of Multani Mal Modi College, Patiala has won Gold Medal in ISSF Junior World Cup Shooting Championship held at Suhl, Germany from May 30 to June 9, 2023. He won the Gold Medal in Sports Pistol Men Event with a score of 586/600 by giving outstanding performance in the whole competition.
Principal Dr. Khushvinder Kumar congratulated Amanpreet Singh for his performance and said that Modi College is committed to providing best facilities and support to sports persons of the college. He also congratulated Shooting Coach Ms. Swarnjeet Kaur for this big achievement.
Dr. Nishan Singh, Head, sports Department also congratulated him and said that the college is proud of his achievement. Dr. Harneet Singh and Prof (Ms) Mandeep Kaur were also present in the event.
ਪਟਿਆਲਾ: 7 ਜੂਨ, 2023
ਮੋਦੀ ਕਾਲਜ ਦੇ ਵਿਦਿਆਰਥੀ ਨੇ ਆਈ.ਐਸ.ਐਸ.ਐਫ਼ ਜੂਨੀਅਰ ਵਰਲਡ ਸ਼ੂਟਿੰਗ ਚੈਂਪੀਅਨਸ਼ਿਪ ਵਿੱਚ ਸੋਨੇ ਦਾ ਤਗਮਾ ਜਿੱਤਿਆ
ਸਥਾਨਕ ਮੁਲਤਾਨੀ ਮੱਲ ਮੋਦੀ ਕਾਲਜ, ਪਟਿਆਲਾ ਦੇ ਵਿਦਿਆਰਥੀ ਅਮਨਪ੍ਰੀਤ ਸਿੰਘ ਨੇ 30 ਮਈ ਤੋਂ 9 ਜੂਨ 2023 ਤੱਕ ਸੁਹਲ (ਜਰਮਨੀ) ਵਿਖੇ ਆਯੋਜਿਤ ਹੋਈ ਆਈ.ਐਸ.ਐਸ.ਐਫ਼ ਜੂਨੀਅਰ ਵਰਲਡ ਸ਼ੂਟਿੰਗ ਚੈਂਪੀਅਨਸ਼ਿਪ ਵਿੱਚ ਸੋਨੇ ਦਾ ਤਗਮਾ ਜਿੱਤ ਕੇ ਦੇਸ਼ ਅਤੇ ਕਾਲਜ ਦਾ ਨਾਮ ਰੌਸ਼ਨ ਕੀਤਾ ਹੈ। ਅਮਨਪ੍ਰੀਤ ਨੇ ਇਹ ਮੈਡਲ ਸਪੋਰਟਸ ਪਿਸਟਲ (ਪੁਰਸ਼) ਇਵੇਂਟ ਵਿੱਚ 600 ਵਿੱਚੋਂ 586 ਅੰਕ ਪ੍ਰਾਪਤ ਕਰਕੇ ਸਾਰੀ ਪ੍ਰਤਿਯੋਗਿਤਾ ਵਿੱਚ ਸ਼ਾਨਦਾਰ ਪ੍ਰਦਰਸ਼ਨ ਕਰਦੇ ਹੋਏ ਹਾਸਿਲ ਕੀਤਾ।
ਕਾਲਜ ਪ੍ਰਿੰਸੀਪਲ ਡਾ. ਖੁਸ਼ਵਿੰਦਰ ਕੁਮਾਰ ਨੇ ਅਮਨਪ੍ਰੀਤ ਸਿੰਘ ਨੂੰ ਇਸ ਸ਼ਾਨਦਾਰ ਪ੍ਰਦਰਸ਼ਨ ਅਤੇ ਸਫਲਤਾ ਲਈ ਵਧਾਈ ਦਿੰਦਿਆ ਕਿਹਾ ਕਿ ਮੋਦੀ ਕਾਲਜ ਆਪਣੇ ਖਿਡਾਰੀਆਂ ਲਈ ਹਰ ਤਰ੍ਹਾਂ ਦੀਆਂ ਸੁਵਿਧਾਵਾਂ ਅਤੇ ਸਹੂਲਤਾਂ ਦੇਣ ਲਈ ਵਚਨਬੱਧ ਹੈ। ਉਨ੍ਹਾਂ ਨੇ ਸ਼ੂਟਿੰਗ ਕੋਚ ਮੈਡਮ ਸਵਰਨਜੀਤ ਕੌਰ ਨੂੰ ਵੀ ਮੋਦੀ ਕਾਲਜ ਦੇ ਖਿਡਾਰੀ ਨੂੰ ਅੰਤਰਰਾਸ਼ਟਰੀ ਪੱਧਰ ਦੀ ਟ੍ਰੇਨਿੰਗ ਦੇਣ ਲਈ ਧੰਨਵਾਦ ਕੀਤਾ ਅਤੇ ਮੁਬਾਰਬਾਦ ਦਿੱਤੀ।
ਕਾਲਜ ਦੇ ਖੇਡ ਵਿਭਾਗ ਦੇ ਮੁਖੀ ਡਾ. ਨਿਸ਼ਾਨ ਸਿੰਘ ਨੇ ਵੀ ਉਸ ਦੀ ਪ੍ਰਾਪਤੀ ਉੱਪਰ ਵਧਾਈ ਦਿੱਤੀ ਤੇ ਕਿਹਾ ਕਿ ਕਾਲਜ ਤੇ ਵਿਭਾਗ ਨੂੰ ਉਸ ਤੇ ਮਾਣ ਹੈ ਤੇ ਉਮੀਦ ਹੈ ਕਿ ਉਹ ਅਗਲੇ ਮੁਕਾਬਲਿਆਂ ਵਿੱਚ ਹੋਰ ਵਧੀਆ ਪ੍ਰਦਰਸ਼ਣ ਕਰਦਾ ਰਹੇਗਾ। ਇਸ ਮੌਕੇ ਤੇ ਡਾ. ਹਰਨੀਤ ਸਿੰਘ ਤੇ ਪ੍ਰੋ. ਮਨਦੀਪ ਕੌਰ ਵੀ ਹਾਜ਼ਿਰ ਸਨ।