Kirti of M. M. Modi College won Silver Medal in IBA Youth World Boxing Championship
Patiala: December 2, 2022
Kirti, a student of Multani Mal Modi College, Patiala has won Silver Medal in IBA Youth World Boxing Championship (Men and Women) held at La Nucia (Spain) from 14 to 26 November, 2022. She won the Silver Medal in 81+ weight category by giving outstanding performance in the whole competition.
Principal Dr. Khushvinder Kumar congratulated Kirti for her performance and said that Modi College is committed to providing best facilities and support to sport persons of the college.
Dr. Nishan Singh, Head, sports Department also congratulated her and said that the college is proud of her achievement. Dr. Harneet Singh and Prof (Ms) Mandeep Kaur were also present in the event.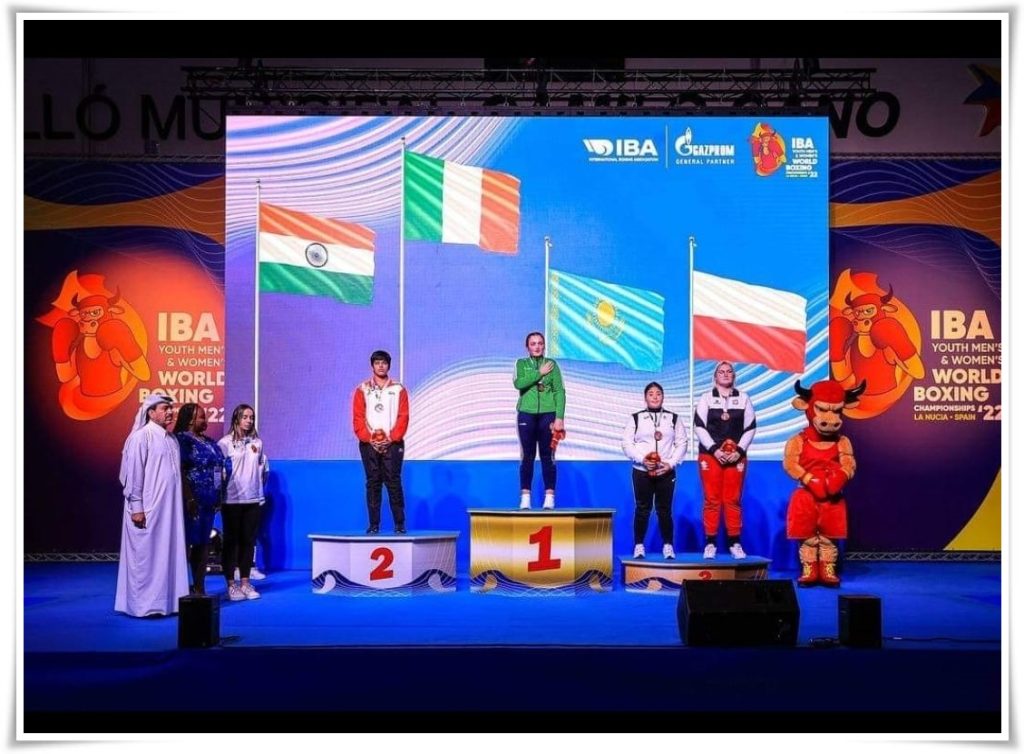 ਪਟਿਆਲਾ: 2 ਦਸੰਬਰ, 2022
ਮੋਦੀ ਕਾਲਜ ਦੀ ਵਿਦਿਆਰਥਣ ਕੀਰਤੀ ਨੇ ਆਈ.ਬੀ.ਏ. ਯੂਥ ਵਰਲਡ ਬਾਕਸਿੰਗ ਚੈਂਪੀਅਨਸ਼ਿਪ ਵਿੱਚ ਚਾਂਦੀ ਦਾ ਤਗਮਾ ਜਿੱਤਿਆ
ਸਥਾਨਕ ਮੁਲਤਾਨੀ ਮੱਲ ਮੋਦੀ ਕਾਲਜ, ਪਟਿਆਲਾ ਦੀ ਵਿਦਿਆਰਥਣ ਕੀਰਤੀ ਨੇ 14 ਤੋਂ 26 ਨਵੰਬਰ 2022 ਤੱਕ ਲਾਨੁਸਿਆ (ਸਪੇਨ) ਵਿਖੇ ਆਯੋਜਿਤ ਹੋਈ ਆਈ.ਬੀ.ਏ. ਯੂਥ (ਮੇਨ ਐਂਡ ਵਿਮੈਨ) ਵਰਲਡ ਬਾਕਸਿੰਗ ਚੈਂਪੀਅਨਸ਼ਿਪ ਵਿੱਚ ਚਾਂਦੀ ਦਾ ਤਗਮਾ ਜਿੱਤ ਕੇ ਦੇਸ਼ ਅਤੇ ਕਾਲਜ ਦਾ ਨਾਮ ਰੌਸ਼ਨ ਕੀਤਾ ਹੈ। ਕੀਰਤੀ ਨੇ ਇਹ ਮੈਡਲ 81+ ਕਿਲੋਗ੍ਰਾਮ ਭਾਰ ਵਰਗ ਵਿੱਚ ਸ਼ਾਨਦਾਰ ਪ੍ਰਦਰਸ਼ਨ ਕਰਦੇ ਹੋਏ ਹਾਸਿਲ ਕੀਤਾ।
ਕਾਲਜ ਪ੍ਰਿੰਸੀਪਲ ਡਾ. ਖੁਸ਼ਵਿੰਦਰ ਕੁਮਾਰ ਨੇ ਕੀਰਤੀ ਨੂੰ ਇਸ ਸ਼ਾਨਦਾਰ ਪ੍ਰਦਰਸ਼ਨ ਅਤੇ ਸਫਲਤਾ ਲਈ ਵਧਾਈ ਦਿੰਦਿਆ ਕਿਹਾ ਕਿ ਮੋਦੀ ਕਾਲਜ ਆਪਣੇ ਖਿਡਾਰੀਆਂ ਲਈ ਹਰ ਤਰ੍ਹਾਂ ਦੀਆਂ ਸੁਵਿਧਾਵਾਂ ਅਤੇ ਸਹੂਲਤਾਂ ਦੇਣ ਲਈ ਵਚਨਬੱਧ ਹੈ। ਕਾਲਜ ਦੇ ਖੇਡ ਵਿਭਾਗ ਦੇ ਮੁਖੀ ਡਾ. ਨਿਸ਼ਾਨ ਸਿੰਘ ਨੇ ਵੀ ਉਸ ਦੀ ਪ੍ਰਾਪਤੀ ਉੱਪਰ ਵਧਾਈ ਦਿੱਤੀ ਤੇ ਕਿਹਾ ਕਿ ਕਾਲਜ ਤੇ ਵਿਭਾਗ ਨੂੰ ਉਸ ਤੇ ਮਾਣ ਹੈ ਤੇ ਉਮੀਦ ਹੈ ਕਿ ੳਹ ਅਗਲੇ ਮੁਕਾਬਲਿਆਂ ਵਿੱਚ ਹੋਰ ਵਧੀਆ ਪ੍ਰਦਰਸ਼ਣ ਕਰੇਗੀ। ਇਸ ਮੌਕੇ ਤੇ ਡਾ. ਹਰਨੀਤ ਸਿੰਘ ਤੇ ਪ੍ਰੋ. ਮਨਦੀਪ ਕੌਰ ਵੀ ਹਾਜ਼ਿਰ ਸਨ।