Quiz Competition Based on Indian Constitution Held at Multani Mal Modi College
Patiala: 29 November, 2022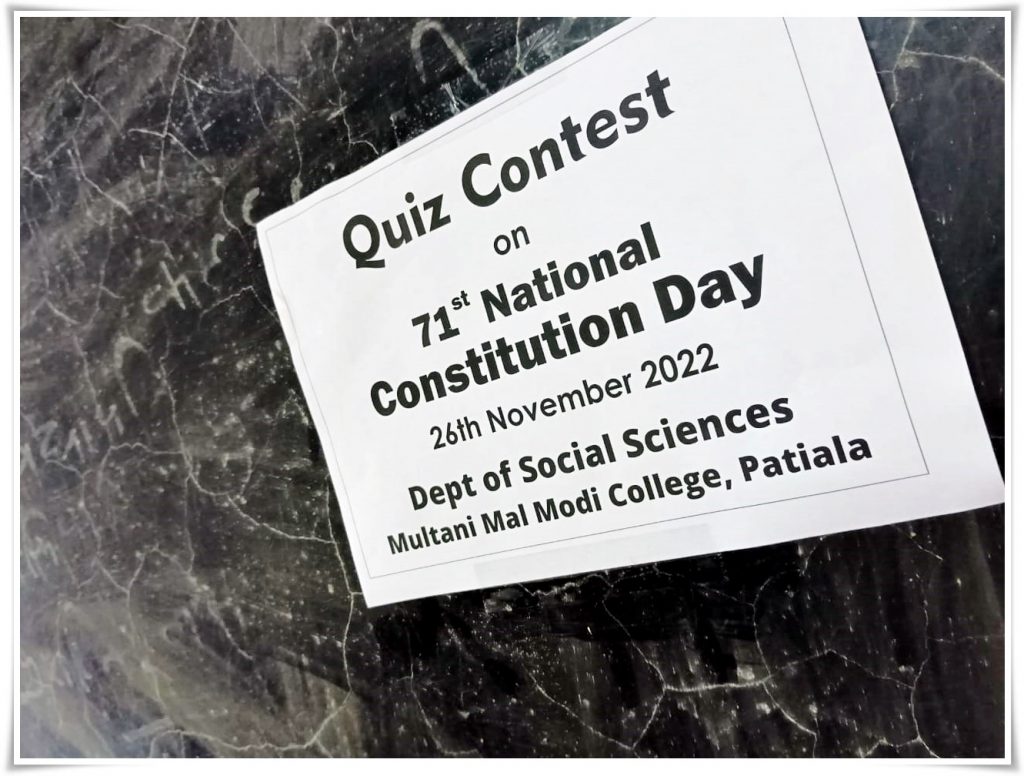 Department of Social Sciences, Multani Mal Modi College, Patiala organize to mark 71st Indian Constitution Day as per guidelines of Ministry of Parliamentary Affairs, India and University Grants Commission, New Delhi. The main objection of this programme was to equip the students with fundamental concepts and foundation ideals of Indian constitution.
College principal Dr. Khushvinder Kumar addressed the students and said that Indian constitution is based on the concepts of sovereignty, secularism, democracy, justice, liberty, equality and fraternity but these are possible only if there is a strong political will and the spirit of patriotism among us.
The Vice Principal of the college and Dean Student Welfare Prof. Ved Prakash Sharma addressed the students and discussed the different articles and parts of Indian constitution. He motivated the students to remember their fundamental duties along with their rights. Prof. Veerpal Kaur, History Department and Prof. Arshpreet Kaur, Public Administration also inspired the students to become responsible citizens and good human beings. They said that this quiz is designed for proving platform to engage the students with political discussions and debates based on our constitution.
In the quiz competition the first team was comprising Deepanshi, Sukhwinder Kaur and Jiya and the second was Aryan, Gurdeep Singh and Divit Seth.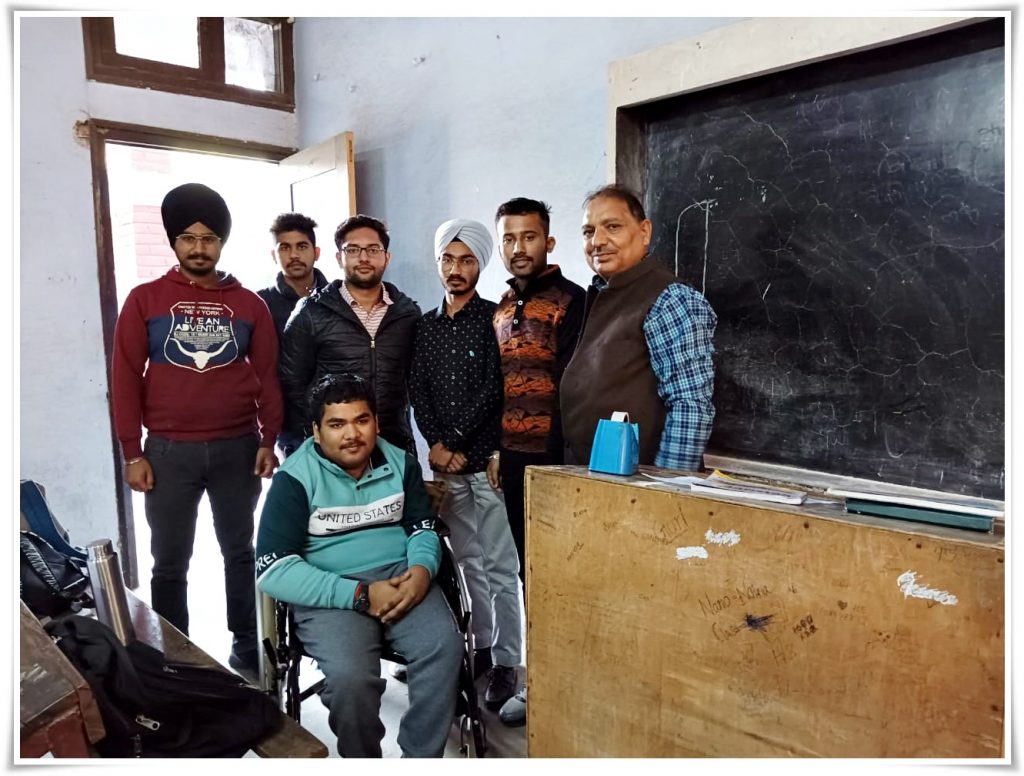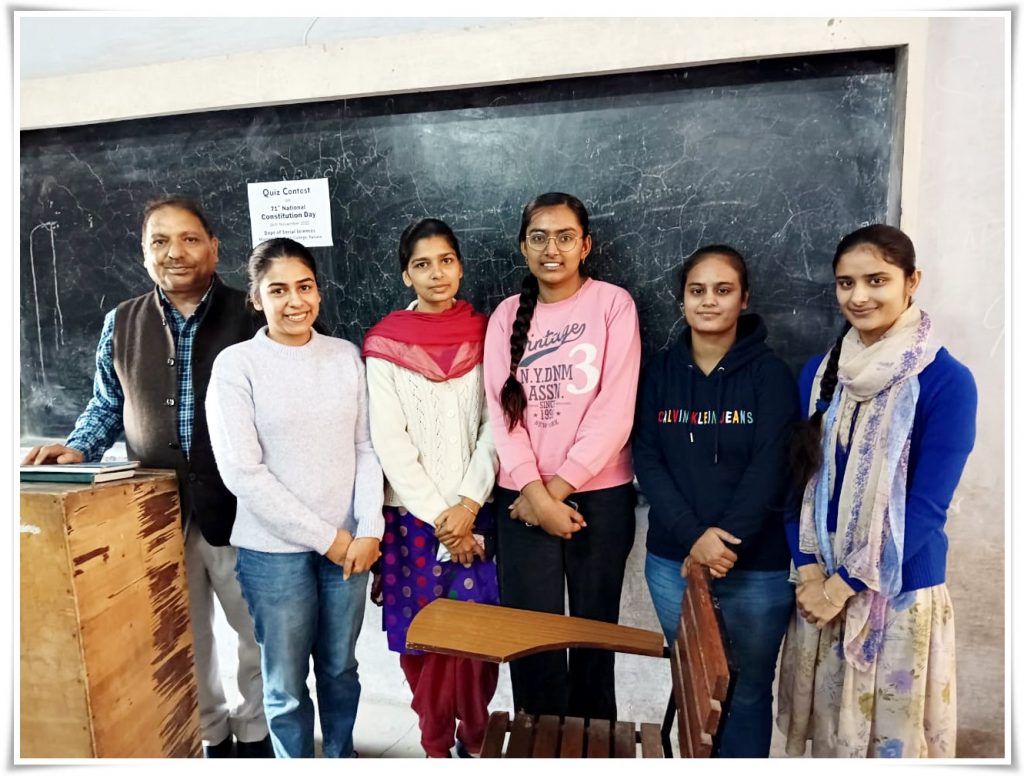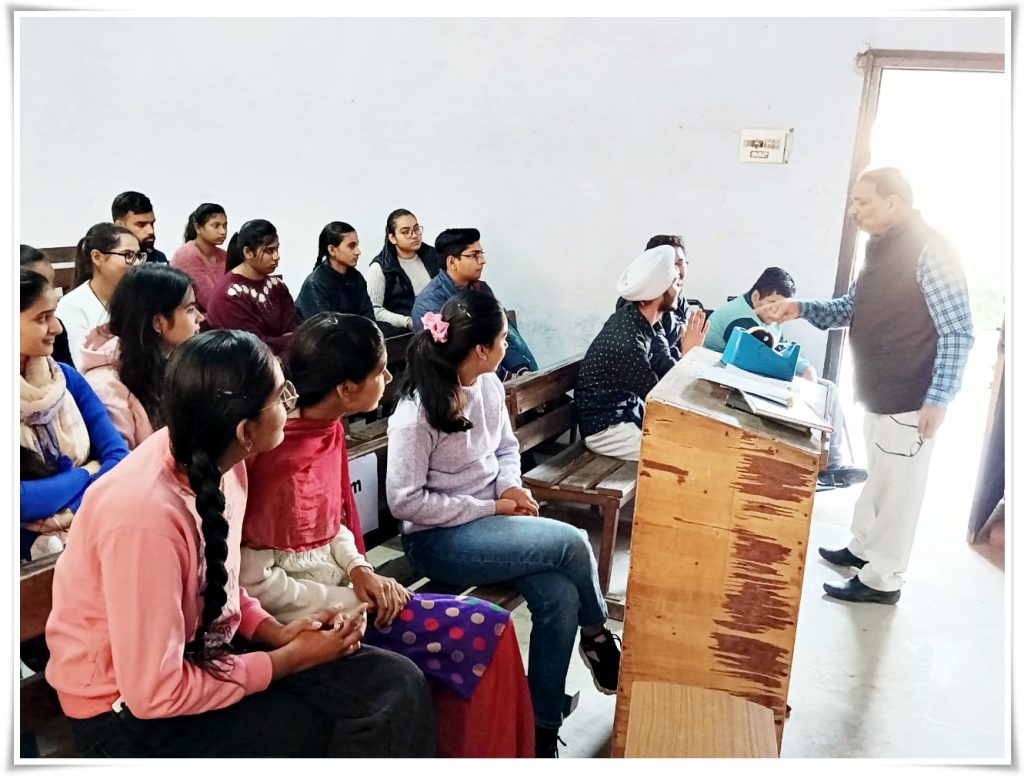 ਮੋਦੀ ਕਾਲਜ ਵਿੱਖੇ ਸੰਵਿਧਾਨ ਦਿਵਸ ਨੂੰ ਸਮਰਪਿਤ ਕੁਇਜ਼ ਮੁਕਾਬਲਾ ਆਯੋਜਿਤ
ਪਟਿਆਲਾ: 29 ਨਵੰਬਰ, 2022
ਪਟਿਆਲਾ: ਸਥਾਨਕ ਮੁਲਤਾਨੀ ਮੱਲ ਮੁਲਤਾਨੀ ਕਾਲਜ, ਪਟਿਆਲਾ ਵੱਲੋਂ ਸੰਸਦੀ ਕੰਮਕਾਜ਼ ਮਾਮਲੇ ਮੰਤਰਾਲਾ, ਭਾਰਤ ਸਰਕਾਰ ਅਤੇ ਵਿਸ਼ਵਵਿਦਿਆਲਿਆ ਅਨੁਦਾਨ ਆਯੋਗ, ਨਵੀਂ ਦਿੱਲੀ ਦੇ ਦਿਸ਼ਾ- ਨਿਰਦੇਸ਼ਾਂ ਅਨੁਸਾਰ ਭਾਰਤੀ ਸੰਵਿਧਾਨ ਤੇ ਆਧਾਰਿਤ ਇੱਕ ਕੁਇੱਜ਼ ਮੁਕਾਬਲੇ ਦਾ ਆਯੋਜਨ ਕਰਵਾਇਆ ਗਿਆ। ਇਸ ਸਮਾਗਮ ਨੂੰ ਆਯੋਜਿਤ ਕਰਨ ਦਾ ਮੁੱਖ ਉਦੇਸ਼ ਨੌਜਵਾਨਾਂ ਵਿੱਚ ਭਾਰਤੀ ਨਾਗਰਿਕ ਦੇ ਤੌਰ ਤੇ ਰਾਜਨੀਤਿਕ ਜ਼ਿੰਮੇਵਾਰੀ ਦੀ ਭਾਵਨਾ ਨੂੰ ਮਜ਼ਬੂਤ ਕਰਨਾ ਅਤੇ ਰਾਸ਼ਟਰ ਦੀੇ ਨਿਰਮਾਣ-ਉਸਾਰੀ ਵਿੱਚ ਉਸਾਰੂ ਭੂਮਿਕਾ ਨਿਭਾਉਣ ਲਈ ਪ੍ਰੇਰਿਤ ਕਰਨਾ ਸੀ।
ਕਾਲਜ ਪ੍ਰਿੰਸੀਪਲ ਡਾ.ਖੁਸ਼ਵਿੰਦਰ ਕੁਮਾਰ ਨੇ ਇਸ ਮੌਕੇ ਤੇ ਕਾਲਜ ਵਲੰਟੀਅਰਾਂ ਦੁਆਰਾ ਕੀਤੀ ਇਸ ਕੋਸ਼ਿਸ਼ ਦੀ ਸ਼ਲਾਘਾ ਕੀਤੀ ਅਤੇ ਕਿਹਾ ਕਿ ਭਾਰਤੀ ਸੰਵਿਧਾਨ ਪ੍ਰਭੂਸੱਤਾ,ਧਰਮ-ਨਿਰਪੱਖਤਾ, ਲੋਕਤੰਤਰ, ਨਿਆਂ, ਉਦਾਰਵਾਦ, ਸਮਾਨਤਾ ਅਤੇ ਭਾਈਚਾਰੇ ਦੀਆਂ ਧਾਰਨਾਵਾਂ ਤੇ ਅਧਾਰਿਤ ਹੈ ਅਤੇ ਇਹਨਾਂ ਨੂੰ ਲਾਗੂ ਕਰਨ ਲਈ ਸੰਸਦੀ ਪ੍ਰਣਾਲੀ ਦਾ ਸਮਰੱਥ ਹੋਣਾ ਜ਼ਰੂਰੀ ਹੈ।
ਇਸ ਮੌਕੇ ਤੇ ਕਾਲਜ ਦੇ ਵਾਈਸ ਪ੍ਰਿੰਸੀਪਲ ਅਤੇ ਡੀਨ ਸਟੂਡੈਂਟ ਵੈਲਫੇਅਰ ਪ੍ਰੋ.ਵੇਦ ਪ੍ਰਕਾਸ਼ ਸ਼ਰਮਾ ਨੇ ਵੀ ਵਿਦਿਆਰਥੀਆਂ ਨੂੰ ਸੰਬੋਧਿਤ ਕੀਤਾ ਅਤੇ ਉਹਨਾਂ ਨੂੰ ਸੰਵਿਧਾਨ ਦੀਆਂ ਵੱਖ-ਵੱਖ ਧਰਾਵਾਂ ਬਾਰੇ ਜਾਣਕਾਰੀ ਦਿੱਤੀ। ਉਹਨਾਂ ਨੇ ਵਿਦਿਆਰਥੀਆਂ ਨੂੰ ਆਪਣੇ ਰਾਜਨੀਤਿਕ ਅਧਿਕਾਰਾਂ ਦੇ ਨਾਲ-ਨਾਲ ਰਾਜਨੀਤਿਕ ਫਰਜ਼ਾਂ ਬਾਰੇ ਜਾਗਰੂਕ ਹੋਣ ਦਾ ਸੱਦਾ ਦਿੱਤਾ।ਇਸ ਸਮਾਗਮ ਦੌਰਾਨ ਪ੍ਰੋ. ਵੀਰਪਾਲ ਕੌਰ, ਇਤਿਹਾਸ ਵਿਭਾਗ ਅਤੇ ਪ੍ਰੋ. ਅਰਸ਼ਪ੍ਰੀਤ ਕੌਰ, ਪਬਲਿਕ ਐਡਮਿਨਸ਼ਟਰੇਸ਼ਨ ਵਿਭਾਗ ਨੇ ਦੱਸਿਆ ਕਿ ਇਹਨਾਂ ਮੁਕਾਬਲਿਆਂ ਨੂੰ ਆਯੋਜਿਤ ਕਰਨ ਦਾ ਮੁੱਖ ਮਕਸਦ ਵਿਦਿਆਰਥੀਆਂ ਵਿੱਚ ਸੰਵਿਧਾਨਿਕ ਮੁੱਲਾਂ ਅਤੇ ਰਾਜਨੀਤਿਕ ਚੇਤਨਾ ਦਾ ਪ੍ਰਸਾਰ ਕਰਨਾ ਸੀ ਇਸ ਸਮਾਗਮ ਵਿੱਚ ਕਰਵਾਏ ਕੁਇੱਜ਼ ਮੁਕਾਬਲੇ ਵਿੱਚ ਪਹਿਲੀ ਟੀਮ ਵਿੱਚ ਵਿਦਿਆਰਥੀ ਦੀਪਾਂਸ਼ੀ, ਸੁਖਵਿੰਦਰ ਕੌਰ ਅਤੇ ਜਿਆ ਅਤੇ ਦੂਜੀ ਟੀਮ ਵਿੱਚ ਆਰੀਅਨ, ਗੁਰਦੀਪ ਸਿੰਘ ਅਤੇ ਦਿਵਿਤ ਸੇਠ ਨੇ ਭਾਗ ਲਿਆ।