Patiala: June 30, 2021
Rotaract Club of Modi College organised Tree Plantation Drive at Sanour
Multani Mal Modi College organized Tree Plantation Drive at Sanour, the main canal and nearby areas with support of Rotary Club, Patiala, Midtown, under able guidance of college principal Dr. Khushvinder Kumar. The main objective of this one- day drive was to bring awareness among communities and students about importance of restoration and preservation of natural resources and to plant more and more trees for 'Clean and Green' Patiala. In this drive Sh. Manik Raj Singla President Rotary Club Patiala Midtown and other members of Rotary Club were also present.
College Principal Dr. Khushvinder Kumar while inaugurating this drive said that trees are most important treasure for human race. They are not only providing us oxygen but also the main source of our food chain and civilized modern living. He congratulated the Rotaract club for this initiative. Sh. Manik Raj Singla also appreciated this drive by the club and said that Rotary Club will support Rotaract in such social welfare and environmental conservation drives in the future also.
Incharges of the Rotract Club Dr. Nishan Singh, Dean, Physical Department, Modi College and Dr. Rupinder Sharma motivated the students to join this club in large numbers. They also appreciated the support and efforts of the local community which took the responsibility for watering and care of these newly planted trees. They said that this drive will be extended to other areas in the near future. A large number of students and local residents participated in this drive.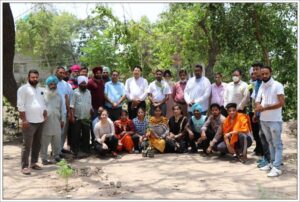 ਮੋਦੀ ਕਾਲਜ ਦੇ ਰੋਟਰੈਕਟ ਕਲੱਬ ਵੱਲੋਂ ਸਨੌਰ ਵਿਖੇ ਛਾਂਦਾਰ ਤੇ ਫਲਦਾਰ ਬੂਟੇ ਲਗਾਉਣ ਦੀ ਮੁਹਿੰਮ
ਸਥਾਨਕ ਮੁਲਤਾਨੀ ਮੱਲ ਮੋਦੀ ਕਾਲਜ ਪਟਿਆਲਾ ਦੇ ਨਵੇਂ ਬਣੇ ਰੋਟਰੈਕਟ ਕਲੱਬ ਵੱਲੋਂ ਰੋਟਰੀ ਕਲੱਬ, ਪਟਿਆਲਾ ਮਿੱਡ-ਟਾਊਨ ਦੇ ਸਹਿਯੋਗ ਨਾਲ ਕਸਬਾ ਸਨੌਰ, ਮੁੱਖ ਨਹਿਰ ਦੇ ਕਿਨਾਰਿਆਂ ਉੱਪਰ ਤੇ ਇਸਦੇ ਆਸ-ਪਾਸ ਦੇ ਖੇਤਰਾਂ ਵਿੱਚ ਬੂਟੇ ਲਗਾਉਣ ਦੀ ਮੁਹਿੰਮ ਦਾ ਆਯੋਜਿਨ ਕੀਤਾ ਗਿਆ ਜਿਸ ਵਿੱਚ ਕਲੱਬ ਦੇ ਮੈਂਬਰਾਂ ਵੱਲੋਂ ਕਾਲਜ ਪ੍ਰਿੰਸੀਪਲ ਡਾ.ਖੁਸ਼ਵਿੰਦਰ ਕੁਮਾਰ ਜੀ ਦੀ ਸੁਚੱਜੀ ਅਗਵਾਈ ਵਿੱਚ ਵੱਖ-ਵੱਖ ਤਰਾਂ੍ਹ ਦੇ ਬੂਟੇ ਲਗਾਉਣ ਦਾ ਕਾਰਜ ਨੇਪਰੇ ਚਾੜ੍ਹਿਆ ਗਿਆ।ਇਸ ਮੁਹਿੰਮ ਦਾ ਮੁੱਖ ਉਦੇਸ਼ ਜਿੱਥੇ ਵਾਤਾਵਰਣ ਦੀ ਸਾਂਭ-ਸੰਭਾਲ ਬਾਰੇ ਲੋੜ੍ਹੀਂਦੀ ਜਾਗਰੂਕਤਾ ਪੈਦਾ ਕਰਨਾ ਸੀ ਉੱਥੇ ਪਟਿਆਲਾ ਦੇ ਆਸ-ਪਾਸ ਦੇ ਖੇਤਰਾਂ ਨੂੰ ਨਵੇਂ ਰੁੱਖਾਂ ਲਗਾਕੇ ਹਰਾ-ਭਰਾ ਬਣਾਉਣਾ ਸੀ।ਇਸ ਮੌਕੇ ਤੇ ਰੋਟਰੀ ਕਲੱਬ, ਪਟਿਆਲਾ ਦੇ ਪ੍ਰਧਾਨ ਸ੍ਰੀ ਮਾਨਕ ਰਾਜ ਸਿੰਗਲਾ ਤੇ ਹੋਰ ਅਹੁਦੇਦਾਰ ਵੀ ਉਚੇਚੇ ਤੌਰ ਤੇ ਸ਼ਾਮਿਲ ਹੋਏ।
ਕਾਲਜ ਪ੍ਰਿੰਸੀਪਲ ਡਾ.ਖੁਸ਼ਵਿੰਦਰ ਕੁਮਾਰ ਜੀ ਨੇ ਇਸ ਮੌਕੇ ਤੇ ਰੁੱਖਾਂ ਦੀ ਮਹਤੱਤਾ ਸਬੰਧੀ ਬੋਲਦਿਆਂ ਕਿਹਾ ਕਿ ਰੁੱਖ ਮਨੁੱਖੀ ਜ਼ਿੰਦਗੀ ਦਾ ਸਭ ਤੋਂ ਕੀਮਤੀ ਸਰਮਾਇਆ ਹਨ ਜਿਹੜੇ ਨਾ ਸਿਰਫ ਸਾਨੂੰ ਜਿਊਂਣ ਲਈ ਆਕਸੀਜਨ ਮੁਹੱਈਆ ਕਰਵਾਉਂਦੇ ਹਨ ਸਗੋਂ ਭੋਜਨ ਤੋਂ ਘਰਾਂ ਦੀ ਉਸਾਰੀ ਤੱਕ ਆਧੁਨਿਕ ਸਮਾਜਾਂ ਦੀ ਉਸਾਰੀ ਦੀ ਨੀਂਹ ਹਨ। ਉਹਨਾਂ ਨੇ ਇਸ ਮੌਕੇ ਤੇ ਰੋਟਰੀ ਕਲੱਬ ਦੁਆਰਾ ਕਾਲਜ ਵਿੱਚ ਬਣਾਏ ਰੋਟਰੈਕਟ ਕਲੱਬ ਨੂੰ ਵਧਾਈ ਦਿੱਤੀ।ਇਸ ਮੌਕੇ ਤੇ ਬੋਲਦਿਆਂ ਸ੍ਰੀ ਮਾਨਕ ਰਾਜ ਸਿੰਗਲਾ ਨੇ ਰੋਟਰੈਕਟ ਕਲੱਬ ਨੂੰ ਵਧਾਈ ਦਿੰਦਿਆਂ ਕਿਹਾ ਕਿ ਭਵਿੱਖ ਵਿੱਚ ਵੀ ਇਸ ਕਲੱਬ ਦੁਆਰਾ ਲੋਕ-ਭਲਾਈ ਤੇ ਵਾਤਾਵਰਣ- ਸੁਰੱਖਿਆ ਲਈ ਕੀਤੇ ਕਾਰਜਾਂ ਵਿੱਚ ਰੋਟਰੀ ਕਲੱਬ ਵੱਲੋਂ ਪੂਰਾ ਯੋਗਦਾਨ ਪਾਇਆ ਜਾਵੇਗਾ।
ਇਸ ਮੌਕੇ ਤੇ ਰੋਟਰੈਕਟ ਕਲੱਬ ਦੇ ਮੁੱਖੀ ਤੇ ਡੀਨ ਫਿਜ਼ੀਕਲ ਡਿਪਾਰਟਮੈਂਟ ਡਾ.ਨਿਸ਼ਾਨ ਸਿੰਘ ਅਤੇ ਡਾ. ਰੁਪਿੰਦਰ ਸ਼ਰਮਾ ਨੇ ਵਿਦਿਆਰਥੀਆਂ ਨੂੰ ਇਸ ਕਲੱਬ ਦੇ ਮੈਂਬਰ ਬਣਨ ਲਈ ਪ੍ਰੇਰਿਆ।ਉਹਨਾਂ ਨੇ ਇਸ ਮੌਕੇ ਤੇ ਸਥਾਨਿਕ ਭਾਈਚਾਰੇ ਵੱਲੋਂ ਨਵੇਂ ਲਗਾਏ ਛਾਂ-ਦਾਰ ਤੇ ਫਲਦਾਰ ਬੂਟਿਆਂ ਦੀ ਸੰਭਾਲ ਦੀ ਜ਼ਿੰਮੇਵਾਰੀ ਚੁੱਕਣ ਦੀ ਸ਼ਲਾਘਾ ਕਰਦਿਆਂ ਕਿਹਾ ਕਿ ਭਵਿੱਖ ਵਿੱਚ ਹੋਰ ਖੇਤਰਾਂ ਵਿੱਚ ਵੀ ਇਹ ਕਾਰਜ ਜਾਰੀ ਰੱਖਿਆ ਜਾਵੇਗਾ।ਇਸ ਮੌਕੇ ਤੇ ਵੱਡੀ ਗਿਣਤੀ ਵਿੱਚ ਵਿਦਿਆਰਥੀਆਂ ਤੇ ਸਥਾਨਿਕ ਲੋਕਾਂ ਨੇ ਸ਼ਮੂਲੀਅਤ ਕੀਤੀ।