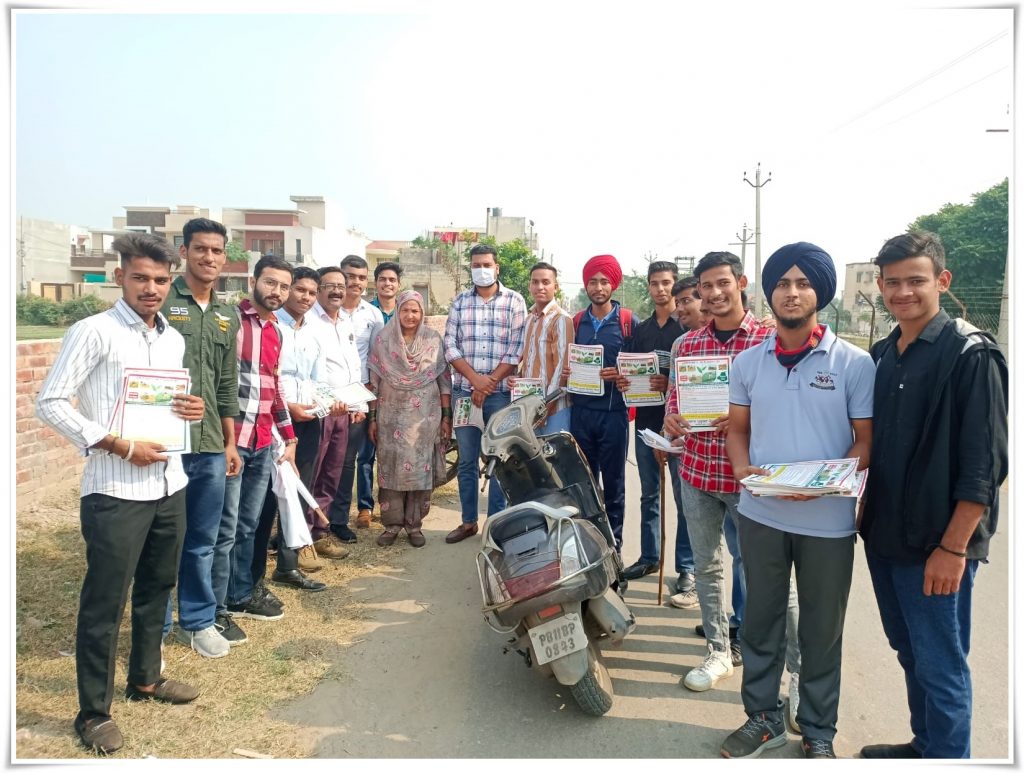 Patiala: November 3, 2021
NSS VOLUNTEERS OF MODI COLLEGE PATIALA RALLIED FOR AWARENESS CAMPAIGN AGAINST STUBBLE BURNING
NSS volunteers of Multani Mal Modi College Patiala, following the, instructions issued by Department of Higher Education (Colleges) and Department of NSS Punjabi University Patiala rallied in the villages Air Avenue, Kheri Gujran and New Kheri Gujran adopted by Modi college in collaboration with Punjab Pollution Control Board Patiala, to spread awareness about ill effects of stubble burning in the fields on human health and environment. The main objective of the rally was to sensitize the farmers, villagers, village sarpanches and farm laborers against this menace. The rally was flagged off by the college principal Dr. Khushvinder Kumar and 100 volunteers participated in this rally while addressing the NSS volunteers he said burning paddy straw in the fields result in air pollution, respiratory problems, destruction of natural habitat of useful insects and microorganisms present in soil so the farmers must adopt alternative eco-friendly ways to destroy the stubble.
NSS program officer Dr Rajeev Sharma said such awareness campaigns and rallies made the NSS volunteer students and general public aware of the environmental problems and play a role in making young generation and public responsible and creating clean and green environment.
NSS Volunteers Pratham Bhanot, Abhinandan Mittal, Gaurav, Sangam, Khushi and Pawan Rawat put extra efforts to make this rally a grand success NSS (PO) Prof. Jagdeep Kaur and Dr. Harmohan Sharma were also present on this occasion.
ਮੋਦੀ ਕਾਲਜ ਪਟਿਆਲਾ ਦੇ ਐਨ.ਐਸ.ਐਸ. ਵਲੰਟੀਅਰਾਂ ਨੇ ਪਰਾਲੀ ਸਾੜਨ ਵਿਰੁੱਧ ਜਾਗਰੂਕਤਾ ਮੁਹਿੰਮ ਲਈ ਕੱਢੀ ਰੈਲੀ
ਮੁਲਤਾਨੀ ਮੱਲ ਮੋਦੀ ਕਾਲਜ ਪਟਿਆਲਾ ਦੇ ਐਨਐਸਐਸ ਵਲੰਟੀਅਰਾਂ ਨੇ ਉਚੇਰੀ ਸਿੱਖਿਆ ਵਿਭਾਗ (ਕਾਲਜ) ਅਤੇ ਐਨਐਸਐਸ ਪੰਜਾਬੀ ਯੂਨੀਵਰਸਿਟੀ ਪਟਿਆਲਾ ਦੇ ਵਿਭਾਗ ਵੱਲੋਂ ਜਾਰੀ ਹਦਾਇਤਾਂ ਦੀ ਪਾਲਣਾ ਕਰਦਿਆਂ ਪੰਜਾਬ ਪ੍ਰਦੂਸ਼ਣ ਕੰਟਰੋਲ ਬੋਰਡ ਪਟਿਆਲਾ ਦੇ ਸਹਿਯੋਗ ਨਾਲ ਮੋਦੀ ਕਾਲਜ ਵੱਲੋਂ ਗੋਦ ਲਏ ਪਿੰਡਾਂ ਏਅਰ ਐਵੀਨਿਊ, ਖੇੜੀ ਗੁਜਰਾਂ ਅਤੇ ਨਿਊ ਖੇੜੀ ਗੁਜਰਾਂ ਵਿੱਚ ਰੈਲੀ ਕੀਤੀ। ਖੇਤਾਂ ਵਿੱਚ ਪਰਾਲੀ ਸਾੜਨ ਨਾਲ ਮਨੁੱਖੀ ਸਿਹਤ ਅਤੇ ਵਾਤਾਵਰਨ 'ਤੇ ਪੈਂਦੇ ਮਾੜੇ ਪ੍ਰਭਾਵਾਂ ਬਾਰੇ ਜਾਗਰੂਕਤਾ ਫੈਲਾਉਣ ਲਈ ਰੈਲੀ ਦਾ ਆਯੋਜਨ ਕੀਤਾ ਗਿਆ ਸੀ। ਰੈਲੀ ਦਾ ਮੁੱਖ ਮੰਤਵ ਕਿਸਾਨਾਂ, ਪਿੰਡ ਵਾਸੀਆਂ, ਪਿੰਡਾਂ ਦੇ ਸਰਪੰਚਾਂ ਅਤੇ ਖੇਤ ਮਜ਼ਦੂਰਾਂ ਨੂੰ ਇਸ ਲਾਹਨਤ ਵਿਰੁੱਧ ਜਾਗਰੂਕ ਕਰਨਾ ਸੀ। ਰੈਲੀ ਨੂੰ ਕਾਲਜ ਦੇ ਪ੍ਰਿੰਸੀਪਲ ਡਾ. ਖੁਸ਼ਵਿੰਦਰ ਕੁਮਾਰ ਨੇ ਹਰੀ ਝੰਡੀ ਦੇ ਕੇ ਰਵਾਨਾ ਕੀਤਾ ਅਤੇ ਇਸ ਰੈਲੀ ਵਿੱਚ 100 ਵਲੰਟੀਅਰਾਂ ਨੇ ਭਾਗ ਲਿਆ ਉਨ੍ਹਾਂ ਨੇ ਐਨ.ਐਸ.ਐਸ ਵਾਲੰਟੀਅਰਾਂ ਨੂੰ ਸੰਬੋਧਨ ਕਰਦਿਆਂ ਕਿਹਾ ਖੇਤਾਂ ਵਿੱਚ ਪਰਾਲੀ ਸਾੜਨ ਨਾਲ ਹਵਾ ਪ੍ਰਦੂਸ਼ਣ ਅਤੇ ਸਾਹ ਦੀ ਸਮੱਸਿਆਵਾਂ ਪੈਦਾ ਹੁੰਦੀਆਂ ਹਨ ਅਤੇ ਮਿੱਟੀ ਵਿੱਚ ਮੌਜੂਦ ਲਾਭਦਾਇਕ ਕੀੜਿਆਂ ਅਤੇ ਸੂਖਮ ਜੀਵਾਂ ਦੇ ਕੁਦਰਤੀ ਨਿਵਾਸ ਸਥਾਨ ਨਸ਼ਟ ਹੋ ਜਾਂਦੇ ਹਨ, ਇਸ ਲਈ ਕਿਸਾਨਾਂ ਨੂੰ ਪਰਾਲੀ ਨੂੰ ਨਸ਼ਟ ਕਰਨ ਲਈ ਬਦਲਵੇਂ ਵਾਤਾਵਰਣ ਪੱਖੀ ਤਰੀਕੇ ਅਪਣਾਉਣੇ ਚਾਹੀਦੇ ਹਨ।
ਐਨ.ਐਸ.ਐਸ. ਪ੍ਰੋਗਰਾਮ ਅਫ਼ਸਰ ਡਾ। ਰਾਜੀਵ ਸ਼ਰਮਾ ਨੇ ਕਿਹਾ ਕਿ ਅਜਿਹੀਆਂ ਜਾਗਰੂਕਤਾ ਮੁਹਿੰਮਾਂ ਅਤੇ ਰੈਲੀਆਂ ਐਨ.ਐਸ.ਐਸ. ਵਲੰਟੀਅਰਾਂ, ਵਿਦਿਆਰਥੀਆਂ ਅਤੇ ਆਮ ਲੋਕਾਂ ਨੂੰ ਵਾਤਾਵਰਣ ਦੀਆਂ ਸਮੱਸਿਆਵਾਂ ਤੋਂ ਜਾਣੂ ਕਰਵਾਉਨ ਅਤੇ ਨੌਜਵਾਨ ਪੀੜ੍ਹੀ ਅਤੇ ਜਨਤਾ ਨੂੰ ਜ਼ਿੰਮੇਵਾਰ ਬਣਾਉਣ ਅਤੇ ਸਾਫ਼-ਸੁਥਰੇ ਅਤੇ ਹਰਿਆ ਭਰਿਆ ਵਾਤਾਵਰਣ ਨੂੰ ਸੰਭਾਲਣ ਪ੍ਰਤੀ ਜਾਗਰੂਕ ਕਰਨ ਵਿੱਚ ਲਾਹੇਵੰਦ ਸਾਬਤ ਹੁੰਦੀਆਂ ਹਨ।
ਐਨ.ਐਸ.ਐਸ. ਦੇ ਵਲੰਟੀਅਰ ਪ੍ਰਥਮ ਭਨੋਟ, ਅਭਿਨੰਦਨ ਮਿੱਤਲ, ਗੌਰਵ, ਸੰਗਮ, ਖੁਸ਼ੀ ਅਤੇ ਪਵਨ ਰਾਵਤ ਨੇ ਇਸ ਰੈਲੀ ਨੂੰ ਸਫਲ ਬਣਾਉਣ ਲਈ ਵੱਧ ਤੋਂ ਵੱਧ ਯਤਨ ਕੀਤੇ। ਇਸ ਮੌਕੇ ਐਨ.ਐਸ.ਐਸ. ਪ੍ਰੋਗਰਾਮ ਅਫ਼ਸਰ ਪ੍ਰੋ. ਜਗਦੀਪ ਕੌਰ ਅਤੇ ਡਾ. ਹਰਮੋਹਨ ਸ਼ਰਮਾ ਵੀ ਮੌਜੂਦ ਸਨ।