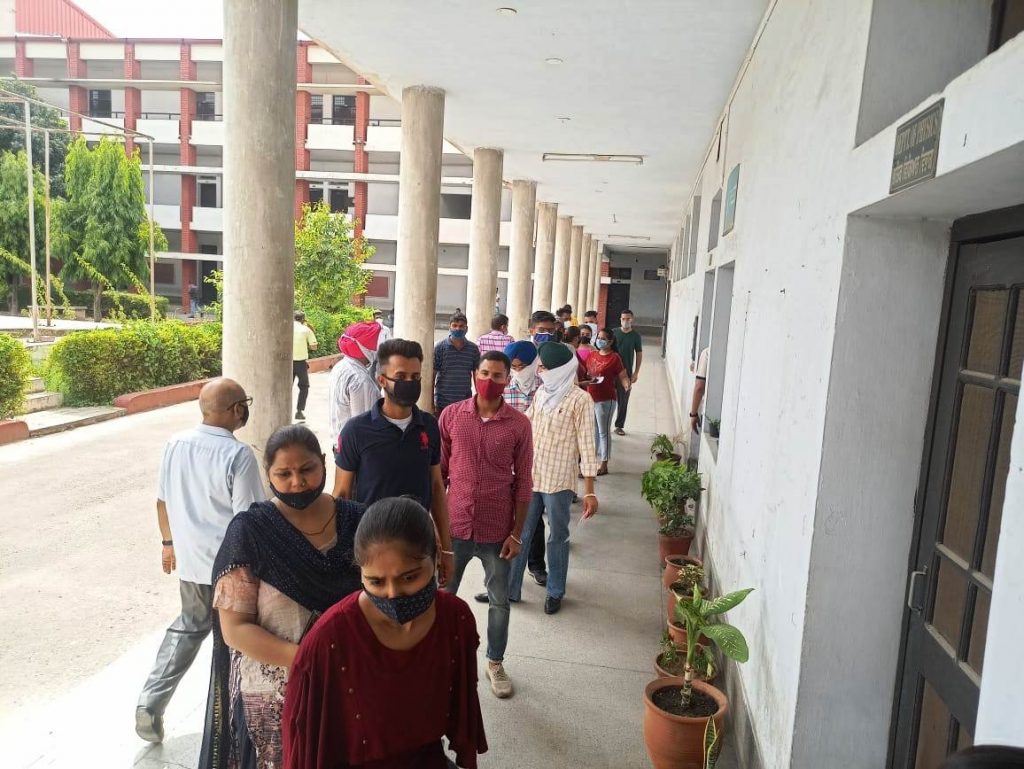 College conducted special camp for Covid-19 vaccination
As per the instructions of Hon'ble Deputy Commissioner Mr. Kumar Amit, Assistant Deputy Commissioner Madam Pooja Syal and District Covid Immunization Officer Dr. Preneet Kaur, a special Covid-19 vaccination camp was organized at Multani Mal Modi College Patiala under the supreme guidance of Principal Dr. Khushvinder Kumar. Giving a special message to the students, he said that as a responsible citizen, it is the duty of all of us to be part of the important immunization drive being carried out by the government for vaccinating against COVID-19 as soon as possible. It is must to protect ourselves and others from COVID-19 infection.
The main objective of the camp was to vaccinate teachers, non-teaching staff and students against corona before the start of the session 2021-22 in the college.
Camp Coordinator Dr. Rajeev Sharma and the college teachers put their special efforts to make the camp successful. He appealed the college students to get vaccinated with Covid-19 and participate in this camp voluntarily and enthusiastically. The camp was well attended by college staff, students and locals. In this one day camp, 305 people over the age of 18 were vaccinated against Covid-19.
Assistant Deputy Commissioner Madam Pooja Syal specially inspected the camp and appreciated the efforts of College staff. Medical Officer Dr. Vijayta and her entire team did their part well during the vaccination camp.
The Vice Principal of the College Prof. Shailendra Sidhu presented vote of thanks.
ਕੋਵਿਡ-19 ਟੀਕਾਕਰਨ ਲਈ ਵਿਸ਼ੇਸ਼ ਕੈਂਪ ਦਾ ਆਯੋਜਨ ਕੀਤਾ
ਮਾਣਯੋਗ ਡਿਪਟੀ ਕਮਿਸ਼ਨਰ ਸ੍ਰੀ ਕੁਮਾਰ ਅਮਿਤ, ਸਹਾਇਕ ਡਿਪਟੀ ਕਮਿਸ਼ਨਰ ਮੈਡਮ ਪੂਜਾ ਸਿਆਲ ਅਤੇ ਜ਼ਿਲਾ ਕੋਵਿਡ ਟੀਕਾਕਰਨ ਅਫ਼ਸਰ ਡਾ. ਪਰਨੀਤ ਕੌਰ ਦੇ ਨਿਰਦੇਸ਼ਾਂ ਅਨੁਸਾਰ ਸਥਾਨਕ ਮੁਲਤਾਨੀ ਮੱਲ ਮੋਦੀ ਕਾਲਜ ਪਟਿਆਲਾ ਵਿਖੇ ਪ੍ਰਿੰਸੀਪਲ ਡਾ. ਖੁਸ਼ਵਿੰਦਰ ਕੁਮਾਰ ਜੀ ਦੇ ਰਹਿਨੁਮਾਈ ਹੇਠ ਕੋਵਿਡ-19 ਟੀਕਾਕਰਨ ਦੇ ਵਿਸ਼ੇਸ਼ ਕੈਂਪ ਦਾ ਆਯੋਜਨ ਕੀਤਾ ਗਿਆ। ਉਨ੍ਹਾਂ ਨੇ ਇੱਕ ਵਿਸ਼ੇਸ਼ ਸੁਨੇਹਾ ਦਿੰਦਿਆਂ ਵਿਦਿਆਰਥੀਆਂ ਨੂੰ ਕਿਹਾ ਕਿ ਇੱਕ ਜ਼ਿੰਮੇਵਾਰ ਨਾਗਰਿਕ ਹੋਣ ਦੇ ਨਾਤੇ ਇਹ ਸਾਡਾ ਸਭਨਾ ਦਾ ਫ਼ਰਜ ਬਣਦਾ ਹੈ ਕਿ ਅਸੀਂ ਸਰਕਾਰ ਦਵਾਰਾ ਚਲਾਈ ਜਾ ਰਹੀ ਅਹਿਮ ਟੀਕਾਕਰਨ ਮੁਹਿਮ ਦਾ ਹਿੱਸਾ ਬਣਦਿਆਂ ਕੋਵਿਡ-19 ਦਾ ਟੀਕਾ ਜਲਦ ਤੋਂ ਜਲਦ ਲਗਵਾ ਕੇ ਕਰੋਨਾ ਦੀ ਬਿਮਾਰੀ ਤੋਂ ਬਚਾਓ ਵਿੱਚ ਸਹਿਯੋਗ ਪਾਈਏ।
ਇਸ ਕੈਂਪ ਦਾ ਮੁੱਖ ਮੰਤਵ ਕਾਲਜ ਵਿੱਚ 2021-22 ਸ਼ੈਸ਼ਨ ਦੇ ਆਰੰਭ ਤੋਂ ਪਹਿਲਾਂ ਅਧਿਆਪਕਾਂ, ਗੈਰ-ਅਧਿਆਪਨ ਅਮਲੇ ਅਤੇ ਵਿਦਿਆਰਥੀਆਂ ਨੂੰ ਕਰੋਨਾ ਦੀ ਬਿਮਾਰੀ ਤੋਂ ਬਚਾਓ ਲਈ ਟੀਕਾਕਰਨ ਕਰਵਾਉਣਾ ਸੀ।
ਕੈਂਪ ਕੋਆਡੀਨੇਟਰ ਡਾ. ਰਾਜੀਵ ਸ਼ਰਮਾ ਅਤੇ ਕਾਲਜ ਅਧਿਆਪਕਾਂ ਨੇ ਆਪਣੇ ਵਿਸ਼ੇਸ਼ ਯਤਨਾ ਸਦਕਾ ਕਾਲਜ ਵਿਦਿਆਰਥੀਆਂ ਨੂੰ ਕੋਵਿਡ-19 ਟੀਕਾਕਰਨ ਕਰਵਾਉਣ ਅਤੇ ਇਸ ਕੈਂਪ ਵਿੱਚ ਹਿੱਸਾ ਲੈਣ ਲਈ ਅਪੀਲ ਕੀਤੀ। ਕੈਂਪ ਵਿੱਚ ਕਾਲਜ ਸਟਾਫ਼, ਵਿਦਿਆਰਥੀਆਂ ਅਤੇ ਸਥਾਨਕ ਸ਼ਹਿਰ ਵਾਸੀਆਂ ਨੇ ਵੱੱਧ-ਚੜ੍ਹ ਕੇ ਹਿੱਸਾ ਲਿਆ। ਇਸ ਇੱਕ ਰੋਜਾ ਕੈਂਪ ਵਿੱਚ 18 ਸਾਲ ਤੋਂ ਵੱਧ ਉਮਰ ਵਾਲੇ 305 ਵਿਅਕਤੀਆਂ ਨੇ ਕੋਵਿਡ-19 ਦੀ ਕੋਵੀਸ਼ੀਲਡ ਵੈਕਸੀਨ ਲਗਵਾਈ।
ਕੈਂਪ ਦੌਰਾਨ ਸਹਾਇਕ ਡਿਪਟੀ ਕਮਿਸ਼ਨਰ ਮੈਡਮ ਪੂਜਾ ਸਿਆਲ ਨੇ ਵਿਸ਼ੇਸ਼ ਤੌਰ ਤੇ ਕੈਂਪ ਦਾ ਜ਼ਾਇਜਾ ਲਿਆ। ਮੈਡੀਕਲ ਅਫ਼ਸਰ ਡਾ. ਵਿਜੇਤਾ ਅਤੇ ਉਨ੍ਹਾਂ ਦੀ ਸਮੂਚੀ ਟੀਮ ਨੇ ਟੀਕਾਕਰਨ ਕੈਂਪ ਦੌਰਾਨ ਆਪਣੀ ਜ਼ਿੰਮੇਵਾਰੀ ਬਾਖੂਬੀ ਨਿਭਾਈ।
ਕਾਲਜ ਦੀ ਵਾਈਸ ਪ੍ਰਿੰਸੀਪਲ ਪ੍ਰੋ. ਸ਼ੈਲੇਂਦਰਾ ਸਿੱਧੂ ਨੇ ਧੰਨਵਾਦ ਦੇ ਸ਼ਬਦ ਕਹੇ।