Patiala: December 31, 2020
Cleanliness drive at Modi College under Swachh Bharat Abhiyan
Patiala: Multani Mal Modi College, Patiala organized a cleanliness drive with in and around the campus of the college under the Swachh Bharat Abhiyan: a country wide campaign initiated by the government of India in 2014 to eliminate open defecation and improve solid waste management. This drive was inaugurated by college Principal Dr. Khushvinder Kumar. He said that Swachh Bharat Ahhiyan is India's largest cleaniliness drive which aims to make India more sustainable and eco-friendly for living.
The process of cleanliness was conducted under the able guidance of Col JS Dhaliwal. 17 NCC cadets of 5 Pb Bn unit of Modi college participated in this drive who carefully planned and implanted the target based eco-friendly methods and techniques to make the campus green and clean. Col JS Dhaliwal while addressing the students said that it is the responsibility of every citizen to maintain the cleanliness and green areas in their homes and public spaces.
The drive was supervised and instructed by CTO NCC boys Dr.Rohit Sachdeva. He appreciated the efforts of the cadets and said that selfish spirit to serve the nation and society is the fundamental principle of a NCC services. PI Staff of NCC Hav. Gurlal Singh and Hav. Rakesh were also present during the work. Cadets cleaned the area around Computer and Management Block, and other lawns of the college during this drive.
Cleanliness Drive Near Statue in College Campus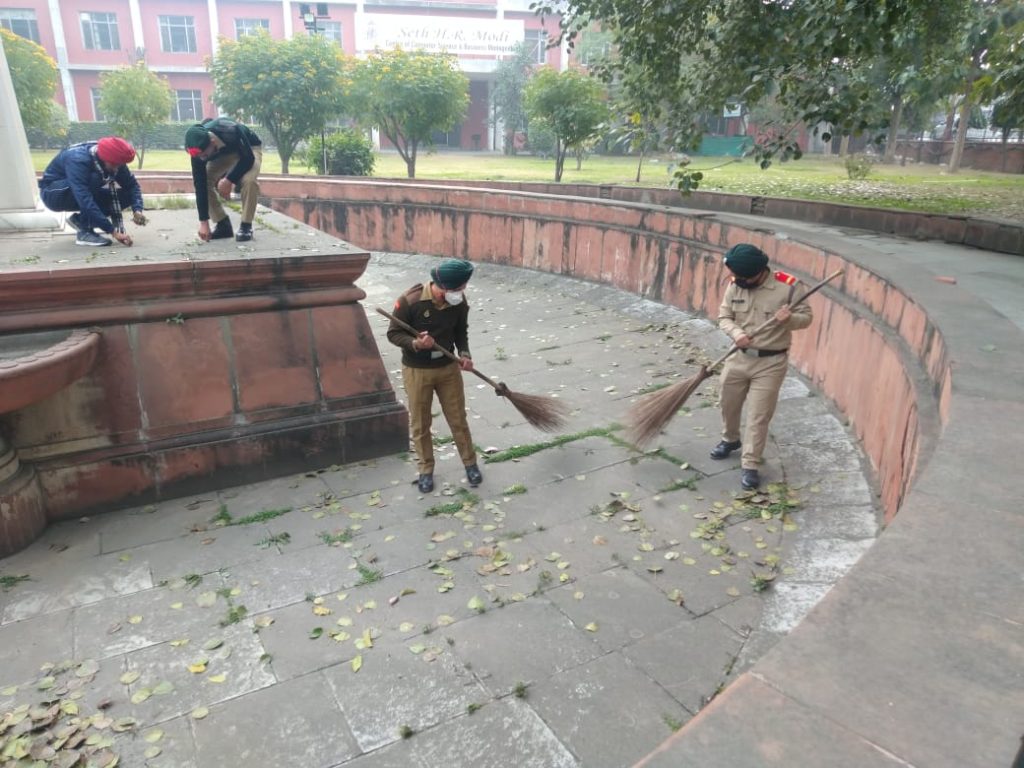 LIST OF CADETS FOR CONSTITUTION DAY ACTIVITIES
31st December 2020
| | |
| --- | --- |
|    S.NO |               NAME |
| 1 | SUO LOVEPREET SINGH |
| 2 | UO BAKSHDEEP SINGH |
| 3 | SGT KHUSHVIR |
| 4 | SGT KHUSHNAV |
| 5 | CDT HARDIK |
| 6 | CDT ROSHAN |
| 7 | CDT JATIN |
| 8 | CDT ANOOP |
| 9 | CDT AZAD |
| 10 | CDT DEEPAK |
| 11 | CDT JASHANPREET |
| 12 | CDT MANISH |
| 13 | CDT SHIVKANT |
| 14 | CDT GURSEVAK |
| 15 | CDT SUJAL SINGH |
| 16 | CDT SUKHWANT SINGH |
| 17 | CDT RAHUL |