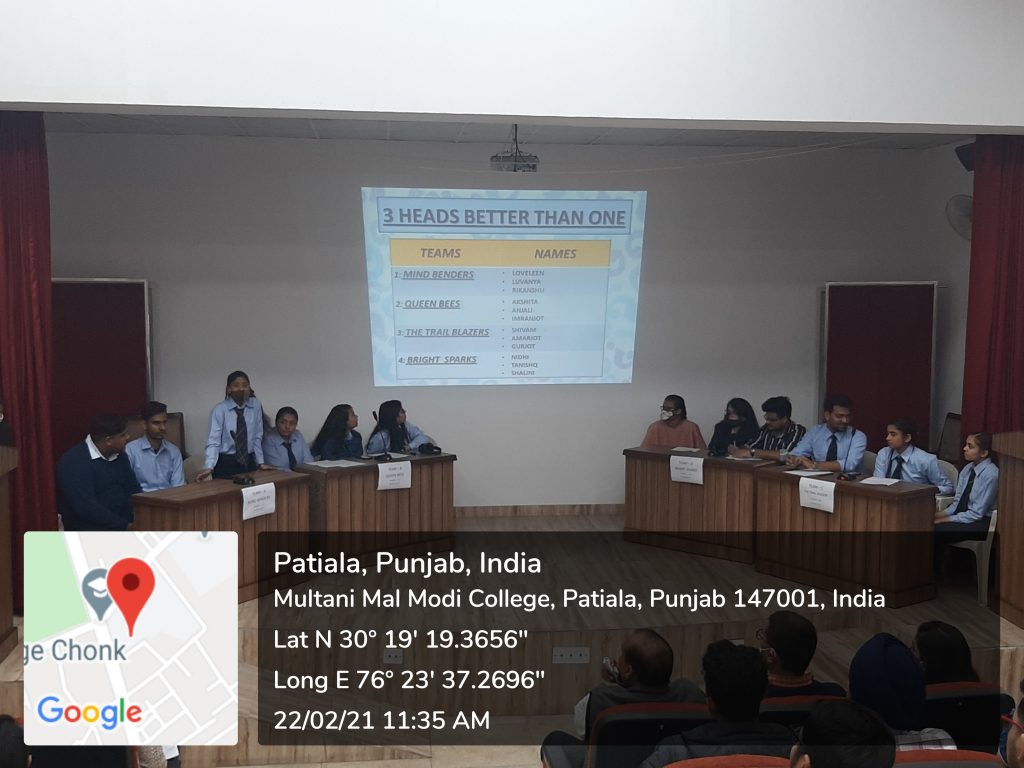 Patiala: February 22, 2021
BUSINESS QUIZ held as a part of "NATIONAL MANAGEMENT DAY"
Student Club "Manthan" of DEPARTMENT OF BUSINESS MANAGEMENT organized the BUSINESS QUIZ as a part of "NATIONAL MANAGEMENT DAY", under the theme UTKARSH 2021 on 22 February, 2021. The quiz aimed to give a platform to the students for analysing their knowledge and potential along with providing them with a broader picture of the business world.
Four teams with three members each, participated in the event enthusiastically. The quiz comprised of 5 rounds based on current affairs, business news and entertainment. Following team s bagged the first two positions:-
Winner with first position- TEAM D (BRIGHT SPARKS)
Tanish Gupta, BBA I, 5817
Nidhi Gaba BBA I, 5934
Shalini kumari, BBA I, 5829
Second position- TEAM A (MIND BENDERS)
Luvanya Singla, BBA I, 5844
Rikanshu, BBA II, 5917
Loveleen, BBA II, 5913
In the closing note, Principal, Dr.Khushvinder Kumar, congratulated the winning team and appreciated the efforts of all the student organizers of the event namely, Gurleen Kaur, Prachi Jain, Madhav Singla, Manan and Ansh of BBA II.
 


List of Participants