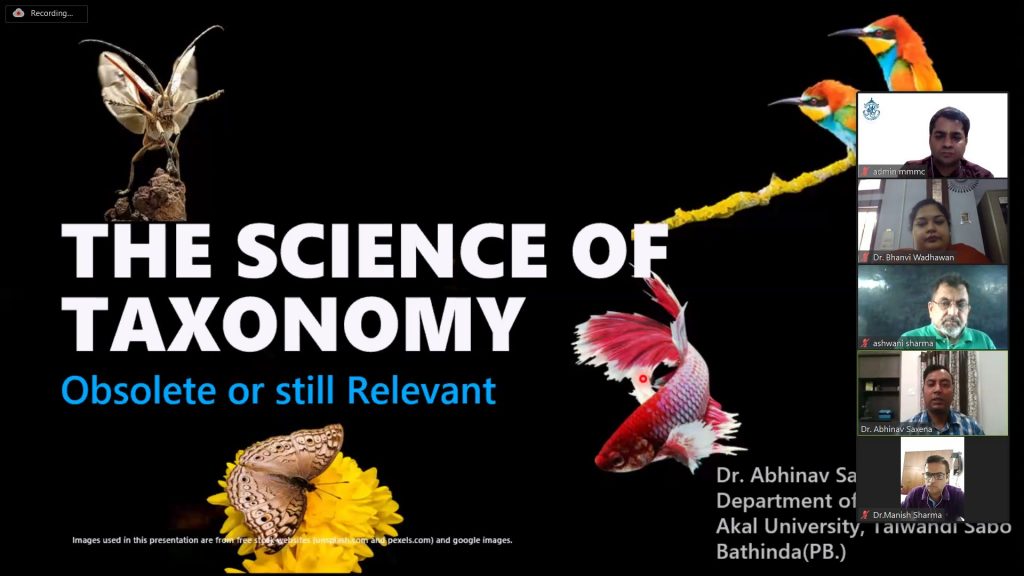 Expert lecture on 'The Science of Taxonomy: Obsolete or Still Relevant' organized by Department of Zoology
Patiala, 11th May, 2021
 The  Department of Zoology, Multani Mal Modi College, Patiala today organized an On-line expert lecture on the topic of "The Science of Taxonomy: Obsolete or Still Relevant". The objective of this lecture was to discuss different aspects and scope of the meticulous but vanishing science of Taxonomy. The lecture was delivered by Dr. Abhinav Saxena, Assistant Professor, Department of Zoology, Akal University, Talwandi Sabo, Bathinda.
College Principal, Dr. Khushvinder Kumar while welcoming the main speaker said that as an essential component of Biology, Taxonomy is vital for understanding the multitude of life forms all around us. He inspired the students to foster an in depth understanding of our biological resources and work towards their conservation. Dr. Ashwani Sharma, Dean (Life Sciences) and a taxonomist himself, encouraged the students to go for research in basic sciences to re-energize this field. The speaker was formally introduced by Dr. Bhanvi Wadhawan, Department of Zoology.
In his lecture, Dr. Abhinav Saxena described the process of basic taxonomy starting from collection, preservation, characterization, comparison and description of a new species. He validated the importance of Morphotaxonomy supplemented by molecular techniques with number of real life examples. The speaker concluded his talk by discussing various job opportunities that young taxonomists can opt for. After the lecture a discussion was held with the speaker regarding the ethical considerations of collecting living specimens and their preservation.
The vote of thanks was presented by Dr. Manish Sharma, Department of Zoology. The event was technically managed by Dr.Rohit Sachdeva. On this occasion members of faculty of Department of Zoology and Botany Dr. Santosh Bala, Dr. Heena Sachdeva, Dr.Akshita Dhaliwal and Dr. Maninder Kaur were also present. The lecture was attended by a large number of students.

#mmmcpta #mmmcpta2021 #zoology #Taxonomy #Taxonomystillrelevant #PunjabiUniversityPatiala