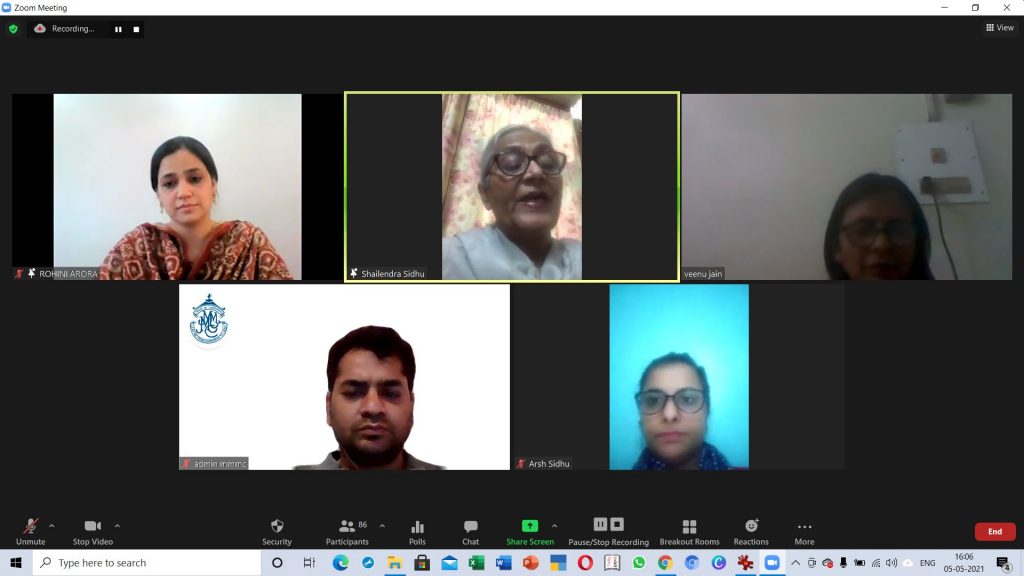 Online Extension lecture on Splendor of Pahari Embroidery organised at M.M.Modi College
The Post-graduate Department of Fashion Technology, Multani Mal Modi College, Patiala today organized an Expert lecture on the topic of 'Splendor of Pahari Embroidery.' This lecture was delivered by Dr. Rohini Arora, Assistant Professor, Guru Gobind Singh College, Chandigarh. She is also a revivalist and craftprenuer. This expert lecture was focused at the significance of revival of traditional and ethnic pehari art of embroidery.
College Principal Dr. Khushvinder Kumar welcomed the speaker and said that the tradition of illustrious embroidery by women is a rich cultural heritage of India and by understanding these methods and techniques of art of clothing our society may help in survival of many communities. The speaker was formally introduced by head of the Department of Fashion Technology Dr. Veenu Jain. She said that the main objective of organizing this lecture is to aware the students about the origin and significance of embroidery on religious textiles and ornamentation used in different styles of Paheri embroidery.
Dr. Rohini Arora in her lecture focused on the importance of documentation of diverse range of stitches, textures and ornamentation used in different styles of pehari embroidery.She said that the unnoticed facets of the craft were observed in a detailed study of old rumals and articles in collection of various museums across the country as well as networking with the craftpeople in the area. She also emphasized upon the relevance of preservation of this beautiful art form.
In this programme, the vote of thanks was presented by Dr.Gurpreet Kaur, Department of Fashion technology. The programme was technically managed by Dr. Rohit Sachdeva, Department of Computer Science. More than 120 students and teachers participated in this lecture.
ਮੋਦੀ ਕਾਲਜ ਵਿਖੇ ਪਹਾੜੀ ਕਢਾਈ ਦੇ ਸ਼ਾਨਦਾਰ ਸਫਰ ਸਬੰਧੀ ਵਿਸ਼ੇਸ ਭਾਸ਼ਣ ਦਾ ਆਯੋਜਨ
ਸਥਾਨਕ ਮੁਲਤਾਨੀ ਮੱਲ ਮੋਦੀ ਕਾਲਜ ਦੇ ਪੋਸਟ-ਗ੍ਰੈਜੂਏਟ ਫੈਸ਼ਨ ਤਕਨਾਲੋਜੀ ਵਿਭਾਗ ਵੱਲੋਂ ਅੱਜ ਪਹਾੜੀ ਕਢਾਈ ਦੇ ਸ਼ਾਨਦਾਰ ਸਫਰ ਸਬੰਧੀ ਇੱਕ ਵਿਸ਼ੇਸ ਭਾਸ਼ਣ ਦਾ ਆਯੋਜਨ ਕੀਤਾ ਗਿਆ।ਇਸ ਭਾਸ਼ਣ ਵਿੱਚ ਮੁੱਖ ਵਕਤਾ ਵੱਜੋਂ ਸ਼੍ਰੀ ਗੁਰੂ ਗੋਬਿੰਦ ਸਿੰਘ ਕਾਲਜ, ਚੰਡੀਗੜ੍ਹ ਦੇ ਫੈਸ਼ਨ ਤਕਨਾਲੋਜੀ ਵਿਭਾਗ ਦੇ ਅਸਿਸਟੈਂਟ ਪ੍ਰੋਫੈਸਰ ਡਾ. ਰੋਹਿਣੀ ਅਰੋੜਾ ਨੇ ਸ਼ਿਰਕਤ ਕੀਤੀ।ਉਹ ਇਸ ਕਲਾ ਵੰਨਗੀ ਨੂੰ ਸਾਂਭਣ ਤੇ ਕਲਾ ਤੇ ਤੌਰ ਤੇ ਇਸ ਦੀ ਤਰੱਕੀ ਲਈ ਵੀ ਕੰਮ ਕਰ ਰਹੇ ਹਨ।ਇਸ ਭਾਸ਼ਣ ਦਾ ਮੁੱਖ ਉਦੇਸ਼ ਵੀ ਪਹਾੜੀ ਕਢਾਈ ਦੀ ਵਿਰਾਸਤੀ ਦਿੱਖ ਬਾਰੇ ਹੋਈਆਂ ਖੋਜਾਂ ਤੇ ਚਰਚਾ ਕਰਨਾ ਤੇ ਵਿਦਿਆਰਥੀਆਂ ਨੂੰ ਇਸ ਕਲਾ ਦੀਆਂ ਬਾਰੀਕੀਆਂ ਬਾਰੇ ਜਾਣਕਾਰੀ ਪ੍ਰਦਾਨ ਕਰਨਾ ਸੀ।
ਕਾਲਜ ਪ੍ਰਿੰਸੀਪਲ ਡਾ. ਖੁਸ਼ਵਿੰਦਰ ਕੁਮਾਰ ਜੀ ਨੇ ਇਸ ਮੌਕੇ ਤੇ ਮੁੱਖ ਵਕਤਾ ਦਾ ਸਵਾਗਤ ਕਰਦਿਆਂ ਕਿਹਾ ਕਿ ਪਹਾੜੀ ਖੇਤਰਾਂ ਦੀਆਂ ਔਰਤਾਂ ਦੁਆਰਾ ਸਿਲਾਈ ਤੇ ਕਢਾਈ ਕੀਤੇ ਵਸਤਰ ਭਾਰਤ ਦੇ ਅਮੀਰ, ਪ੍ਰੰਪਰਾਗਤ ਤੇ ਪ੍ਰਾਚੀਨ ਵਿਰਸੇ ਦੀ ਸ਼ਾਹਦੀ ਭਰਦੇ ਹਨ ਅਤੇ ਅਜਿਹੀਆਂ ਕਲਾ-ਕ੍ਰਿਤਾਂ ਨੂੰ ਸਾਂਭਣ ਅਤੇ ਸਹੇਜਣ ਨਾਲ ਇਹਨਾਂ ਭਾਈਚਾਰਿਆਂ ਦੀ ਹੋਂਦ ਵੀ ਬਚੀ ਰਹਿ ਸਕਦੀ ਹੈ।ਇਸ ਮੌਕੇ ਤੇ ਫੈਸ਼ਨ ਤਕਨਾਲੋਜੀ ਵਿਭਾਗ ਦੇ ਮੁਖੀ ਡਾ.ਵੀਨੂੰ ਜੈਨ ਨੇ ਮੁੱਖ ਵਕਤਾ ਨਾਲ ਰਸਮੀ ਜਾਣ-ਪਛਾਣ ਕਰਵਾਉਂਦਿਆਂ ਦੱਸਿਆ ਕਿ ਇਸ ਭਾਸ਼ਣ ਦਾ ਉਦੇਸ਼ ਵਿਦਿਆਰਥੀਆਂ ਨੂੰ ਧਾਰਮਿਕ ਵਸਤਰਾਂ ਅਤੇ ਸਾਜੋ-ਸਜਾਵਟ ਵਿੱਚ ਵਰਤੇ ਜਾਂਦੇ ਵਸਤਰਾਂ ਤੇ ਕੀਤੀ ਜਾਂਦੀ ਬਾਰੀਕ ਤੇ ਖੂਬਸੂਰਤ ਕਢਾਈ ਤੋਂ ਜਾਣੂ ਕਰਵਾਉਣ ਤੇ ਨਾਲ-ਨਾਲ ਪਹਾੜੀ ਖੇਤਰਾਂ ਵਿੱਚ ਵਿਕਸਿਤ ਹੋਈ ਇਸ ਕਲਾ ਦੇ ਵੱਖ-ਵੱਖ ਪਹਿਲੂਆਂ ਬਾਰੇ ਜਾਣਕਾਰੀ ਪ੍ਰਦਾਨ ਕਰਨਾ ਹੈ।
ਆਪਣੇ ਵਿਸ਼ੇਸ਼ ਭਾਸ਼ਣ ਵਿੱਚ ਬੋਲਦਿਆ ਡਾ. ਰੋਹਿਣੀ ਅਰੋੜਾ ਨੇ ਕਿਹਾ ਕਿ ਪਹਾੜੀ ਕਲਾ ਵਿੱਚ ਵਰਤੇ ਗਏ ਕਢਾਈ ਦੇ ਨਮੂਨਿਆਂ, ਟਾਂਕਿਆਂ ਤੇ ਸਜਾਵਟੀ ਵਿਧੀਆਂ ਦੀ ਖਾਸ ਮਹਤੱਤਾ ਹੈ।ਉਹਨਾਂ ਦੱਸਿਆ ਕਿ ਇਸ ਕਲਾ ਦੇ ਬਹੁਤੇ ਪਹਿਲੂ ਸਾਲਾਂ ਤੱਕ ਅਣਗੌਲੇ ਹੀ ਰਹੇ ਹਨ ਜਿਹਨਾਂ ਨੂੰ ਹੁਣ ਅਜਾਇਬ-ਘਰਾਂ ਵਿੱਚ ਸਾਂਭੇ ਰੁਮਾਲਿਆਂ ਤੇ ਵਸਤਾਂ ਅਤੇ ਇਸ ਕਲਾ ਵਿੱਚ ਨਿਪੁੰਨ ਕਾਰੀਗਰਾਂ ਨਾਲ ਰਾਬਤਾ ਕਰਕੇ ਉਜਾਗਰ ਕੀਤਾ ਗਿਆ ਹੈ।ਉਹਨਾਂ ਨੇ ਇਸ ਕਲਾ ਨੂੰ ਸਾਂਭਣ ਦੀ ਜ਼ਰੂਰਤ ਤੇ ਵੀ ਜ਼ੋਰ ਦਿੱਤਾ।
ਇਸ ਪ੍ਰੋਗਰਾਮ ਦੇ ਅੰਤ ਤੇ ਧੰਨਵਾਦ ਦਾ ਮਤਾ ਡਾ. ਗੁਰਪ੍ਰੀਤ ਕੌਰ, ਅਸਿਸਟੈਂਟ ਪ੍ਰੋਫੈਸਰ, ਫੈਸ਼ਨ ਤਕਨਾਲੌਜੀ ਵਿਭਾਗ ਨੇ ਪੇਸ਼ ਕੀਤਾ।ਇਸ ਪ੍ਰੋਗਰਾਮ ਦਾ ਤਕਨੀਕੀ ਸੰਚਾਲਨ ਡਾ.ਰੋਹਿਤ ਸਚਦੇਵਾ, ਅਸਿਸਟੈਂਟ ਪ੍ਰੋਫੈਸਰ, ਕੰਪਿਊਟਰ ਸਾਇੰਸ ਨੇ ਕੀਤਾ।ਇਸ ਵਿੱਚ 120 ਵਿਦਿਆਰਥੀਆਂ ਤੇ ਅਧਿਆਪਕਾਂ ਨੇ ਭਾਗ ਲਿਆ।
#mmmcpta
#mmmcpta2021
#fashiondesigning
#PunjabiUniversityPatiala