Computer Science Department collaborated with HDFC Bank to organize a Seminar on Cyber Security for Safe and Secure Banking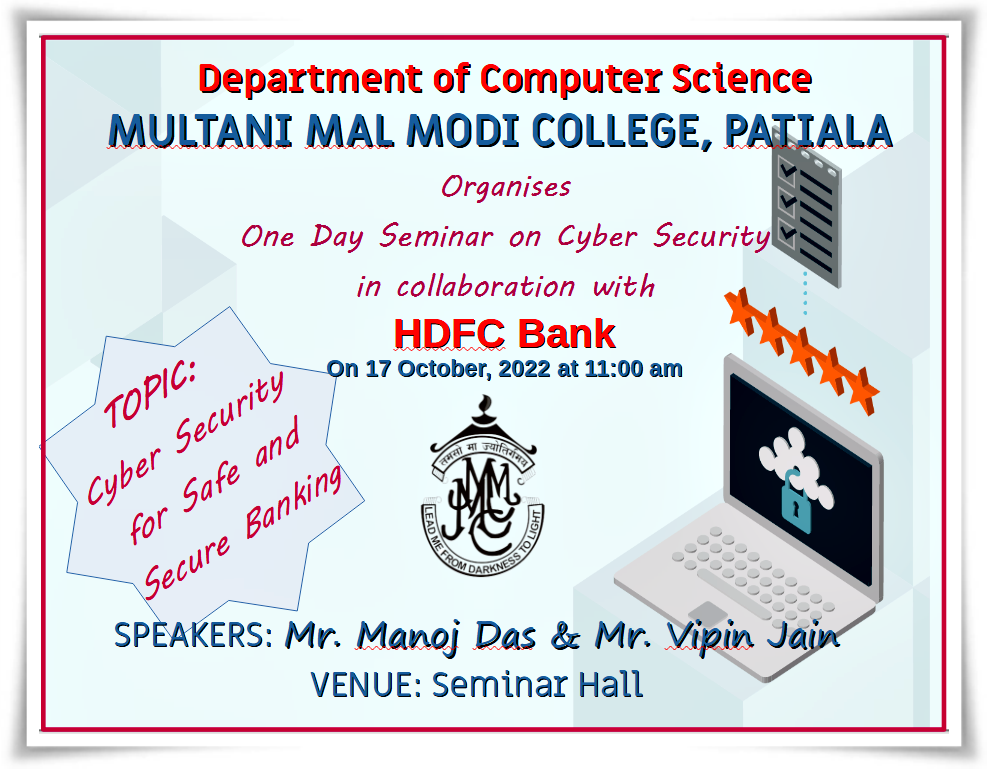 Department of Computer Science Organized a Seminar on Cyber Security for Safe and Secure Banking in collaboration with HDFC Bank on 17th October 2022. The programme was focused on spreading awareness among students, teachers and parents about Safe and Secure Banking. Mr. Manoj Das (Area Manager, Punjab and Himachal Pradesh), and Mr. Vipin Jain (Location Manager, Ludhiana) were the expert speakers.
Dr. Khushvinder Kumar Principal welcomed the guests and told students about the various aspects of Cyber Security and how the global cyber threat continues to evolve at a rapid pace, with a rising number of data breaches each year.
During this session the stage was conducted by Dr. Ajit Kumar, Associate Professor, Department of Computer Science. He Introduced the topic of Cyber Security to the students. Mr. Manoj Das discussed about the awareness campaign being run by the HDFC Bank under CSR programme. He elaborated the reasons and benefits of the cyber security awareness programme. Mr. Vipin Jain discussed about different types of banking frauds and methods of protection. He also shared the tips for safe uses of debit and credit cards, UPI payments, and mobile banking.
Around 300 students were present in this programme. Mr. Vinay Garg, Head of Computer Science Department proposed the Vote of Thanks.
In this programme Dr. Ganesh Sethi, Ms.Honey, Ms. Komal, Ms Priyanka Singla were present.