Inside IIMs – Talk with Toppers Modiite Yuvraj Batra
Date: 07.02.2023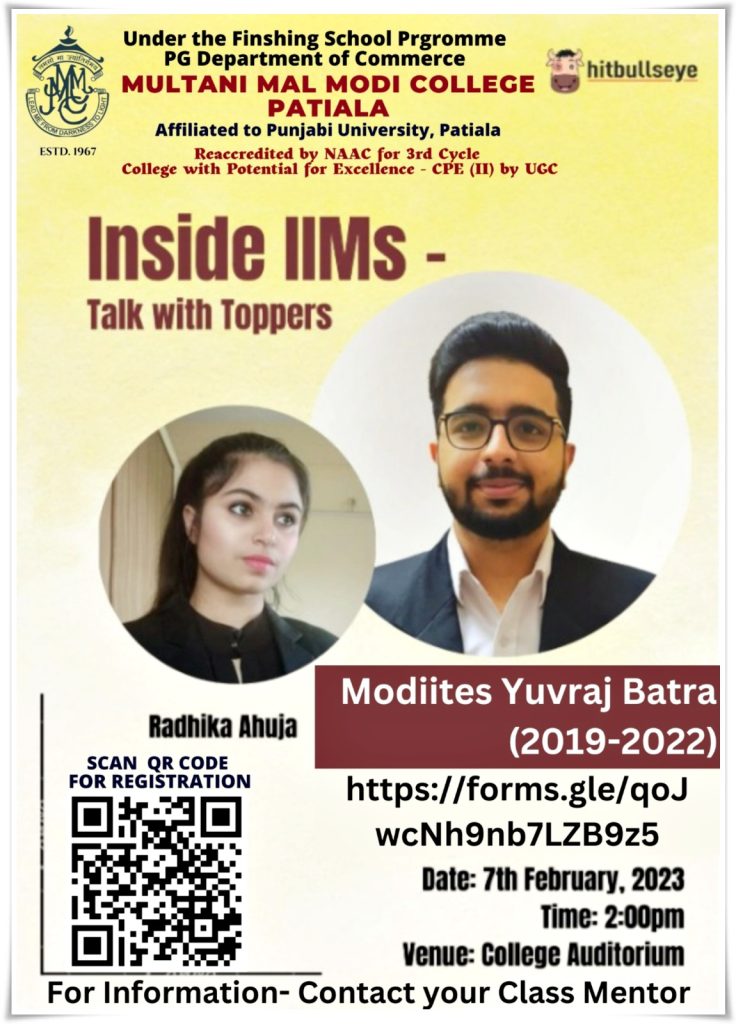 PG Department of Commerce, M.M. Modi College, Patiala in collaboration with its Finishing School Program organised a career counselling program with the theme Inside IIMs-Talk with the Toppers under the guidance of Principal, Dr. Khushvinder Kumar. In this program, our own alumni, Yuvraj Batra, who recently cleared his CAT and already received calls from various IIMs to pursue MBA; gave his expert advice to the final year students about preparation tips to crack these type of exams.
Prof. Neena Sareen, Dean and Head, PG Department of Commerce introduced the guests and motivated the students to prepare themselves for competitive exams. Principal, Dr. Khushvinder Kumar, encouraged the students to think about their future goals and start preparing for that. He put a quote saying 'Build your own dreams or somebody else will have you to create theirs.' A mock interview session was conducted for the students followed by a session on careers after graduation along with mental abilities test by IIM Lucknow graduate.
Around 100 students from B.com-3 attended the session. Dr. Neeraj Goyal, Head, Management Department, proposed a vote of thanks.