Patiala: 5 November, 2019
Career Awareness Programme by Patiala Chapter of ICSI
The Patiala Chapter of the Institute of Company Secretaries of India in collaboration with Multani Mal Modi College, Patiala organized Career Awareness Programme in the college campus. College Principal Dr. Khushvinder Kumar welcomed the guests. About 200 students of undergraduate classes attended the programme. CS Jaspal Singh Dhanjal, Chairman of Patiala Chapter addressed the students and enlightened them about the course of Company Secretary, its scope and various opportunities available to them after completion of course. He informed that the Company Secretary Course can also be persued along with regular courses and the students should have passed Senior Secondary examination. Prof. Neena Sareen, Head, Department of Commerce and Dr. Neeraj Goyal, Head, Department of Business Management of Multani Mal Modi College also addressed the students available to them after completion of course. He further informed that according to new Company Act, it is mandatory for the big companies to appoint a Company Secretary, so there are many employment opportunities available in this field. CS Khaminder Sharma, CS Rajni Jindal, Members of Patiala Chapter and Dr. Ajit Kumar, Registrar of the college also attended the programme.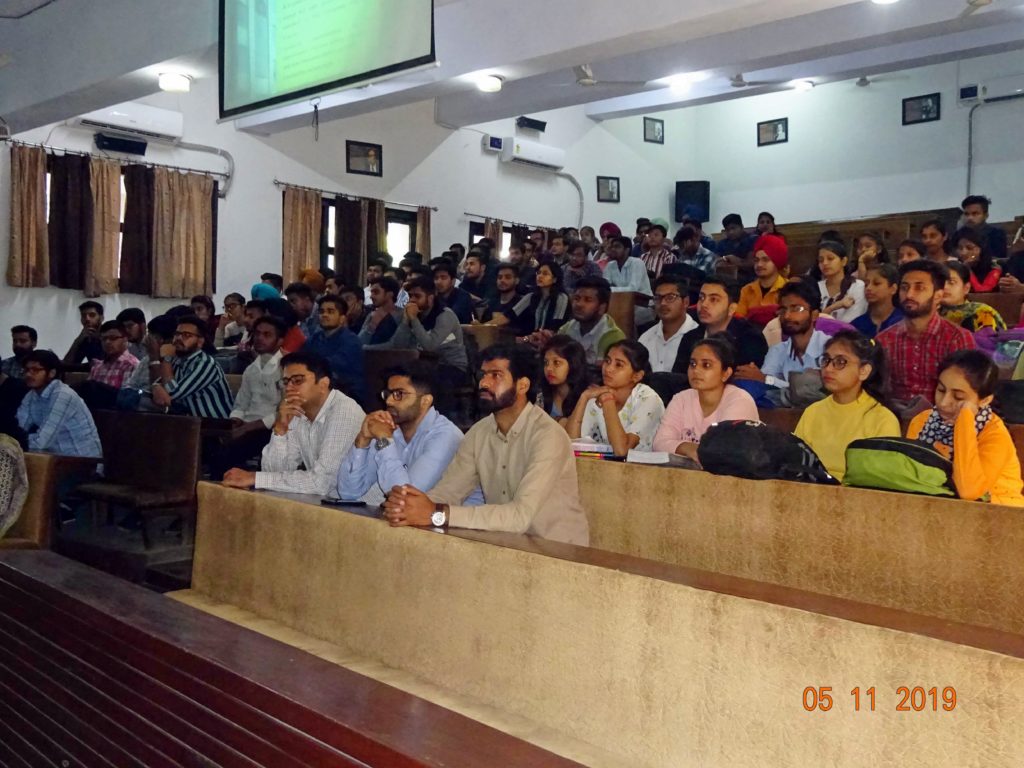 ਪਟਿਆਲਾ: 5 ਨਵੰਬਰ, 2019
ICSI ਦੇ ਪਟਿਆਲਾ ਚੈਪਟਰ ਵੱਲੋਂ ਕਰੀਅਰ ਅਵੇਅਰਨੈੱਸ ਪ੍ਰੋਗਰਾਮ ਕਰਵਾਇਆ ਗਿਆ
ਮੁਲਤਾਨੀ ਮੱਲ ਮੋਦੀ ਕਾਲਜ, ਪਟਿਆਲਾ ਵਿਖੇ ਇੰਸਟੀਚਿਊਟ ਆਫ਼ ਕੰਪਨੀ ਸਕਰੈਟਰੀਜ਼ ਆਫ਼ ਇੰਡੀਆ ਦੇ ਪਟਿਆਲਾ ਚੈਪਟਰ ਵੱਲੋਂ ਮੋਦੀ ਕਾਲਜ ਦੇ ਸਹਿਯੋਗ ਨਾਲ ਇੱਕ ਕਰੀਅਰ ਅਵੇਅਰਨੈੱਸ ਪ੍ਰੋਗਰਾਮ ਕਰਵਾਇਆ ਗਿਆ। ਕਾਲਜ ਪ੍ਰਿੰਸੀਪਲ ਡਾ. ਖੁਸ਼ਵਿੰਦਰ ਕੁਮਾਰ ਜੀ ਨੇ ਮਹਿਮਾਨਾਂ ਦਾ ਸਵਾਗਤ ਕੀਤਾ। ਅੰਡਰ-ਗ੍ਰੈਜੂਏਟ ਕੋਰਸਾਂ ਦੇ ਕਰੀਬ 200 ਵਿਦਿਆਰਥੀਆਂ ਨੇ ਇਸ ਪ੍ਰੋਗਰਾਮ ਵਿੱਚ  ਸ਼ਾਮਲ ਹੋ ਕੇ ਇਸ ਦਾ ਲਾਭ ਪ੍ਰਾਪਤ ਕੀਤਾ। ਪਟਿਆਲਾ ਚੈਪਟਰ ਦੇ ਚੇਅਰਮੈਨ ਸੀ.ਐਸ. ਜਸਪਾਲ ਸਿੰਘ ਧੰਜਲ ਵਿਦਿਆਰਥੀਆਂ ਨੂੰ ਸੰਬੋਧਤ ਹੋਏ ਅਤੇ ਉਨ੍ਹਾਂ ਨੇ ਕੰਪਨੀ ਸੈਕਟਰੀ ਕੋਰਸ ਦੇ ਕਾਰਜ ਖੇਤਰ ਅਤੇ ਇਸ ਕੋਰਸ ਉਪਰੰਤ ਪ੍ਰਾਪਤ ਹੋਣ ਵਾਲੇ ਅਵਸਰਾਂ ਬਾਰੇ ਜਾਣਕਾਰੀ ਦਿੱਤੀ। ਉਨ੍ਹਾਂ ਨੇ ਦੱਸਿਆ ਕਿ ਕੰਪਨੀ ਸੈਕਟਰੀ ਦਾ ਕੋਰਸ ਰੈਗੂਲਰ ਕੋਰਸ ਦੇ ਨਾਲ-ਨਾਲ ਵੀ ਕੀਤਾ ਜਾ ਸਕਦਾ ਹੈ ਅਤੇ ਇਸ ਵਿੱਚ ਦਾਖਲਾ ਲੈਣ ਲਈ ਵਿਦਿਆਰਥੀ ਨੂੰ ਬਾਰ੍ਹਵੀਂ ਪਾਸ ਹੋਣਾ ਜ਼ਰੂਰੀ ਹੈ। ਕਾਲਜ ਦੇ ਕਾਮਰਸ ਵਿਭਾਗ ਦੇ ਮੁਖੀ ਪ੍ਰੋ. ਨੀਨਾ ਸਰੀਨ ਅਤੇ ਬਿਜਨੇਸ ਮੈਨੇਜਮੈਂਟ ਵਿਭਾਗ ਦੇ ਮੁਖੀ ਡਾ. ਨੀਰਜ ਗੋਇਲ ਨੇ ਵੀ ਵਿਦਿਆਰਥੀਆਂ ਨੂੰ ਇਸ ਕੋਰਸ ਦੀਆਂ ਭਵਿੱਖਮੁਖੀ ਕਰੀਅਰ ਸੰਭਾਵਨਾਵਾਂ ਬਾਰੇ ਜਾਣਕਾਰੀ ਦਿੱਤੀ। ਉਨ੍ਹਾਂ ਨੇ ਦੱਸਿਆ ਕਿ ਨਵੇਂ ਕੰਪਨੀ ਐਕਟ ਦੇ ਅਨੁਸਾਰ ਵੱਡੀਆਂ ਕੰਪਨੀਆਂ ਲਈ ਕੰਪਨੀ ਸੈਕਟਰੀ ਨਿਯੁਕਤ ਕਰਨਾ ਲਾਜ਼ਮੀ ਹੈ, ਇਸ ਲਈ ਇਸ ਖੇਤਰ ਵਿੱਚ ਰੋਜ਼ਗਾਰ ਦੀਆਂ ਕਾਫੀ ਸੰਭਾਵਨਾਵਾਂ ਹਨ। ਇਸ ਪ੍ਰੋਗਰਾਮ ਵਿੱਚ ਪਟਿਆਲਾ ਚੈਪਟਰ ਦੇ ਮੈਂਬਰਜ਼ ਸੀ.ਐਸ. ਖਮਿੰਦਰ ਸ਼ਰਮਾ, ਸੀ.ਐਸ. ਰਜਨੀ ਜਿੰਦਲ ਅਤੇ ਕਾਲਜ ਦੇ ਰਜਿਸਟਰਾਰ ਡਾ. ਅਜੀਤ ਕੁਮਾਰ ਨੇ ਵੀ ਸ਼ਿਰਕਤ ਕੀਤੀ।
#mhrd #mmmcpta #multanimalmodicollegepatiala #modi #modicollege #modicollegepatiala #punjabiuniversity #pup #punjabiuniversitypatiala #icsi #nirc #patialachapter #companysecretary