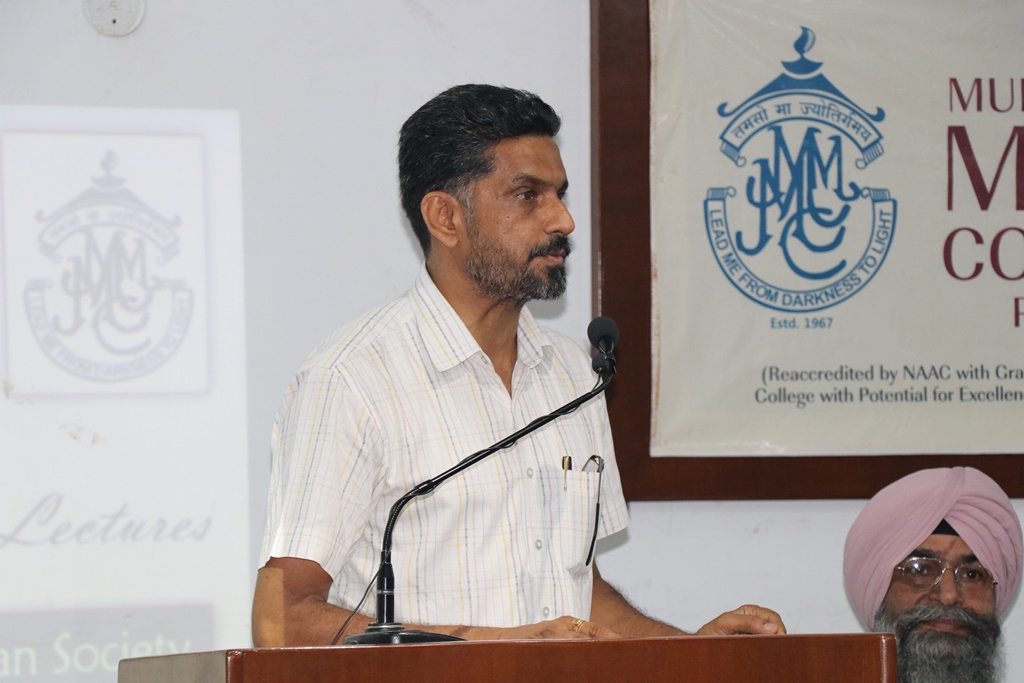 Patiala: September 20, 2021
To understand Ambedkar, we must understand social stratification of the Indian Society: Satnam Chana
Multani Mal Modi College, Patiala in collaboration with College Alumni Association organized the sixth lecture of the series titled, 'The multifaceted contribution of Dr. B. R. Ambedkar to Indian Society' under 'Colloquium: A series of lectures' which is focused on theoretical and conceptual aspects of different streams of knowledge. The lecture was delivered by S. Satnam Singh Chana, Eminent historian and CEO, Pritam Film production. Dr. Gurdeep Singh, Head of Punjabi department introduced the topic of the lecture. The speaker was formally introduced by Dr. Veerpal Kaur, Department of Punjabi.
College Principal Dr. Khushvinder Kumar welcomed the expert and said that the modern India was imagined and constructed by the vision and ideology of our great leaders like Dr. B.R. Amberkar, Dr Rabindranath Tagore and Mahatma Gandhi although there were many contradictions in their political ideas.He said that the contribution of Dr. Ambedkar is multifaced and his thoughts and struggle are the lighting force for making India a progressive and developing nation. He appreciated the rigorous historical research done by S. Satnam Chana.
In his lecture S. Satnam Chana discussed the ideas and political era of Dr. B.R. Ambedkar and demonstrated how he envisioned a new modern nation which is devoid of class, caste, religious and other discriminations. He said that his life and works are the metaphors of true humanism and reflects the core values of our democratic system. He said that Dr. Ambedkar followed the reformist path of different saints, gurus and social reformers and fought a honest ideological battle for social change and democracy.
A lively discussion session followed the lecture. Large numbers of students and faculty teachers participated in this event.
The vote of thanks was presented by Prof. Ved Prakash Sharma, Dean, student welfare. The stage was managed by Prof. Rupinder Sharma, Department of Hindi.
ਪਟਿਆਲਾ: 20 ਸਤੰਬਰ, 2021
ਡਾ. ਅੰਬੇਦਕਰ ਦੀ ਦੇਣ ਨੂੰ ਜਾਣਨ ਲਈ ਭਾਰਤੀ ਸਮਾਜ ਨੂੰ ਸਮਝਣਾ ਜ਼ਰੂਰੀ: ਡਾ. ਸਤਨਾਮ ਚਾਨਾ
ਅੱਜ ਮੁਲਤਾਨੀ ਮੱਲ ਮੋਦੀ ਕਾਲਜ, ਪਟਿਆਲਾ ਦੁਆਰਾ ਕਾਲਜ ਐਲੂਮਨੀ ਐਸੋਸੀਏਸ਼ਨ ਦੇ ਸਹਿਯੋਗ ਨਾਲ ਆਯੋਜਿਤ ਲੈਕਚਰ ਲੜੀ ਕਲੋਕੀਅਮ ਦੇ ਤਹਿਤ 'ਭਾਰਤੀ ਸਮਾਜ ਨੂੰ ਡਾ. ਬੀ.ਆਰ.ਅੰਬੇਦਕਰ ਦੀ ਬਹੁਪੱਖੀ ਦੇਣ' ਵਿਸ਼ੇ 'ਤੇ ਵਿਸ਼ੇਸ਼ ਲੈਕਚਰ ਕਰਵਾਇਆ ਗਿਆ। ਇਸ ਵਿੱਚ ਪ੍ਰਸਿੱਧ ਇਤਿਹਾਸਕਾਰ ਅਤੇ ਪ੍ਰੀਤਮ ਫ਼ਿਲਮ ਪ੍ਰੋਡਕਸ਼ਨ ਦੇ ਸੀ.ਈ.ਓ. ਸ੍ਰ. ਸਤਨਾਮ ਸਿੰਘ ਚਾਨਾ ਮੁੱਖ ਵਕਤਾ ਵਜੋਂ ਸ਼ਾਮਿਲ ਹੋਏ। ਇਸ ਮੌਕੇ ਡੀਨ ਸਹਿ-ਸਰਗਰਮੀਆਂ ਅਤੇ ਪੰਜਾਬੀ ਵਿਭਾਗ ਦੇ ਮੁਖੀ ਡਾ. ਗੁਰਦੀਪ ਸਿੰਘ ਸੰਧੂ ਨੇ ਲੈਕਚਰ ਲੜੀ ਦੇ ਉਦੇਸ਼ ਅਤੇ ਪ੍ਰੋਗਰਾਮ ਦੀ ਵਿਉਂਤ ਸਾਂਝੀ ਕੀਤੀ। ਡਾ. ਵੀਰਪਾਲ ਕੌਰ ਨੇ ਵਕਤਾ ਦੀ ਸਰੋਤਿਆਂ ਨਾਲ ਰਸਮੀ ਜਾਣ-ਪਹਿਚਾਣ ਕਰਵਾਈ।
ਕਾਲਜ ਪ੍ਰਿੰਸੀਪਲ ਡਾ. ਖੁਸ਼ਵਿੰਦਰ ਕੁਮਾਰ ਨੇ ਮਹਿਮਾਨਾਂ ਦਾ ਰਸਮੀ ਸਵਾਗਤ ਕੀਤਾ ਅਤੇ ਸ੍ਰ. ਚਾਨਾ ਦੇ ਸਿੱਖ ਇਤਿਹਾਸ ਨਾਲ ਸਬੰਧਿਤ ਕੀਤੇ ਸਿਰੜੀ ਕਾਲਜ ਦੀ ਭਰਪੂਰ ਸ਼ਲਾਘਾ ਕੀਤੀ ਅਤੇ ਕਿਹਾ ਕਿ ਡਾ. ਅੰਬੇਦਕਰ ਜਿਹੀਆਂ ਕੁੱਝ ਕੁ ਵਿਰਲੀਆਂ ਸ਼ਖ਼ਸੀਅਤਾਂ ਹੀ ਹੁੰਦੀਆਂ ਹਨ ਜੋ ਇੱਕ ਸੰਸਥਾ ਦੇ ਰੂਪ ਵਿੱਚ ਕਾਰਜ ਕਰਦੀਆਂ ਹਨ ਤੇ ਜਿੰਨਾਂ ਦਾ ਨਿਰਸਵਾਰਥ ਕੀਤਾ ਕਾਰਜ ਹੀ ਉਨ੍ਹਾਂ ਦੀ ਪਹਿਚਾਨ ਬਣਦਾ ਹੈ। ਉਹਨਾਂ ਤਾਕੀਦ ਕੀਤੀ ਕਿ ਸਾਨੂੰ ਗੁਰੂ ਰਵਿੰਦਰਨਾਥ ਟੈਗੋਰ, ਡਾ. ਅੰਬੇਦਕਰ ਅਤੇ ਮਹਾਤਮਾ ਗਾਂਧੀ ਜੀ ਦੇ ਰਾਹ ਭਾਵੇਂ ਵੱਖਰੇ ਜਾਪਦੇ ਹੋਣ ਪਰੰਤੂ ਇਹਨਾਂ 'ਚ 'ਆਜ਼ਾਦੀ ਦੇ ਸੁਪਨੇ' ਦੀ ਸਾਂਝ ਨੂੰ ਅਣਗੌਲ਼ਿਆ ਨਹੀਂ ਜਾ ਸਕਦਾ।
ਇਤਿਹਾਸਕਾਰ ਸ੍ਰ. ਸਤਨਾਮ ਸਿੰਘ ਚਾਨਾ ਨੇ ਭਾਰਤ ਸਮਾਜ ਦੀ ਬਹੁਰੰਗੀ ਬਣਤਰ ਨੂੰ ਸਮਝਣ 'ਤੇ ਜ਼ੋਰ ਦਿੰਦੇ ਹੋਏ ਡਾ. ਅੰਬੇਦਕਰ ਜੀ ਦੇ ਜੀਵਨ ਨੂੰ ਵਿਦਿਆਰਥੀ ਜੀਵਨ, ਸਮਾਜਿਕ ਸੰਘਰਸ਼, ਰਾਜਨੀਤਕ ਅੰਦੋਲਨ ਤੇ ਦੇਸ਼ ਉਸਾਰੀ 'ਚ ਨਿਭਾਈ ਯੁੱਧ ਨੀਤੀਵਾਨ ਤੇ ਸਿਰੜੀ ਸ਼ਖ਼ਸੀਅਤ ਮੰਨਦੇ ਹੋਏ ਕਿਹਾ ਕਿ ਬਾਬਾ ਸਾਹਿਬ ਨੇ ਆਪਣੇ ਤੋਂ ਪਹਿਲਾਂ ਹੀ ਭਗਤਾਂ, ਗੁਰੂਆਂ ਦੁਆਰਾ ਜਾਤ-ਪਾਤ ਜਿਹੇ ਹਰ ਸਮਾਜਿਕ ਵਿਤਕਰੇ ਵਿਰੁੱਧ ਆਰੰਭੇ ਵਿਚਾਰਧਾਰਕ ਸੰਘਰਸ਼ ਨੂੰ ਹੀ ਅਪਣਾਇਆ ਅਤੇ ਨਵੀਂ ਵਿਚਾਰਧਾਰਕ ਯੁੱਧ ਨੀਤੀ ਰਾਹੀਂ ਇਸ ਸੰਘਰਸ਼ ਨੂੰ ਵਿਹਾਰਕ ਪੱਧਰ 'ਤੇ ਅੱਗੇ ਵਧਾਇਆ।
ਮਨਮੋਹਕ ਅੰਦਾਜ਼ 'ਚ ਮੰਚ ਸੰਚਾਲਨ ਦਾ ਕਾਰਜ ਹਿੰਦੀ ਵਿਭਾਗ ਦੇ ਮੁਖੀ ਡਾ. ਰੁਪਿੰਦਰ ਸ਼ਰਮਾ ਨੇ ਬਾਖ਼ੂਬੀ ਨਿਭਾਇਆ। ਡੀਨ ਵਿਦਿਆਰਥੀ ਭਲਾਈ ਪ੍ਰੋ. ਵੇਦ ਪ੍ਰਕਾਸ਼ ਨੇ ਧੰਨਵਾਦੀ ਸ਼ਬਦ ਸਾਂਝੇ ਕੀਤੇ। ਇਸ ਸਮੇਂ ਫਿਲਮ ਨਿਰਦੇਸ਼ਕ ਵਿਸ਼ਾਲ ਸ਼ਰਮਾ ਅਤੇ ਸਾਰੇ ਵਿਭਾਗਾਂ ਦੇ ਅਧਿਆਪਕ ਤੇ ਵਿਦਿਆਰਥੀ ਸ਼ਾਮਿਲ ਸਨ। ਇਸ ਪ੍ਰੋਗਰਾਮ ਦੀ ਤਕਨੀਕੀ ਜ਼ਿੰਮੇਵਾਰੀ ਡਾ. ਕੁਲਦੀਪ ਕੁਮਾਰ ਅਤੇ ਸ਼੍ਰੀ ਵਿਨੋਦ ਸ਼ਰਮਾ ਨੇ ਨਿਭਾਈ।