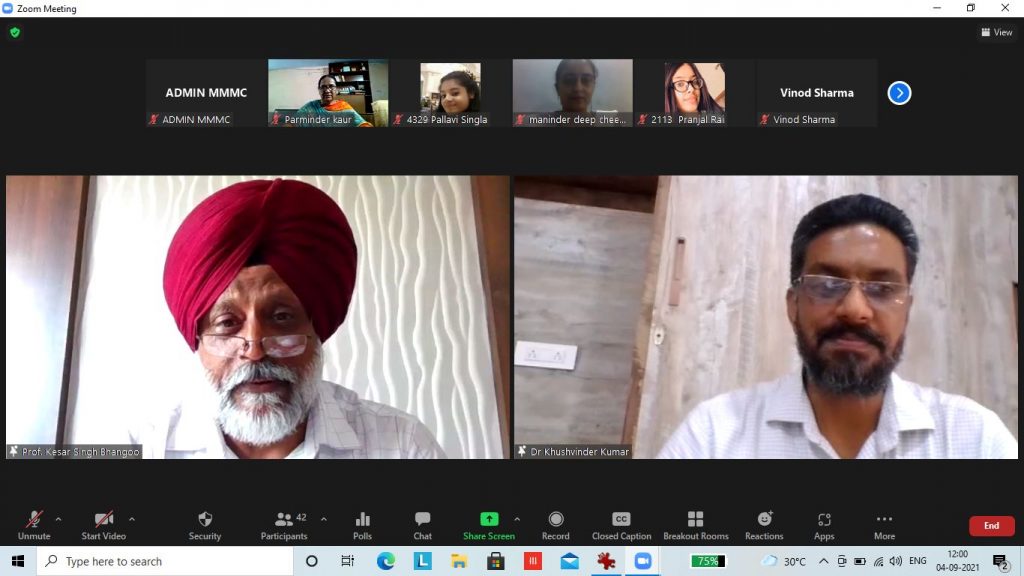 Patiala: September 6, 2021
Political and Developmental policy failure is the root cause of economic crisis of Punjab: Dr. Kesar Singh Bhangoo
Multani Mal Modi College, Patiala in collaboration with College Alumni Association organized the fourth lecture of the series. Lecture on 'Economic Problems and Prospects of Punjab' was delivered by Dr. Kesar Singh Bhangoo, Ex. Prof and Dean, Faculty of Social Sciences, Punjabi University, Patiala. This series is designed to understand the inter-sectional nuances of different areas of learning.
College Principal Dr. Khushvinder Kumar welcomed the expert and said that the economic conditions of Punjab are in a crisis and it is important to discuss and debate these issues on public platforms as well as in academic circles. The speaker was formally introduced by Dr. Maninder Cheema, Assistant Professor, Department of Economics.
In his lecture Dr. Kesar Singh Bhangoo discussed the historical construction of the present economic crisis and root causes of developmental problems. He said that the lack of political will, lack of industrial policies and investment and administrative failures has pushed the economy of Punjab in a state of inertia. He also discussed the different aspects of development models which were implemented in Punjab. He said that the present economical failure is a multi-dimensional problem with various socio, political, cultural and developmental repercussions.
A lively session followed the lecture. Large numbers of students and faculty teachers participated in this event.
The vote of thanks was presented by Prof. Ved Prakash Sharma, Dean, Social Sciences. The stage was managed by Prof. Parminder Kaur, Commerce Department.
ਸਿਆਸੀ ਤੇ ਆਰਥਿਕ ਨੀਤੀਆਂ ਦੀ ਅਸਫਲਤਾ ਕਾਰਨ ਪੰਜਾਬ ਦੀ ਆਰਥਿਕਤਾ ਗਹਿਰੇ ਸੰਕਟ ਵਿੱਚ: ਡਾ. ਕੇਸਰ ਸਿੰਘ ਭੰਗੂ
ਮੁਲਤਾਨੀ ਮੱਲ ਮੋਦੀ ਕਾਲਜ, ਪਟਿਆਲਾ ਵੱਲੋਂ ਕਾਲਜ ਐਲੂਮਨੀ ਐਂਸੋਸੀਏਸ਼ਨ ਦੇ ਸਹਿਯੋਗ ਨਾਲ ਗਿਆਨ ਤੇ ਬੌਧਿਕਤਾ ਦੀਆਂ ਵੱਖੋਂ-ਵੱਖਰੀਆਂ ਧਰਾਵਾਂ ਤੇ ਆਧਾਰਿਤ ਸ਼ੁਰੂ ਕੀਤੀ ਖਾਸ ਭਾਸ਼ਣ ਲੜ੍ਹੀ ਦੇ ਅੰਤਰਗਤ ਅੱਜ ਚੌਥਾ ਭਾਸ਼ਣ, 'ਇੰਕਨੌਮਿਕਸ ਪ੍ਰੌਬਲਮਜ਼ ਐਂਡ ਪ੍ਰਾਸਪੈਕਟਜ਼ ਆਫ ਪੰਜਾਬ' ਆਯੋਜਿਤ ਕੀਤਾ ਗਿਆ। ਇਸ ਭਾਸ਼ਣ ਵਿੱਚ ਮੁੱਖ ਵਕਤਾ ਵੱਜੋਂ ਡਾ. ਕੇਸਰ ਸਿੰਘ ਭੰਗੂ, ਸਾਬਕਾ ਪ੍ਰੋਫੈਸਰ ਤੇ ਡੀਨ, ਫੈਕਲਟੀ ਆਫ ਸ਼ੋਸ਼ਲ ਸਾਇੰਸਿਜ਼, ਪੰਜਾਬੀ ਯੂਨੀਵਰਸਿਟੀ, ਪਟਿਆਲਾ ਨੇ ਸ਼ਿਰਕਤ ਕੀਤੀ। ਇਸ ਮੌਕੇ ਤੇ ਡਾ. ਗੁਰਦੀਪ ਸਿੰਘ, ਮੁਖੀ, ਪੰਜਾਬੀ ਵਿਭਾਗ ਨੇ ਇਸ ਭਾਸ਼ਣ ਦੇ ਵਿਸ਼ੇ ਦੀ ਮਹਤੱਤਾ ਬਾਰੇ ਦੱਸਿਆ।
ਕਾਲਜ ਪ੍ਰਿੰਸੀਪਲ ਡਾ. ਖੁਸ਼ਵਿੰਦਰ ਕੁਮਾਰ ਜੀ ਨੇ ਇਸ ਮੌਕੇ ਤੇ ਮੁੱਖ ਵਕਤਾ ਦਾ ਸਵਾਗਤ ਕਰਦਿਆਂ ਕਿਹਾ ਕਿ ਪੰਜਾਬੀ ਆਰਥਿਕਤਾ ਇਸ ਸਮੇਂ ਗਹਿਰੇ ਸੰਕਟ ਵਿੱਚੋਂ ਗੁਜ਼ਰ ਰਹੀ ਹੈ ਜਿਸ ਬਾਰੇ ਨਾ ਸਿਰਫ ਗੰਭੀਰ ਚਿੰਤਨ ਕਰਨ ਦੀ ਜ਼ਰੂਰਤ ਹੈ ਸਗੋਂ ਅਕਾਦਮਿਕ ਹਲਕਿਆਂ ਤੇ ਪਬਲਿਕ ਪਲੇਟਫਾਰਮਾਂ ਤੇ ਵਿਚਾਰ-ਵਟਾਂਦਰਾ ਕਰਨ ਦੀ ਲੋੜ੍ਹ ਹੈ। ਇਸ ਮੌਕੇ ਤੇ ਵਕਤਾ ਨਾਲ ਰਸਮੀ ਜਾਣ-ਪਛਾਣ ਇਕਨਾਮਿਕਸ ਵਿਭਾਗ ਦੇ ਐਂਸਿਸਟੈਂਟ ਪ੍ਰੋਫੈਸਰ ਡਾ. ਮਨਿੰਦਰ ਕੌਰ ਚੀਮਾ ਨੇ ਕਰਵਾਈ।
ਆਪਣੇ ਭਾਸ਼ਣ ਦੌਰਾਨ ਵਿਦਿਆਰਥੀਆਂ ਤੇ ਅਧਿਆਪਕਾਂ ਨੂੰ ਸੰਬੋਧਿਤ ਕਰਦਿਆ ਡਾ. ਕੇਸਰ ਸਿੰਘ ਭੰਗੂ ਨੇ ਕਿਹਾ ਕਿ ਪੰਜਾਬੀ ਆਰਥਿਕਤਾ ਦੇ ਸੰਕਟ ਤੇ ਵਿਕਾਸ ਨੀਤੀਆਂ ਦੀ ਅਸਫਲਤਾ ਦੀਆਂ ਜੜਾਂ੍ਹ ਗਹਿਰੀਆਂ ਹਨ ਤੇ ਇਸਦੇ ਇਤਿਹਾਸਕ ਕਾਰਨਾਂ ਦੀ ਪੜ੍ਹਤਾਲ ਕਰਨੀ ਜ਼ਰੂਰੀ ਹੈ।ਉਹਨਾਂ ਨੇ ਕਿਹਾ ਕਿ ਸਿਆਸੀ ਇੱਛਾ ਦੀ ਘਾਟ, ਸੰਚਾਰੂ ਸਨਅਤੀ ਨੀਤੀਆਂ, ਨਿਵੇਸ਼ ਦੀ ਘਾਟ ਅਤੇ ਪ੍ਰਬੰਧਕੀ ਖਾਮੀਆਂ ਦੇ ਕਾਰਣ ਪੰਜਾਬੀ ਆਰਥਿਕਤਾ ਨਿਸ਼ਕ੍ਰਿਆ ਦੀ ਸਥਿਤੀ ਵਿੱਚ ਚਲੀ ਗਈ ਹੈ। ਉਹਨਾਂ ਨੇ ਦੱਸਿਆ ਕਿ ਮੌਜੂਦਾ ਆਰਥਿਕ ਸੰਕਟ ਇੱਕ ਬਹੁ-ਪਰਤੀ ਸਮੱਸਿਆ ਹੈ ਜਿਸਨੇ ਸਮਾਜਿਕ, ਸਿਆਸੀ, ਸੱਭਿਆਚਾਰਕ ਤੇ ਵਿਕਾਸ ਦੇ ਪੱਧਰ ਤੇ ਪੰਜਾਬੀਆਂ ਲਈ ਬਹੁਤ ਸਾਰੇ ਸੰਕਟਾਂ ਨੂੰ ਜਨਮ ਦਿੱਤਾ ਹੈ।
ਇਸ ਭਾਸ਼ਣ ਵਿੱਚ ਵੱਡੀ ਗਿਣਤੀ ਵਿੱਚ ਵਿਦਿਆਰਥੀਆਂ ਤੇ ਅਧਿਆਪਕਾਂ ਨੇ ਸ਼ਮੂਲੀਅਤ ਕੀਤੀ। ਧੰਨਵਾਦ ਦਾ ਮਤਾ ਕਾਲਜ ਦੇ ਵਾਈਸ ਪ੍ਰਿੰਸੀਪਲ ਪ੍ਰੋ. ਵੇਦ ਪ੍ਰਕਾਸ਼ ਸ਼ਰਮਾ, ਡੀਨ, ਸ਼ੋਸ਼ਲ ਸਾਇੰਸਿਜ਼ ਨੇ ਪੇਸ਼ ਕੀਤਾ। ਇਸ ਭਾਸ਼ਣ ਵਿੱਚ ਸਟੇਜ ਪ੍ਰਬੰਧਨ ਦੀ ਜ਼ਿੰਮੇਵਾਰੀ ਪ੍ਰੋ.ਪਰਮਿੰਦਰ ਕੌਰ, ਕਾਮਰਸ ਵਿਭਾਗ ਨੇ ਬਾਖੂਬੀ ਨਿਭਾਈ।