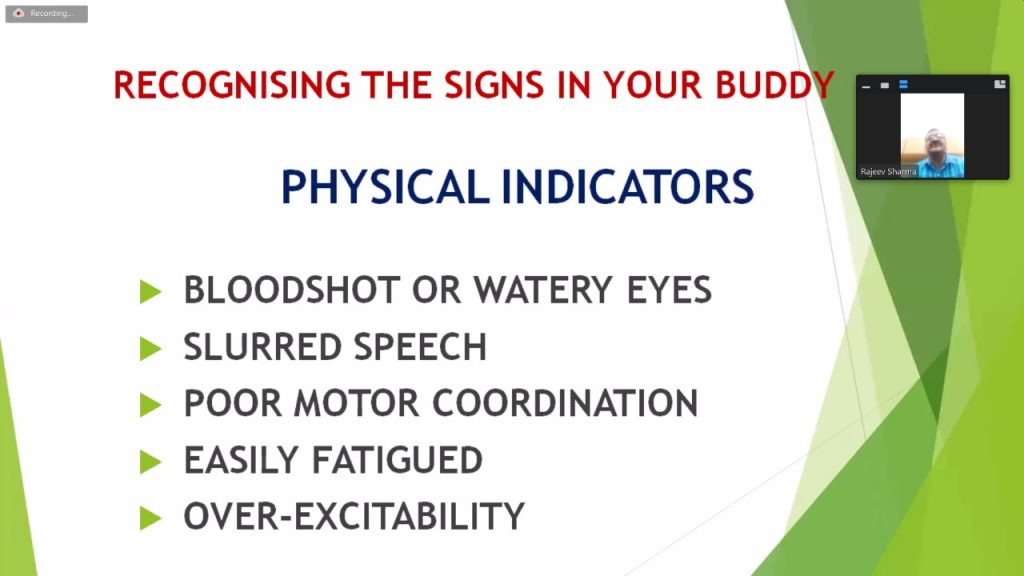 Patiala: July 8, 2021
College conducted Orientation Programme for Senior Buddies under Buddy Program
Multani Mal Modi College Patiala conducted an online Orientation Programme for senior buddies of the college under the guidance of Principal Dr. Khushvinder Kumar. A special Orientation Course was organized for the smooth and successful running of various activities for Buddies under the Buddy Programme for the session 2021-22. He said that as teachers it is the duty of all of us to make our students responsible and aware of the ill effects of drugs on an individual, family, society and nation. We must spread a message, 'Drugs Kill, Avoid Drugs'.
The nodal officer of the Buddy Programme, Dr. Rajeev Sharma gave an informative presentation on the introduction to Buddy Programme and the activities that must be carried out under the Buddies Program. He appealed to the senior buddies to ensure the right implementation of the program so that the students could stay away from drugs and anti-social activities and play a responsible role by investing their energy positively for the welfare of the society.
Suggesting a series of programs for each month of the year to the senior buddies, he said that all out efforts should be made to make this program a complete success, so that the dream of Punjab Government and the Government of India to make the Society, State, and Nation Drug Free become a reality.
Senior buddies participated in this orientation programme actively and enthusiastically. Prof. Shailendra Sidhu presented the vote of thanks.
ਪਟਿਆਲਾ: 8 ਜੂਲਾਈ, 2021
ਬਡੀ ਪ੍ਰੋਗਰਾਮ ਅਧੀਨ ਸੀਨੀਅਰ ਬਡੀਜ਼ ਲਈ ਓਰਿਐਂਟੇਸ਼ਨ ਕੋਰਸ ਦਾ ਆਯੋਜਨ ਕੀਤਾ
ਸਥਾਨਕ ਮੁਲਤਾਨੀ ਮੱਲ ਮੋਦੀ ਕਾਲਜ ਪਟਿਆਲਾ ਵਿਖੇ ਪ੍ਰਿੰਸੀਪਲ ਡਾ. ਖੁਸ਼ਵਿੰਦਰ ਕੁਮਾਰ ਜੀ ਦੀ ਰਹਿਨੁਮਾਈ ਹੇਠ ਕਾਲਜ ਦੇ ਸੀਨੀਅਰ ਬਡੀਜ਼ ਲਈ ਸ਼ੈਸ਼ਨ. 2021-22 ਦੇ ਬਡੀਜ਼ ਪ੍ਰੋਗਰਾਮ ਅਧੀਨ ਬਡੀਜ਼ ਲਈ ਵੱਖ-ਵੱਖ ਗਤੀਵਿਧੀਆਂ ਨੂੰ ਸੁਚਾਰੂ ਢੰਗ ਨਾਲ ਚਲਾਉਣ ਲਈ ਇੱਕ ਵਿਸ਼ੇਸ਼ ਓਰੀਐਂਟੇਸ਼ਨ ਕੋਰਸ ਦਾ ਆਯੋਜਨ ਕੀਤਾ ਗਿਆ। ਉਨ੍ਹਾਂ ਕਿਹਾ ਕਿ ਅਧਿਆਪਕ ਹੋਣ ਦੇ ਨਾਤੇ ਸਾਡਾ ਸਭਨਾਂ ਦਾ ਇਹ ਫ਼ਰਜ਼ ਬਣਦਾ ਹੈ ਕਿ ਅਸੀਂ ਆਪਣੇ ਵਿਦਿਆਰਥੀਆਂ ਨੂੰ ਜਾਗਰੂਕ ਤੇ ਜ਼ਿੰਮੇਵਾਰ ਨਾਗਰਿਕ ਬਣਨ ਲਈ ਪ੍ਰੇਰਦੇ ਹੋਏ ਉਨ੍ਹਾਂ ਨੂੰ ਨਸ਼ਿਆਂ ਤੋਂ ਦੂਰੀ ਬਣਾਈ ਰੱਖਣ ਦਾ ਸੁਨੇਹਾ ਦਿੰਦੇ ਰਹੀਏ।
ਬਡੀਜ਼ ਪ੍ਰੋਗਰਾਮ ਦੇ ਨੋਡਲ ਅਫ਼ਸਰ ਡਾ. ਰਾਜੀਵ ਸ਼ਰਮਾ ਨੇ ਬਡੀਜ਼ ਪ੍ਰੋਗਰਾਮ ਅਧੀਨ ਕੀਤੀਆਂ ਜਾ ਸਕਦੀਆਂ ਗਤੀਵਿਧੀਆਂ ਬਾਰੇ ਗਿਆਨ ਭਰਪੂਰ ਜਾਣਕਾਰੀ ਦਿੱਤੀ। ਉਨ੍ਹਾਂ ਨੇ ਸੀਨੀਅਰ ਬਡੀਜ਼ ਨੂੰ ਇਸ ਪ੍ਰੋਗਰਾਮ ਨੂੰ ਸੁਚਾਰੂ ਢੰਗ ਨਾਲ ਚਲਾਉਣ ਲਈ ਅਪੀਲ ਕੀਤੀ ਤਾਂ ਜੋ ਵਿਦਿਆਰਥੀ ਨਸ਼ਿਆਂ ਅਤੇ ਅਸਮਾਜਿਕ ਗਤੀਵਿਧੀਆਂ ਤੋਂ ਦੂਰੀ ਬਣਾਈ ਰੱਖਣ ਅਤੇ ਆਪਣੀ ਊਰਜਾ ਸਮਾਜ ਭਲਾਈ ਦੇ ਕੰਮਾਂ 'ਚ ਸਕਾਰਤਾਮਕ ਢੰਗ ਨਾਲ ਲਗਾਉਂਦੇ ਹੋਏ ਇੱਕ ਜ਼ਿੰਮੇਵਾਰ ਨਾਗਰਿਕ ਦੀ ਭੂਮਿਕਾ ਨਿਭਾਉਣ।
ਸੀਨੀਅਰ ਬਡੀਜ਼ ਨੂੰ ਸਾਲ ਦੇ ਹਰ ਮਹੀਨੇ ਲਈ ਲੜੀਬੱਧ ਪ੍ਰੋਗਰਾਮ ਦਾ ਸੁਝਾਅ ਦਿੰਦਿਆਂ ਉਨ੍ਹਾਂ ਨੇ ਕਿਹਾ ਕਿ ਇਸ ਪ੍ਰੋਗਾਰਮ ਨੂੰ ਪੂਰੀ ਤਨਦੇਹੀ ਨਾਲ ਸਫ਼ਲ ਬਨਾਉਣ ਲਈ ਪੁਰਜ਼ੋਰ ਉਪਰਾਲੇ ਕੀਤੇ ਜਾਣ, ਤਾਂ ਜੋ ਪੰਜਾਬ ਸਰਕਾਰ ਅਤੇ ਭਾਰਤ ਸਰਕਾਰ ਵੱਲੋਂ ਸੂਬੇ ਅਤੇ ਦੇਸ਼ ਨੂੰ ਨਸ਼ਾ ਮੁਕਤ ਬਣਾਉਣ ਲਈ ਉਲੀਕੀ ਯੋਜਨਾ ਨੂੰ ਸਾਕਾਰ ਕੀਤਾ ਜਾ ਸਕੇ।