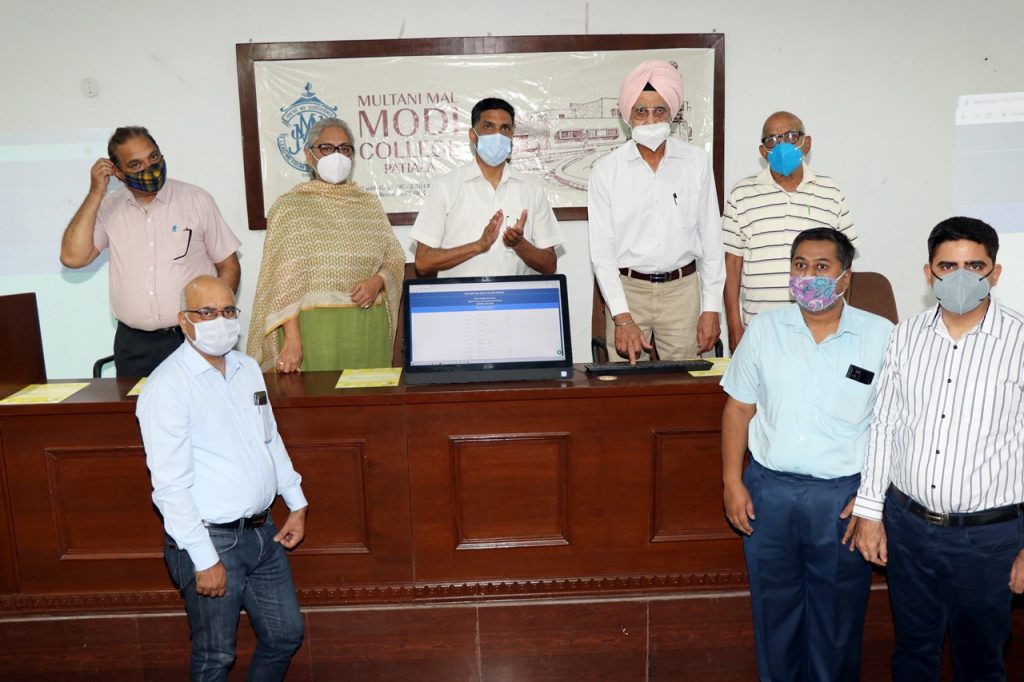 Patiala: June 03, 2021
Multani Mal Modi College launched Admission Portal and Handbook of Information for 2021-22
Multani Mal Modi College Patiala today launched its Admission Portal and Handbook of Information for the academic session 2021-2022. Col. Karminder Singh and Prof. Surindra Lal, Member Managing Committee, Modi Education Society were present as special guests in this event. College Principal Dr Khushvinder Kumar informed that due to Conona Pandemic this Online Handbook of Information is released and all admission process will be online. The aspiring students need not to visit the college campus to get admission. He further stated that in case any student found difficulty to process admission online, s/he may visit the campus, the college staff will provide all help to complete his/her admission process. The students can visit college webpage https://student.modicollege.com to complete the admission process.
Dr. Ajit Kumar, Registrar of the college discussed the core aspects of the Online Handbook of Information, different courses and academic calendar with the faculty members.
Principal Dr. Khushvinder Kumar while releasing the Online Handbook of Information congratulated the publication team for design, look and content of the prospects and said that management committee is committed for providing affordable education to the students of underprivileged and poor sections of the society.
Prof. Shailendra Kaur, Vice Principal, Prof. Ved Parkash Sharma, Dean Students Welfare, Dr. Ajit Kumar, Registrar, Prof. Vinay Garg, Dr. Ganesh Sethi and Dr. Harmohan Sharma were present on the occasion.

ਪਟਿਆਲਾ: 03 ਜੂਨ, 2021
ਮੋਦੀ ਕਾਲਜ ਵੱਲੋਂ ਸੈਸ਼ਨ 2021-2022 ਲਈ ਆਨਲਾਈਨ ਐਡਮੀਸ਼ਨ ਪੋਰਟਲ ਅਤੇ ਹੈਂਡਬੁੱਕ ਆਫ਼ ਇੰਨਫਰਮੇਸ਼ਨ ਰਿਲੀਜ਼ ਕੀਤੀ ਗਈ

ਸਥਾਨਕ ਮੁਲਤਾਨੀ ਮੱਲ ਮੋਦੀ ਕਾਲਜ ਵੱਲੋਂ ਅੱਜ ਅਗਲੇ ਅਕਾਦਮਿਕ ਸੈਸ਼ਨ (2021-2022) ਲਈ ਆਨ-ਲਾਈਨ ਐਡਮੀਸ਼ਨ ਪੋਰਟਲ ਅਤੇ ਹੈਂਡਬੁੱਕ ਆਫ਼ ਇੰਨਫਰਮੇਸ਼ਨ ਰਿਲੀਜ਼ ਕੀਤੀ ਗਈ। ਇਸ ਸਮੇਂ ਕਰਨਲ ਕਰਮਿੰਦਰ ਸਿੰਘ ਅਤੇ ਪ੍ਰੋ. ਸੁਰਿੰਦਰਾ ਲਾਲ, ਮੈਂਬਰ ਮੈਨੇਜਿੰਗ ਕਮੇਟੀ, ਮੋਦੀ ਐਜੂਕੇਸ਼ਨ ਸੋਸਾਈਟੀ ਵਿਸ਼ੇਸ਼ ਮਹਿਮਾਨ ਵਜੋਂ ਹਾਜ਼ਰ ਹੋਏ। ਕਾਲਜ ਪ੍ਰਿੰਸੀਪਲ ਡਾ. ਖੁਸ਼ਵਿੰਦਰ ਕੁਮਾਰ ਜੀ ਆਨਲਾਈਨ ਐਡਮੀਸ਼ਨ ਪੋਰਟਲ ਰਿਲੀਜ਼ ਕਰਦੇ ਹੋਏ ਸਟਾਫ਼ ਨੂੰ ਵਧਾਈ ਦਿੱਤੀ ਅਤੇ ਕਿਹਾ ਕਿ ਇਸ ਆਨਲਾਈਨ ਹੈਂਡਬੁੱਕ ਆਫ਼ ਇੰਨਫਰਮੇਸ਼ਨ ਰਾਹੀਂ ਕਾਲਜ ਵੱਲੋਂ ਵਿਦਿਆਰਥੀਆਂ ਨੂੰ ਵਿਸ਼ਵ-ਪੱਧਰੀ ਸਿੱਖਿਆ ਮੁਹੱਈਆ ਕਰਵਾਉਣ ਅਤੇ ਉਨ੍ਹਾਂ ਦੇ ਸਰਬਪੱਖੀ ਵਿਕਾਸ ਲਈ ਹਰ ਤਰ੍ਹਾਂ ਦੀ ਸਹੂਲਤ ਉਪਲਬਧ ਕਰਵਾਉਣ ਦੀ ਵਚਨਬੱਧਤਾ ਦੁਹਰਾਈ ਗਈ ਹੈ। ਉਨ੍ਹਾਂ ਕਿਹਾ ਕਿ ਕਰੋਨਾ ਮਹਾਮਾਰੀ ਕਾਰਨ ਇਸ ਵਾਰ ਕਾਲਜ ਵਿਖੇ ਦਾਖਲੇ ਦੀ ਪ੍ਰਕਿਰਿਆ ਆਨਲਾਈਨ ਕਰ ਦਿੱਤੀ ਗਈ ਹੈ। ਕਿਸੇ ਵੀ ਵਿਦਿਆਰਥੀ ਨੂੰ ਕਾਲਜ ਕੈਂਪਸ ਵਿਖੇ ਆਉਣ ਦੀ ਲੋੜ ਨਹੀਂ ਹੈ। ਉਹ ਘਰ ਬੈਠੇ ਹੀ ਆਨਲਾਈਨ ਦਾਖਲੇ ਦੀ ਪ੍ਰਕ੍ਰਿਰਿਆ ਪੂਰੀ ਕਰ ਸਕਦੇ ਹਨ। ਉਨ੍ਹਾਂ ਨੇ ਕਿਹਾ ਜੇਕਰ ਫੇਰ ਵੀ ਕਿਸੇ ਵਿਦਿਆਰਥੀ ਨੂੰ ਆਨਲਾਈਨ ਪ੍ਰਕਿਰਿਆ ਪੂਰੀ ਕਰਨ ਵਿੱਚ ਕੋਈ ਔਕੜ ਪੇਸ਼ ਆਉਂਦੀ ਹੈ ਤਾਂ ਉਹ ਵਿਦਿਆਰਥੀ ਕਾਲਜ ਵਿਖੇ ਆ ਸਕਦਾ ਹੈ ਅਤੇ ਕਾਲਜ ਸਟਾਫ਼ ਵੱਲੋਂ ਉਸਦੀ ਦਾਖਲਾ ਪ੍ਰਕਿਰਿਆ ਮੁਕੱਮਲ ਕਰਨ ਵਿੱਚ ਹਰ ਸੰਭਵ ਸਹਾਇਤਾ ਕੀਤੀ ਜਾਵੇਗੀ। ਦਾਖਲਾ ਲੈਣ ਲਈ ਵਿਦਿਆਰਥੀ ਕਾਲਜ ਦੇ ਵੈਬਪੇਜ https://student.modicollege.com ਤੇ ਜਾ ਕੇ ਦਾਖਲਾ ਪ੍ਰਕਿਰਿਆ ਪੂਰੀ ਕਰ ਸਕਦੇ ਹਨ।
ਕਾਲਜ ਰਜਿਸਟਰਾਰ ਡਾ. ਅਜੀਤ ਕੁਮਾਰ ਨੇ ਇਸ ਦਾਖਲਾ ਪ੍ਰਕਿਰਿਆ, ਕਾਲਜ ਵਿੱਚ ਚਲ ਰਹੇ ਕੋਰਸਾਂ ਅਤੇ ਅਕਾਦਮਿਕ ਕੈਲੰਡਰ ਬਾਰੇ ਚਾਨਣਾ ਪਾਇਆ।
ਰਿਲੀਜ਼ ਸਮਾਰੋਹ ਵਿੱਚ ਕਾਲਜ ਦੇ ਵਾਈਸ ਪ੍ਰਿੰਸੀਪਲ ਪ੍ਰੋ. ਸੈਲੇਂਦਰਾ ਕੌਰ, ਡੀਨ ਵਿਦਿਆਰਥੀ ਭਲਾਈ ਪ੍ਰੋ. ਵੇਦ ਪ੍ਰਕਾਸ਼ ਸ਼ਰਮਾ, ਕਾਲਜ ਰਜਿਸਟਰਾਰ ਡਾ. ਅਜੀਤ ਕੁਮਾਰ, ਪ੍ਰੋ. ਵਿਨੇ ਗਰਗ, ਡਾ. ਗਣੇਸ਼ ਸੇਠੀ, ਡਾ. ਹਰਮੋਹਨ ਸ਼ਰਮਾ ਵਿਸ਼ੇਸ਼ ਤੌਰ ਤੇ ਹਾਜ਼ਿਰ ਰਹੇ।
#mmmcpta #mmmc2021 #admissionportal #handbookofinformation2021-22 #punjabiuniversity #puppatiala #punjabiuniversitypatiala