National Pollution Control Day celebrated at Multani Mal Modi College Patiala
Date: December 2, 2022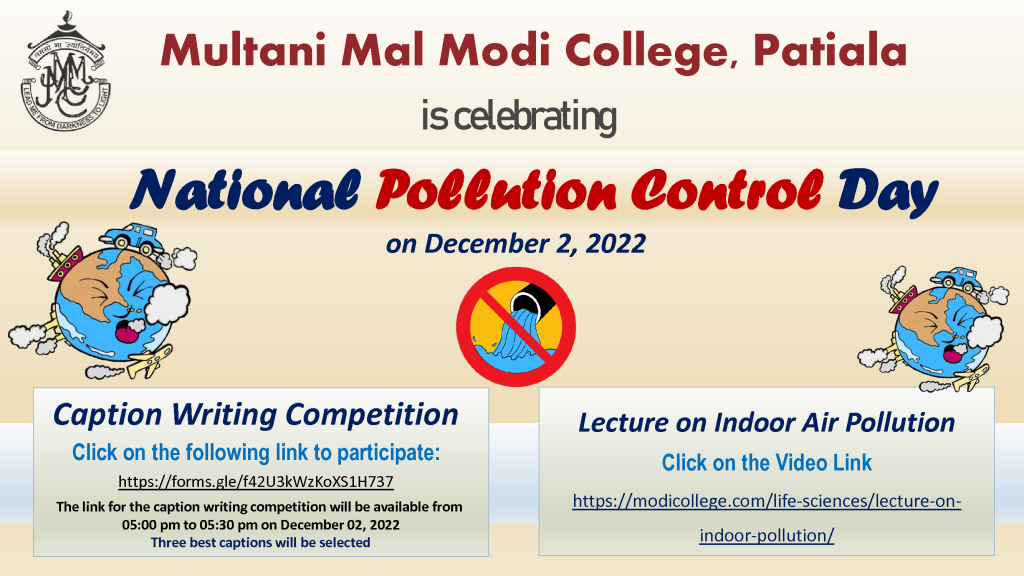 Multani Mal Modi College Patiala celebrated National Pollution Control Day with an aim to raise awareness among the students about increasing air pollution and how to control it.
Principal Dr. Khushvinder Kumar said that pollution is one of the major global problems and by celebrating this day we can help students to know about the effects of polluted air, soil and water on our health.
Dr. Ashwani Sharma, Dean Life Sciences, informed the students that the day is also dedicated to encourage the adoption of pollution control acts to prevent the environmental pollution caused by human negligence and industrial emissions.
An online Caption Writing Competition was organized in which a total of 52 students of different streams have participated. 3 best captions were selected. Pankaj Goyal (Roll No. 701) of B.Sc. Medical 2nd year bagged first prize. 2nd Prize was jointly secured by Hazel (Roll No. 5557) of B.Sc. (Hons) Mathematics 2nd year and Nishant Sharma (Roll No. 512) of B.Sc. III Non-Medical while third prize was won by Sadhik Verma (Roll No. 1103) of B.Sc.-III Computer Science.
An elaborated lecture on the causes, health effects and control of Indoor Air Pollution was recorded by Dr. Bhanvi Wadhawan and uploaded on college website for mass awareness.
 The events were technically coordinated by Dr. Manish Sharma, Dr. Heena Sachdeva and Mr. Vinod Sharma.