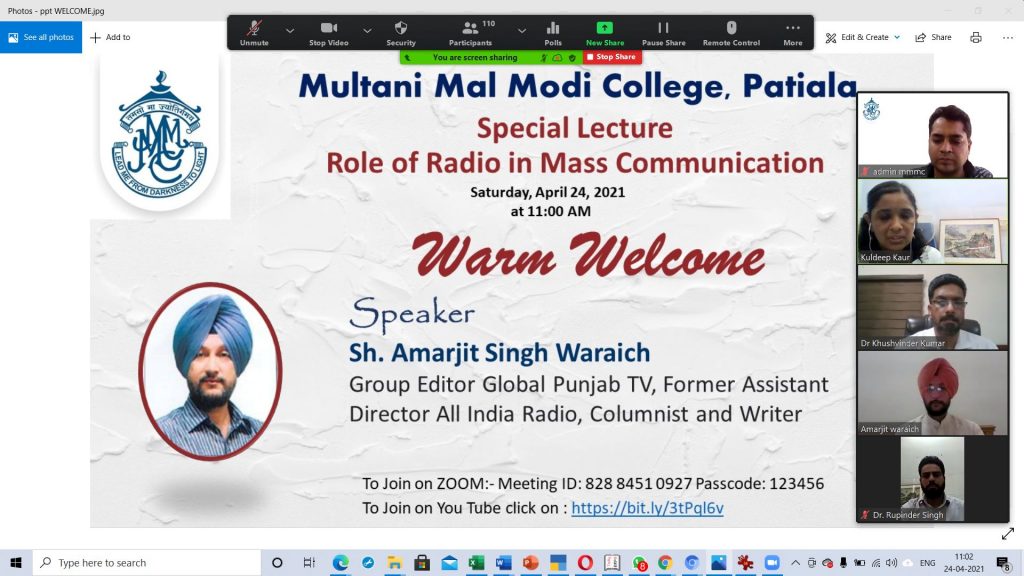 Extension lecture on Role of Radio in Mass Communication at MM Modi College
Patiala: April 24, 2021
The Department of Journalism and Mass Communication in collaboration with English, Hindi and Punjabi language departments, Multani Mal Modi College, Patiala today organized an On-line extension lecture on the topic of 'Role of radio in Mass Communication. The objective of this lecture was to explore history and different phases in the evolution and growth of radio and to understand its role in the development communication. The lecture was delivered by Shri. Amarjeet Singh Wairach, Group editor Global Punjab TV and Ex. Additional director All India Radio, a writer and columnist.
College principle Dr. Khushvinder Kumar while welcoming the main speaker said that freedom of speech and expression and a free press is the foundation for a democratic state. The speaker was formally introduced by Dr. Rupinder Singh, Assistant professor, Department of Punjabi.
 In this interactive lecture Shri Amarjeet Singh Wairach discussed historical perspectives and dimensions of usages of radio in public service broadcasting system of India. He also discussed the role and contribution of radio in maintaining cultural harmony, promotion of traditional and folk heritage, educational and informational programes related with agriculture, women empowerment, health, education and developmental activities. He motivated the students to learn language skills and multimedia skills before joining any kind of media.
The lecture was attended by 375 participants. The vote of thanks was presented by Dr. Rupinder Sharma, Department of Hindi. The event was technically managed by Dr.Rohit Sechdeva. This event was coordinated by Dr. Kuldeep kaur, Department of journalism and mass communication.
ਮੋਦੀ ਕਾਲਜ ਵਿੱਖੇ ਜਨ-ਸੰਚਾਰ ਮਾਧਿਅਮ ਵੱਜੋਂ ਰੇਡੀਉ ਦੀ ਭੂਮਿਕਾ ਤੇ ਵਿਸ਼ੇਸ਼ ਭਾਸ਼ਣ ਦਾ ਆਯੋਜਨ
ਪਟਿਆਲਾ: 24 ਅਪਰੈਲ, 2021
ਸਥਾਨਕ ਮੁਲਤਾਨੀ ਮੱਲ ਮੋਦੀ ਕਾਲਜ ਦੇ ਜਨ-ਸੰਚਾਰ ਤੇ ਪੱਤਰਕਾਰੀ ਵਿਭਾਗ ਵੱਲੋਂ ਅੰਗਰੇਜ਼ੀ,ਪੰਜਾਬੀ ਤੇ ਹਿੰਦੀ ਵਿਭਾਗਾਂ ਦੇ ਸਹਿਯੋਗ ਨਾਲ ਜਨ-ਸੰਚਾਰ ਮਾਧਿਅਮ ਵੱਜੋਂ ਰੇਡੀਉ ਦੀ ਭੂਮਿਕਾ ਤੇ ਇੱਕ ਆਨਲਾਈਨ ਵਿਸ਼ੇਸ਼ ਭਾਸ਼ਣ ਆਯੋਜਿਤ ਕੀਤਾ ਗਿਆ।ਇਸ ਭਾਸ਼ਣ ਨੂੰ ਕਰਵਾਉਣ ਦਾ ਮੁੱਖ ਉਦੇਸ਼ ਭਾਰਤ ਵਿੱਚ ਜਨ-ਸੰਚਾਰ ਦੇ ਮਾਧਿਅਮ ਦੇ ਤੌਰ ਤੇ ਰੇਡੀਉ ਦੀ ਇਤਿਹਾਸਕ ਭੂਮਿਕਾ ਤੇ ਇਸ ਦੇ ਵਿਕਾਸ ਤੇ ਪ੍ਰਸਾਰ ਦੇ ਵੱਖ-ਵੱਖ ਪਹਿਲੂਆਂ ਤੇ ਵਿਚਾਰ-ਚਰਚਾ ਕਰਨਾ ਸੀ।ਇਸ ਵਿੱਚ ਮੁੱਖ ਵਕਤਾ ਵੱਜੋਂ ਸ਼੍ਰੀ.ਅਮਰਜੀਤ ਸਿੰਘ ਵੜੈਚ, ਗੁੱਰਪ ਐਡੀਟਰ ਗਲੋਬਲ ਪੰਜਾਬ ਟੀ.ਵੀ, ਅਤੇ ਆਲ ਇੰਡੀਆ ਰੇਡੀਉ ਦੇ ਸਾਬਕਾ ਐਡੀਸ਼ਨਲ ਡਾਇਰੈਕਟਰ, ਲੇਖਕ ਤੇ ਕਾਲਮ-ਨਵੀਸ ਸ਼੍ਰੀ.ਅਮਰਜੀਤ ਸਿੰਘ ਵੜੈਚ ਨੇ ਸ਼ਮੂਲੀਅਤ ਕੀਤੀ।
ਕਾਲਜ ਪ੍ਰਿੰਸੀਪਲ ਡਾ.ਖੁਸ਼ਵਿੰਦਰ ਕੁਮਾਰ ਜੀ ਨੇ ਇਸ ਮੌਕੇ ਤੇ ਹਿੱਸਾ ਲੈਣ ਵਾਲੇ ਵਿਦਿਆਰਥੀਆਂ ਤੇ ਅਦਿਆਪਕਾਂ ਨੂੰ ਸੰਬੋਧਿਤ ਹੁੰਦਿਆ ਕਿਹਾ ਕਿ ਬੋਲਣ ਤੇ ਪ੍ਰਗਟਾਵੇ ਦੀ ਆਜ਼ਾਦੀ ਅਤੇ ਇੱਕ ਸੁਤੰਤਰ ਮੀਡੀਆ ਲੋਕਤੰਤਰੀ ਰਾਜ ਦੀ ਮੂਲ ਸ਼ਰਤ ਹੈ।ਪੰਜਾਬੀ ਵਿਭਾਗ ਦੇ ਡਾ.ਰੁਪਿੰਦਰ ਸਿੰਘ ਨੇ ਇਸ ਮੌਕੇ ਤੇ ਮੁੱਖ ਵਕਤਾ ਨਾਲ ਰਸਮੀ ਜਾਣ-ਪਛਾਣ ਕਰਵਾਈ।
ਆਪਣੇ ਭਾਸ਼ਣ ਵਿੱਚ ਵਿਦਿਆਰਥੀਆਂ ਨੂੰ ਸੰਬੋਧਿਤ ਕਰਦਿਆ ਸ਼੍ਰੀ.ਅਮਰਜੀਤ ਸਿੰਘ ਵੜੈਚ ਨੇ ਭਾਰਤ ਦੇ ਪਬਲਿਕ ਬਰਾਂਡ ਕਾਸਟਿੰਗ ਸਿਸਟਮ ਵਿੱਚ ਜਨ-ਸੰਚਾਰ ਦੇ ਤੌਰ ਤੇ ਰੇਡੀਉ ਦੇ ਵਿਕਾਸ ਤੇ ਪ੍ਰਸਾਰ ਦੇ ਇਤਿਹਾਸਕ ਪਹਿਲੂਆਂ ਤੇ ਚਰਚਾ ਕੀਤੀ।ਉਹਨਾਂ ਨੇ ਦੱਸਿਆ ਕਿ ਸੰਚਾਰ ਦਾ ਸਸਤਾ ਤੇ ਸੁਖਾਲਾ ਮਾਧਿਅਮ ਹੋਣ ਦੇ ਬਾਵਜੂਦ ਰੇਡੀਉ ਨੇ ਨਾ ਸਿਰਫ ਭਾਰਤ ਦੀ ਸੱਭਿਆਚਾਰਕ ਵਿੰਭਿੰਨਤਾ ਨੂੰ ਬਰਕਰਾਰ ਰੱਖਿਆ ਹੈ ਸਗੋਂ ਵਿਰਾਸਤ ਨੂੰ ਸਾਂਭਣ, ਖੇਤੀਬਾੜ੍ਹੀ, ਔਰਤਾਂ ਦੇ ਸ਼ਸ਼ਕਤੀਕਰਣ, ਸਿਹਤ,ਸਿੱਖਿਆ ਤੇ ਵਿਕਾਸ ਦੇ ਖੇਤਰਾਂ ਵਿੱਚ ਸੂਚਨਾ ਤੇ ਜਾਣਕਾਰੀ ਦੇ ਪ੍ਰਸਾਰ ਵਿੱਚ ਮੁੱਖ ਰੋਲ ਨਿਭਾਇਆ ਹੈ।ਉਹਨਾਂ ਨੇ ਵਿਦਿਆਰਥੀਆਂ ਨੂੰ ਮੀਡੀਆਂ ਦੇ ਖੇਤਰਾਂ ਵਿੱਚ ਜਾਣ ਲਈ ਭਾਸ਼ਾ ਤੇ ਮਲਟੀ-ਮੀਡੀਆ ਤੇ ਪਕੜ ਮਜ਼ਬੂਤ ਕਰਨ ਲਈ ਕਿਹਾ।
ਇਸ ਭਾਸ਼ਣ ਵਿੱਚ 375 ਵਿਦਿਆਰਥੀਆਂ ਤੇ ਅਧਿਆਪਕਾਂ ਨੇ ਸ਼ਮੂਲੀਅਤ ਕੀਤੀ।ਇਸ ਮੌਕੇ ਤੇ ਧੰਨਵਾਦ ਦਾ ਮਤਾ ਕਾਲਜ ਦੇ ਹਿੰਦੀ ਵਿਭਾਗ ਦੇ ਐਸਿਸਟੈਟ ਪ੍ਰੋਫੈਸਰ ਡਾ. ਰੁਪਿੰਦਰ ਸਿੰਘ ਨੇ ਕੀਤਾ।ਇਸ ਪ੍ਰੋਗਰਾਮ ਦਾ ਸੰਚਾਲਨ ਜਨ-ਸੰਚਾਰ ਤੇ ਪੱਤਰਕਾਰੀ ਵਿਭਾਗ ਦੇ ਡਾ. ਕੁਲਦੀਪ ਕੌਰ ਨੇ ਕੀਤਾ।