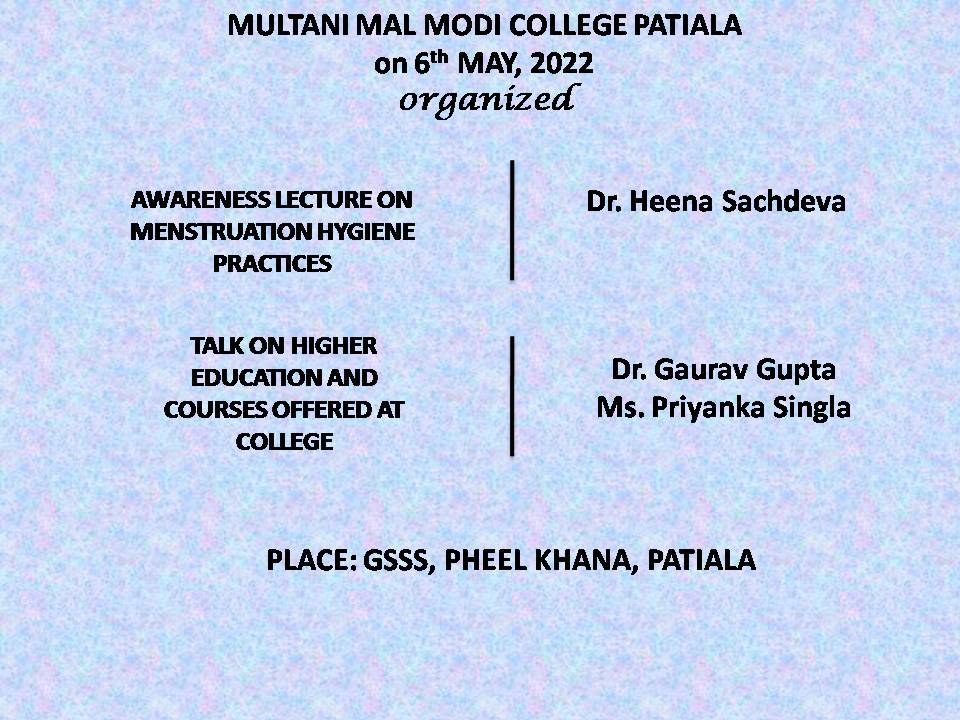 Patiala: May 6, 2022
Awareness Session on Menstruation Hygiene Practices at GSS School Pheel Khana, Patiala


Multani Mal Modi College Patiala organized an Awareness session on "Menstruation Hygiene" at GSSS Pheel Khana Patiala. College Principal Dr. Khushvinder Kumar said that Social Awareness on hygiene need to be prioritized for community health. He always guides and motivates teachers to indulge in social awareness issues. Dr. Heena Sachdeva, Assistant Professor, Department of Zoology delivered an Awareness lecture about hygiene practices during menstruation to the girl students of the school. Dr. Gaurav Gupta, Assistant Professor, Department of Commerce and Ms. Priyanka Singla, Assistant Professor, Department of Computer Science introduced the students about the opportunities in higher education. The School Principal Dr. Rajnish Gupta, Media Coordinator Mr. Akshay Kumar, Ms. Sapna Sethi and Ms. Parminder Kaur provided full support for the conduct of lecture students of classes 8th to 12th attended the session.