Regional languages play important role in the growth and development of any country – Dr. Joga Singh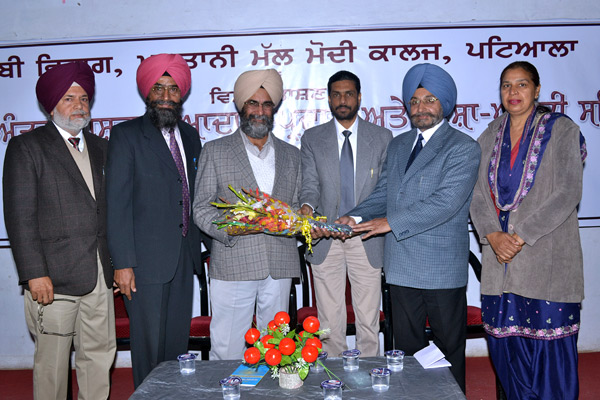 A special lecture on 'Education, International Trade and Language: Present Context' was organised at M. M. Modi College here today. Dr. Joga Singh, Professor and Ex-Head, Dept. of Linguistics and Punjabi Lexicography, Punjabi University, Patiala while speaking on the occasion elaborated the contribution of regional languages in the growth and development of Trade, Education, Science and Technology and other related fields. He emphasised that a number of studies conducted all over the world by different expert groups have established the fact that teaching of mother tongue at the initial stages of education gives impetus to the growth of mind and thought and makes it more creative and logical. He also discussed the relevance of learning mother tongue as well as other languages to widen the horizon of understanding of literature and science. He lamented that the Punjabis have ignored the learning of their mother tongue both at the school and the higher education level, as a result of which they are unable to communicate well in Punjabi as well as in English. He said that with the advent of Computer, Internet, TV and Mobile Phones regional languages have become more relevant. More trade transactions are made in local languages rather than English. Dr. Joga Singh forwarded this argument based on the facts published in the reports published by Microsoft and UNESCO. He also said that Russia, China, Germany, Japan, South Korea and other industrially advanced countries are teaching all the subjects including Physics, Chemistry, and Mathematics in their respective local languages unlike India where entire emphasis is laid on the learning of English Language. Probably this is the reason that our students have not performed so well in the field of research and development in science related areas. The whole energy is spent on learning foreign language rather than the content of the subject.
College Principal Dr. Khushvinder Kumar while welcoming the Chief Guest said that the importance of regional languages is being recognised all over the world. Dr. Gurdeep Singh gave a brief description of the research work done by Dr. Joga Singh in the field of Linguistics. Prof. Balvir Singh conducted the stage and Dr. Harcharan proposed the vote of thanks.