NCC Girls Wing, MM Modi College organized online Yoga activity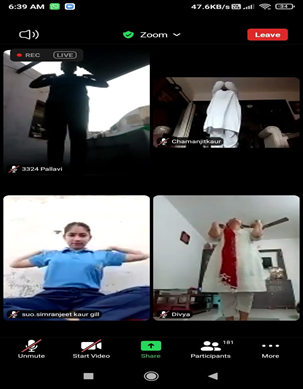 NCC Girls Wing, MM Modi College organized online Yoga activity
Patiala, June 30, 2021
NCC girls wing of Multani Mal Modi College, Patiala organized an online yoga activity under Be With Yoga- Be at Home, UNICEF# young warrior. The objective of this activity was to help in shaping minds of youth towards nation building. This event got started with performing simple exercises like Rolling knees and wrists in circular motion to relax the body. Various Pranayams like Anulom Vilom, Kapal Bhanti etc were also performed to improve concentration level and digestive system.
College Principal Dr. Khushvinder Kumar inaugurated the online yoga session and summed it up with chanting AUM and Gaytri Mantra.
This event was successfully accomplished under the guidance of CTO Dr Nidhi Rani Gupta. Total 21 cadets have participated in this online yoga activity.